ARTS & ENTERTAINMENT
The Best Things to Do in Melbourne This Week
Revel in the return of cinema with a movie under the stars, or sip local prosecco at a hidden rooftop bar.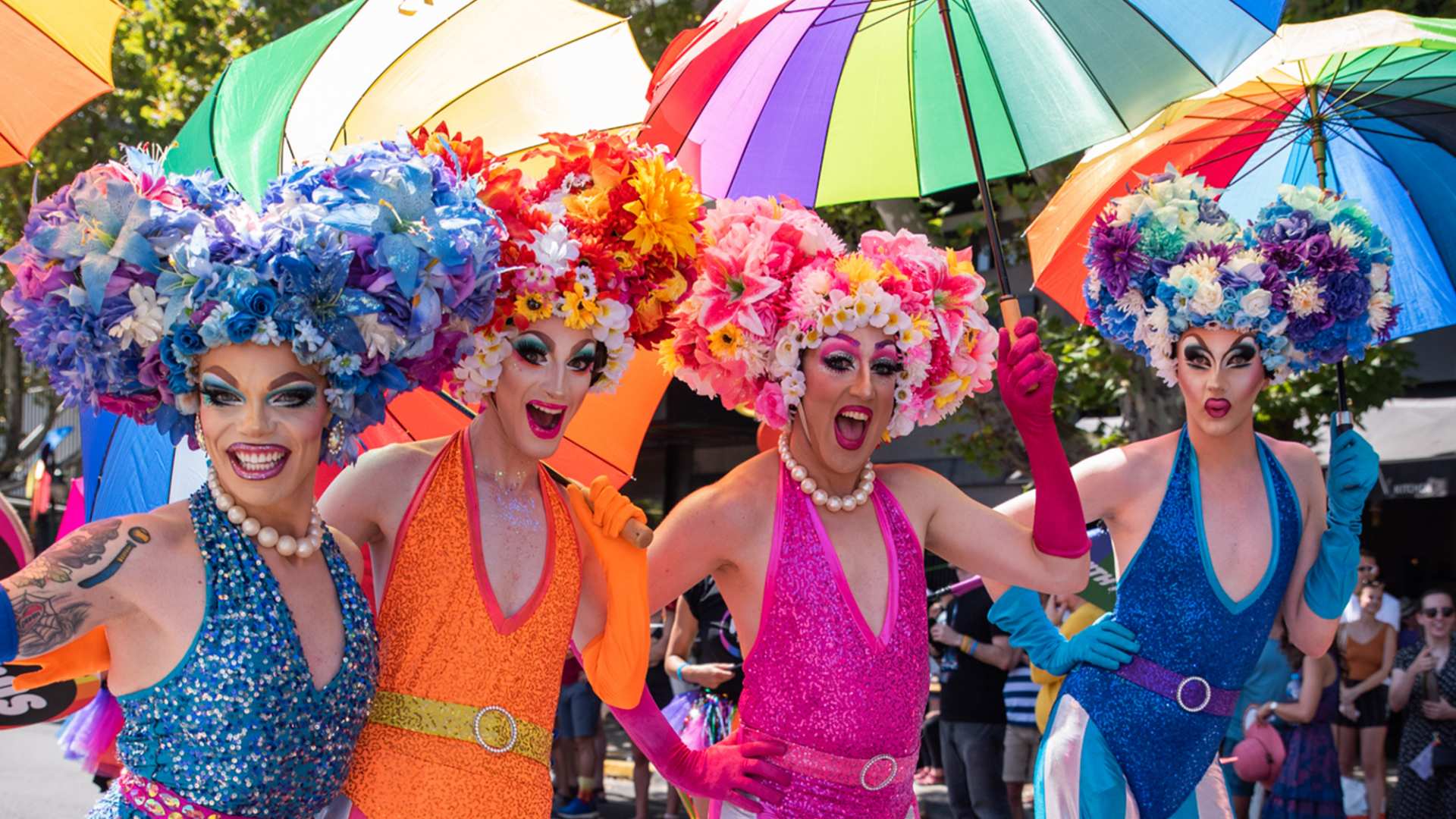 Heading back to the ol' daily grind can be pretty damn awful after a bright and shiny weekend of picnicking, bar hopping and patting dogs that aren't yours, but luckily Melbourne's a 'keep the ball rolling' kind of city and has plenty of events, exhibitions, theatre, film festivals and live music for you to inject a little awesomeness into your week. Sure, use Monday for Netflix binges. Then get out there and sink your teeth into Melbourne's best happenings this week.
Image: Midsumma Pride March, by Dean Arcuri
Arts & Entertainment

This interactive exhibition explores different perspectives on mental health, smashing stereotypes via a collection of over 20 experimental projects.

Arts & Entertainment

It's been a long time between drinks, but Untitled is finally back with its next day party — this time, headlined by Willaris. K.

Food & Drink

Celebrate the Year of the Tiger by tucking into a lavish, 11-course modern Chinese banquet.

Arts & Entertainment

Check out a huge pop-up artwork crafted from tennis balls, while enjoying free scoops of Piccolina's finest.

Arts & Entertainment

Acknowledge the journey and experience of the Boonwurrung people at this inclusive dawn event featuring music, readings and a smoking ceremony.

Food & Drink

South Yarra's Cucinetta is starting the new year in the best possible way: with extremely cheesy gnocchi.

Arts & Entertainment

Starring Bradley Cooper and Cate Blanchett, this mesmerisingly dark carnival noir is one of filmmaker Guillermo del Toro's very best features.

Arts & Entertainment

This annual celebration of Aboriginal and Torres Strait Islander cultures returns for its 20th year.

Arts & Entertainment

This immersive exhibition lets you walk through Michelangelo's Sistine Chapel artworks without leaving Melbourne.

Food & Drink

Northcote's new distillery bar is hosting a Grand Slam-themed brunch featuring bottomless booze and grazing platters.

Arts & Entertainment

Midsumma's 34th edition is celebrating LGBTQIA+ arts and culture as fiercely as ever, across a dazzling program of 195 events.

Arts & Entertainment

Kristen Stewart turns in a career-best performance as the People's Princess in this bold and enthralling slice-of-life biopic.

Arts & Entertainment

Taking 'Beauty and the Beast' into cyberspace, this vivid and inventive Japanese animation serves up a bold and dazzling take on the familiar fairytale.

Arts & Entertainment

Revisit this Heath Ledger and Rose Byrne-starring gem on the big screen, accompanied by a live score.

Travel & Leisure

Hit the zoo at sunset for an after-hours wildlife experience that'll transport you straight to the savannahs of Africa.

Arts & Entertainment

Ghostface is back for another stab, this time attacking a new bunch of teens, in the horror franchise that definitely still loves scary movies.

Food & Drink

Wet your whistle with nine types of shandies at The Bavarian this summer.

Food & Drink

Melbourne's beloved nighttime food market is back for a huge summer season, filling your Wednesday evenings with global eats, live tunes, pop-up bars and shopping galore.

Arts & Entertainment

This Australian-made thriller gives Zac Efron his turn at surviving the blistering outback, playing a stranger who spots a glistening nugget in a dystopian future.

Food & Drink

Unearth the best of the Macedon Ranges' vinous delights with a three-week program of wine, food and music events.

Arts & Entertainment

Will Smith turns in an attention-grabbing performance as Venus and Serena Williams' father in this stirring drama about the two tennis stars' childhood.

Arts & Entertainment

A dream international cast leads this female-fronted spy action flick, but even Jessica Chastain, Lupita Nyong'o and Penélope Cruz can't stop the globe-hopping result from being oh-so-basic.

Arts & Entertainment

2022's first big-screen must-see charts a washed-up porn star's thorny return to his home town, and features an awards-worthy performance by former MTV VJ Simon Rex.

Arts & Entertainment

Following refugees awaiting their new lives on a small Scottish island, this British blend of drama and comedy is equally wry, clear-eyed, smart and poignant.

Arts & Entertainment

After a two-year pandemic-enforced break, this openair cinema is back for another summer season — including a stint at the St Kilda Botanical Gardens for the first time ever.

Arts & Entertainment

This supremely soapy recounting of the Gucci family's 70s, 80s and 90s-era dramas is worth seeing for Lady Gaga's fantastic performance alone.

Arts & Entertainment

There's something bland and tedious in this neighbourhood: an empty reboot haunted by easy nostalgia.

Food & Drink

With handmade pasta dishes, signature spritz and bocce, this summer courtyard pop-up will transport you straight to Bologna.

Arts & Entertainment

Sugar Republic's latest pop-up features flowers, cherry blossoms, a sunshine room, a scratch 'n' sniff floral wall and a confetti shower.

Food & Drink

This Fitzroy pub rooftop is sporting a new rainbow-themed look for summer, complete with a self-serve machine pouring bottomless Moon Dog Fizzers.

Food & Drink

The gallery's weekly serve of after-hours fun features DJ tunes, pop-up bars and access to the latest exhibitions.

Food & Drink

Moonwalk back in time for this weekly DJ-fuelled 90s party, complete with retro cocktails and Passion Pop.

Food & Drink

QV Melbourne welcomes a summer pop-up complete with two bars and a roster of DJs.

Design & Style

Hosting over 400 free talks, workshops, performances and installations over a five-month stay, this year's MPavilion architecture commission is sure to inspire many a return visit.

Arts & Entertainment

From 'The Starry Night' to 'Sunflowers', experience the famed artist's masterpieces like never before at this immersive digital gallery.

Design & Style

The CBD has scored a new weekly laneway market, serving up eats, drinks, tunes and an array of locally-made wares.

Food & Drink

Fargo & Co is embracing summer with a specialty frosé lineup — complete with fruity flavours and fun toppings.

Food & Drink

This Prahran spot has transformed its garden atrium into a bloom-filled summer oasis inspired by the balmy days to come.

Arts & Entertainment

Watch everything from 'Shang-Chi and the Legend of the Ten Rings', 'A Quiet Place Part II' and 'Dear Evan Hansen' to 'Dirty Dancing', 'Love Actually' and 'Home Alone' under the stars.

Arts & Entertainment

It's Melbourne's turn to explore "world's most Instagrammable exhibit", complete with a confetti dome, ball pit and room filled with 40,000 gold flowers.

Food & Drink

The riverside pop-up is making a return this summer, with an open-air bar inspired by the Tuscan countryside.

Food & Drink

With no time limits on bookings, Rice Paper Scissors' new pop-up dining and function space is primed for long, lazy group catch-ups.

Arts & Entertainment

Explore echo light chambers, bound your way into giant bubbles, wander between shimmering digital vines and take a leap into a three-metre abyss.

Design & Style

It's the first exhibition in Australia that'll solely focus on Gabrielle 'Coco' Chanel's contributions to fashion and culture.

Arts & Entertainment

This Berlin-based artist's playful and interactive exhibition dives into life's big queries with room-sized installations and telephones sculptures that ask questions.

Design & Style

The NGV's thought-provoking new Architecture Commission features a pink-hued pond you can actually wade through.

Food & Drink

This year, Melbourne's summer floating bar is inspired by Turkey's Turquoise Coast, serving up Mediterranean bites and a hefty lineup of cocktails.

Arts & Entertainment

The acclaimed Australian artist's latest exhibition fills the usually closed Flinders Street Station Ballroom with otherworldly creatures.

Food & Drink

Wander into this hidden rooftop bar for an Italian-inspired soiree, featuring local prosecco, vintage tunes and bocce.

Arts & Entertainment

Hawthorn's rooftop cinema returns after lockdown with a jam-packed lineup of recent and classic flicks.

Arts & Entertainment

Big releases, retro flicks, choc tops and popcorn — all under the stars in Belgrave.

Food & Drink

Port Melbourne's pop-up beach bar is back for another summer — complete with $2 oyster specials and bottomless boozy brunches.

Food & Drink

A new Fitzroy market showcase a top selection of local food producers each Saturday.
Tap and select
Add to Home Screen
to access Concrete Playground easily next time.
x