The Best Things to Do in Melbourne This Week
Catch a show for Melbourne's month-long festival of dance, see the aquarium's luminous new installation or hit Rice Paper Scissors for a Southeast Asian Mexican fusion feast.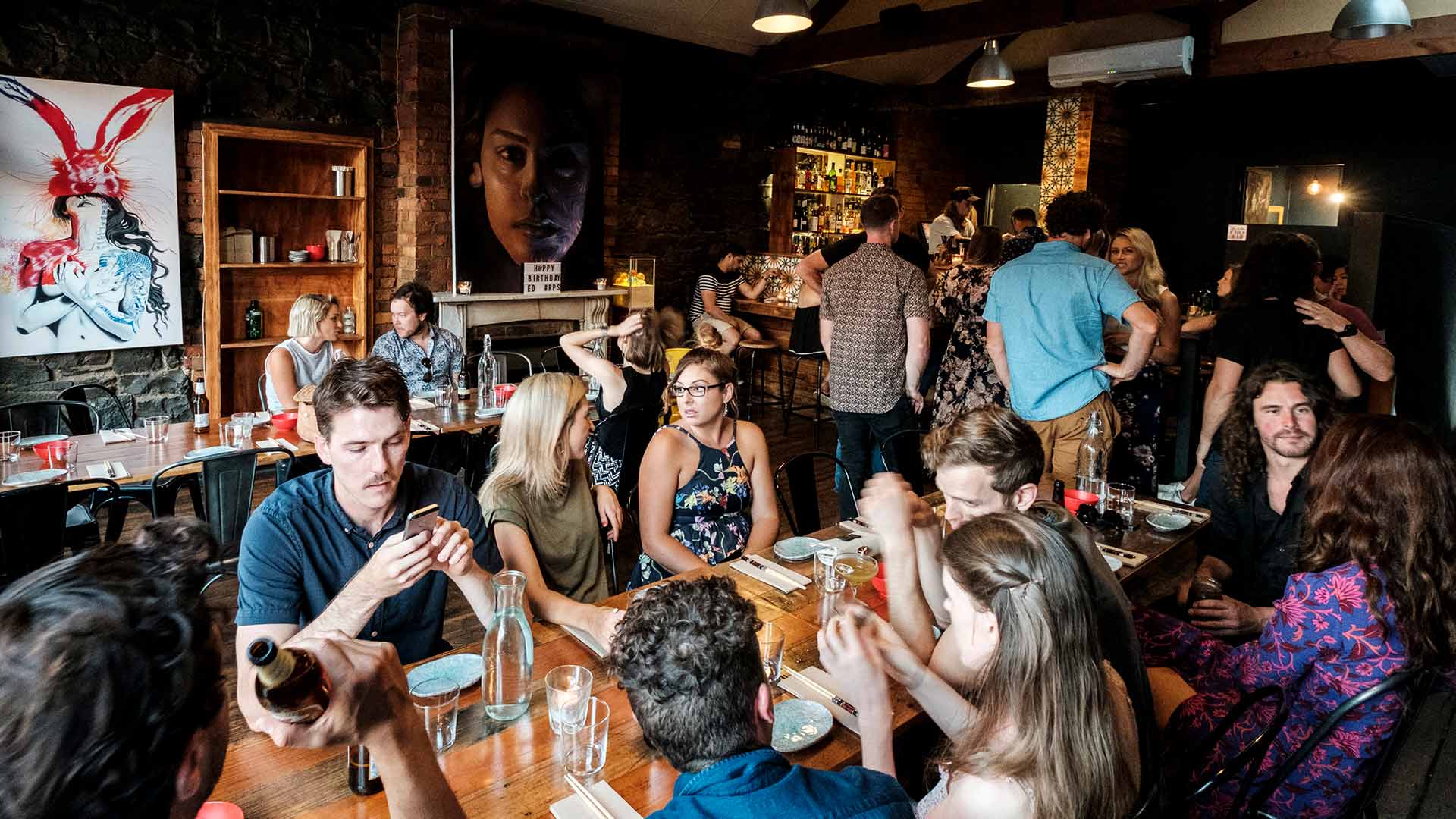 Heading back to the ol' daily grind can be pretty damn awful after a bright and shiny weekend of picnicking, bar hopping and patting dogs that aren't yours, but luckily Melbourne's a 'keep the ball rolling' kind of city and has plenty of events, exhibitions, theatre, film festivals and live music for you to inject a little awesomeness into your week. Sure, use Monday for Netflix binges. Then get out there and sink your teeth into Melbourne's best happenings this week.
Image: Rice Paper Scissors
Food & Drink

This Collingwood dessert pit-stop is serving up limited-edition ice cream treats — and you can try them for free.

Arts & Entertainment

Thanks to its stacked cast and light tone, the latest attempt to bring 'D&D' to the screen is enough of a romp for fans and newcomers alike.

Food & Drink

Feel the burn with a day of spicy eats, chilli lager and hot sauce stalls — plus a chilli-tasting competition.

Arts & Entertainment

Immerse yourself in stories of place and history, as you explore compelling new works centred on Australia's intercultural connections with its neighbours.

Food & Drink

Head along to this fundraising fiesta with a difference and help support a local legend.

Food & Drink

Get your weekend dose of la dolce vita at this must-visit Richmond hotspot.

Food & Drink

A full-venue Sunday sesh complete with DJs, cocktails, wines by Mosaique — and a lunch feast courtesy of Matt Stone and Tim Goegan.

Food & Drink

This pop-up 7-Eleven is stocked with specialty snacks from the likes of Tom Sarafian, Shannon Martinez and Piccolina — plus, Slurpee-inspired cocktails.

Food & Drink

This female-led feast is out to celebrate the talented women leaving their mark our state's food and wine scene.

Arts & Entertainment

Danielle Deadwyler is extraordinary in this crushing true tale about racial injustice in America's south.

Food & Drink

Southeast Asia meets Mexico for this exclusive MFWF fusion banquet.

Food & Drink

This charcoal-fuelled journey through Southeast Asia and India is led by celebrated chef Nabil Ansari.

Arts & Entertainment

Australian cinema gains a new queer classic with this tender Melbourne-set romance from 'You Won't Be Alone' writer/director Goran Stolevski.

Travel & Leisure

This five-day celebration of flowers, plants and all things horticulture features stunning installations, workshops, art and endless green-thumb inspo.

Food & Drink

This experimental pop-up is transforming produce originally destined for landfill into a midweek ramen feast.

Food & Drink

Every weekday for two weeks only, The Bavarian is serving up all-you-can-eat deals.

Arts & Entertainment

The 'John Wick' films keep getting bigger and better, with Keanu Reeves joined by martial-arts icon Donnie Yen in this globe-hopping action epic.

Food & Drink

A great feed that'll make you feel good in more ways than one.

Food & Drink

Three of Melbourne's Thai favourites are teaming up with a Bangkok legend for a fiery celebration of Thai street food.

Arts & Entertainment

To celebrate its 50th anniversary, this cult-hit musical is beaming its current Sydney season live into cinemas for one night only.

Arts & Entertainment

Celebrating Indigenous filmmakers from around the globe, this six-day film fest is headlined by six stunning 360-degree screen works.

Arts & Entertainment

This renowned Sydney-based Sri Lankan-born artist brings his colourful mythological sculptures south for his first Melbourne solo show in seven years.

Arts & Entertainment

Mia Goth is magnetic again in this gem of a prequel to Ti West's 2022 slasher standout 'X'.

Food & Drink

Tuck into $9.95 schnitzels one day a week at The Bavarian.

Arts & Entertainment

Apart from casting Helen Mirren, Lucy Liu and 'West Side Story' star Rachel Zegler, this sequel to 2019's 'Shazam' is hardly magical.

Food & Drink

The gallery's tune-filled after-hours parties are back for summer — this time inspired by the great Alexander McQueen.

Arts & Entertainment

This new month-long festival of dance celebrates talent both renowned and emerging.

Arts & Entertainment

The Strokes, the Yeah Yeah Yeahs and NYC's early-00s indie-rock scene get the in-the-moment documentary treatment by the directors of 'Shut Up and Play the Hits'.

Arts & Entertainment

Melbourne's annual French cinema showcase is back with a 39-movie lineup spanning zombies, comedies, thrillers, tender dramas and more.

Food & Drink

South Yarra's Cucinetta is kicking off autumn in the best possible way: with extremely cheesy gnocchi.

Arts & Entertainment

Forget the controversy surrounding Andrea Riseborough's Oscar nomination — she's remarkable in this powerful character study.

Travel & Leisure

Enjoy drinks, snacks and beats while you party poolside — 14 storeys up.

Arts & Entertainment

In this piercingly empathetic documentary, 'Citizenfour' Oscar-winner Laura Poitras turns her attention to photographer Nan Goldin and her fight against the family behind OxyContin.

Food & Drink

Brunswick's free-flowing carb and cocktail feasts are back, complete with vegan and gluten-free options galore.

Food & Drink

Take midweek steak night to the next level with prime wagyu cuts, bottomless hand-cut fries and local vino on tap.

Arts & Entertainment

Watching Adam Driver fight dinosaurs isn't as spectacular as it should be, but this average flick isn't an extinction-level event either.

Travel & Leisure

Enjoy a guided yoga flow class while immersed in large-scale digital art, curated sounds and a bespoke aroma.

Arts & Entertainment

The slasher franchise's sixth instalment unleashes Ghostface upon a new city, but happily keeps stabbing its way through familiar territory.

Travel & Leisure

This dazzling exhibition at Sea Life Melbourne Aquarium dives into the mysteries of the bioluminescent underwater world.

Food & Drink

Feast your way through unlimited pork belly, chicken schnitzels, chicken wings and German sausages.

Arts & Entertainment

This Olivier Award-winning Shakespeare-meets-pop musical is coming to Australia in 2023.

Food & Drink

Aperol's Rivieran Summer has arrived. Make the most of Melbourne's warmer weather with an Aperol Spritz at Petanque Social, tickets to a live music festival or a self-skippered boat session on the Yarra.

Arts & Entertainment

This captivating exhibition explores the deep connection water has with the land and the sky.

Design & Style

This blockbuster NGV International exhibition features more than 120 garments designed by the late, great fashion icon.

Design & Style

This year's vibrant MPavilion architecture commission will feature 250-plus free talks, workshops, performances and installations over four months.

Arts & Entertainment

Melbourne's digital gallery is diving into the French impressionist era with this multi-sensory exhibition.

Arts & Entertainment

Discover the cultural and social diversity of working life over the years at the Immigration Museum's latest exhibition.

Travel & Leisure

Now, you don't even need to book a hotel room to spend a weekday living it up by W Melbourne's glam 14th-floor pool.

Food & Drink

A new Fitzroy market showcase a top selection of local food producers each Saturday.
Tap and select
Add to Home Screen
to access Concrete Playground easily next time.
x