The Best Things to Do in Melbourne This Week
Revel in the return of cinema with a movie under the stars, or sip local prosecco at a hidden rooftop bar.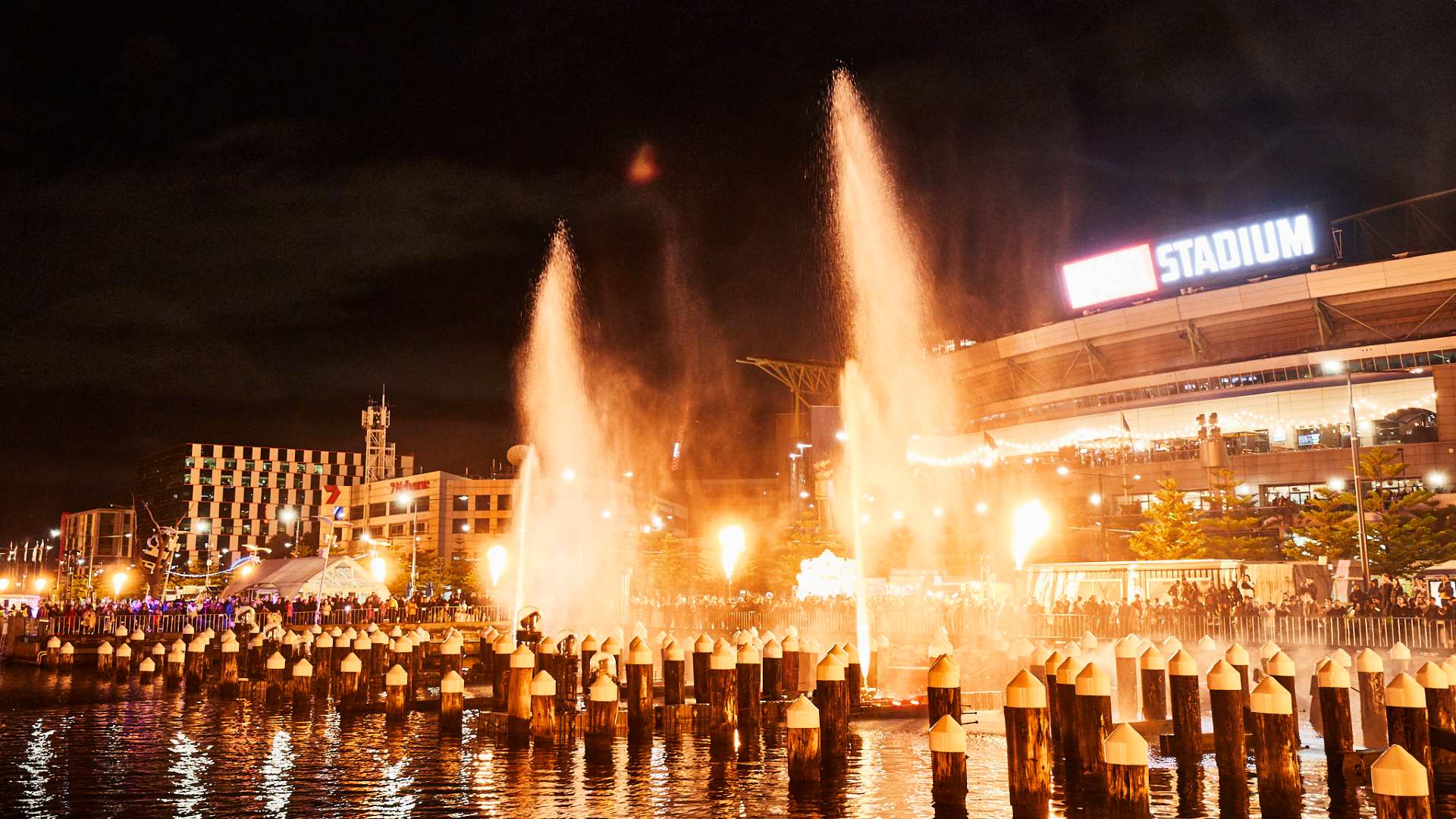 Heading back to the ol' daily grind can be pretty damn awful after a bright and shiny weekend of picnicking, bar hopping and patting dogs that aren't yours, but luckily Melbourne's a 'keep the ball rolling' kind of city and has plenty of events, exhibitions, theatre, film festivals and live music for you to inject a little awesomeness into your week. Sure, use Monday for Netflix binges. Then get out there and sink your teeth into Melbourne's best happenings this week.
Image: Firelight Festival.
Arts & Entertainment

Brisbane isn't the only place to see Chiharu Shiota's impressive artworks, with Melbourne's Anna Schwartz Gallery also showcasing the artist's pieces until late July.

Arts & Entertainment

This lyrical social-realist drama from British filmmaker Clio Barnard tells a tender and touching tale about two West Yorkshire residents looking for love and happiness.

Arts & Entertainment

Featuring superb performances and an involving narrative, this handsome 19th century-set French drama about big dreams and stark realities feels oh-so-relevant today.

Food & Drink

This Fitzroy favourite is dishing up a one-off edition of its much-loved bottomless brunch, pairing fancy bites with free-flowing drinks.

Design & Style

Shop fashion, art and other wares from First Nations designers and businesses — and unleash your own creative spirit at one of the day's free interactive workshops.

Arts & Entertainment

Celebrate NAIDOC Week with cultural workshops, a design market and a showcase of First Nations art, plus live tunes from the likes of Alice Skye, Soju Gang and Spinifex Gum.

Design & Style

The Swedish furniture giant is offering discounts of up to 50 percent off until July 10.

Food & Drink

This limited-edition weekly yum cha series will spice up your Sunday with dim sum, DJ tunes and teapot cocktails.

Travel & Leisure

Enjoy drinks, snacks and beats while you party poolside — even in winter.

Food & Drink

Bring the big weekend energy to your Saturday afternoon with this bottomless boozy bingo brunch.

Food & Drink

A new Fitzroy market showcase a top selection of local food producers each Saturday.

Arts & Entertainment

Wander amongst luminous animal sculptures, hula hoopers and fire-twirlers when this arts fest sets Mount Waverley's community gardens aglow.

Arts & Entertainment

Baz Luhrmann's take on the king of rock 'n' roll is a sprawling, exhilarating spectacle, as led by an exceptional Austin Butler in the pompadour and jumpsuits.

Food & Drink

Windsor's long-standing modern Japanese diner is descending on QT Melbourne for a six-week dinner pop-up driven by smoke and char.

Arts & Entertainment

Party on like Aurora's finest rock 'n' roll fans at this huge 30th anniversary party.

Arts & Entertainment

Somebody once told us that this is the burlesque and drag version of 'Shrek' you didn't know you needed.

Travel & Leisure

Take to the streets of Melbourne to solve this interactive murder-mystery.

Arts & Entertainment

Go on, get lost — in this huge human-sized kaleidoscope that's made of glass, steel, mirrors and moving prisms.

Arts & Entertainment

'Ex Machina' and 'Annihilation' filmmaker Alex Garland returns with a #MeToo horror film that's both blatant and piercing.

Food & Drink

Richmond's Baby Pizza is bringing the Euro holiday vibes, serving up spritz, beer and cocktail specials from 3–5pm daily throughout winter.

Arts & Entertainment

This Buzz Lightyear origin story doesn't soar to infinity and beyond, but it benefits from lively voice work and a scene-stealing robot cat.

Arts & Entertainment

Spoken only in gibberish, and unafraid to bare all, this New Zealand sex comedy starring Jackie van Beek, Jemaine Clement and Damon Herriman is revelatory several times over.

Food & Drink

This weekly collaborative dining series is a love letter to carbs that sees the Beast CBD team up with a bunch of cult faves.

Arts & Entertainment

The world's best (and most shocking) photojournalism from the past year comes to Sydney.

Arts & Entertainment

Acclaimed Iranian filmmaker Asghar Farhadi returns to his best with this Cannes Grand Prix-winner, which follows an imprisoned man, a lucky find and a good deed that doesn't go unpunished.

Arts & Entertainment

The sixth film in the dinosaur franchise reteams OG stars Laura Dern, Sam Neill and Jeff Goldblum — but even that can't save its extinction-level struggles.

Food & Drink

If you're looking for a new lazy Sunday brunch option, time your next visit to NOMAD — where the team is celebrating all things truffle.

Arts & Entertainment

Strap yourself into a section of a real airplane, and prepare for an eventful and immersive experience.

Arts & Entertainment

Sydney Theatre Company's smash-hit production of the Oscar Wilde novel is a groundbreaking one — the one-person show features a sole actor playing all 26 characters. And, it's coming to Melbourne.

Arts & Entertainment

This West End hit explores the stories of Henry VIII's six wives — by getting them to sing at a pop concert.

Design & Style

An immersive, multi-sensory adventure awaits at Melbourne's premiere of this intergalactic exhibition.

Food & Drink

Now you can get your slurp on with budget-friendly bowls of ramen every Wednesday and Thursday evening at Brunswick's Project281.

Arts & Entertainment

Scope out more than 70 works by the Spanish artist, as well as 100-plus others from over 50 of his contemporaries.

Arts & Entertainment

See hundreds of years of iconic artworks from the NGV collection examined through a queer lens.

Arts & Entertainment

Munro's first Australian exhibition is an experimental, immersive light installation exploring the human experience.

Arts & Entertainment

This Melbourne-exclusive showcase from the UK's Tate galleries features more than 70 works, including pieces by Claude Monet and Yayoi Kusama.

Arts & Entertainment

The NGV's new exhibit explores Australian identity through unconventional portraiture.

Food & Drink

This indulgent riverside pop-up is back for a luxe winter appearance, only serving lobster rolls with truffle fries and glasses of champagne.

Arts & Entertainment

This after-dark light show is taking over the Royal Botanic Gardens Melbourne this winter, featuring a 1.8-kilometre trail of light and colour.

Travel & Leisure

Enjoy a guided yoga flow class while immersed in large-scale digital art, curated sounds and a bespoke scent.

Food & Drink

The Westin is making fairytales come true with this themed high tea inspired by the 'Cinderella' musical.

Food & Drink

Fargo & Co's rooftop has scored a bunch of mini ski chalets, which you can book for a cosy session of Grey Goose drinks and pink chocolate fondue.

Food & Drink

Mr Joe's new Thursday night deal will level up your midweek dinner game, with half-price paella and bottomless cocktails to match.

Food & Drink

The humble bao is given a Mexican twist for Fonda's new limited-edition collaboration menu.

Arts & Entertainment

Glass slippers and pumpkin carriages are coming to Melbourne, with the Broadway production dancing into the Regent Theatre from May.

Arts & Entertainment

This ACMI retrospective showcases an award-winning documentarian and his commitment to examining American institutions.

Food & Drink

Elevate your Tuesday night dinner with an unlimited side serve of hot, crispy fries.

Food & Drink

Everything inside the zero-impact venue has been constructed from materials that are either recycled or can be reused or composted.

Food & Drink

Don Taco is serving up all-you-can-eat vegan tacos every Tuesday for just $20 per person.

Arts & Entertainment

A slice of Ancient Greece is coming to Australia, with 44 works and artefacts dating back to the early bronze age on display at Melbourne Museum.

Arts & Entertainment

The Bendigo Art Gallery is hosting a four-month-long exhibition dedicated to Elvis Presley, featuring around 300 items and curated in collaboration with the Graceland archives.

Arts & Entertainment

Melbourne, don't miss your shot to see the blockbuster Tony Award-winning musical by Lin-Manuel Miranda.

Arts & Entertainment

From 'The Starry Night' to 'Sunflowers', experience the famed artist's masterpieces like never before at this immersive digital gallery.
Tap and select
Add to Home Screen
to access Concrete Playground easily next time.
x