ARTS & ENTERTAINMENT
The Best Things to Do in Melbourne This Week
Revel in the return of cinema with a movie under the stars, or sip local prosecco at a hidden rooftop bar.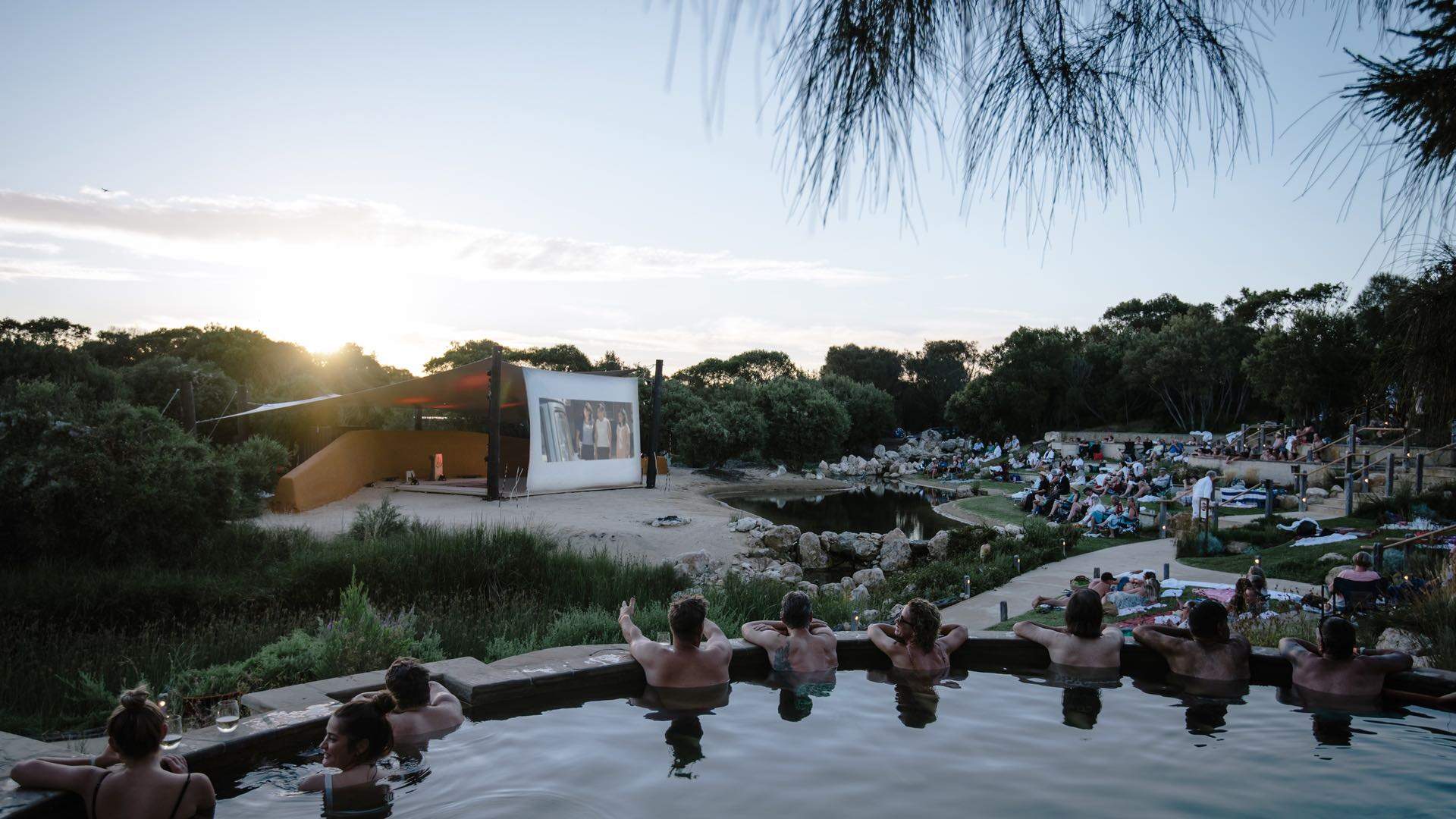 Heading back to the ol' daily grind can be pretty damn awful after a bright and shiny weekend of picnicking, bar hopping and patting dogs that aren't yours, but luckily Melbourne's a 'keep the ball rolling' kind of city and has plenty of events, exhibitions, theatre, film festivals and live music for you to inject a little awesomeness into your week. Sure, use Monday for Netflix binges. Then get out there and sink your teeth into Melbourne's best happenings this week.
Image: 'Friends' at Bathe-In Cinema
Arts & Entertainment

Phenomenally cast, staged and shot, this Timothée Chalamet-led version of sci-fi's desert-dwelling space thriller is spectacular.

Food & Drink

Moonwalk back in time for this weekly DJ-fuelled 90s party, complete with retro cocktails and Passion Pop.

Travel & Leisure

Port Melbourne's festive pop-up market is back for another day of gift shopping, eats and live tunes.

Food & Drink

Tex-Mex chain El Camino Cantina is celebrating summer with bright-hued, candy-flavoured margaritas — complete with edible candy garnishes.

Arts & Entertainment

Unpacking a sex-tape scandal — as well as the state of the world today — this Romanian award-winner is scorching and searing from its first frame to its last.

Arts & Entertainment

Tom Hardy and his parasite are back in this gleefully ridiculous sequel to 2018's box-office hit — and watching the actor argue with himself is the best thing about the film.

Food & Drink

QV Melbourne welcomes a summer pop-up complete with two bars and a roster of DJs.

Arts & Entertainment

Following a serial-killing car model, this ferocious and unflinching body-horror thriller is only the second-ever movie to win a female filmmaker Cannes Film Festival's coveted Palme d'Or.

Food & Drink

This is your one-stop pop-up gift shop for all things gin-related.

Food & Drink

One of Melbourne's most iconic laneways is getting a festive makeover.

Arts & Entertainment

The Oscar-winning directors behind 'Free Solo' swap climbing peaks for diving deep, this time chronicling the rescue of 12 Thai schoolboys and their soccer coach from the Tham Luang Nang Non cave system.

Arts & Entertainment

With potent performances and a dreamy-yet-gritty look, this deeply moving drama tackles America's immigration laws and their punitive impact.

Food & Drink

From tastings and distillery tours to masterclasses and boozy dinners, there's plenty of whisky business planned for this spirits festival's inaugural run.

Arts & Entertainment

2015's viral 148-post Twitter thread about a Florida trip gone wrong comes to the screen, complete with candy hues, a bold approach and a savvy dissection of social media.

Food & Drink

Kick off summer with QVM's new midweek fiestas, starring a globe-trotting curation of food truck eats alongside an all-Victorian drinks menu.

Arts & Entertainment

Prahran's colourful multi-arts festival delivers a riotous blend of comedy, cabaret and circus this December.

Food & Drink

With no time limits on bookings, Rice Paper Scissors' new pop-up dining and function space is primed for long, lazy group catch-ups.

Design & Style

The CBD has scored a new weekly laneway market, serving up eats, drinks, tunes and an array of locally-made wares.

Arts & Entertainment

Watch your favourite TV friends on a big screen under the stars, while soaking blissfully in a geothermic pool.

Food & Drink

Fargo & Co is embracing summer with a specialty frosé lineup — complete with fruity flavours and fun toppings.

Food & Drink

This Prahran spot has transformed its garden atrium into a bloom-filled summer oasis inspired by the balmy days to come.

Food & Drink

Feast your way through unlimited pork belly, chicken schnitzels, chicken wings and German sausages.

Arts & Entertainment

Watch everything from 'Shang-Chi and the Legend of the Ten Rings', 'A Quiet Place Part II' and 'Dear Evan Hansen' to 'Dirty Dancing', 'Love Actually' and 'Home Alone' under the stars.

Travel & Leisure

This pop-up adventure experience lets you whiz from Fed Square to Alexandra Gardens, nine metres above the water.

Arts & Entertainment

Melbourne's annual celebration of music will help you wrap up the year with a healthy fix of live tunes, showcasing sounds from over 300 artists.

Arts & Entertainment

In her first film in more than a decade, acclaimed filmmaker Jane Campion directs a mesmerising musing on strength, desire and isolation, as aided by a career-best performance by Benedict Cumberbatch.

Arts & Entertainment

This free augmented reality scavenger hunt will see you exploring the city as you unlock artworks, musical performances and exclusive giveaways.

Food & Drink

Hit this Yarra Valley orchard for a day of cherry picking, picnicking, live tunes and cherry ice cream.

Food & Drink

This 90-minute immersive dining experience delivers a feast for all senses, fusing art, performance, music and design.

Arts & Entertainment

Daniel Craig farewells his time as Bond in a thrilling, weighty and emotional swansong that isn't afraid to shake and stir the franchise's usual elements.

Arts & Entertainment

It's Melbourne's turn to explore "world's most Instagrammable exhibit", complete with a confetti dome, ball pit and room filled with 40,000 gold flowers.

Arts & Entertainment

Explore echo light chambers, bound your way into giant bubbles, wander between shimmering digital vines and take a leap into a three-metre abyss.

Arts & Entertainment

This Berlin-based artist's playful and interactive exhibition dives into life's big queries with room-sized installations and telephones sculptures that ask questions.

Design & Style

Hosting over 400 free talks, workshops, performances and installations over a five-month stay, this year's MPavilion architecture commission is sure to inspire many a return visit.

Arts & Entertainment

From 'The Starry Night' to 'Sunflowers', experience the famed artist's masterpieces like never before at this immersive digital gallery.

Arts & Entertainment

Oscar-winner Chloé Zhao brings a different look, feel and sense of thoughtfulness to the Marvel Cinematic Universe's latest superhero team-up.

Arts & Entertainment

Australia's annual celebration of Japanese films is celebrating its 25th year by bringing 21 new and classic movies to Melbourne.

Food & Drink

This year, Melbourne's summer floating bar is inspired by Turkey's Turquoise Coast, serving up Mediterranean bites and a hefty lineup of cocktails.

Arts & Entertainment

Melbourne's genre and cult cinema festival is back with zombies, hauntings, revenge tales and eerie islands.

Arts & Entertainment

The acclaimed Australian artist's latest exhibition fills the usually closed Flinders Street Station Ballroom with otherworldly creatures.

Food & Drink

Celebrate lockdown ending with a limited-edition pack of doughnuts and beer.

Food & Drink

Wander into this hidden rooftop bar for an Italian-inspired soiree, featuring local prosecco, vintage tunes and bocce.

Arts & Entertainment

Hawthorn's rooftop cinema returns after lockdown with a jam-packed lineup of recent and classic flicks.

Arts & Entertainment

Big releases, retro flicks, choc tops and popcorn — all under the stars in Belgrave.

Food & Drink

The riverside pop-up is making a return this summer, with an open-air bar inspired by the Tuscan countryside.

Food & Drink

Port Melbourne's pop-up beach bar is back for another summer — complete with $2 oyster specials and bottomless boozy brunches.

Arts & Entertainment

Spend a month watching the latest and greatest British flicks — including Edgar Wright's new thriller, a David Bowie biopic, and films starring Olivia Colman, Jamie Dornan, Colin Firth, Benedict Cumberbatch and Claire Foy.

Arts & Entertainment

This year's festival will kickstart your European holiday cravings with a 26-movie lineup of new and classic dramas, thrillers, comedies and documentaries.

Design & Style

It's the first exhibition in Australia that'll solely focus on Gabrielle 'Coco' Chanel's contributions to fashion and culture.

Arts & Entertainment

Australia's annual showcase of Nordic cinema returns to Melbourne with a lineup of films from Denmark, Finland, Iceland, Norway and Sweden.

Arts & Entertainment

Explore the Mouse House's huge animated catalogue via more than 500 original paintings, sketches and drawings.

Food & Drink

A new Fitzroy market showcase a top selection of local food producers each Saturday.
Tap and select
Add to Home Screen
to access Concrete Playground easily next time.
x