FOOD & DRINK
The Best Things to Do in Melbourne This Weekend
Hit up this beach club, enjoy prawn rolls and spritzes riverside or catch a local band.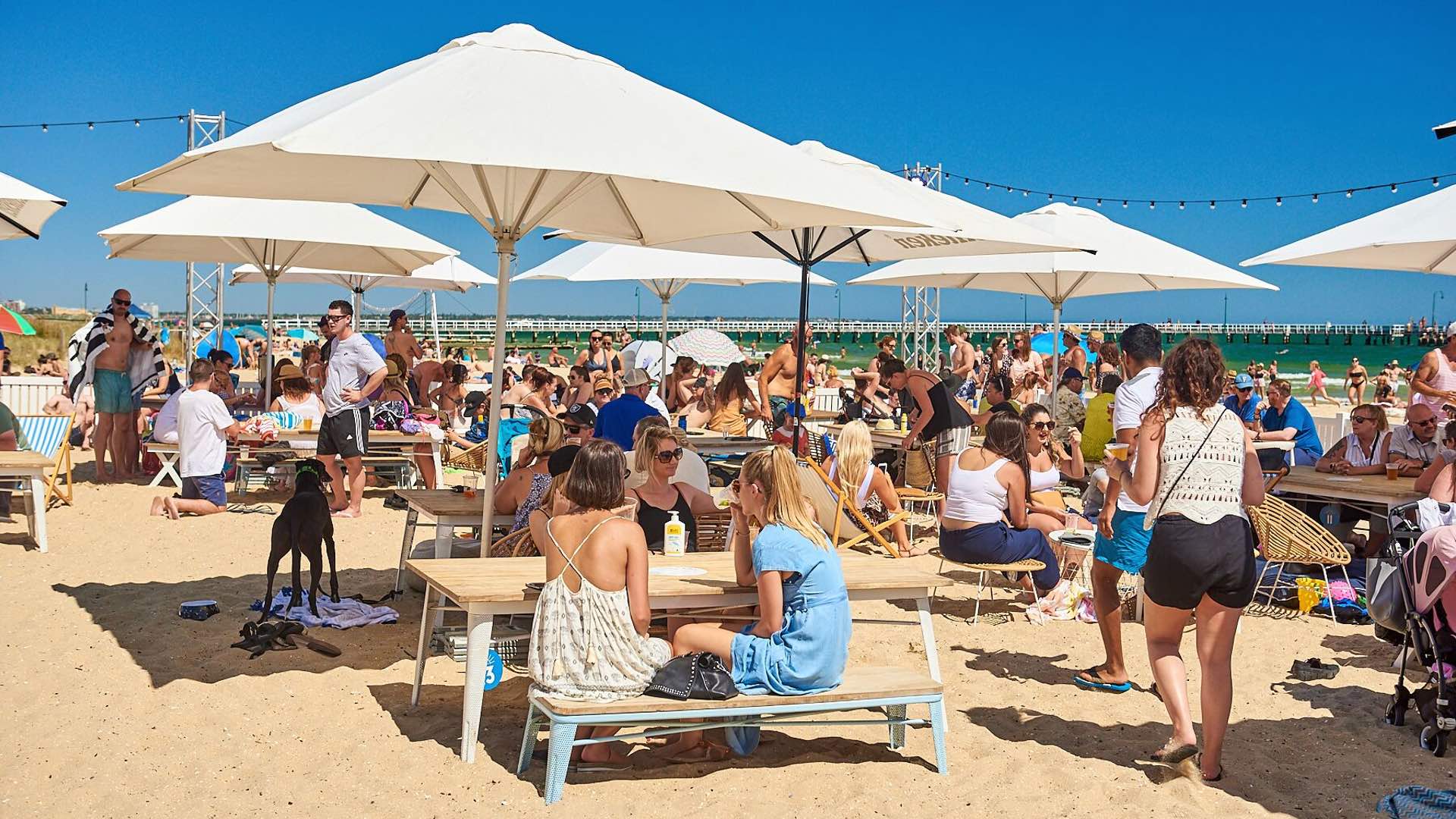 Weekends are precious. Two glorious days devoid of responsibility and overflowing with possibility. Luckily, Melbourne's got plenty happening to make sure you don't spend the days indoors binge-watching Netflix and instead discovering new bars, absorbing art and feasting your way through food markets. Here are our picks of the weekend's happenings.
For information about COVID-19 in Victoria and current restrictions, head to the Victorian Government website.
Top image: The Exchange Beach Club
Arts & Entertainment

Swap your spare change for a stack of books every Saturday and Sunday at Queen Victoria Market.

Arts & Entertainment

Leisurely and engaging, this documentary about elderly men and their dogs searching for truffles in Northern Italy serves up a rich and substantial cinematic meal.

Arts & Entertainment

Celebrating Australia's acclaimed Indigenous dance theatre, this excellent documentary also steps through the nation's past and paints a portrait of three siblings with dreams as big as their talents.

Arts & Entertainment

Denzel Washington, Rami Malek and Jared Leto co-star in this 90s-style serial killer thriller — and none of them will add new Oscars to their mantles for their efforts.

Arts & Entertainment

Vivid, honest and tender, this resonant and moving drama stars Steven Yeun as a Korean American father and farmer chasing a better life for his family.

Arts & Entertainment

Focusing on a mother encouraging her daughter to enter a beauty pageant for Black American teens, this keenly observed drama proves both tender and thoughtful.

Food & Drink

Pop down to the St Kilda pub for fruity margs, Mexican-inspired bites and mariachi band performances.

Arts & Entertainment

Four teachers test a theory that humans actually need a constant supply of alcohol in their blood in this Oscar-shortlisted Danish drama.

Arts & Entertainment

Exploring a shocking 2017 assassination, this gripping true-crime documentary has to be seen to be believed.

Arts & Entertainment

Starring Anthony Mackie and Jamie Dornan, this sci-fi thriller follows two paramedics dealing with a trippy new designer drug.

Arts & Entertainment

Dancing and live music return to Port Melbourne's Timber Yard for a nine-hour day party.

Arts & Entertainment

Going virtual for the first time, this Australian film festival showcases documentaries about our changing world.

Food & Drink

Stock up on olives, pulses, grains, honey and condiments — but you'll need to bring your own reusable containers.

Arts & Entertainment

After sitting out 2020, the cinema showcase returns with 29 features, 19 documentaries and episodes from three TV series.

Arts & Entertainment

This year's LGBTIQ+-focused festival will also screen online for the first time.

Arts & Entertainment

This new photography festival will transform streets and spaces across Victoria into mini outdoor galleries.

Food & Drink

Tipico's head chef demonstrates the art of making perfect passata, at these free pop-up classes

Arts & Entertainment

Celebrated street artist Rone returns to his roots for an immersive new exhibition in Geelong.

Food & Drink

Have a day out with your pup — there will be lots of prosecco for you and heaps of treats for them.

Food & Drink

Eight chefs, eight weeks and 24 inventive new gelato flavours — including one made with caramelised radicchio.

Food & Drink

Celebrate the salty-sour cocktail the right way — by drinking one (or a few).

Food & Drink

This month-long celebration of the humble margarita, featuring slushies, specials and free drinks.

Travel & Leisure

Spend a day frolicking through a field of sunflowers — and picking them.

Food & Drink

This true feast for the senses is a collaboration between The Everleigh, Peter Gunn and new creative culinary concept SSIXX.

Arts & Entertainment

St Kilda's Jewish Museum of Australia will be home to never-before-seen Mora works.

Travel & Leisure

This roaming makers market is popping up in Melbourne for a four-week summer series.

Arts & Entertainment

An openair performance space and cultural hub has popped up in Malthouse Theatre's courtyard.

Food & Drink

Enjoy signature spritz and fat prawn rolls, at this dog-friendly, riverside pop-up bar.

Arts & Entertainment

An inaugural program of live tunes, storytelling, dance and performance takes over the museum's sculpture park for nine weeks.

Food & Drink

Indulge in loaded grazing boards and King Valley prosecco at Gertrude Street's pop-up summer terrace.

Food & Drink

Feast your way through unlimited German cheese, charcuterie and pretzels.

Arts & Entertainment

Fed Square is transforming into a greenery-filled oasis with a program of free film screenings, live music and workshops.

Arts & Entertainment

It's screening everything from 'The Big Lebowski' and 'Fargo' to 'No Country for Old Men' and 'Inside Llewyn Davis'.

Arts & Entertainment

Watch your way through all 24 official Bond movies to-date — all in the lead up to 'No Time to Die'.

Food & Drink

A kitsch Palm Springs-inspired pop-up bar from the Howler crew.

Food & Drink

This summer, pair your Carwyn Cellars beer session with Mexican eats courtesy of the Little Tienda crew.

Arts & Entertainment

A two-month COVID-safe music festival at the Sidney Myer Music Bowl featuring the likes of Missy Higgins, Lime Cordiale and Birds of Tokyo performing with the MSO.

Arts & Entertainment

This new exhibition turns the top of Bourke Street into an outdoor art gallery.

Arts & Entertainment

ACMI and Sydney Film Festival are teaming up to screen 11 sumptuous films from the acclaimed Hong Kong director.

Arts & Entertainment

Pack a picnic and see Shakespeare's 'A Midsummer Night's Dream' or 'Macbeth' play out in the Royal Botanic Gardens.

Arts & Entertainment

The annual event is taking over bars, clubs and unusual Melbourne venues once again.

Food & Drink

This pop-up beach bar in Port Melbourne is back for another summer — with $2 oysters and weekend bottomless boozy brunches.

Food & Drink

Melbourne's gin festival is back — and it's taken over Pilgrim Bar.

Food & Drink

This hidden rooftop has Four Pillars gin cocktails and stunning city views.

Food & Drink

The Yarra's floating bar returns with cocktails on tap and a Mediterranean menu.

Arts & Entertainment

A multi-sensory playground with light-filled mazes, inflatable bubbles and a black hole simulator is taking over The District Docklands.

Design & Style

Instead of building something new, the event is reactivating its previous six eye-catching structures.

Arts & Entertainment

You can now get up close and personal with swarms of jellyfish at Sea Life's million-dollar exhibition.

Food & Drink

A new lakeside picnic ground complete with food, booze and picnic gear to hire.
Tap and select
Add to Home Screen
to access Concrete Playground easily next time.
x