Where to Head for Eats and Drinks Before and After a Session at the Australian Open
From pre-match parmas to celebratory champagne after a long day courtside, these local spots have you sorted during this year's Grand Slam tournament.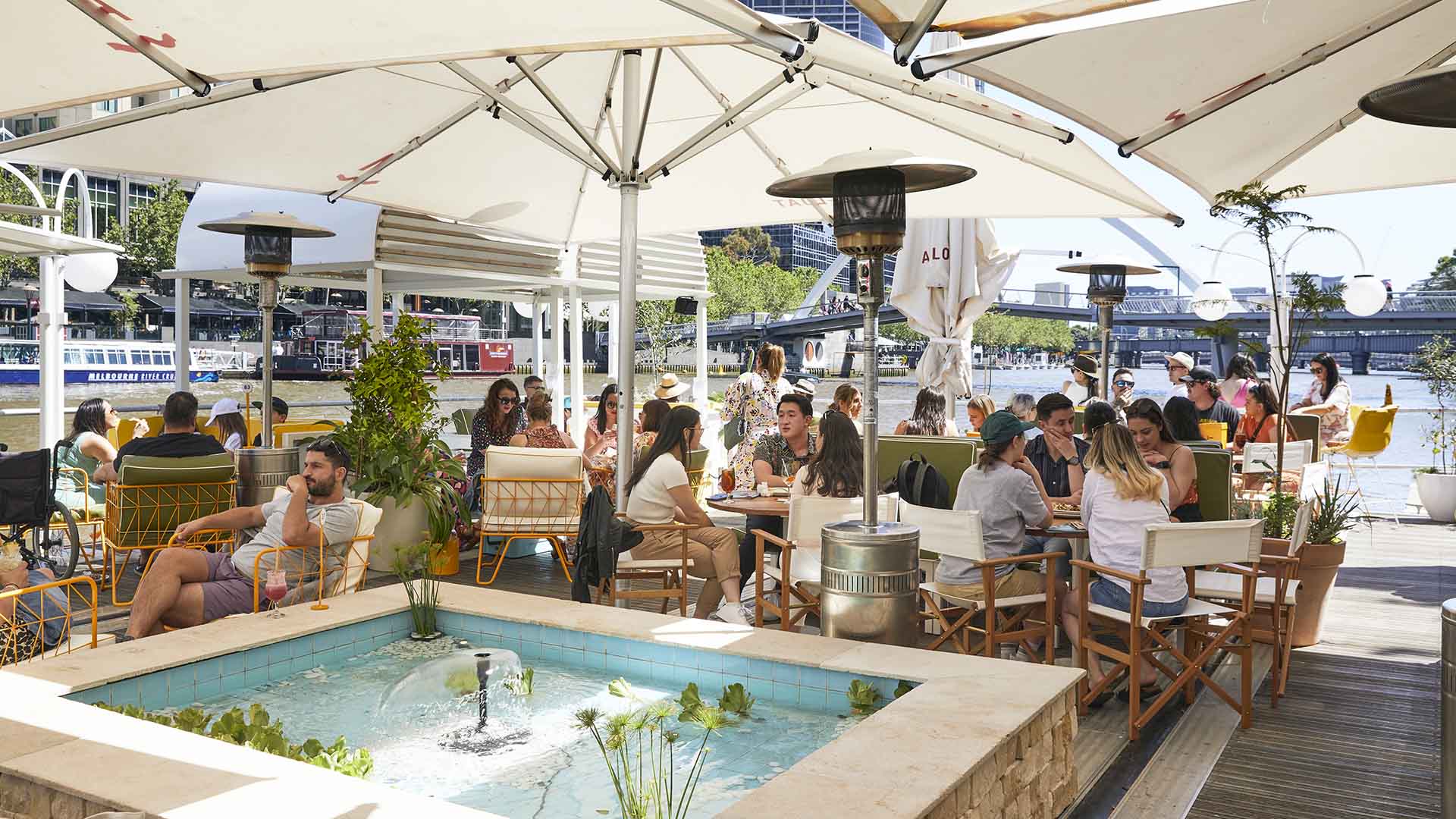 It's that balmy time of year when the days are long, the post-holiday haze is yet to lift...and the eyes of the world are on Melbourne as it hosts one of its biggest annual sporting events, the Australian Open. This year, almost all of the world's top tennis players will descend on Melbourne Park from January 17–30, battling out for Grand Slam glory.
And even despite density limits and ticket caps brought in due to the current COVID-19 situation, thousands of spectators are also set to head along to watch the on-court action unfold. If you're one of those punters, chances are you'll be in the market for a bite to eat before a match or a couple of bevs to round out a big day courtside. So, we've pulled together some of the best bars and restaurants within strolling distance of Melbourne Park's front gates. Intersperse your tennis-watching adventures with a visit to one of these great spots and enjoy your own little grand slam moment.
Top Image: Arbory Afloat, by Parker Blain
Food & Drink

Spot on modern Asian CBD dining from the lady herself.

Food & Drink

The San Telmo Group's playful take on modern Japanese barbecue heroes skewers cooked over charcoal and cleverly reworked classic cocktails.

Food & Drink

Tucked away in stencil-drenched Hosier Lane, MoVida offers a grazing extravaganza in an enchanting room akin to what you'd actually get in downtown Barcelona.

Food & Drink

You'll find red banquettes, Euro-accented fare and a cocktail list filled with Ernest Hemingway favourites at this art deco bar.

Food & Drink

It turns out Melbourne's oldest licensed pub has a few new tricks up its sleeve.

Food & Drink

The minds behind Liminal and Common Ground Project have opened your new after-work go-to for cocktails and things on toast.

Food & Drink

With great views and even better food, this is one platform you won't mind getting delayed on. 

Food & Drink

The floating bar's latest incarnation is inspired by Turkey's Turquoise Coast, serving up Mediterranean bites and a hefty lineup of cocktails.

Food & Drink

Andrew McConnell's elegant new cocktail bar and European bistro serves up caviar, champagne and truffles aplenty.

Food & Drink

A sensory dream of outstanding food and beautiful design.

Food & Drink

A Richmond live music institution with a rooftop.

Food & Drink

One of Richmond's oldest and most iconic pubs, just across the road from all the sporting action.

Food & Drink

This new Flinders Lane wine bar from Jessi Singh specialises in Indian snacks, juicy cocktails and cheap lunchtime thalis.

Food & Drink

A plush two-storey cocktail lounge with a secret basement bar, fireplace and boozy brunch sessions.
Tap and select
Add to Home Screen
to access Concrete Playground easily next time.
x