TRAVEL & LEISURE
Twelve of the Best Places to Watch the Sunrise and Sunset In and Around Melbourne
Put the phone away after you've snapped a cheeky Instagram story, and look up.
Under current COVID-19 restrictions in Victoria, there are restrictions on gatherings in place. For more details on Victoria's current restrictions, see the Department of Health and Human Services website.
When Melbourne's skies are putting on a proper show — bruising the clouds purple, petal and peach, the city looks like something out of a fairytale. Melbourne is home to some of the most beautiful skies in the whole world, so a spectacular sunrise or sunset can be one of the only times everyone in the city is looking up.
So, we've compiled a list of the best places to catch Mother Nature in action. Drag your eyes away from your phone (after you've snapped the obligatory sunrise or sunset shot) and look up.

RICHARD PRATT GARDENS, SOUTHBANK
Admire a sunset against the scenic backdrop of Melbourne's hustle and bustle. Hidden between the Arts Centre and Hamer Hall, this quaint piece of greenery is home to a sleek black sculpture created by Inge King. Forward Surge (1972–1974) is made up of four pieces of imposing black steel waves — the looming artwork is eye-catching and surprisingly comfortable to lean back on while watching the sunset. The lawn of the Richard Pratt Gardens also hosts a weekly Sunday Market (10am–4pm), with local artisans showcasing a selection of handmade goods ranging from arts and crafts to delicious delicacies. Let yourself be tempted by the smell of freshly made spinach and feta gozleme and a bag of piping hot jam doughnuts — they're the perfect companion for window shopping. If you're looking for somewhere a bit more private, face north-west towards the Hamer Hall Stage Door and you'll find a small set of stairs leading up and around the Arts Centre. There's a patch of turf that overlooks Flinders Street Station and Southbank that makes for ideal viewing.

 

View this post on Instagram

 
ROYAL PARK, PARKVILLE
Just a short drive (or tram ride) away from Melbourne's CBD is Royal Park. The impressive 180+ hectares of native parkland is home to one of Australia's best playgrounds, plenty of leash-free areas for any furry friends and a big, grassy hill that conveniently provides one of the best views of Melbourne's cityscape. If you're peckish, make a quick detour to Beatrix, a small corner bakeshop in the north with a cult following. The menu rotates weekly depending on customer demand and what's in season, with daily specials posted on their Instagram page each morning.

PRINCES PIER, PORT MELBOURNE
Instantly recognisable by its series of mesmerising wooden pillars, this pier in Port Melbourne has become one of the most Instagrammable backdrops for sunrise and sunset. Stretching over a whopping 580 metres, Princes Pier is steeped in rich history — which provides visitors with a unique opportunity to experience the open-air museum. As you walk down the refurbished wooden planks, learn the story of how Princes Pier used to be one of the major points for new migrants arriving in Australia for over half a century. Afterward, you can head over to Ciao Cielo on Bay Street, a refined Italian restaurant that will transport you to the streets of Tuscany. During the colder months, they set up a beautiful winter garden, complete with a fully heated marquee. Warm up with a plate of their Northern style oxtail ragu layered on top of saffron casarecce and a serve of their warm chocolate brownie served with the richest dark chocolate ganache.

KINGS DOMAIN GARDENS, MELBOURNE
Although the majority of us struggle to wake up with enough time to put together a nutritious breakfast in the morning — there's always a few dedicated hearts with enough energy to run a lap around Kings Domain Garden before cooling down at the Shrine of Remembrance to watch the sunrise. From the steps, the masterfully designed Ceremonial Avenue will provide you with a clear view of Melbourne's glittering skyline. On your way back into the city, reward yourself with a strong matcha latte from Little Rogue and a freshly baked pastry from Bakemono Bakers nearby. Indulge in the zesty twist on an almond croissant with subtle hints of yuzu, or the crowd-favourite matcha and red bean croffle — a hybrid of a croissant and waffle that's crispy on the outside and buttery and hot in the middle.

BIRRARUNG MARR, MELBOURNE
Most Melburnians would have taken a seat on this giant slope of grass during the annual Night Noodle Markets — but for the other 11 months of the year, it's still a damn good place to watch a sunrise or sunset. You can lazily watch as boats drift past on the Yarra River and snap a pic with the iconic 'Angel' sculpture which stands at 10 metres tall and is covered head to toe in bright, hand-painted ceramic tiles. Trek back up the steep hill and cross over Flinders Street to discover the iconic Spanish bar and tapas restaurant, MoVida. Tucked inside the graffiti-scrawled walls of Hosier Lane, chef Frank Camorra and his team set the bar for Spanish produce, food and culture in Melbourne. The Cantabrian hand-fileted anchovy with smoked tomato sorbet on a crunchy crouton is not to be missed.

THUNDER POINT LOOKOUT, WARRNAMBOOL
A must-visit lookout point for any tourist wanting to explore the cosy town of Warrnambool, Thunder Point Lookout provides endless stretches of coastline and the kind of peaceful quiet that's impossible to find in the city. By V-Line, the ride from Southern Cross will take approximately 3.5 hours, or you can jump in the car for a road trip with a similar journey time. It'll all be worth it by the time you watch the sunset over the sparkling water of Lady Bay. Take a stroll or catch a ride back to the town centre to enjoy a modern Australian dinner at Clovelly Restaurant. Feast on dishes like fluffy bao buns filled with sticky pork belly and slaw; perfectly juicy eye fillet served with crispy potato bacon hash; housemade sweet potato gnocchi paired with creamy shiitake mushrooms and roasted garlic; and juicy lamb rump that has been lovingly slow-roasted for 16 hours.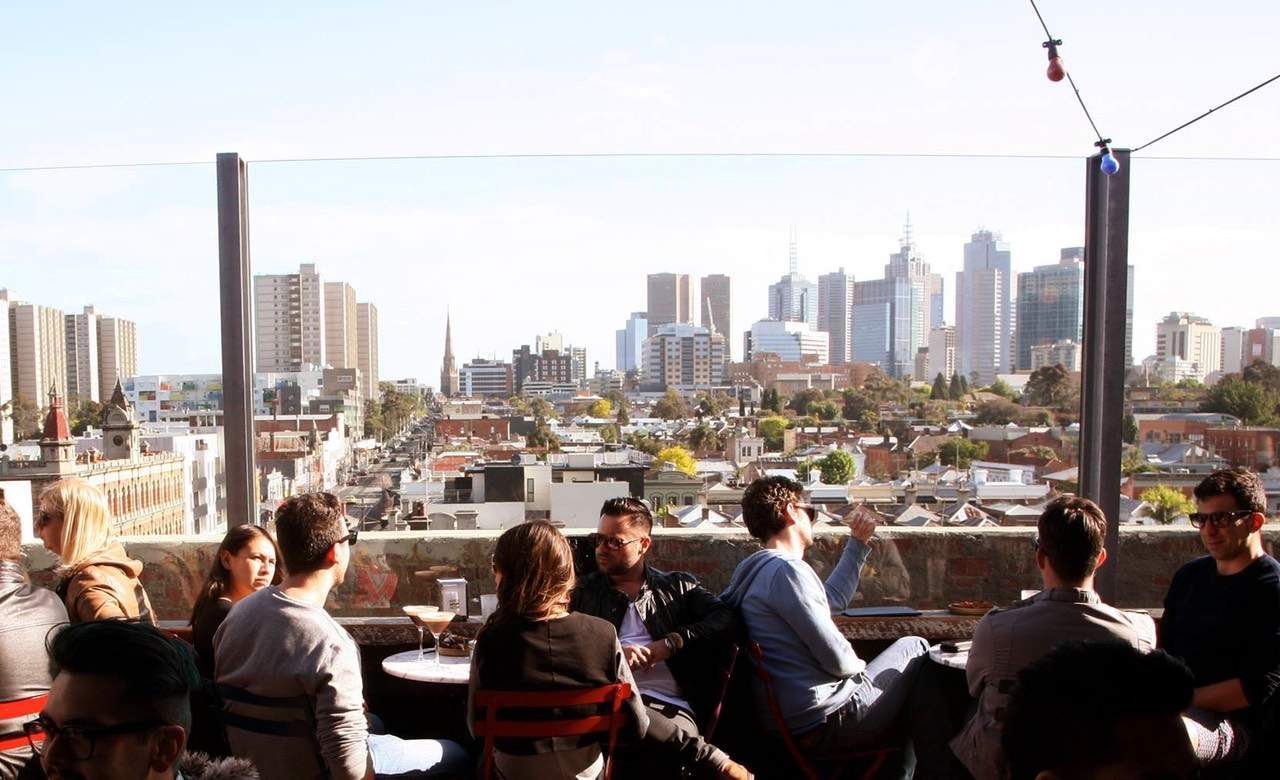 NAKED IN THE SKY, FITZROY
Arguably one of the OGs of the rooftop bar scene, Naked in the Sky is open till late and offers up 270-degree views of Melbourne's horizon. Indulge in some of their gooey baked camembert cheese served with crusty ciabatta, or a dark chocolate ganache tart to share — it arrives drizzled in thick salted caramel with a generous scoop of coffee ice cream on top. There are not many better ways to finish the day than with snacks, a glass of house-infused vodka in hand and the sun slowly descending behind Melbourne's skyscrapers.

THE GROTTO, PETERBOROUGH
Victoria's Great Ocean Road is over 243 kilometres long, but we (and many other Melburnians), truly believe that this naturally carved out cave cannot be missed. After a long day of driving, this is the epitome of saving the best for last — watch the sun slowly set through the archway, as beams of colour and light reflect against the rock pools. We recommend grabbing a quick bite to eat at Forage on the Foreshore in Port Campbell as the penultimate stop. The food on the menu is mostly grown, produced or foraged locally. Enjoy dishes such as local cheese plates, braised calamari, house-made gnocchi and freshly grilled fish until 5pm. Hot tip: locals in the area have noted that the number of tourists peak at around 3pm, so plan with caution.

BOROKA LOOKOUT, HALLS GAP
The Grampians National Park is famous for its spectacular scenery and insane lookout points — the 168,000 hectares of land provide visitors with dozens of walks, hikes and waterfalls to explore. It makes the sunrise here especially stunning, so get out of bed early to soak in the rugged mountainous landscape as the sun paints the valley ablaze. Boroka Lookout is located in the Grampians northern region, which also happens to house the largest regional zoo in Victoria — Halls Gap Zoo. Spend the rest of the day with their inquisitive meerkats, gigantic giraffe and colossal rhinoceros.

PONYFISH ISLAND, UNDERNEATH EVAN WALKER BRIDGE, MELBOURNE
Tucked underneath the Evan Walker Bridge lies Ponyfish Island — one of Melbourne's worst-kept secrets. This floating haven is only accessible from a single stairwell descending from above and is adorned with a recently renovated Palm Springs-inspired feel. The island is home to an impressive food and drink menu, and it's also one of the few places in Melbourne with an unobstructed view of the glowing sunset dancing across the Yarra River. The wind can get a little chilly as the night progresses, so we recommend bringing a jacket and ordering a cup of warm mulled wine (or two).

THE BIG DRIFT, WILSONS PROMONTORY
The rugged track to reach the top of the Big Drift is slightly grueling, but the view is worth it. The drive will take you approximately two and a half hours from Melbourne's CBD, so we recommend making a day out of it. Take a dip at Shallow Inlet, a sheltered beach just outside of Wilsons Prom and have a well-deserved swim before watching the sunset. This other-wordly landscape is a series of ever-changing sand dunes with views of Vereker Range in the east and the sea to the west. Remember to pack light with plenty of water, and choose footwear that you don't mind getting sandy.

 

View this post on Instagram

 
LILY STREET LOOKOUT, ESSENDON WEST
It might just look like another suburban street in Melbourne, but this lookout point has won hearts in the west. You'll find rows of bicycles leaning against metal fences as herds of cyclists and runners take a well-deserved break after trudging up the Maribyrnong River Trail to admire the view. It's an underrated gem that allows Melbourne's entire city skyline to be captured within a single frame — what more could you ask for? After the sun has dipped behind the skyline, head to Hampton Road Fish and Chips, a local favourite known for their old school potato cakes and humongous pieces of flake. Finish the night off with a cheeky deep-fried Mars bar for the drive home.

Top Image: Boroka Lookout, Julian Kingma for Visit Victoria & The Big Drift, Mark Watson for Visit Victoria
Published on July 27, 2021 by Ailene Wu