ARTS & ENTERTAINMENT
Five Sydney Date Ideas for This Week That Aren't Dinner and a Movie
Just think of us as your cultural wingman.
Five Sydney Date Ideas for This Week That Aren't Dinner and a Movie
Just think of us as your cultural wingman.
---
Tired of the classic movie and dinner date night combo? Us too. That's why we're always on the hunt for new things to do, scouring the city for not-boring Sydney activities — ones that are guaranteed to take your next date way beyond done-before beers at the pub. Whether you're taking someone on a second date or doing your 100th with your significant other, we've got some killer (and, yes, cute) Sydney date ideas for this week, no matter how much money you've got to spend. Just think of us as your cultural wingman. You're welcome.


FREE
SEE A FREE SYMPHONY ORCHESTRA SHOW UNDER THE STARS
This Sydney Festival favourite returns to Parramatta Park for another free evening of gorgeous music by the Sydney Symphony Orchestra under the open night skies. And it's absolutely perfect for date night. Grab your other half, pack a picnic and a blanket, and relax into the summery dusk for a night of music that will make you feel a bit like you're living in a film.
The orchestra, conducted by Benjamin Northey, will run through some classics from the likes of Rossini, Strauss and Tchaikovsky, as well as some John Williams film scores that you're likely to recognise. The whole thing goes for three hours, so be sure to pack a good haul of snacks and drinks.

SEE THREE NEW INSTALLATIONS AT CARRIAGEWORKS
Also part of Sydney Festival, Carriageworks has just launched three immersive and illuminating artworks — all of which are free to the public. Installations by artists Rebecca Baumann, Daniel Boyd and Kate Mitchell all speak to the exploration of human interconnectivity using light — and highlight the history and architecture of Carriageworks.
Rebecca Baumann's Radiant Flux sees every glass surface and skylight of the building's exterior covered in dichroic film. The luminous film acts as a sundial and changes colours — from blue to yellow and magenta — when viewed from different angles and at different times of day. Running alongside Baumann's installation are Daniel Boyd's Video Works and All Auras Touch by Kate Mitchell. Boyd, a  Kudjala/Gangalu artist, has brought together three large-scale video installations: A Darker Shade of Dark #1-4 (2012), History is Made at Night (2013) and Yamani (2018). These videos will be projected across the walls of the gallery with the artist's signature circular lens, which Boyd uses to "fragment and disrupt Eurocentric perspectives of history", creating a cosmos of colour and composition — and all set to a score by DJ duo Canyons (Ryan Grieve and Leo Thomson).
Mitchell's work uses colour in a slightly different way: to "present a snapshot of contemporary Australia". The artist is photographing one representative for each of the 1023 officially recognised jobs within the Australian and New Zealand Standard Classification of Occupations — all in an attempt to capture the occupations' overlapping 'auras'.

UNDER $20

EAT PORK BUNS AT THIS HURSTVILLE MARKET
You've already celebrated one new year but now it's time to celebrate another. At the Georges River Council's Lunar New Year Festival, Hurstville's Forest Road will come alive this Saturday, January 18 to mark the Year of the Rat. The annual event attracts around 50,000 people each year and, based on the culinary lineup alone, it's easy to see why. On the menu: rice dumplings, pork buns, dragon beard candy and fluffy crunch fairy floss, as well as Japanese barbecue crepes and dumplings, Singapore noodles, mi goreng fries and Japanese pizza. You'll also be able to tuck into cups of loose leaf tea, plus milk rolls, milk pudding and snow cones.
Entry is free and you can probably get a few snacks for less than 20 bucks.

UNDER $50

TRY SOME LIMITED EDITION FRIED CHICKEN RAMEN
If your date loves ramen, you should surprise them with a special Belles Hot Chicken treat this Saturday, January 18. The fried chicken joint has flirted with all sorts of chook-centric creations over the years, but, this time round, it's teaming up with Shin Ramyun for a spicy limited-edition menu. And, yes, it includes fried chicken ramen. For the collab with the Korean instant noodle brand, Belles Head Chef and Co-Founder Morgan McGlone has created a fried chicken ramen with egg and fried spam, and a ramen with Cloudy Bay clams and shiitake mushrooms. The bowls will be $12 each and, to drink, there will be two soju cocktails — one with watermelon and Yakult, and another with nashi pear and pineapple — Kloud beer and Momento Mori wine.
We expect this is going to get very busy, so get there early if you want to snag yourself a bowl.

UNDER $100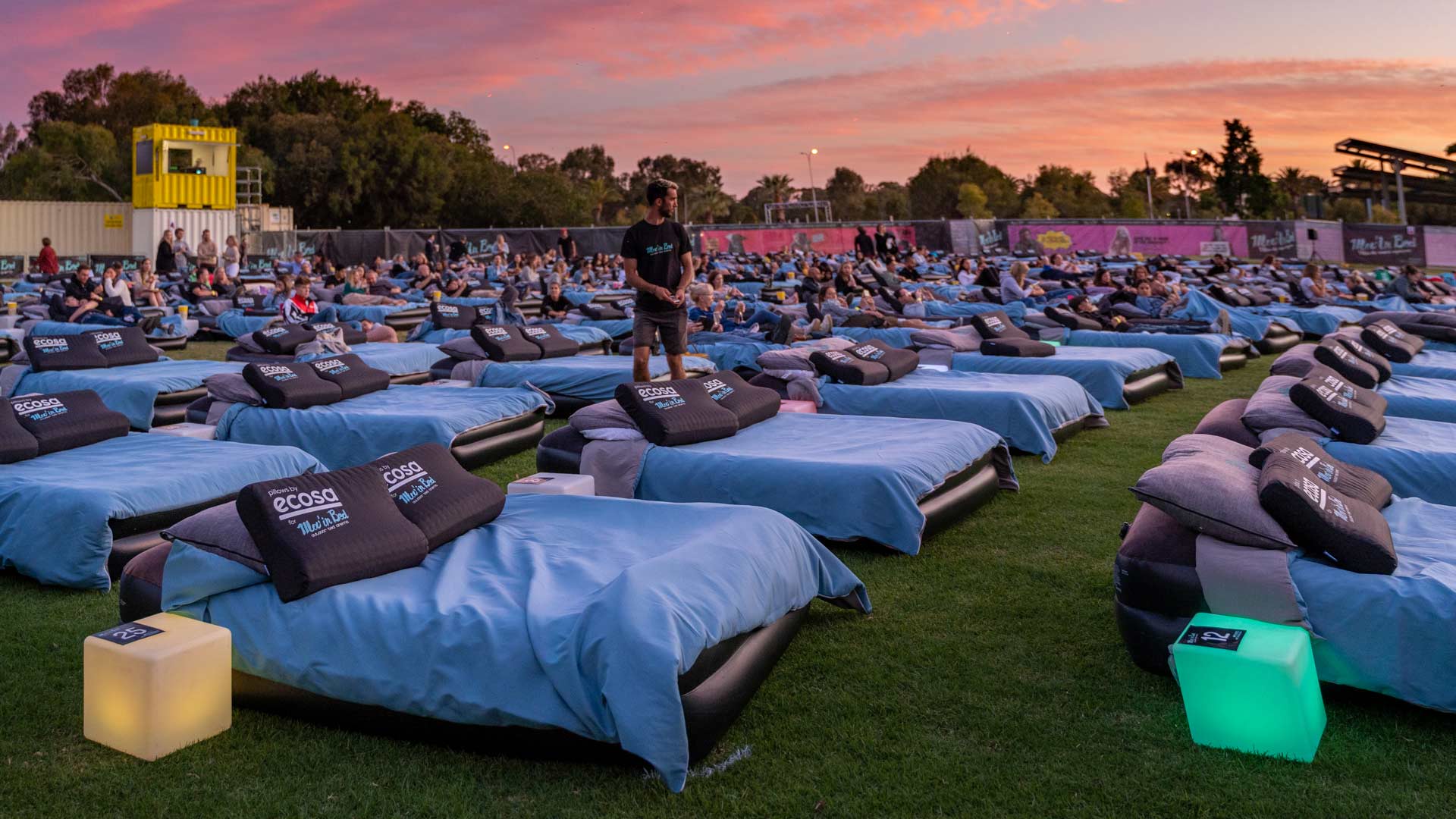 SEE AN OUTDOOR MOVIE — FROM BED
Dinner and a movie is a well-worn date idea, yes — but adding beds into the mix is a whole other ball game. Mov'In Bed is kicking off its latest Sydney season this week, letting movie lovers catch a flick under the stars while getting cosy in one of its 150 blow-up beds at Moore Park's Entertainment Quarter. It would make a bold first date move.
Films will run from 8.30pm every night except Mondays, and this week the outdoor cinema is screening new horror-comedy Frozen II and the Oscar-nominated Joker. There's also an American-style diner on-site to bring you pizza, burgers and milkshakes directly to your bed. It's not BYO so you'll have to purchase all drinks at the bar. Tickets are $73.80 for a couple.
Published on January 15, 2020 by Concrete Playground