Seven Sydney Arts and Cultural Spaces to Check Out This Summer (And Where to Get a Drink Afterwards)
Get your culture fix at one of these leading institutions — then make an afternoon of it at one of these excellent watering holes.
in partnership with

We've all done it. You go out to the cinema, a gig or a gallery with your friends. You want to keep the fun going by heading for a drink or two, but no one can decide where to go. By the time you've settled on a location, your enthusiasm's waning and you're left wishing you had more decisive friends.
This is where we come in. We've teamed up with Bombay Sapphire to pick not only seven of the top arts venues in town for your next dose of culture, but also a fantastic spot for drinks right near each one. You need never silently curse your friends' procrastination again.

MUSEUM OF CONTEMPORARY ART
For over three decades, the MCA has been showcasing the best contemporary art from home and abroad, and its rich history includes exhibitions from names such as Annie Leibovitz, Grayson Perry and Yoko Ono. This year promises to be another bumper one with works including the continuation of Doug Aitken's fabulous New Era show, plus Primavera, the museum's annual exhibition of young Australian artists.
Where to go afterwards: Recently named The Best Bar in Australasia by renowned awards The World's 50 Best Bars, Maybe Sammy combines classic European hotel cocktail bar chic with the fun of 1960s Vegas. It's just round the corner from the MCA and if you're feeling particularly fancy, there's a Premium Pours menu featuring classic cocktails made with some of the finest spirits money can buy.

Set up in 1983 with the aim of offering greater support to emerging artists, Woolloomooloo's Artspace shines a light on contemporary and experimental works. In a typical year, the gallery, housed in the heritage-listed Gunnery building on Cowper Wharf Road, might host up to 30 different projects under its roof, so there's always something to see if you stop by.
Where to go afterwards: Set just back from Finger Wharf is The Tilbury Hotel, home to one of Sydney's most beautiful beer gardens. The menu is far above your usual pub grub (wagyu rump with truffle seaweed butter, anyone?) but if you're just looking for a drink after experiencing the artworks, there's a wide selection of signature cocktails and spritzes alongside the wines and beers.

White Rabbit owns one of the largest collections of Chinese contemporary art in the world. It's so large, in fact, that the gallery, located in Chippendale, can only display a small proportion of the collection at any one time. For 2022, White Rabbit is presenting the Big In China exhibition – a carefully curated examination of how to capture the attention of a country that's incredibly diverse and also is also home to the world's largest population.
Where to go afterwards: Just a short walk away is Gin Lane – no prizes for guessing the spirit of choice at this bar. If you just want a G&T, the gin menu here is borderline intimidating (in the best possible way, of course) and there's an enticing array of cocktails, including an entire series of sharing cocktails served in smoking vessels like teapots and treasure chests.

COOEE ART GALLERY
Sydney's oldest Aboriginal fine art institution has sustainability at its core, looking to support and promote artists through exhibitions, sales and even a consulting arm. Its flagship gallery and auction space is located in Redfern, but head to Bondi to check out the boutique showroom gallery, where you'll see a selection of fascinating artefacts, bark paintings, sculptures and more.
Where to go afterwards: You can't make the trip to Bondi without a cocktail or two down by the beach. Rosenbaum & Fuller, which is named for the founder's grandmothers, shares Cooee's ethos of celebrating Australian heritage, using native ingredients in its drinks and working with Indigenous-owned businesses. This means your spritzes and highballs feature intriguing mixers like wattleseed cola, Davidson plum and mountain pepper.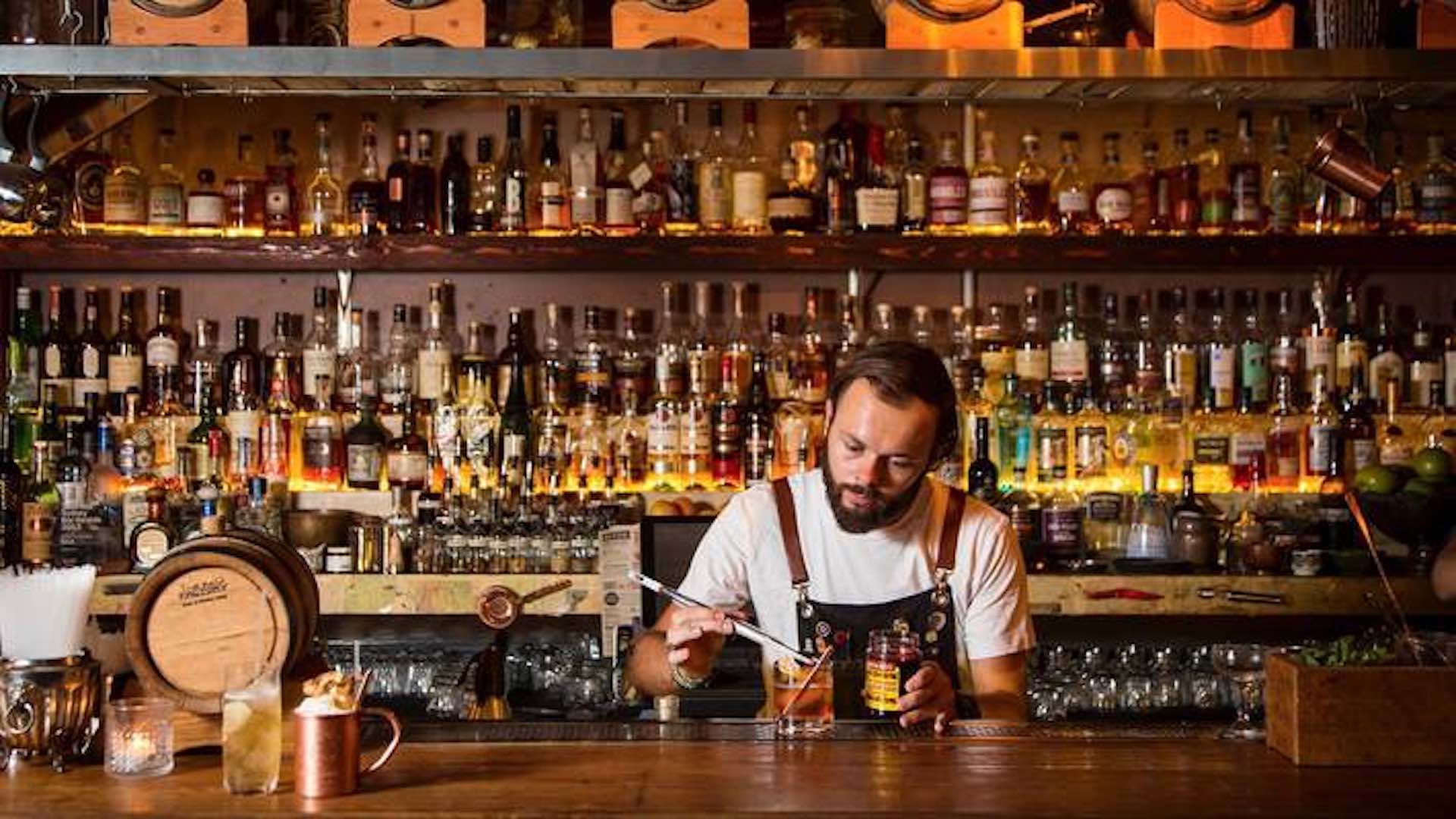 WENTWORTH GALLERIES
With locations on both Phillip Street and Martin Place, Wentworth Galleries are ideally situated if you want to take in some Aussie art next time you're in the CBD. Equally committed to highlighting contemporary and Indigenous artworks, Wentworth Galleries endeavours to provide a platform for top Australian artists and give art aficionados the opportunity to purchase standout pieces.
Where to go afterwards: We all know there's no shortage of decent bars in the CBD, but for this we'd recommend Stitch Bar on York Street. Combining the feel of an American diner with a classic old-school cocktail bar, Stitch will even provide you with a free round of cocktails on your birthday if you sign up to its mailing list.

NEWCASTLE ART GALLERY
There's plenty going on outside of the state capital. Newcastle Art Gallery has a dazzling array of pieces that span multiple media, including photos, paintings, sculptures and one of Australia's most significant collections of modern Japanese ceramics. There are also tours, family programs and school holiday workshops available, meaning there's something for art lovers of all ages and tastes. This summer you can catch The Art of Protest, a free-to-enter, thought-provoking exhibition of over 100 years of works showing artists' responses to local and global activist and social movements.
Where to go afterwards: The gin menu at Newcastle's Saints Bar immediately draws your attention with inventive takes on beloved classics and a focus on gin-based tipples. There's no kitchen at Saints but you're more than welcome to bring in takeaway from elsewhere, meaning the only limit is your own imagination.

Whenever visiting Wollongong Art Gallery — which is only a ten-minute walk from the train station — there'll always be something new to see, thanks to its impressive permanent collection of early and modern Australian, Indigenous and Asian artworks that complements its diverse year-round exhibition program. Over the next year, those exhibitions include street photography capturing the history of the Illawarra, contemporary watercolours and Asian ceramics.
Where to go afterwards: After taking in the art, head to North Bar for its sophisticated surrounds and a glass of vino. The bar, located in the Wollongong Novotel, features a wine list with over 80 international varietals to please any palate, as well as an excellent selection of bar snacks.

For more summer inspo, head to the Bombay Sapphire website.
Top image: Anna Kucera