DESIGN & STYLE
A 47-Metre-Long Rainbow Walkway Is Popping Up at Coogee Beach in 2021
It'll launch in February to celebrate the Sydney Gay & Lesbian Mardi Gras, and remain in place for a few months.
Darlinghurst is already famously home to a rainbow crossing. In Surry Hills, the City of Sydney is planning to implement a lengthy path in Prince Alfred Park decked out in the same multicoloured stripes, too. And now, Coogee is joining the brightly hued celebration of Sydney's LGBTIQA+ community, announcing that it'll turn part of the suburb's beachfront into a rainbow walkway.
Come February 2021, timed to support the Sydney Gay & Lesbian Mardi Gras, a 200-square-metre patch of the promenade will get a lively makeover — right by the sand, at the bottom of the existing steps. It's a great spot for it, given that the area already bends around in a circular fashion. Now, it'll be a rainbow-shaped curve, measuring approximately 4.2 metres wide and 47 metres long.
The move was approved by the Randwick City Council at its last meeting on Tuesday, December 8, with Randwick Mayor Danny Said noting that "this proposal enhances that tradition and makes a strong public statement of support for our wonderfully diverse local community". The pathway is a temporary addition to Coogee, however, although it will stay in place for a number of months. Exact dates from February onwards haven't yet been revealed.
In terms of logistics, the Council is presently assessing two choices: using temporary pavement paint, or opting for outdoor-appropriate non-slip vinyl that has been rendered in the appropriate tones. Either way, you'll be spying a rainbow by the beach very soon.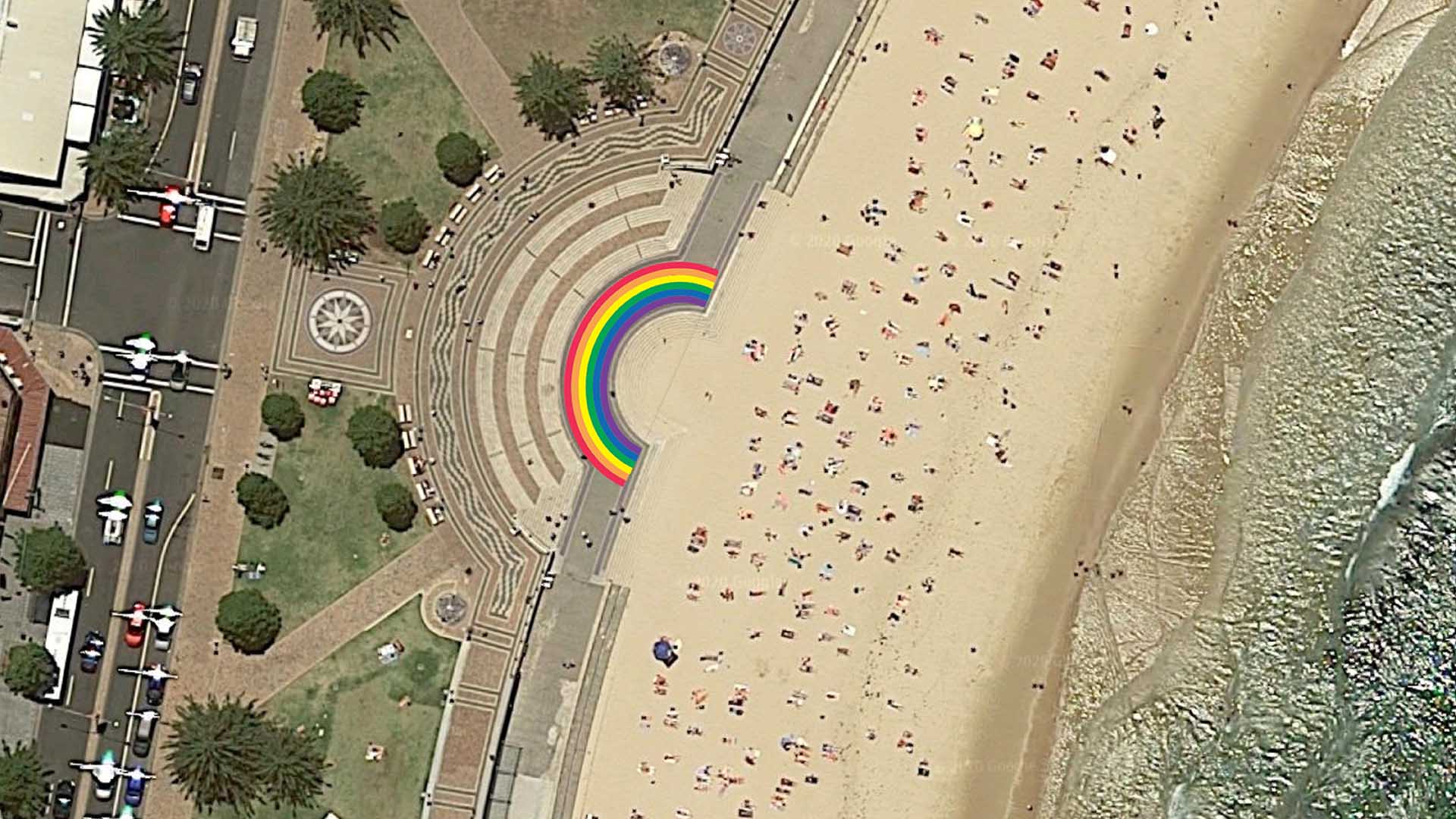 For more information about Coogee Beach's rainbow walkway, which is due to launch at a yet-to-be-revealed date in February 2021, visit the Randwick City Council website.
Images: artist impressions of Coogee Beach's rainbow walkway.
Published on December 15, 2020 by Sarah Ward