DESIGN & STYLE
Take a Peek at the Future Chinatown We'll Be Strolling Through
Sydney's home of Peking duck is going more pedestrian-friendly.
Take a Peek at the Future Chinatown We'll Be Strolling Through
Sydney's home of Peking duck is going more pedestrian-friendly.
Come future Friday nights, you're soon going to have another excuse to grab Emperor's Puffs from the Chinatown markets. The streets of Haymarket will be transformed into a pedestrian friendly, tree-lined space in a move to refurbish the area announced by the City of Sydney.
The proposed new plaza in the heart of Chinatown promises to put pedestrians at the top of the priority list. Thomas Street will become a pedestrian-friendly walkway and public space, with more lighting, seats, wider footpaths and a no-car policy during busy periods — so you can finally enjoy your street food goodies distraction free. Road closures are planned between Ultimo Road and Thomas Lane, while Thomas Street will become one-way only between Thomas Lane and Quay Street to make things safer for pedestrians.
"By making it easier to explore the area on foot and creating more lively public spaces, we will attract even more people to the area and further support business in and around Haymarket," says Lord Mayor Clover Moore. "The plan for Thomas Street will ensure Haymarket remains an attractive and enjoyable place for tourists and visitors, reinforcing our Chinatown's place as one of the best in the world."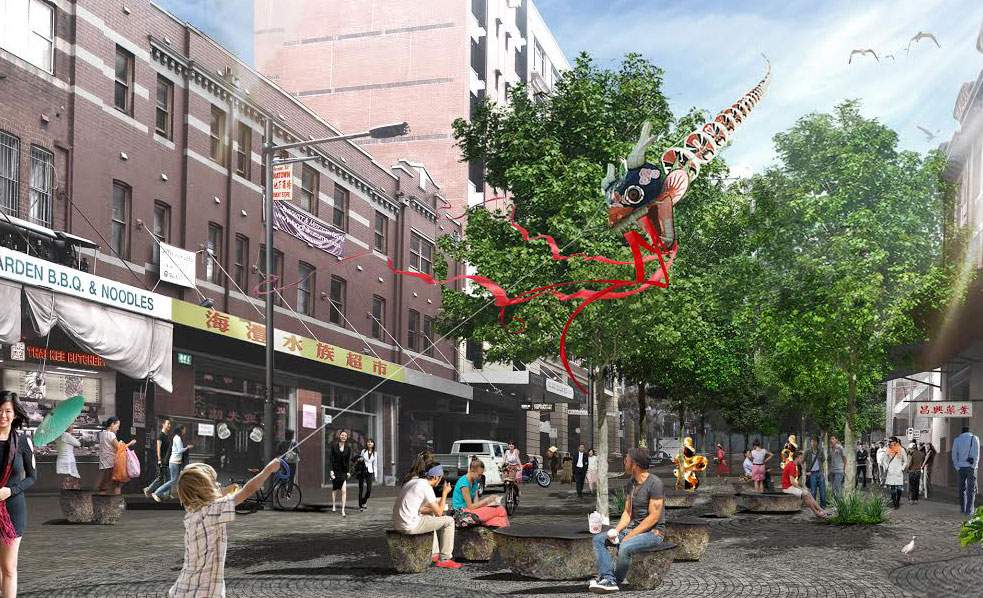 Visitors will also be able to enjoy public art from Australian contemporary artist Lindy Lee while walking through the streets of Chinatown. Lee's work is preoccupied with the idea of self in the world, as captured through her own negotiations with her divided Chinese-Australian heritage.
"The heart of Chinatown is Sussex Street, Hay Street and Thomas Street where they intersect," says Lee. "I love the history of this area and the idea is to maintain the integrity of the street life to make Thomas Street pedestrian-friendly and strengthen the heart of Chinatown."
This latest stage in the Chinatown overhaul comes after two years of the City of Sydney's previous work rejuvenating the area's back alleys — you may have noticed Jason Wing's murals on the walls of Little Hay Street, Factory Street or Kimber Lane. If not, well, I guess that's another solid reason to pay the area a visit.
Published on February 03, 2015 by Amelia Zhou