ARTS & ENTERTAINMENT
Mov'In Boat Floating Cinema
Watch 'The Meg', 'Free Willy' and 'Death on the Nile' on a rowboat or floating pontoon in Darling Harbour.
First came Mov'In Bed Cinema, the outdoor movie-watching experience that acknowledged just how much everyone loves viewing flicks in bed — even if they're out of the house. Then, adapting to 2020, came Mov'In Car Drive-In Cinema, which is obviously self-explanatory. Now, with summer almost upon us, Mov'In Boat Floating Cinema is splashing down at Cockle Bay in Darling Harbour. It also describes all its basics in its name, so get ready to float in the ocean and glue your eyes to the 15-metre-long big screen.
Boats are obviously a big part of this new excuse to watch a movie under the stars. But, when it kicks off on Thursday, December 3 — running through until the end of March next year — Mov'In Boat Floating Cinema will give film buffs multiple options. You can hire one of 40 rowboats ($119.90 for up to two adults and two kids), or BYO boat (and spend $49.90 for access to the event and movie). If you'd prefer to laze about on one of 65 beds on a 1000-square-metre floating platform, you can do that too (for $99.90 for two people and $109.90 for three). And, you can also watch from the VIP area, which includes a bed, butler service, and free soft drinks and popcorn ($149.90 for two people and $169.90 for three).
Movie-wise, plenty of titles on the program have been picked with the location in mind. Where better to watch The Meg or Free Willy? Or, to revisit Dirty Dancing's lake scene and The Notebook's rainy embrace? You can also head to everything from action-thriller Tenet and likeable rom-com The Broken Hearts Gallery to Knives Out's whodunnit twists and The Matrix's "whoa!"-inducing sci-fi.
If you're hungry, beer-battered fish and chips, buckets of prawns, pizza and Nutella-slathered waffles will be delivered to you via jet ski, from a menu that also includes pizzas and dairy floss as well. To wash all of that down, there'll be a floating bar serving beer, wine, cocktails and soft drinks, too.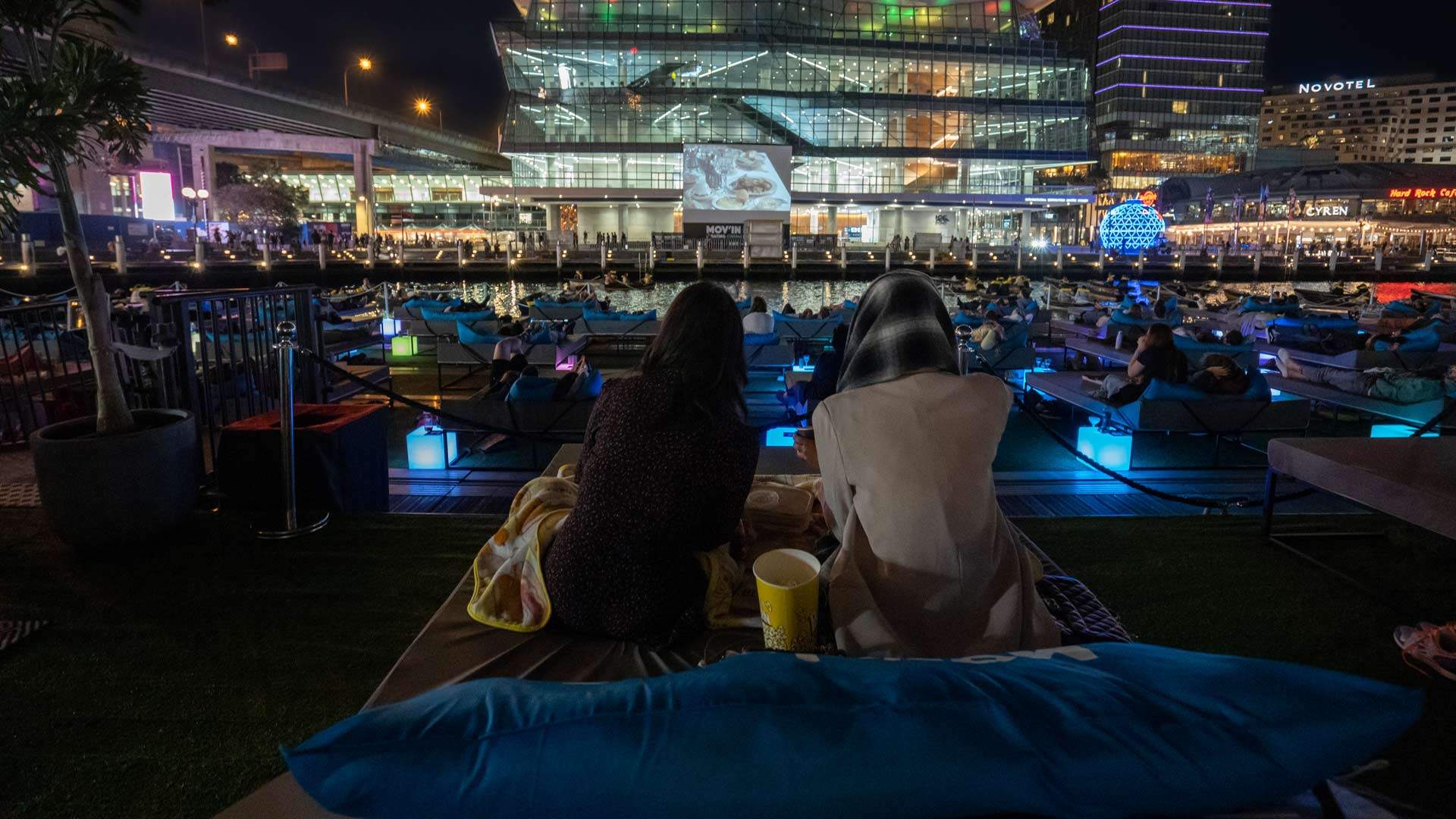 Food & Drink

Rooftop Terrace, Cockle Bay Wharf, 35 Wheat Road, Sydney
Food & Drink

Tuesday, November 16 - Thursday, December 23

Nel Restaurant
Food & Drink

Sunday, November 14 - Wednesday, December 22

Sea Life Sydney Aquarium