FOOD & DRINK
Eleven Grown-Up Easter Treats to Hunt Down Around Sydney
You're never too old for this Easter hunt.
Eleven Grown-Up Easter Treats to Hunt Down Around Sydney
You're never too old for this Easter hunt.
---
It's Easter. Time to stuff yourself with baby animal-shaped chocolates and cross-covered pastries while feeling absolutely zero shame. To help you make the most of it, here are the best holiday treats making up your Easter hunt this year — from hot cross bagels to raw vegan caramel eggs and bunny-shaped bao buns.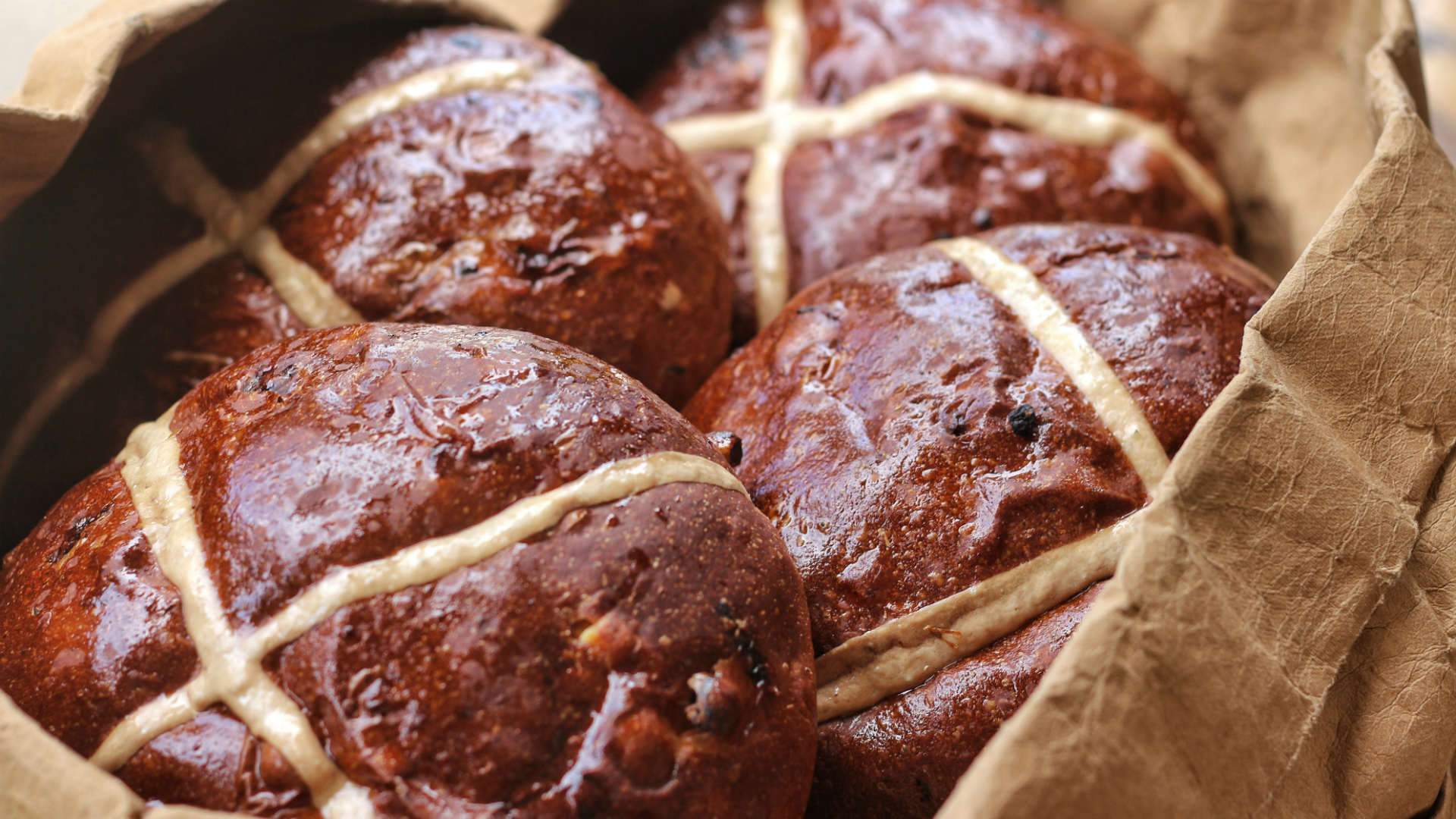 A big favourite around Easter time, the Bourke Street Bakery hot cross loaves skip the part where you eat a whole bag of hot cross buns and just give you the slice-sized portion you know you want. They're available up until Easter Monday at all eleven bakeries and are perfect to share around at Easter family gatherings or to toast up for breakfast all throughout the Easter season.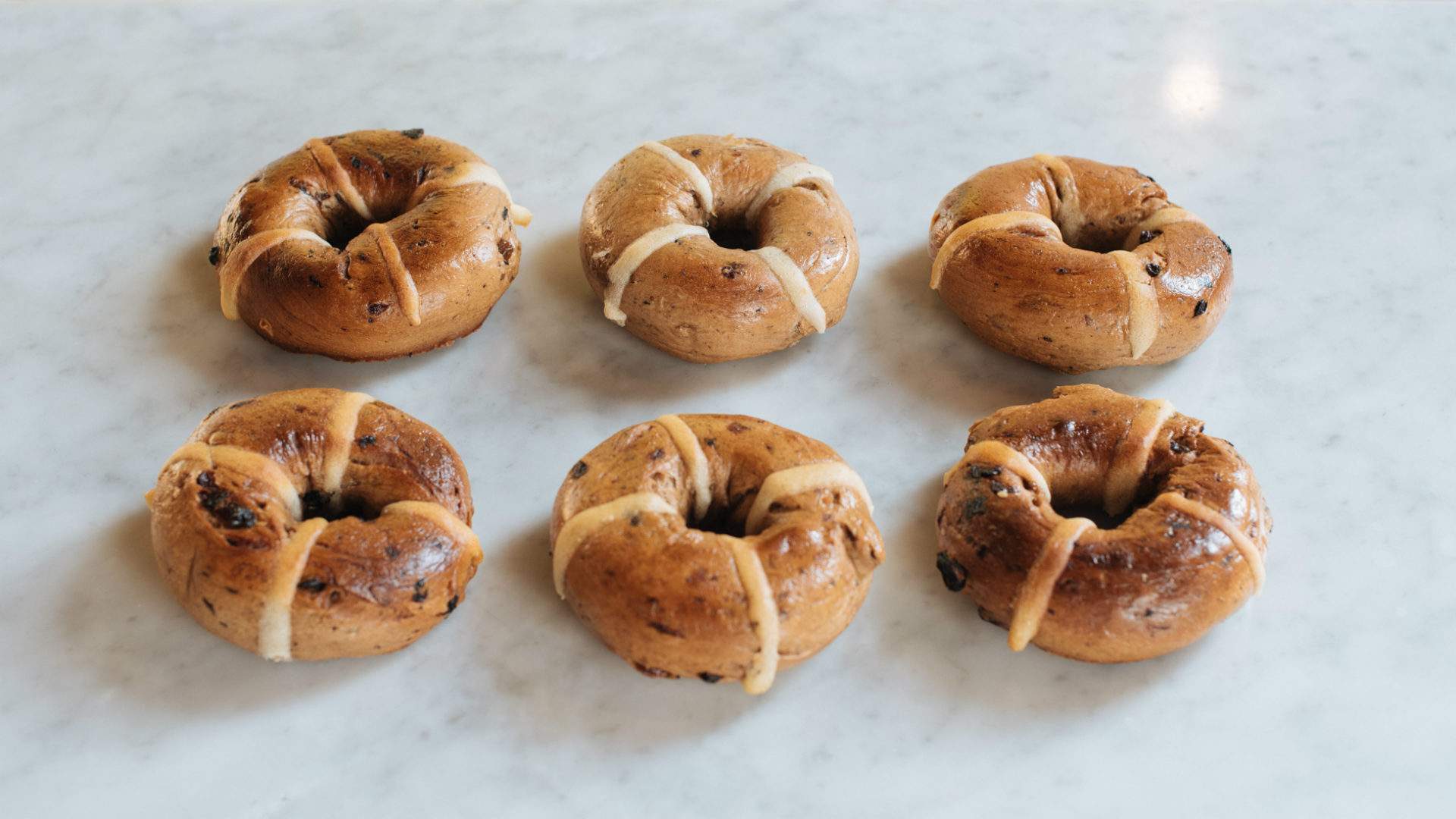 A more savoury, chewy alternative to the Easter staple, Smoking Gun's hot cross bagels or Bunny Boilers are an excellent addition to your long weekend breakfasts. They're full of cloves, coffee grounds, cinnamon, candied citrus peel, white wine (!) and are stacked with fruit — over 2.5 kilograms goes into a five-kilogram dough mix. Best served with Pepe Saya's coveted cultured butter.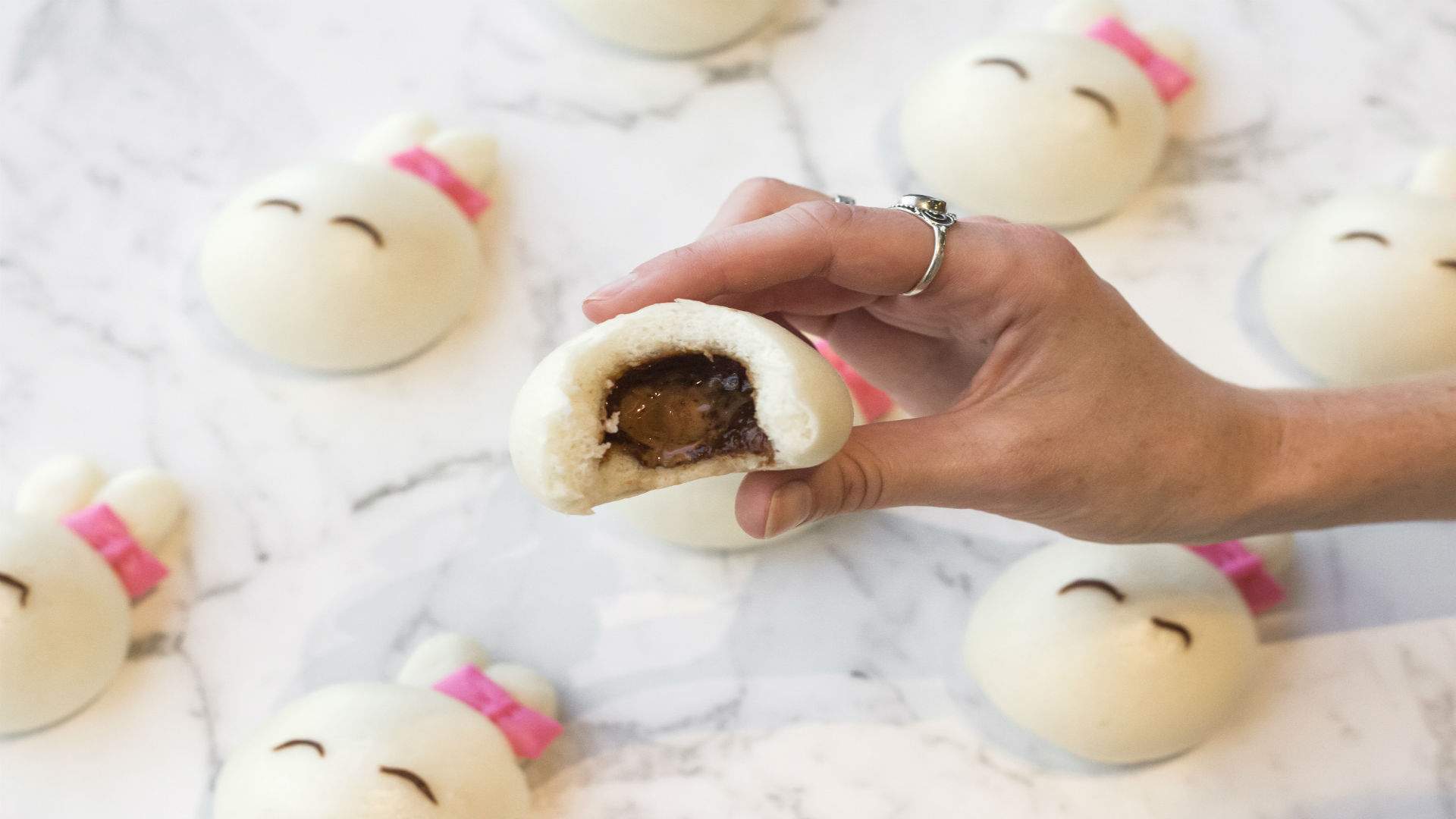 You know it's the holidays when New Shanghai puts little animal faces on its mini bao buns. For Easter, its fluffy, anime-like bunnies that are adorned with pink ribbons and plumply stuffed with gooey chocolate filling. They're oh-so-adorable in a slightly disturbing way. If you're into that sort of thing, these Easter bao are only available at the Westfield Sydney outpost from March 23 through April 2.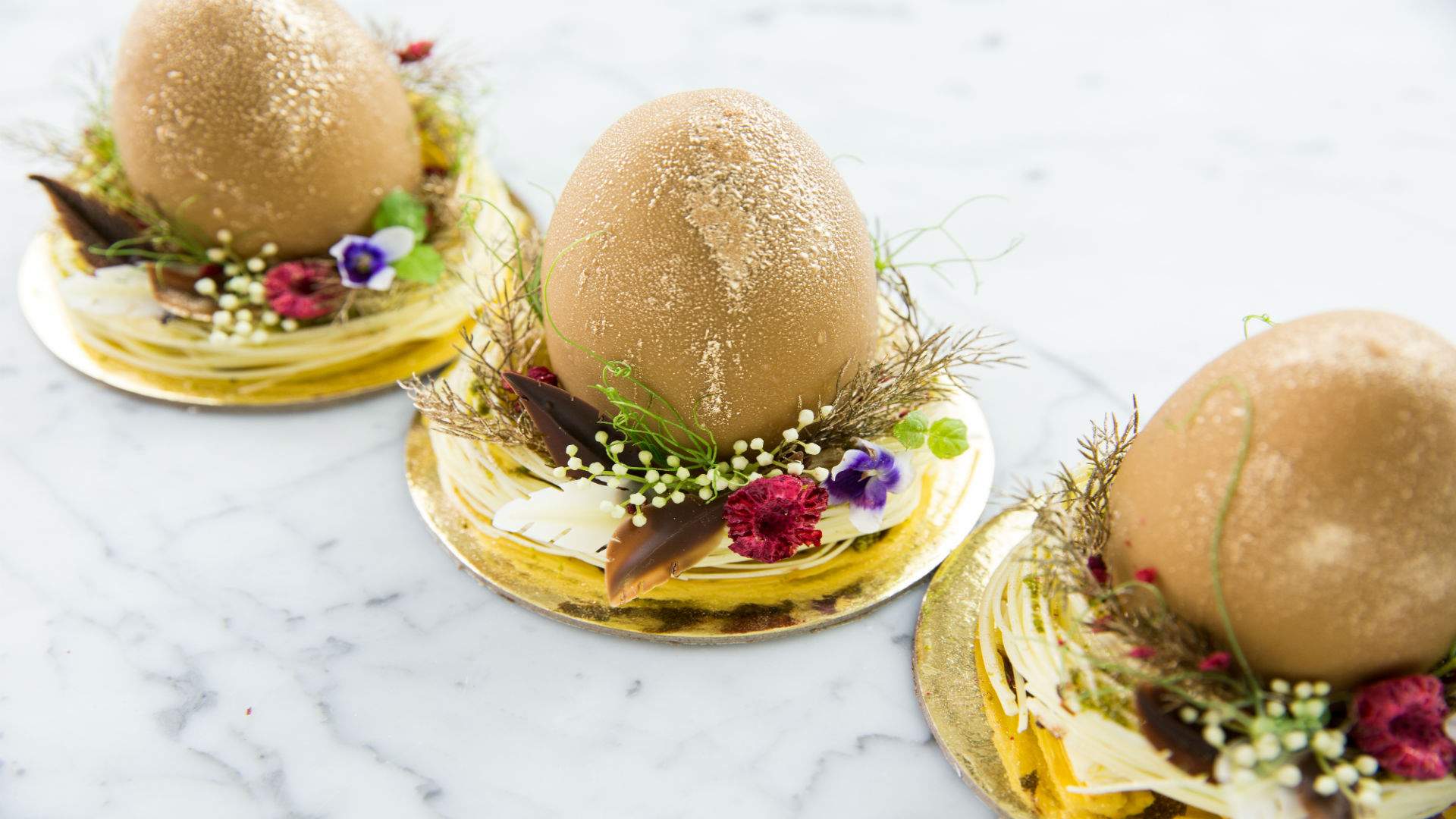 The innovative dessert crafters at Koi are really outdoing themselves for Easter. This year, they're offering up a stunning speciality dessert called The Golden Egg. It's just so damn pretty that Veruca Salt would be envious (both the Willy Wonka character and Messina's egg from last year). The golden, milk chocolate outer coating is glazed with cocoa butter and filled with coconut mousse and a mango yuzu gel, then sat atop a miniature, edible flower arrangement. It's only available from Tuesday, March 27 through Thursday, March 29, so head on in for the ultimate pre-Easter treat.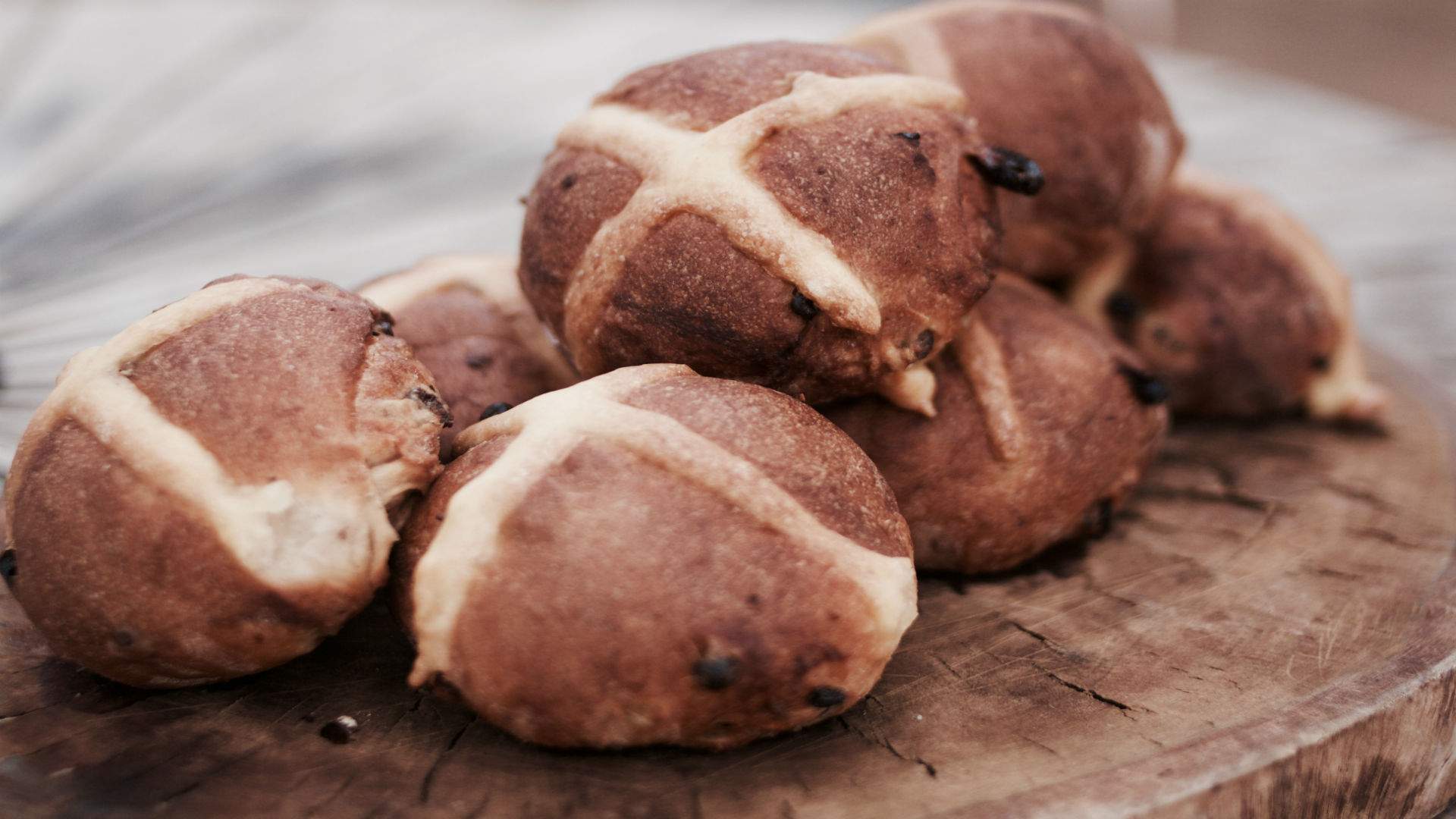 SOURDOUGH HOT CROSS BUNS AT ACRE EATERY
Acre offers you a different take on the traditional hot cross bun with its sourdough version. Made by the restaurant's in-house pastry team, these Easter buns are denser then the traditional, which somehow makes them extra delicious. They'll be available at The Container — a little shed out the front of the cafe serving takeaway coffee — all weekend long.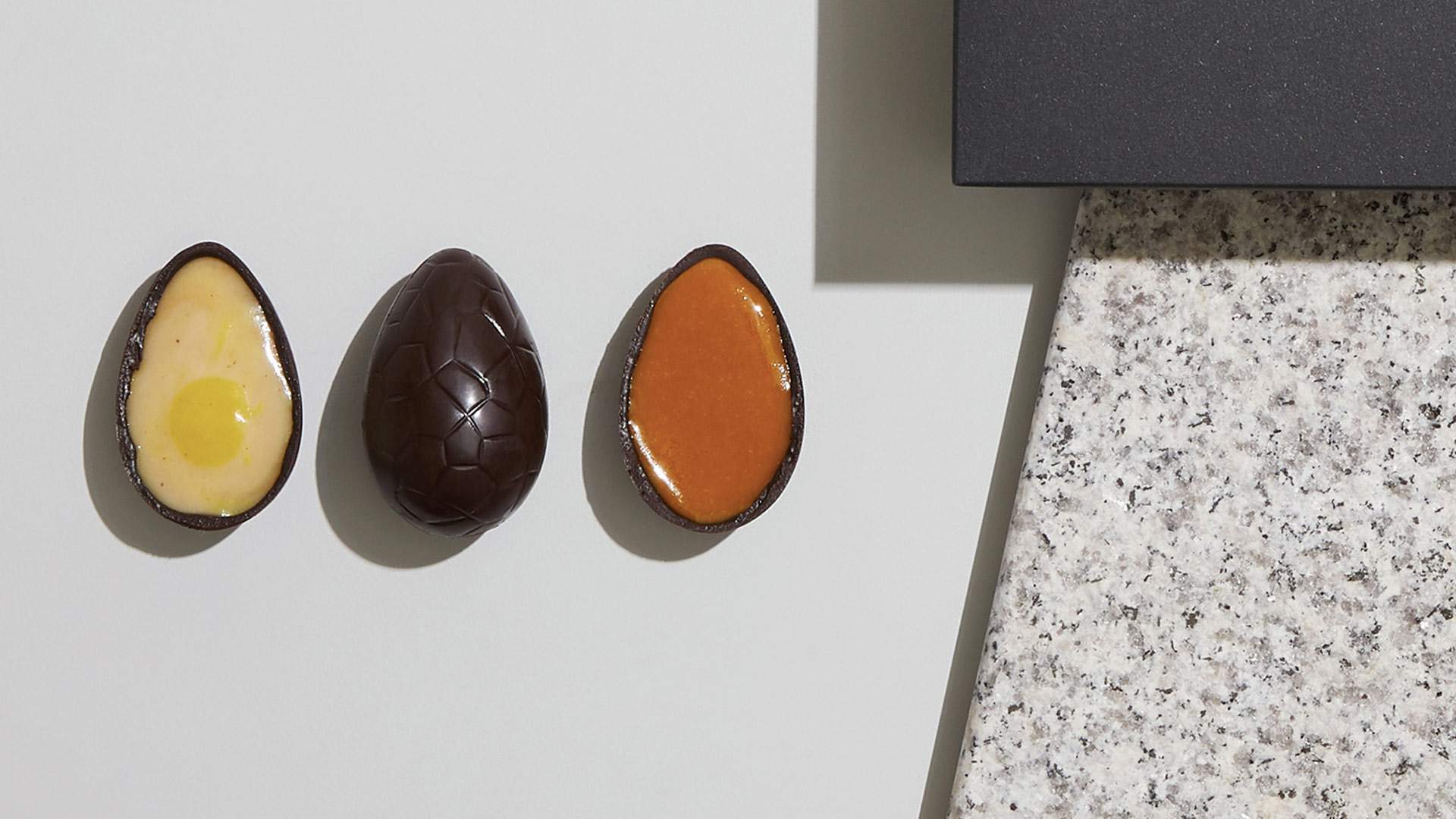 If there's anything more satisfying than biting into a gooey, chocolatey caramello egg, it's biting into one that isn't even bad for you. Pana's epic raw, vegan, sugar-free, gluten-free and dairy-free caramel lava egg is making its annual Easter appearance, and cult followers couldn't be more ecstatic. This year, additional flavours include double chocolate and the supreme egg with a yolky centre. They're known to sell-out quickly so we recommend you order online to guarantee your guilt-free fix and avoid disappointment.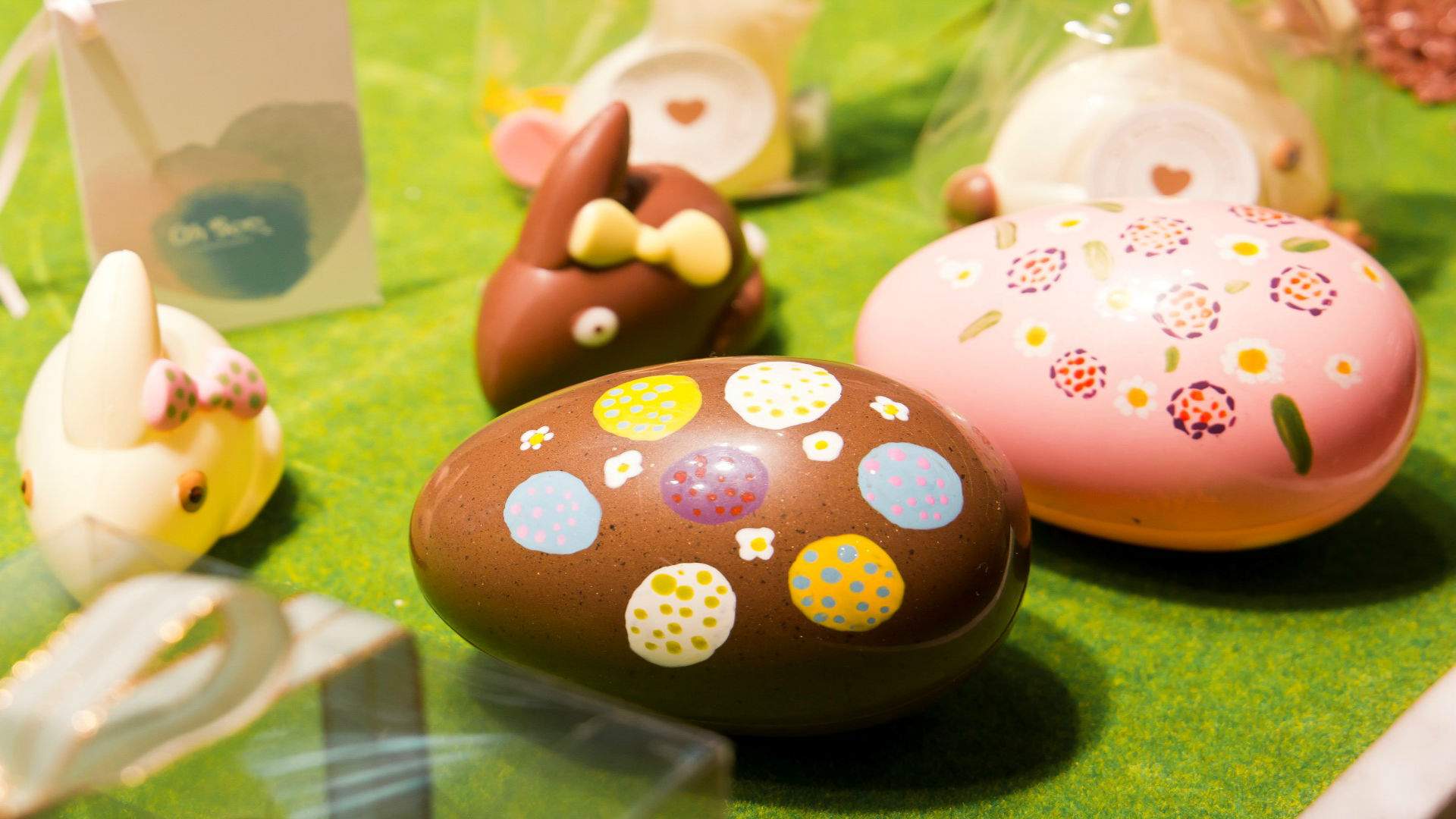 Barangaroo's chocolate shop is adding a special touch to treats this Easter by offering hand-painted chocolate bunnies, chooks and eggs. Oh! Boo's maître chocolatier Fanny Chan sources the finest chocolate from Peru and Venezuela to handcraft these delicious bites. Expect classic flavours like milk, strawberry and white chocolates that are also available in kosher and gluten-free form. The eggs can also be personalised with the lucky recipients name painted directly onto the chocolate. All of Oh! Boo's chocolates are made from scratch onsite, so you know you're giving, or getting, that little extra love this year.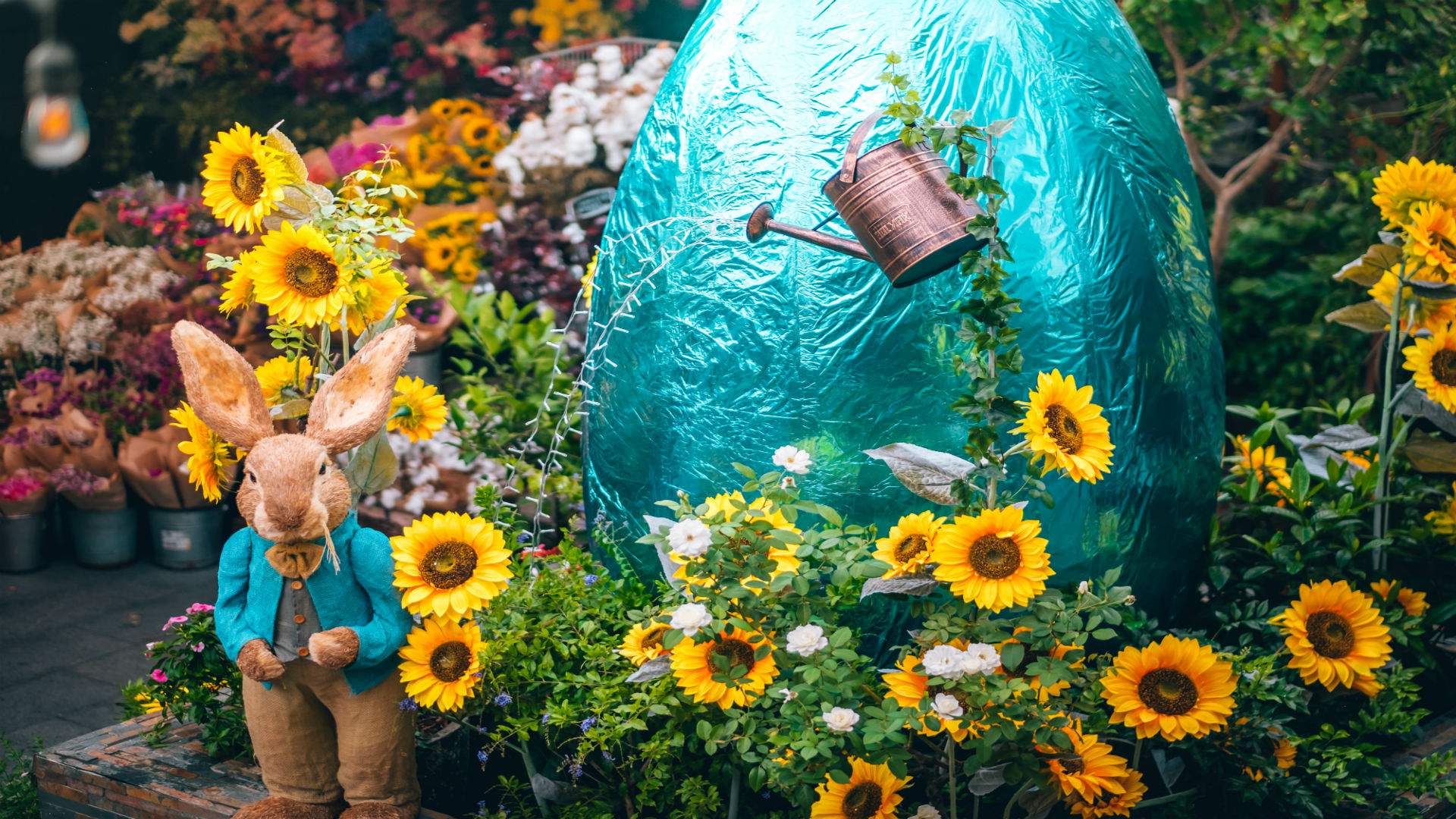 The Grounds loves to celebrate Easter in a big way — and this year it's doing it with a giant Easter egg that's over three-metres tall and stuffed with over 500-kilograms of chocolate. Australia's largest, in fact. No bookings, pre-orders or payments of any kind are necessary — the 'community cracking' will take place at 5pm on Easter Sunday where patrons are encouraged to show up and fill their bellies with as much chocolate as they like.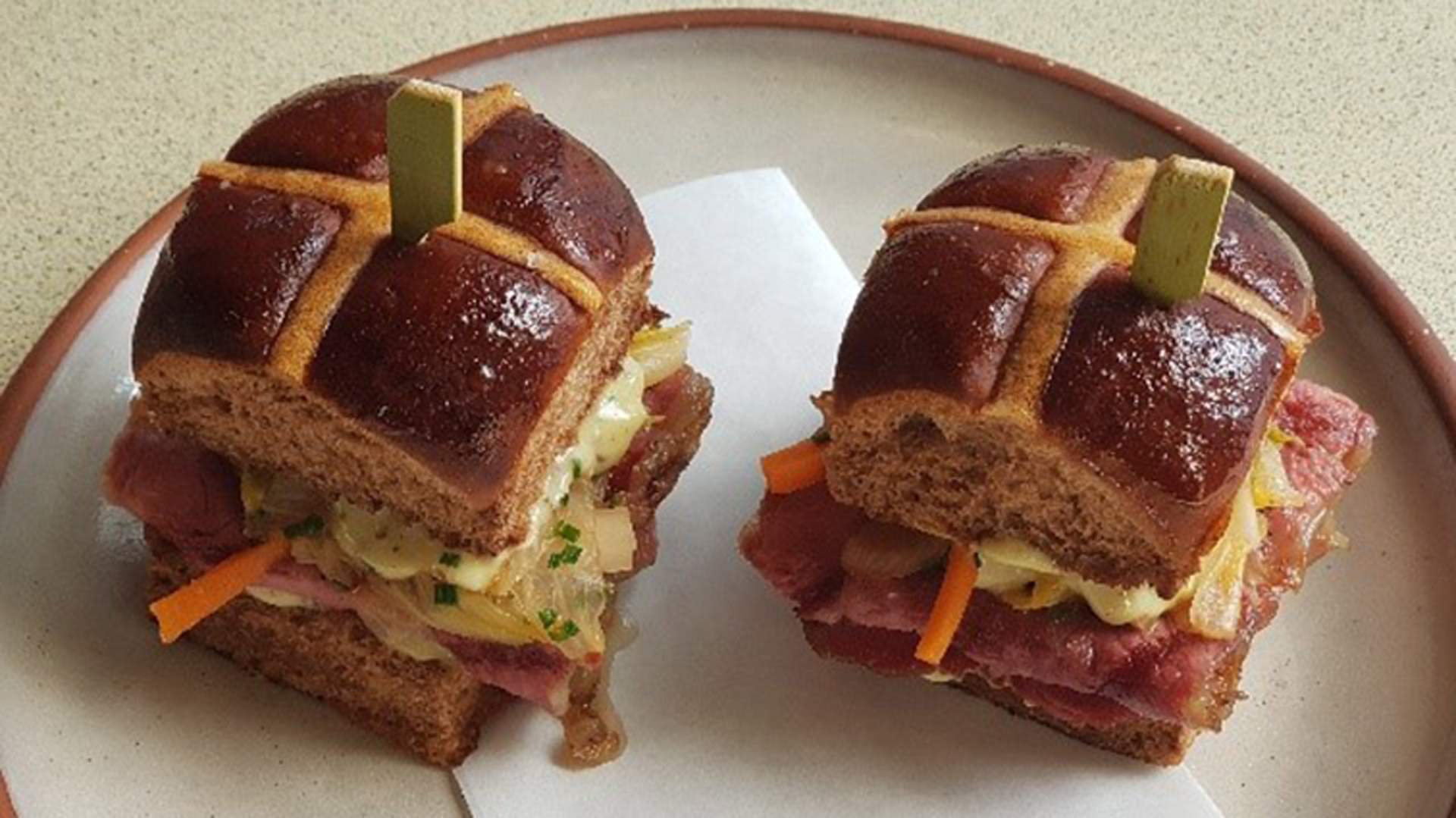 CORNED BEEF–STUFFED HOT CROSS BUNS AT BODEGA
Bodega's corned beef-stuffed hot cross buns may be available all year round, but there is no better time to dig into these savoury delights than over the Easter long weekend. The house-made buns are served tapas-style, piled high with corned beef, smoked oyster mayo and kimchi. The restaurant is open for dinner on Good Friday and Easter Saturday and these will likely be selling like hot cakes.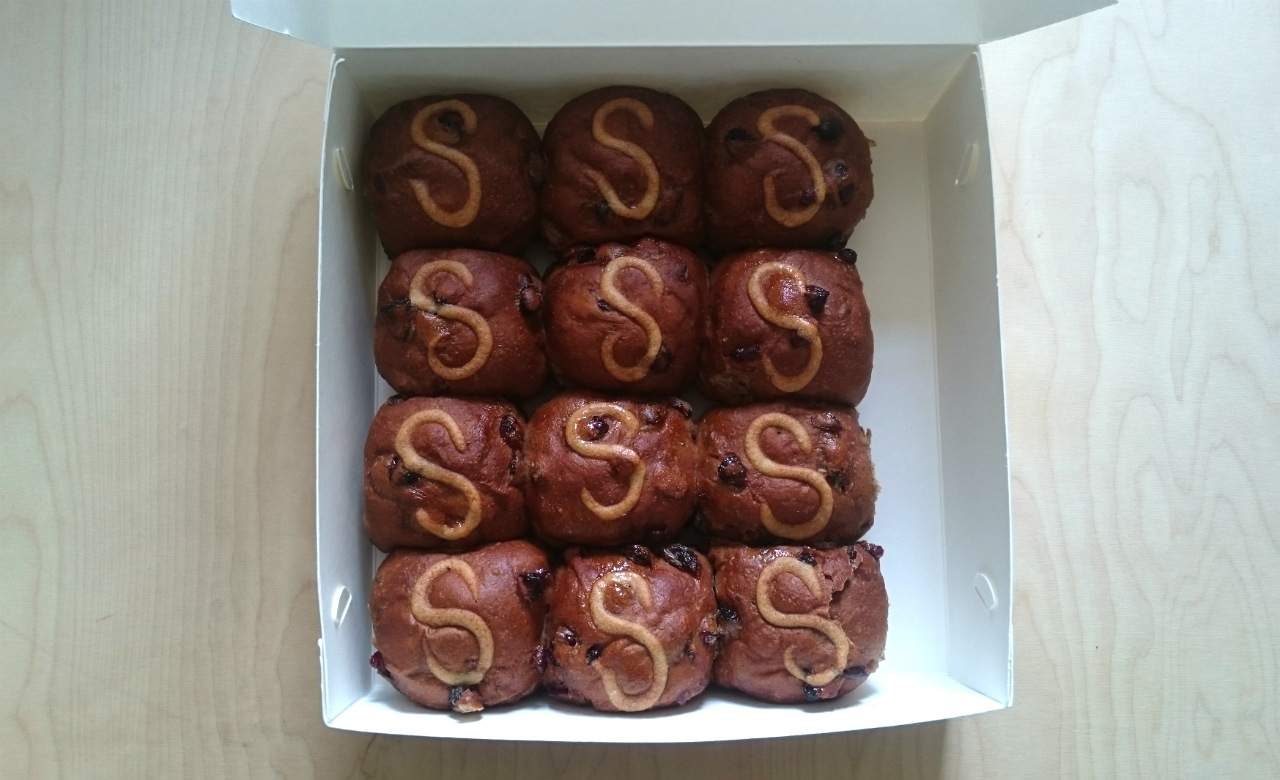 NOT X BUNS AT SONOMA
While most of Sydney's bakeries are putting the finishing touches on their bun crosses, Sonoma adorns its sourdough hot buns with its signature S instead — hence the nickname, 'Not X Buns'. Its version is studded with plumped sultanas and cranberries and spiced to perfection. The buns are available in all Sonoma stores right up until Easter Sunday.


Messina is known for its incredibly lavish, over-the-top and rather pricey Easter desserts. This year, it's the Yolks On Us collection — with varieties including white chocolate gelato with oozing passion fruit yolk and a dark chocolate shell; cheesecake gelato with mango yolk and a caramel white chocolate shell; and vanilla gelato with yellow peach yolk and a milk chocolate shell. The three gelato-filled Easter eggs will set you back $70 and are only available at Rosebery for in-store pick up from March 29 through April 1. If you want 'em, best get to ordering now.
Published on March 28, 2018 by Concrete Playground