ARTS & ENTERTAINMENT
The Ten Best Cafes in Sydney's Inner West
After so many impressive new openings, this has become the standout neighbourhood for breakfast and lunch.
We're all devoted to our own local cafe, but there's no denying that the inner west has had particularly rich pickings of them lately. After a spate of new openings in 2012, the area offers everything from big-breakfast old faithfuls to fine-dining-trained chefs and experimental commune-type sanctuaries.
But if there's one quality that ties these disparate breakfast-to-lunch hangouts together, it must be their sense of community. They all pride themselves on their local and hyperlocal produce, in-house preparation techniques, and nose for what their most important customers — locals — want.
So if you're an inner westie, here's our guide to the ten best cafes you'll want to visit and revisit. And if you're not from the area, well, it's time for an expedition.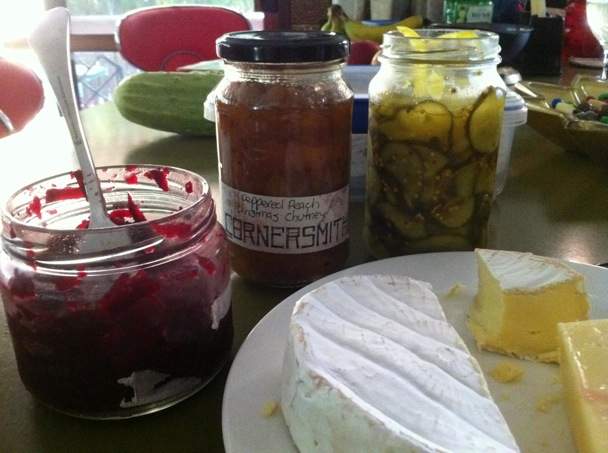 Cornersmith is a legend worthy of its reputation. Originally a thread shop, the space is beautifully pared back, with a stark, tiled wall, a mustard ceiling and nary a vintage poster or knickknack in site. It feels a little French and a little like you're sitting in a large kitchen of an old Australian home. A blackboard displays the simple menu, including a list of what fresh produce they have in that week. The menu revolves around these ingredients, which the co-owners, James and Alex, gather locally as much as possible — Marrickville residents who grow vegetables trade their excess for a jar of home-made jam or relish. Everything is made from scratch (they even have their own beehive), the service is super-friendly, the coffee is great.
314 Illawarra Road, Marrickville; www.facebook.com/pages/Cornersmith/294576130569750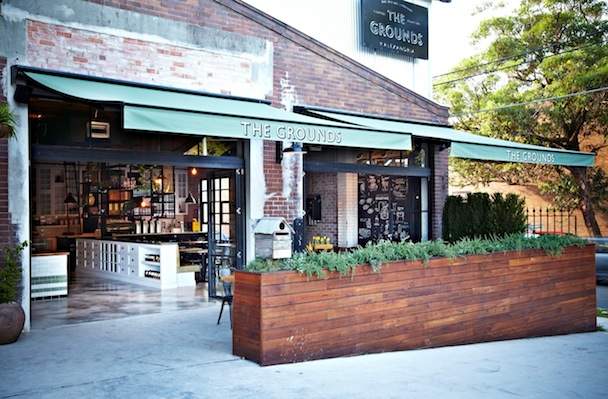 The team behind the Grounds have taken an industrial warehouse and transformed it into a homely, wholesome sanctuary. In fact, it's almost a town. There's the garden, which grows produce for the kitchen and doubles as an outside eating area for take-away meals. Listen carefully, you'll find the chickens around here too. There's also a kids' playground, gardening classes, on-site bakery, and a coffee roasting facility incorporating testig and a boutique school. On a Saturday morning, the place is brimming with families, children joyously patting ducks, bunnies, and guinea pigs that don't look too perturbed by the attention. It's tempting to see this as some kind of cult — though one that truly justifies the following.The only downside of this experimental paradise that we can see is the time you're likely to wait to get fed. Turn up early, plan a weekday visit, or pack your patience and wait for a table with a coffee in the garden.
Building 7A, 2 Huntley Street, Alexandria; www.groundsroasters.com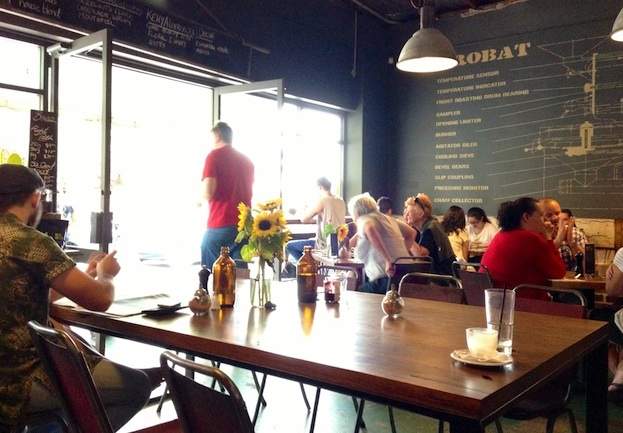 Double Roasters has breathed life into a 1950s warehouse. Inside the cafe is a wave of activity: the espresso machine is purring away, with the barista furiously pumping out hot coffee; the coffee blender is sucking and spitting out aromatic beans; and staff are scurrying back and forth with plates of food. One of the selling points of Double Roasters is its passion for coffee. Single origin beans are roasted on site in 12kg batches, ensuring superior quality and consistency. The food menu is straightforward, but you'll definitely get bang for your buck.
199 Victoria Rd, Marrickville; www.doubleroasters.com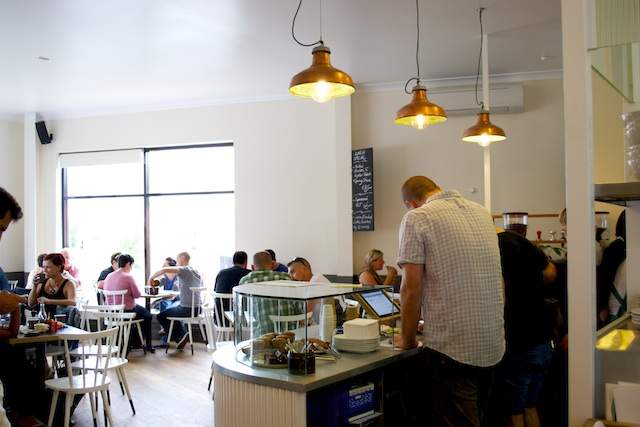 It's hard not to fall in love with Excelsior Jones. The friendly cafe sits in what used to be an old corner store in Ashfield and is a welcome addition to a quiet neighbourhood that was, before Excelsior, devoid of a local haunt. Co-owners Anthony Svilicich and James Naylor are both ex Le Monde, and also on board to bring a touch of brilliance to the modest menu is Adrian Borg, who previously held stints at Assiette and District Dining. House-cured salmon hash with pearl shallots, fried buckwheat, poached egg, and fresh herbs ($16) is nourishing and tasty to say the least, while the bacon and egg sandwich with capsicum relish and aioli ($10) will please any fan of this staple. The team is incredibly enthusiastic about providing a place where locals and people from all walks of life are welcome and feel comfortable, and the atmosphere definitely reflects this.
139 Queen Street, Ashfield; www.excelsiorjones.com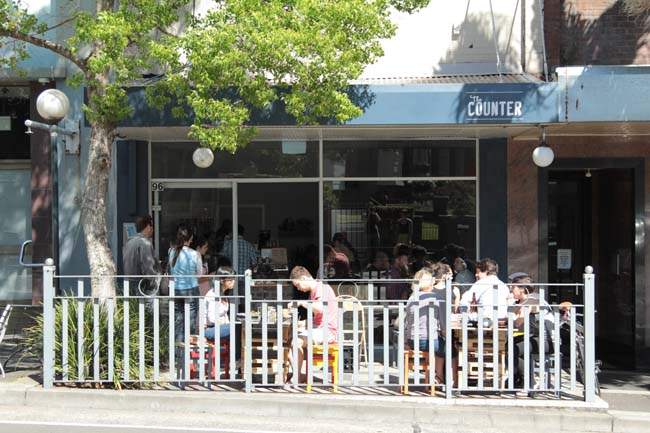 There's been a gradual takeover in the inner west cafe scene of smaller, well-designed cafes that focus primarily on coffee. Which, of course, a good cafe should. But the Counter in Petersham has also managed to include all the right eggs in its basket. Breakfast options are simple but with added tasty flares such as sourdough bread or homemade mayonnaise. The Smith's Sister ($14) is a classic of slow poached eggs and bacon on sourdough, while the Mr Smith Sambo ($9.50) mixes a soft egg, bacon, tomato relish, and mayonnaise between toasted sourdough. While there is limited space and you might find yourself having a bit of a wait for a table, the delightful staff, and fast service means you won't be frustrated by this smaller cafe.
96 Audley St, Petersham; 02 9560 2949

It's no secret that Redfern is definitely on the up. A little more gentrified, a little more hip. And while the Redfern/Waterloo border isn't exactly Sydney's most happening hotspot just yet, the Rag Land — a play on its Raglan Street location and light, bright bric-a-brac interior — is certainly a place worth visiting. Great food, sweet digs, and some winning coffee from one of the nicest teams we've met for a long time ranks high in our books. It's also more than reasonably priced, welcoming, unpretentious, community-minded, and has FBi radio peeps winging it down the road.
129 Raglan Street, Redfern

Just off King Street in Newtown, this hole-in-the-wall patisserie is unlike anything you've ever seen. With rebels in the kitchen and hipsters on the floor, Black Star is one of a kind. What sets them apart from the rest? The creativity tablespooned into every single mixing bowl. And the end result? An eclectic combo of offerings, sure to wow all of one's senses. For beginners, we recommend the strawberry watermelon cake with rose cream (four potions for $24). Then, try the lemon meringue tart with basil jelly, a genius concoction that will have you ordering a dozen at a time. For the kids, there's Ginger Ninjas ($4), which have replaced the somewhat jaded gingerbread man at this happening hotspot.
277 Australia St, Newtown; www.blackstarpastry.com.au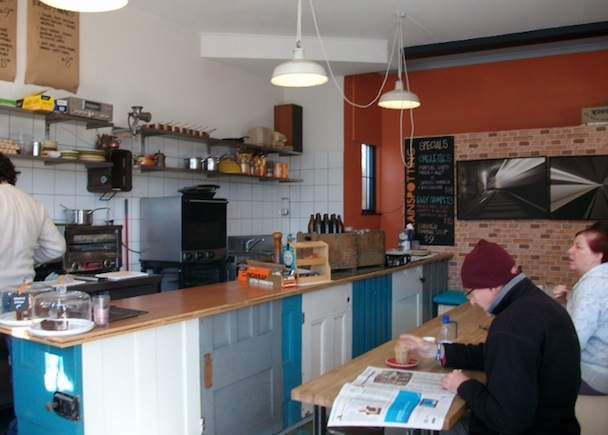 Choose life. Choose a job. Choose breakfast. Given it shares its name with the famous nineties drug film, it's apt that Trainspotting is drawing addicts — albeit of a different kind. The brainchild of Cameron Macpherson, previously of Restaurant Pepper in Balmain and Pier in Rose Bay, this unassuming café is giving Lewisham locals a long-awaited caffeine kick, and coffee connoisseurs something new to buzz about. The breakfast menu features the usual suspects as well as a number of in-house specialties. The Trainspotting Envy ($13) — poached eggs on a bed of spinach leaves topped with a feta and basil sauce — goes down a treat.
Shop 1, 3 Victoria Street, Lewisham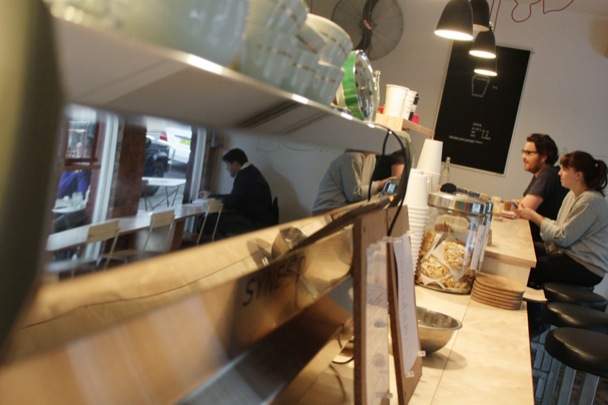 Paper Cup is a Middle Eastern treat in the inner west. As well as coffees (Coffee Alchemy beans, roasted in nearby Marrickville) the tiny galley service area puts out a focused breakfast menu and sandwiches, with Middle Eastern flavours providing a hit of spices and texture to the signature dishes. Arabian-style bircher muesli with poached fruit, yoghurt, pistachios and honey ($10), and the Dr Shakshuka eggs poached in cumin and chilli-infused tomato sauce with local ricotta and fetta ($13) are both excellent. There is a sweet local vibe here. The staff chat to the customers, and one of the parents from the school across the road supplies the gluten free chocolate brownies; another the chai tea. Everything else (besides the bread) is prepared right in front of you, with the assistance of an induction cooktop and slow cooker.
157/161 Cambridge St, Stanmore; papercupcoffee.com.au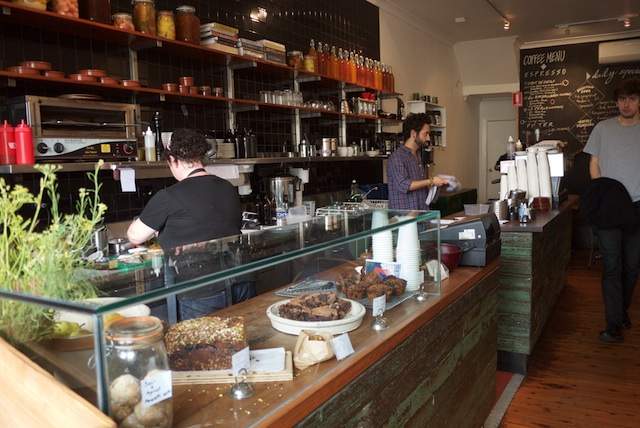 There's plenty to like about Fleetwood Macchiato aside from its punchline sagacity. The cosy cafe in the quiet neighbourhood of Erskineville is inviting from the moment you step in. Owners Tara, David, and Jai have previously already worked together so are no strangers to the industry and it's obvious. The simple fit out of wood panelling and white walls is home to a combination of good food, relaxed atmosphere and friendly service. Bread is provided from Organic Bread Bar in Paddington and it's worth noting that whatever they're putting between the slices is homemade and incredibly mouth-watering. A bacon and egg roll comes smashed with avocado, mustard mayo, spicy sriracha sauce, pickles, and mushrooms ($12.50) and a wholemeal baguette is overflowing with fig, taleggio, fennel, and a well-dressed watercress and mesclun salad mix ($11).
43 Erskineville Road, Erskineville; www.fleetwoodmacchiato.com

By the Concrete Playground team.
Published on February 07, 2013 by Rima Sabina Aouf