ARTS & ENTERTAINMENT
Meteorology and Olafur Eliasson
Man-made rainbows and walls of Norwegian moss - take your time in Olafur Eliasson's collection of climates.
Oscar Wilde is known to have said – most likely accompanied by a smug expression causing one side of his face to rise half an inch higher than the other side – "Conversation about the weather is the last refuge of the unimaginative." Coincidently, around the same time, Mark Twain addressed a New York City crowd for The New England Society's Seventy-First Annual dinner. In his sometimes forgotten Speech on the Weather (1876), Twain – referring to northeastern side of the United States – told the diners:
The weather is always doing something there; always attending strictly to business; always getting up new designs and trying them on the people to see how they will go.
The weather, according to Twain at least, is not only interesting enough to dedicate an entire speech to, but is in fact interested in how we 'the people' will react to its experiments, conjuring up new patterns and shapes to see how we might respond. And, if we think about it a little, what a magnificent history of response it's been. For the early human family the weather was one of the first metaphors; a divine and mysterious expression that seemed to occur with little or no warning and often with a moody temperament.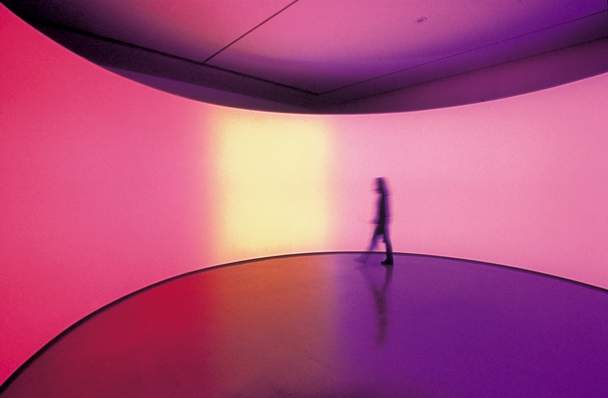 The reason for all this weather talk, apart from it being a spectacular subject for discussion amongst the imaginative, is Take Your Time, an exhibition by the Danish-Icelandic artist Olafur Eliasson currently on display at the Museum of Contemporary Art. Eliasson is an artist who sits comfortably on the couch of Art History – especially in the room where art makes the weather its muse. After all, some obsession with the elements must be necessary if you're going to install a sun inside the Tate Modern, or temporarily transform rivers around the world a fluoro radioactive-like green, or invent a rainbow out of a punctured water pipe and a spotlight, or position waterfalls at various locations throughout New York City. His project might best be described as an attempt to alter our sensory perception of the natural world via the principles supplied by nature.
He is, like the weather, in the business of experiences. But if these meteorological-based achievements seem too great or expansive for one mortal, let me assure you that they are; a small militia supports Eliasson's practice. In fact, it might be worth listing some of Eliasson's thirty-five strong staff to get a better sense of how his objects are born. A few of the employees to be seen working in Eliasson's Berlin studio include: two electricians, an electrical engineer, two blacksmiths, a carpenter, a furniture builder, geometricians, artists, architects, a light planner, occasional model makers, as well as an archive department housing two or three art historians, a bookkeeper and a project manager.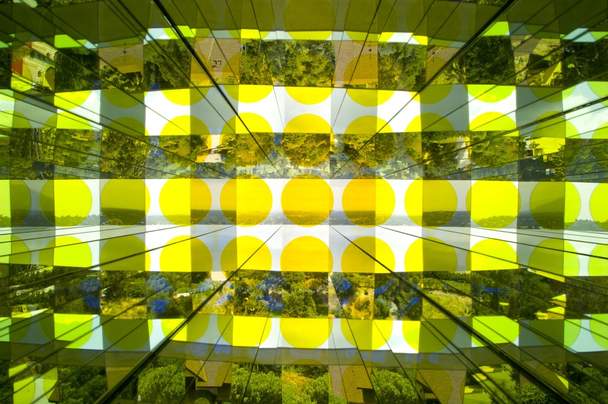 While Team Eliasson is hierarchical in the sense that all major decisions and ideas are approved and supplied by the artist himself, the collection of skill and knowledge facilitate multiple projects and areas of research to happen concurrently. Yet, beyond managing this array of professional assistance, the main focus of Eliasson's art seems to be about producing a subjective experience or response via a carefully constructed context, colour or object.
Eliasson believes that "like a time traveler, weather predictions are able to get a small part of the yet abstract future and include it in our cultivated sense of space." So if we follow him here, this might explain why weather forecasts – these little prophecies happening everyday – are so appealing.  Although we are forced to admit that everything is subject to the unstable laws of the unknown, it's comforting to know that the weather tomorrow is more or less predictable. Yet we shouldn't forget that this is often coupled with an equally fulfilling sensation when the weatherman/woman gets it wrong, as though their mistake is visible proof that the undecided and spasmodic tendency of the universe invades all areas of human measurement. In this way the weather is a rare teacher, since as Buckminster Fuller observed, 'tiny as man is, he rarely has the opportunity to identify his measurable stature in history.'
So if the weather is a teacher, is Eliasson a gold star student or the class clown? Is his work simply smoke and mirrors or is it something more? The answer is probably found in the experience offered, such as in the first work in the exhibition,Room for One Colour. Here we enter an empty room, which at first appears like a giant solarium, densely lit with a golden-yellow glow. As the title of the work suggests the colour remains constant and monochromatic, which according to Eliasson allows our brains to process less information in one area and thus become hypersensitive in another. This means, after a while, you notice things that would otherwise go undetected: inappreciable freckles, perfunctory facial expressions, dandruff and so on. The experience might not engender deep self-reflection, but it does alter the surface of things and your immediate behaviours of looking.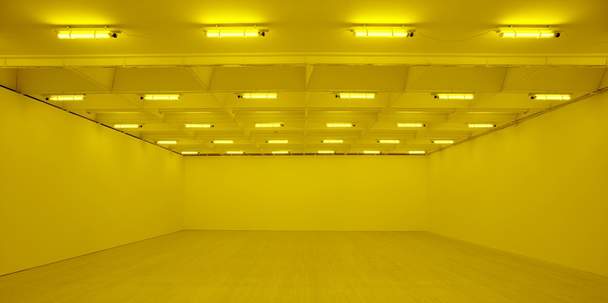 In fact this is perhaps what is most frustrating about the literature on Eliasson, for while the zealous writer will acknowledge the beauty and precision of his objects, they cannot help but make sweeping claims on behalf of the work. I'm not so sure, like some have suggested, that the Eliasson-experience "intervenes in a mediated world", and provides a situation that will affect how we will perceive things and people beyond the exhibition itself. It's a common syndrome of art theory to advance the artwork beyond its means or capabilities, which is why Take Your Time might best be approached like a collection of climates ready for your sensory participation rather than a space where an epiphany should occur, or where a community can spontaneously commence.
This is not to say that taking your time here won't be a fruitful occasion, since the colour and forms contained in the works do reveal a narrative that is worth traversing. Perhaps it's a little like colour therapy or some other alternative method of healing. If I were to hypocritically dive into the aforementioned art theory syndrome, I might even say the exhibition could help those with a predisposition for being dramatically affected by the weather. Occurring mostly in winter, SAD (Seasonal Affective Disorder) is a condition where one's psychological and physical state is severely affected by unchanging elements in the atmosphere. This might be the hidden potential of Eliasson's work, since it is more or less a happy, diverse and satisfying visual trip. Once you're in the space most glum and lugubrious feelings momentarily or partially wash away – whether you encounter the man-made rainbow or an entire wall made out of Norwegian moss.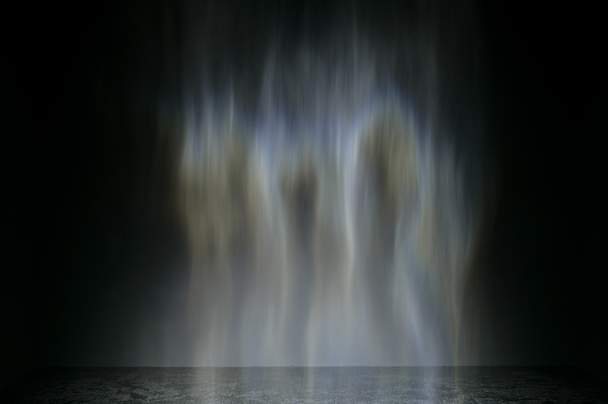 Tom Melick
Published on January 18, 2010 by Tom Melick