ARTS & ENTERTAINMENT
52 Tuesdays' Unique Look at a Teen and Her Transgender Mother
With a wave of Sundance hype behind them, filmmaker Sophie Hyde and actor Tilda Cobham-Hervey bring 52 Tuesdays home.
52 Tuesdays' Unique Look at a Teen and Her Transgender Mother
With a wave of Sundance hype behind them, filmmaker Sophie Hyde and actor Tilda Cobham-Hervey bring 52 Tuesdays home.
---
"Sixteen-year-old Billie's reluctant path to independence is accelerated when her mother reveals plans for gender transition and their time together becomes limited to Tuesday afternoons." So reads the synopsis for 52 Tuesdays, the striking debut feature from Adelaide-based filmmaker Sophie Hyde.
A nuanced exploration of issues surrounding youth, gender, sexuality and family, the film is also remarkable for its unique method of production: shot chronologically, one scene every Tuesday, for the course of an entire year. Hyde and lead actor Tilda Cobham-Hervey have since seen their little indie scoop up awards at Sundance, Berlin and the Melbourne Queer Film Festival. It hits cinemas in Australia on May 1.

STANDING OUT FROM THE CROWD
"The rules came first," recalls Hyde. "In film now, there has to be something that helps you stand out, especially if you're coming at it from a low budget, and you're unknown …the truth though is that we're always interested in different ways of making something …and that's something I'd take into anything. Let's not do something because it's always been done. Let's do something because it feels right."
"You can't hide the messiness of a year," chimes in Cobham-Hervey. "You're always going to have a pimple, or you've just had a fight with Mum, and you actually can't stop the real world from coming into the film, which I think inevitably drenched it in a reality and authenticity."

BECOMING BILLIE
With a background in theatre and circus, Cobham-Hervey's role as Billie marked her first time in front of the camera. "It didn't feel like a huge commitment at the beginning," says the fledgling actress, who was in year 11 when shooting began. "Then suddenly halfway through we all had that realisation that this is really massive!"
"I felt very different before it started to what I did at the end," she continues. "It was that interesting thing of initially not feeling very much like the character, and then reaching that point in the middle where those lines were really blurred … I don't know what I'd be without it."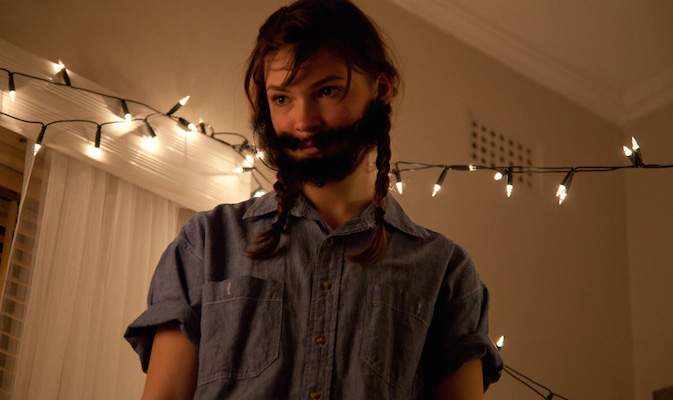 QUESTIONS OF GENDER
As impressive as Cobham-Hervey's performance is, equally memorable is the work of Del Herbert-Jane as Billie's mother. "Del identifies as gender non-conforming", explains Hyde. "Whereas the character is a transgender man and wants to be seen as a man. So they're really different. But I think there is an experience in Del, in feeling different from how people treat you, which is something that's hard to understand if you don't experience that."
"It's one of the great things that I feel like I learnt making the film", Hyde continues, "realising that every single person I meet treats me as my gender, and I treat them as their gender, and we just make this assumption immediately. If you try and take gender out of a sentence, you have to change like thirty words."
"I found it hard in the film," agrees Cobham-Hervey, "saying in the same sentence, 'Mum' and 'he'. That's really hard to do in your brain."

GETTING PEOPLE TALKING
Despite the film's festival pedigree, local success is by no means a guarantee. "It's a story about family. It's a story about queer issues. It's about young people. And it's got a very arthouse vibe. Those are really quite different audiences," muses Hyde. "People, when they've seen it, respond in a really personal way. But whether we can get to all of those people, I don't know.
"The truth is Australian films don't attract huge audiences at the cinemas … most films that we see now have marketing budgets three times their film budget, and their film budgets are hundreds of times ours."
Nevertheless, the director hopes people will go to the effort to see the film in a theatre. "[In Berlin] we were playing in a young person's strand, and talked to loads of teenagers, which was amazing," says Hyde. "These sorts of films are great to see with a cinema audience, where you might actually have a conversation afterwards."

52 Tuesdays is in cinemas on Thursday, May 1. You can read our full review of the movie here.
Published on April 29, 2014 by Tom Clift