FOOD & DRINK
The Ten Best Breakfasts in Sydney
Whether your thing is fresh, organic produce or pancakes with a side of bacon, Concrete Playground's list of the best breakfasts in town has got you covered.
The Ten Best Breakfasts in Sydney
Whether your thing is fresh, organic produce or pancakes with a side of bacon, Concrete Playground's list of the best breakfasts in town has got you covered.
---
Sydney is dotted with delicious breakfast spots. Whether your thing is fresh, organic produce or pancakes with a side of bacon, whether Bondi beach or the inner west is your local, or whether you're up at 7 on a Sunday or more likely to roll out of bed at midday, Concrete Playground's list of the best breakfasts in town has got you covered.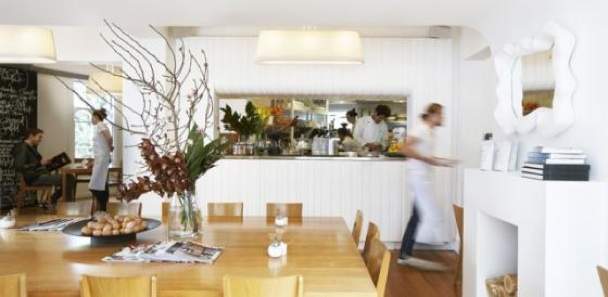 Where: 433 Liverpool Street, Darlinghurst 2010
It seems almost ridiculous to introduce bills: these cafes are an institution. The first, in Darlinghurst, introduced the concept of communal dining to our nation, reputedly as a way to get around council restrictions. Bill Granger, namesake and chef, is well-known in his own right, with more than one signature dish under his belt and a plethora of cookbooks in stores worldwide.
It's Saturday morning in the Darlinghurst edition, and I'm glad we've decided to come early. Within five minutes of our arrival, the entire room is buzzing with breakfasters. The small room, sparsely decorated, is filled with warm sunlight. We sit at a large table in the centre of the room (the famous communal table), and begin our meal with Freshly Squeezed Orange Juice ($6.50) and a Flat White ($3.90).
For review and details, click here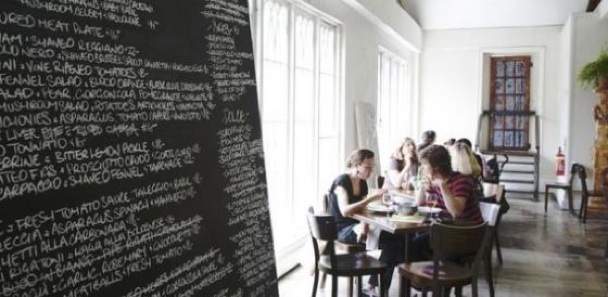 Where: 7 Danks Street, Waterloo 2017
Cafe Sopra, literally 'above' the original Frat Fresh in Waterloo, is another level of deliciously fresh delights. Take the stairs inside and to the right of this converted warehouse, and head upstairs to an airy room with marble columns and tall windows, where the sunlight casts delicate shadows across the tops of the wooden tables.
Chef Andy Bunn's policy is menu items that emphasise the best that Fratelli has to offer, focusing on fresh produce. The resulting dishes are light, fresh and exciting: a mix that is perhaps at its best in the morning hours. A highlight of the breakfast menu is the Pancakes with Lemon Curd and Strawberries: the 'pancakes' are closer to crepes, and there's a good balance of savoury and sweet.
For review and details, click here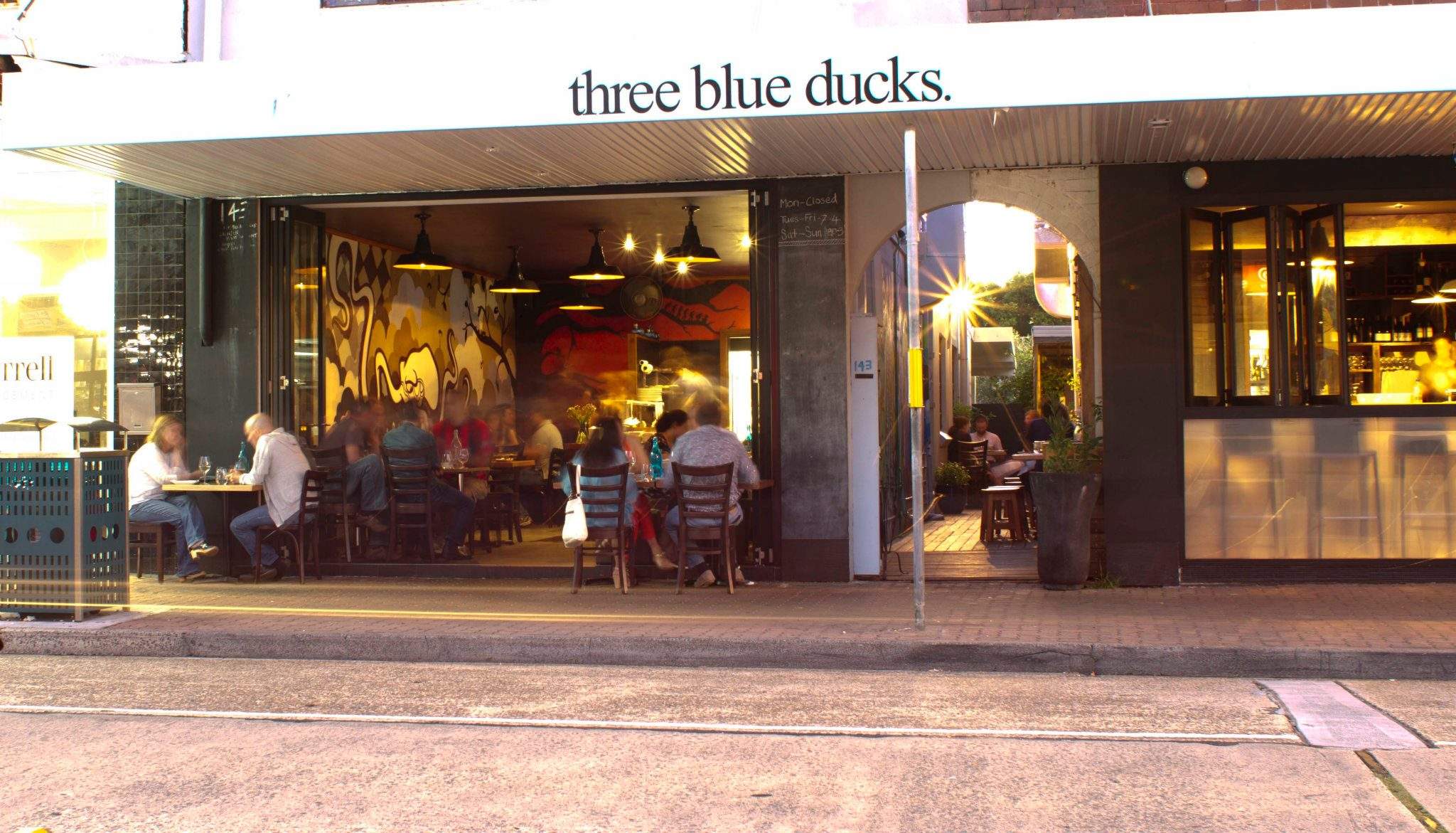 Where: 143 Macpherson Street, Bronte 2024
While Bronte could be dubbed Bondi's shy kid sister, Three Blue Ducks borrows little from the quiet beach suburb's gene pool. It may be the vision born of a pair of local surfers (a mere mile from the sandy coast), but the restaurant captures an air that's more street chic than shore shack and everyone — from beanie-capped twenty-somethings to suit and tie execs — seems to be digging it.
Nab a table along the peaceful, sunny street side window panel or cozy up in the back nook where you'll be in on the action amongst the five young chefs bobbing to funky background beats, pounding coffee grinders and exchanging jovial backslaps over searing flames. It's clear people have embraced this funky slice of paradise and take their time in doing so, graduating from cappuccinos to glasses of white wine at noon and sipping straw stuffed coconut concoctions in between courses.
For review and details, click here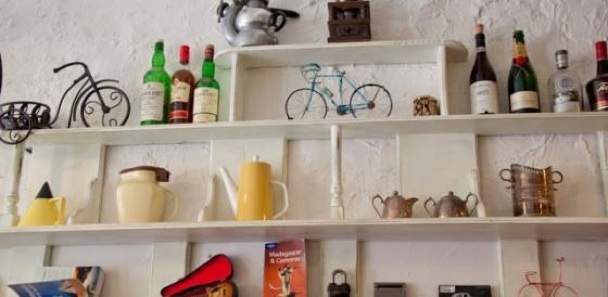 Where: 16 Glebe Point Road, Glebe 2037
It's hard not to fall a little bit in love with Clipper Cafe. Occupying the lower floor of an adorable whitewashed terrace house, fitted out with bright green doors, hanging flower baskets and a bunch of paraphernalia that adorns the walls, Clipper is a breath of fresh air on the Glebe Point strip. The space is frequently abuzz with caffeine-crazed uni students, well versed in the art of procrastination.
Clipper's pulling power can be explained by its incredibly reasonable prices and drool-worthy menu. The food is rich, the servings ample and the presentation is simple and elegant. The chefs use high quality, locally sourced ingredients and aren't stingy when it comes to the good stuff - even the humble slice of Banana Bread ($8) is served with ricotta, berries and honey. Must-try breakfast options include the Arabian Style Bircher Muesli ($8), with pistachios, poached fruit and yoghurt, and their Baked Eggs ($11), served with spinach, feta, chorizo and herb toast.
For review and details, click here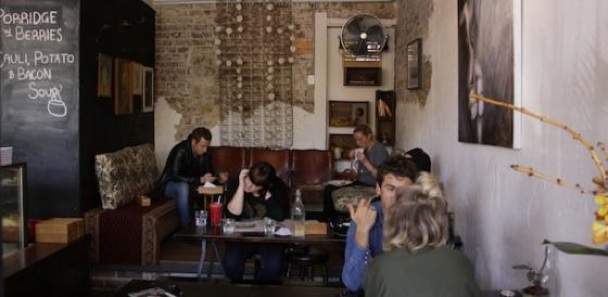 Where: 100-102 Brighton Boulevard, Bondi Beach 2026
Nestled between a florist and a yoga school, 'Porch' is a cafe, retail shop and gallery rolled into one. The space itself is rustic and laidback. Spacious wooden tables and comfy antique chairs provide ample room to kick back with a group or to power through some work, with knitted blankets and heaters on hand for those willing to brave it outside during winter. Porch's approachable vibe and pet-friendly policy contributes to its universal appeal, made apparent by the diverse crowd it welcomes through its doors.
Worth a nod is the Veggie Breakfast ($16) served with piping hot roast tomatoes, smashed eggs (a Porch original recipe), spinach and whopping big mushrooms. Add healthy lashings of bacon for those who want it both ways. Other highlights include the daily Soupe de Porch, served with your pick of the Sonoma breads on offer. Their green juice (cucumber, fresh apple and spirulina) also deserves a shout-out for being the best hangover cure this side of town. For those on the go midweek, Porch's generous bacon and egg one-handers ($5) or fresh salad wraps ($9.50) do the trick nicely.
For review and details, click here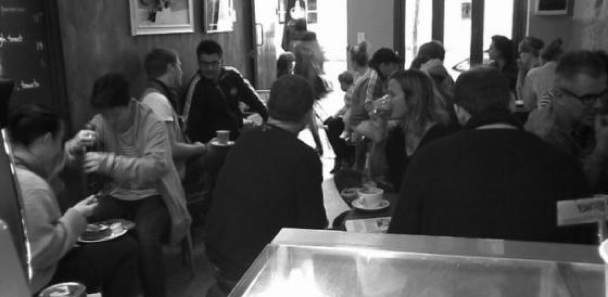 Where: 399 Liverpool Street, Darlinghurst 2010
The Bunker is an appropriate title for this hole-in-the-wall, blink-and-you'll-miss-it Darlinghurst cafe. Once you've sampled the goods, however, you'll never be able to walk straight past again. The intimate feel is carried through with casual, friendly and familiar staff, and the kitsch, second-hand crockery. I can't go any further without mentioning the coffee, which (judging by the rate of take-aways) is the main appeal of the Bunker. Stretch out a bit further though, and you'll find a great range of simple menu items.
Breakfast is the key meal here, with the basics often outshining the more complex offerings. You can't go past the Googs: soft boiled eggs with soldiers of toasted Sonoma bread. If you're after something a bit heartier, I'd recommend the home-style Baked Beans on Toast. For non-coffee drinkers, there's a great range of teas by the pot. My pick is the novelty Rosebud tea.
For review and details, click here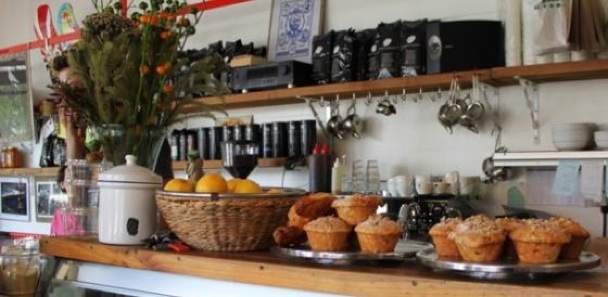 Where: 60 Warners Avenue, Bondi 2026
The scene here is pure laid-back Bondi. Away from the 'scene' that is Hall Street and Campbell Parade, locals rule at Jed's Food Store, and they come here for delicious long breakfasts (with a Mexican edge), healthy snacks and lunch throughout the day. Regulars come early in the morning for their coffee fix, perching on milk crates and mismatched chairs outside in the sun, or reading the papers at small tables inside where there is plenty of action in the open kitchen.
For breakfast, try Poached Eggs with Mexican Beans and Chorizo, or a take on Huevos Rancheros, a toasted tortilla with scrambled egg. There are wholesome options like Porridge and Bircher, as well as healthy Smoothies made with the wonder-fruit-of-the-moment, Acai Berries. Coffee is intense and rich - it's worth having a second.
For review and details, click here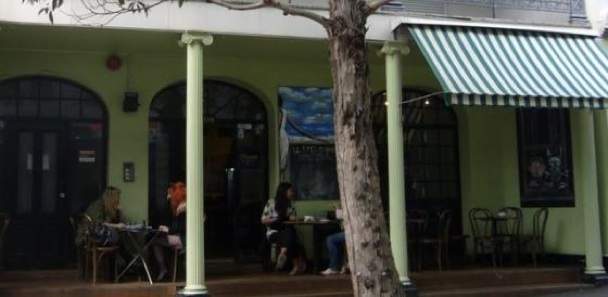 Where: 116 Darlinghurst Road, Darlinghurst 2010
The French have a reputation for being, how do you say, outrageous? Le Petit Creme fits the genre perfectly: it has a reputation and it is most certainly outrageous. If it's service you're after, this tiny cafe might not be your first pick - the waitstaff tend to be casual at best. However, if you're searching for an absurdly luxurious breakfast feast, you've found the right place.
The Eggs Benedict is the star attraction. Deliciously runny eggs, rich hollandaise and your choice of ham or salmon on freshly toasted brioche. The omelettes are another firm favourite, particularly the gruyere, served up with garnish and a warm baguette. Coffee or hot chocolate is best served in 'Le Bol', a literal and very French bowl of milky delight. Consider yourself warned: after a breakfast like this, you may need to revisit bed.
For review and details, click here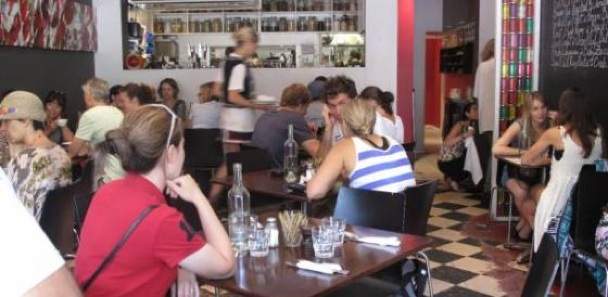 Where: 106 Curlewis Street, Bondi 2026
On another one of these hot sticky days that keep exhausting us Sydney-siders, we traipse down to the dimly-lit people-packed Brown Sugar. A café-by-day, a bistro-by-night, our 7.30pm table will be for the latter fare. Sitting on Bondi's Curlewis Street it is a perfect spot for a post-dip bite. However, the chances of one stumbling across a free table are slim. We are thankful Brown Sugar takes bookings.
In an attempt to relieve myself from the stifling heat I order the special of beetroot cured ocean trout with green tahini, baby radish and fresh herbs. The beetroot curing makes the ocean trout taste more earth than ocean, yet it is sweet and refreshing.
For review and details, click here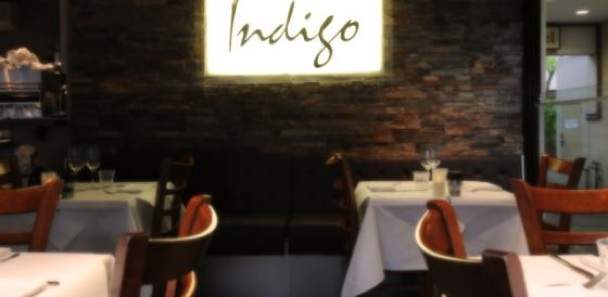 Where: 6/15 Cross St, Double Bay 2028
Situated in the picturesque Transvaal Avenue, Indigo has a European cafe vibe complete with year-round alfresco dining. The tables on the pedestrian island are the most sought after when the sun's out, which is almost always - thanks Sydney! It's especially popular as a brunch or lunch spot, and you can expect to wait a little for a table on weekends. That said, they get you seated quickly and serve you even faster without ever making you feel rushed to finish. In fact, service is one of their real strengths. The team is young, friendly and very switched on.
Morning favourites include the generously portioned Breakfast Bruschetta ($19.90), Bircher Muesli ($14.90) and Fluffy Ricotta Pancakes ($17.90), while the extensive lunch menu offers countless crowd-pleasers, such as the Pan Roasted Wagyu Beef Burger ($21.90), Roasted Butternut Pumpkin, Prawn and Pancetta Linguini ($29.90) and the Lemon Marinated Chicken Salad ($23.90), with avocado, Persian fetta, pine nuts and baby spinach. Everything's prepared on-site and the freshness comes through no matter what you order.
For review and details, click here

Published on September 07, 2011 by Trish Roberts