ARTS & ENTERTAINMENT
The Ten Best Art Exhibitions in Sydney this Summer
This year Sydney's art institutions have produced an array of promising art events on the horizon to help you push into summer past the new year, whatever else the weather may hold.
The Ten Best Art Exhibitions in Sydney this Summer
This year Sydney's art institutions have produced an array of promising art events on the horizon to help you push into summer past the new year, whatever else the weather may hold.
---
Summer can be an interesting time on the art front. Sure, there's the glitz of the Sydney Festival, and there are plenty of kid-friendly shows like Harry Potter kicking around our big museums. But you can also find more challenging gallery shows, photography or just grab a serendipitous moment of art on the street.
Luckily, this year Sydney's art institutions have produced an array of promising art events on the horizon to help you push into summer past the new year, whatever else the weather may hold. Concrete Playground has put together a list of the most interesting up and coming exhibitions over the warmer months, leaving you with plenty of time to hurry up and linger.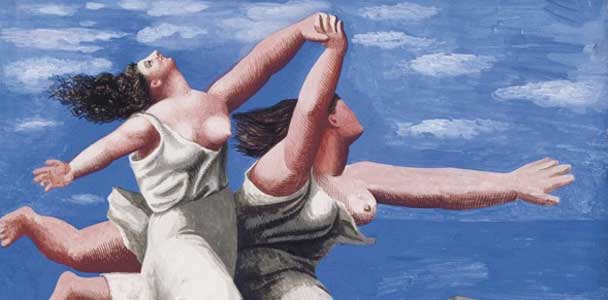 The Musée National Picasso is closed for renovations, so a sizeable chunk of its collection is taking on Sydney as a summer home. The show covers all of Picasso's highly varied styles and periods — 'blue', 'rose', Expressionist, Cubist, Neoclassical and Surrealist. The realism of his early work came easily to Picasso, but the seemingly simpler stuff was the real work. He's said to have said "it took me a whole lifetime to learn to draw like a child." And as Paris comes to Sydney, you too can get overwhelmed by some of this child-like wonder.
Art Gallery of NSW. $25/18 (Picasso image via Jean-Gilles Berizzi and Réunion des Musées Nationaux.)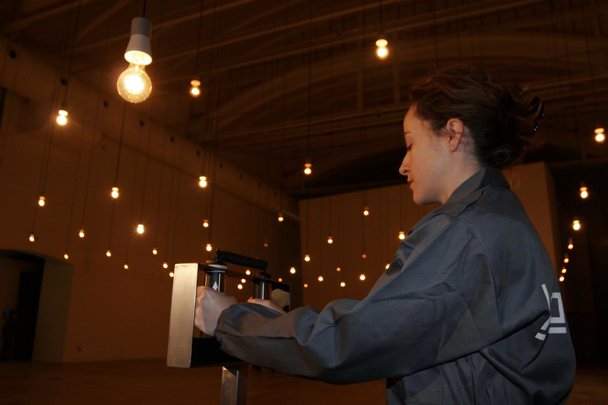 Mexican-Canadian artist Rafael Lozano-Hemmer invites the public to touch, push and prod his work into being. Recorders gives you a taste of the artist's mash-up of technology, art and the audience itself, as well as a brief preview of the reconstructed MCA before the art-deco institution's interiors reopen in March. The core of Lozano-Hemmer's work are surprising moments you can touch, stealing fairytale qualities from you for the art — like your heartbeat, or your eyes.
16 December - 12 February, MCA. Free. (Image of Lozano-Hemmer's Pulse Room by we make money not art.)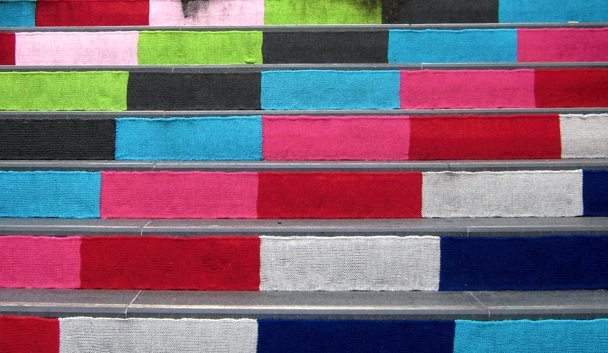 Though Art and About has receded for the year, it's left Laneway Art out for Sydneysiders to enjoy over the summer, complete with mid-air donut, graffiti and  strange street furniture. Laneway Art takes curation and serendipity to the streets, gathering art from around Sydney, and beyond. 2011 featured a staircase tiled in guerrilla knitting from the 'mother' of yarn-bombing, Magda Sayeg, urban periscopes with mirrors that look further across the city than you'd imagine and some oversize, forced perspective looking down Market Row. And if you find yourself craving yet more art, Streetware 2011 is still up on city walls as well.
Until January 31. Skittle Lane, Bridge Lane, Mullins Street & Market Row, Tank Stream Way, Bulletin Place and South Sydney alleys. Free.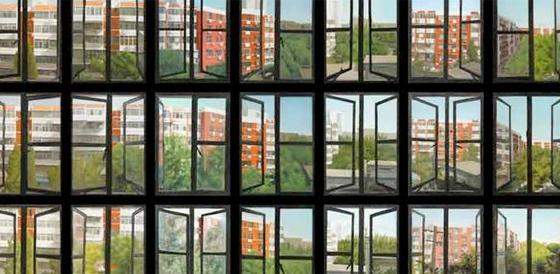 White Rabbit's new exhibition aims to shuck all sense of boundary - whether it be the wooden frame of a canvas or the crisis of national borders. Ai Weiwei (polymath visual artist, political activist and man of many millions of sunflower seeds) has his Oil Spill porcelain work on display, tempting eco action with its lush, hand-crafted pollution. Lu Nan's empathic eye has entered Burmese prison camps to observe the day-to-day existence of these forgotten souls, while the completely playful is found in the absurdly over-sized animals hanging out in Liu Di's urban scenes.
Until January 28, White Rabbit Gallery. Free. (Daily Shapes (2009) by Dong Yuan.)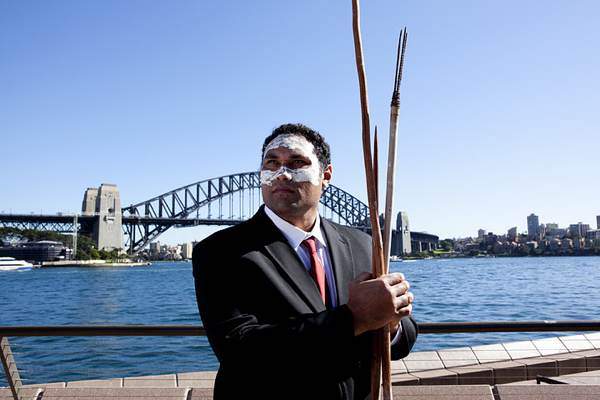 Black Capital is CarriageWorks' indigenous festival within the 2012 Sydney Festival, focusing on the indigenous urban homeland of Redfern. For its artistic component, 181 Regent Street documents Redfern's National Black Theatre in photographs, while Brook Andrew lets you into the lives of Redfern residents. In his Travelling Colony, a series of black and white caravans each play home to a Redfern story. Check them out in January in the CarriageWorks foyer or, for one night only, along Macquarie Streeet as part of the Sydney Festival First Night.
From January 8. Carriageworks. Free. (Image by Lisa Tomasetti.)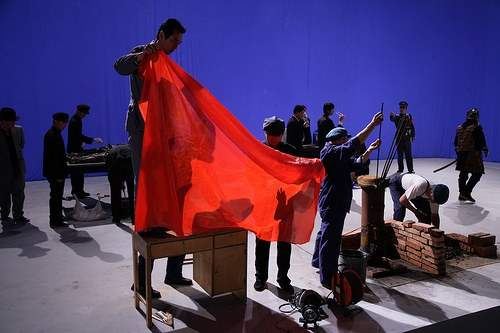 The third and final year of this city-crossing exhibition showing a range of art that spans Sydney, Australia and the Asia-Pacific. These twin shows are under the umbrella of the Sydney Festival, joining the inner and outer rims of our geographically massive metropolis. Previous years televised dervish-whirling and explored future cities. This year's artists will mural in canvas, and jog across the world.
From January 15. 4A Centre for Contemporary Asian Art, and Campbelltown Arts Centre. (Pictured is Symptom, by 2010 Edge of Elsewhere artist Wang Jianwei.)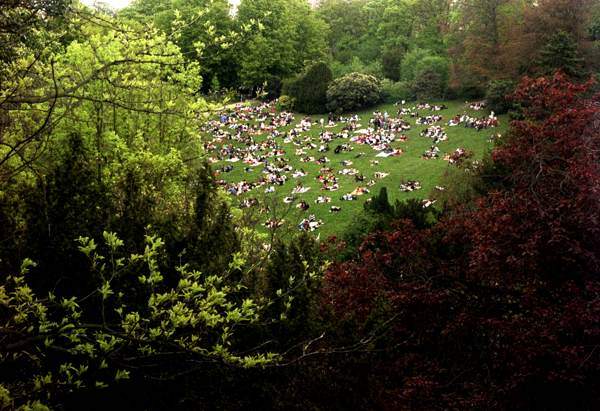 SMAC nominee Alaska Projects is a new artist-run gallery nestled in a disused parking lot under Kings Cross. The space is running a series of shows over the summer, among which Samuel Hodge's stands out in a strong subterranean field. His photography brings domestic intimacy to dreamy life, drawing it from the private sphere to the public, and luring you into a world where you keep needing to see what waits around that last corner.
Thursdays to Sunday, January 11-29. Alaska Projects. (Image Maybe It Was This by Samuel Hodge.)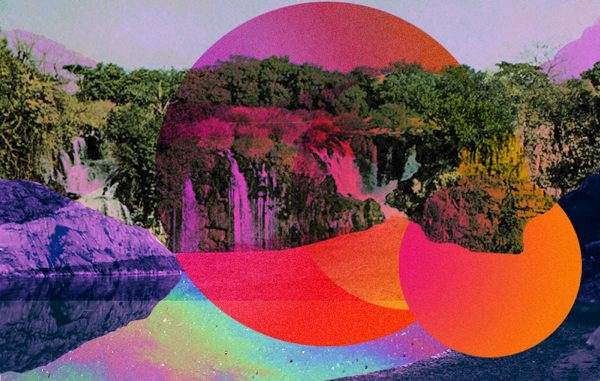 Hard work and circumstance led British artist Chrissie Abbott to fall into her star role illustrating Brit pop diva Little Boots' trippy CD covers. Her geometric designs manage to radiate all the fertile energy of '70s collage while never failing to look like they've been projected back from some mad, polychromatic future. Casual Cosmology will bring a sheaf of new work from her to Australia, as she sets aside the commercial vibe to bring her personal projects to the fore.
Jan 27-29, China Heights Gallery. Free. (Image by Chrissie Aboott.)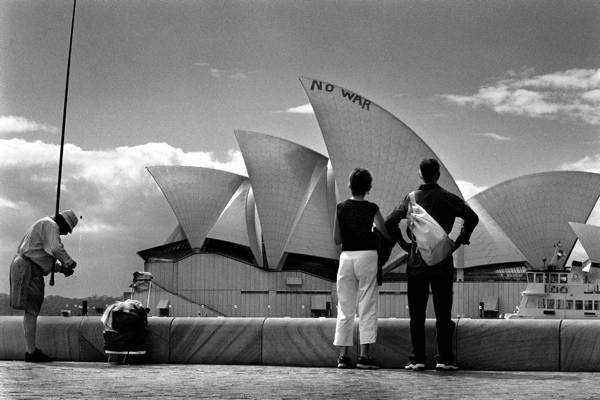 Photographer Dean Sewell documents his transformation from observer to participant in Sydney's 'culture jamming' scene as part of the Lonely Station's collective co-opting of commercial locations into art and politics. From the guerrilla plastering of art on Sydney's new Louis Vuitton shop to a Hills Hoist planted in Sydney Park for political purposes, Sewell's photos show you this urban art action from the lens of a man in the middle of it.
From 11 February, Museum of Sydney. $10/5 ('No War 3' by Dean Sewell.)
Always different, always fresh, not always perfect, often sublime. What can often be one of Sydney's best showcases of debut artists lines up the highlight 2011 HSC art students. This year? The same as every other: some pieces with grand ambitions, some personal revelations and some work that makes you mutter under your breath about how much talent it's possible to have at seventeen.
From February 22, Art Gallery of NSW. Free. (2011 Art Express image 'Something in the Air' by Jacob Zinman Jeanes.)
Beyond the Frame written by Jimmy Dalton.
Published on December 19, 2011 by Zacha Rosen