ARTS & ENTERTAINMENT
The Ten Best Vintage Homewares Stores In Sydney
We have compiled a list of the places we believe to be some of the most interesting and inspirational purveyors of vintage homewares, antiques and recycled cool stuff in Sydney.
The Ten Best Vintage Homewares Stores In Sydney
We have compiled a list of the places we believe to be some of the most interesting and inspirational purveyors of vintage homewares, antiques and recycled cool stuff in Sydney.
---
The craze for all things pre-loved and recycled is nothing new, but it's becoming increasingly clear that in most people's minds, old stuff is way better than new stuff. This doesn't just apply to clothing, but also to the items you choose to kit out your home with. Life's just more interesting when people start getting creative and repurposing vintage items, and it's a more sustainable way of living too.
Here, we have compiled a list of the places we believe to be some of the most interesting and inspirational purveyors of vintage homewares, antiques and recycled cool stuff in Sydney. With high- and low-end options, these vintage retailers exude endless creativity and long hours of delighted exploration.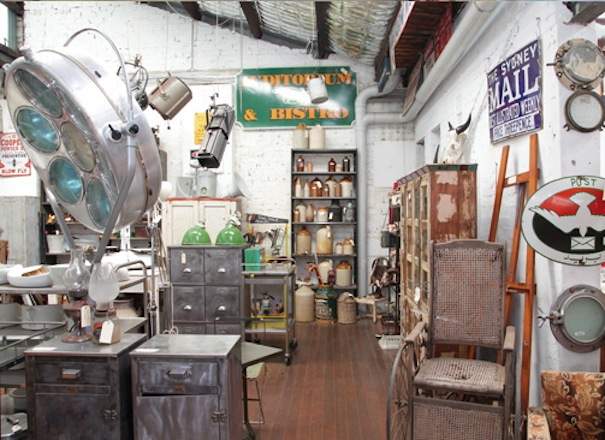 When I was a kid I was convinced that everyday objects had lives of their own and got up to amusing hijinks whenever I wasn't looking. When things got lost, I used to imagine they'd taken themselves off to a kind of ramshackle clubhouse of 'stuff', where the chairs and the tables were having a fantastic party and exchanging witty banter about things I didn't understand. And in my mind that place looked exactly like Doug Up On Bourke. It's where industrial, commercial and rustic antiques all come together in one space, and where you can spend hours walking around in wide-eyed fascination.
Doug Up On Bourke was established back in 2003, and sources items from all over Australia, with everything lovingly restored by hand. It's the place to go if you're after shipping trunks, industrial work tables, watering cans, church pews or old bakelite phones. The place is huge, so you need an hour or so to browse through everything, but you're guaranteed to find something amazing.
Address: 901 Bourke St, Waterloo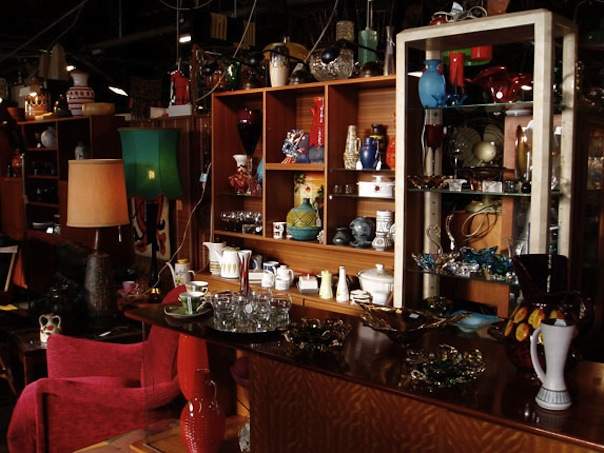 Mitchell Road is a graffiti-clad emporium located in the wilds of Alexandria, containing over seventy different dealers within its walls. Climb up the staircase on your left to the first floor and inside you'll find every kind of vintage, industrial or retro item you've ever fantasised about, all the way from Victoriana through to 20th century design. In addition to homewares, furniture and lighting there is also a range of vintage fashion, toys, kitchen items and industrial pieces.
If they don't have what you're looking for there is a 'wish list' feature you can use, and the centre's dealers will try and hunt it down for you. You need a few hours to take everything in and exclaim over old tram signs and granny blankets but you definitely won't walk away empty handed, so make sure you've got money and ample room in your backseat.
Address: 76 Mitchell Rd, Alexandria
Phone: (02) 9698 0907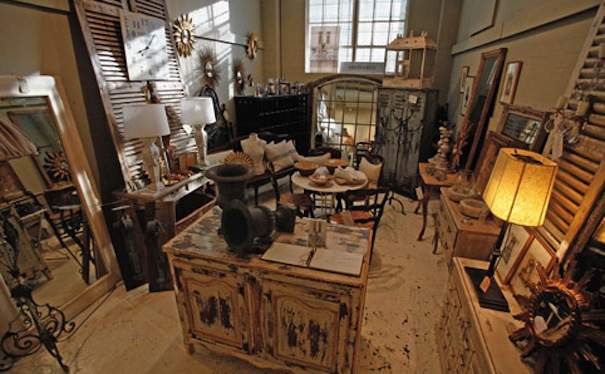 Beginning in the 1970s, the Sydney Antiques Centre was created thanks to the optimism of a couple of salespeople who'd seen the Kings Road Antique Market in London and believed it was high time Sydney had its own version. This was a tall order given Sydney was in a bit of a slump at the time and didn't have scores of old families littered about with the odd suit of armour and crate of Spanish galleons stashed away in the attic. Moreover there was a colony of pigeons residing in the derelict building on South Dowling Street they elected to use as their premises, who stubbornly refused eviction until well after the Market had kicked off.
Given its rickety beginnings, it's truly impressive just how amazing Australia's oldest antiques centre is today. With over fifty antiques and art dealers in-house selling porcelain, clocks, rugs, clothing and furniture, as well as an indoor cafe and gallery, the Centre in many ways feels like a museum. The quality of items is impeccable, so while it's not always the cheapest place to shop, it is definitely worth checking out.
Address: 531 South Dowling St, Surry Hills
Phone: (02) 9361 3244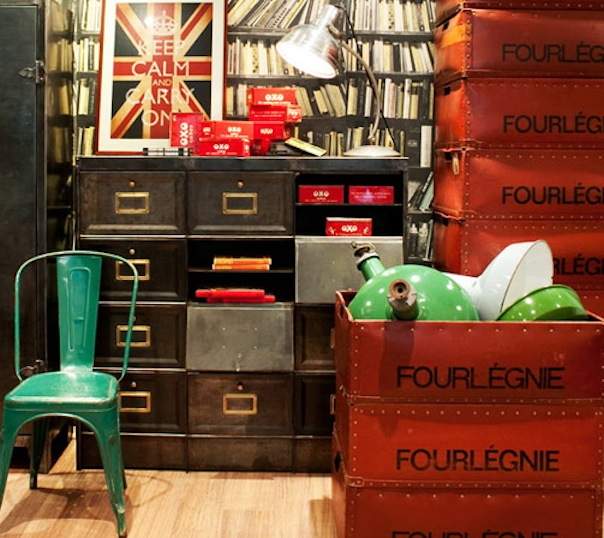 duckeggBLUE specialises in reclaimed industrial and antique furniture, with all items sourced from Europe, America, Russia and Britain. Pieces from the 1800s sit side-by-side with paraphenalia from the 1920s - old English club sofa chairs, industrial French workbenches and original bus signs.
duckeggBLUE has a reputation for one-of-a-kind pieces, and it's usually one of the first places people bring up when you mention vintage homewares in Sydney. Moreover, only the very best pieces are sourced, so the selection isn't as vast and mind-boggling as many other places on this list. duckeggBLUE is regularly used by magazine stylists, and they have supplied items to Fleur Wood, Seed and Adriano Zumbo's Patisserie, among others.
Address: 497 Darling St, Balmain
Phone: (02) 9810 4330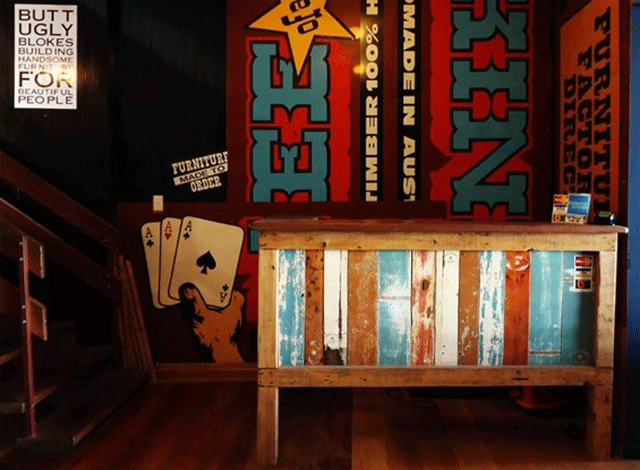 Driving down Parramatta Road, amongst the leagues of car dealerships and questionable bridal shops, there is one sign in a shop window which will make you giggle: "Butt ugly blokes building handsome furniture for beautiful people." This shop outside which it hangs is Three of a Kind, selling handbuilt recycled timber furniture. The three 'blokes' work in an old fashioned method, taking pride in the fact that people enjoy watching others make something with their hands which isn't a sandwich or a paper plane.
Original pieces are available to buy directly from the showroom floor, or the 'blokes' are happy to tailor-make particular items to suit specific needs. You want a kitchen cabinet made out of old Peter's ice cream signs? You got it. A confederate flag dining table? Sure, no problem. Their wares grace the interiors of establishments such as Clipper Cafe in Glebe and Clover Cafe in Annandale.
Address: 629 Parramatta Rd, Leichhardt
Phone: 0409 555 173 and 0400 555 173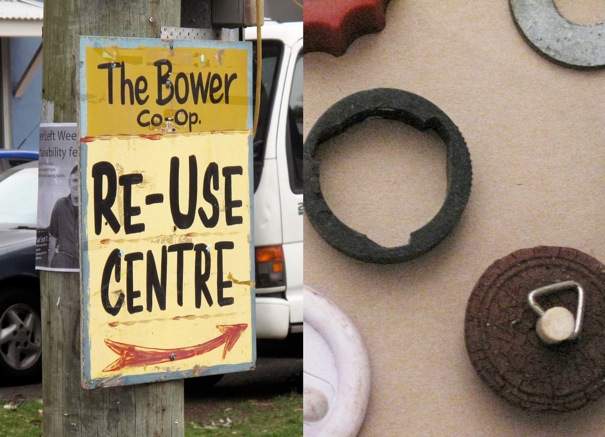 The Bower exists to deal with the kinds of items that commercially-run charity stores don't accept. That means you're unlikely to find a desk or a chest of drawers here, but white goods, bric-a-brac and fireplaces can be found with ease. This is the kind of place that inspires creativity.
The Bower is all about recycling and diverting needless waste from landfill, collecting and repairing pre-loved household goods and reselling them to the local community. In addition to the aforementioned fireplaces and white goods, there is also the Reuse Gallery featured within The Bower, where you can find upcycled items like bowls made from LPs and coffee tables made from bicycle rims. And on top of everything else, they are not only a second hand store but also a registered Environmental Charity.
Address: 34/142 Addison Rd, Marrickville
Phone: (02) 9568 6280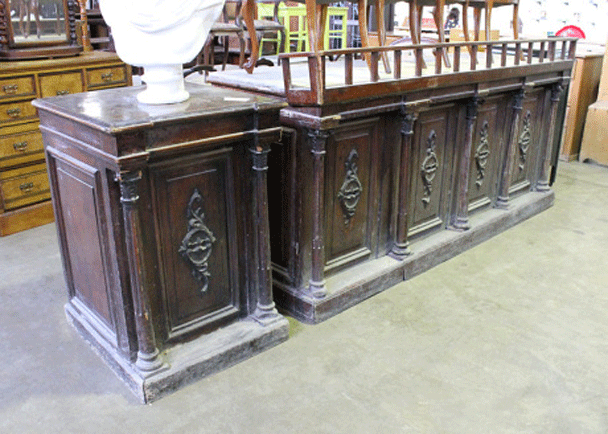 Auctions are for proper adults with expensive watches and rimless glasses, right? Wrong. RKT are something of a Sydney institution tucked away between Leichhardt and Annandale, beloved of socialites, aesthetes and antique dealers alike. The company is a well-established collection of fine art and general auctioneers and valuers, holding twice-weekly auctions showcasing items as specific as 'Collectors Books' and 'Australiana.'
Each sale has between 1600 to 2400 lots to bid on. According to their website the auctions are not only affordable and entertaining but also "studies in kinetic human interaction." Which has got to be better than your average house auction, right?
Address: 42-48 John Street, Leichhardt
Phone: (02) 9552 1899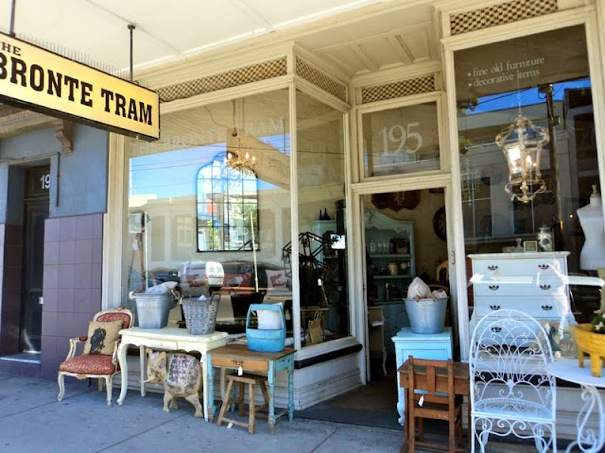 The folks at Bronte Tram do a bunch of stuff with furniture: they hire it, they buy it, they paint it and they reupholster it, then they carefully arrange it all for you to rummage around in to your heart's content.
This husband and wife team collect industrial antiques, chandeliers, outdoor furniture and 1950s clocks to make them all fit together as though they were always meant to be one seamlessly arranged whole. From a vintage Japanese sea diving helmet to ship lights and old Indian schoolroom lockers, there's a bunch of stuff here that you simply won't find anywhere else.
Address: 195 Bronte Rd, Waverley
Phone: (02) 9389 1337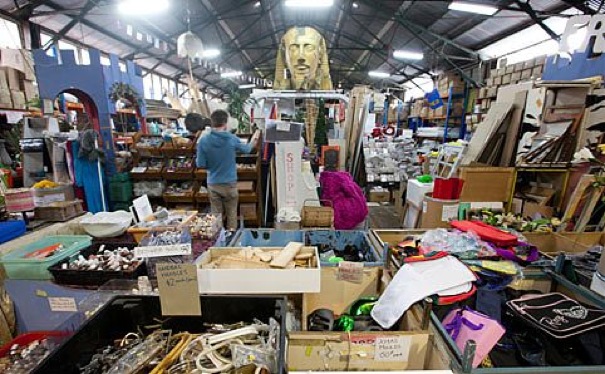 Reverse Garbage is a not for profit co-operative established by a group of idealistic teachers during the 1970s who ran it out of a warehouse in Marrickville, selling industrial off-cuts, over-runs and discards for both creative and practical pursuits. Essentially, it's the kind of place where every primary school craft project is born.
Raw materials, including cloth, perspex, wood, bubble wrap and ceramic tiles, are both low-priced and over-abundant, scattered about in a chaotic jumble. This is because Reverse Garbage's aim is to make sure as little as possible reusable material ends up in landfill, collecting it from all over Sydney so that everything is made available to the public in one convenient place. If you're looking for sacks of ribbon left over from Mardi Gras, old test tubes, skeletons or a tailor's mannequin, you're more likely to find them in this overcrowded warehouse than anywhere else.
Address: 8/142 Addison Rd, Marrickville
Phone: (02) 9569 3132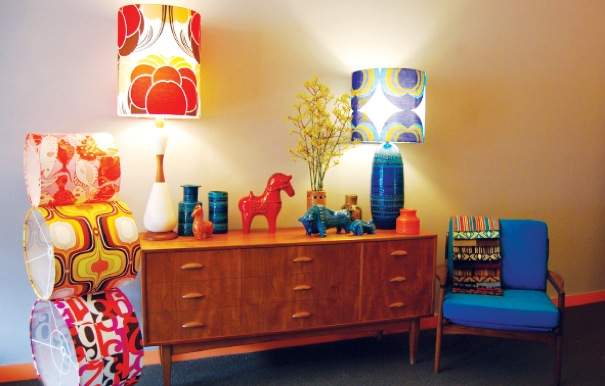 If you're looking to score yourself some 1960s Scandinavian furniture, this is the place. Graham & Graham sell hand-restored Danish pieces using traditional techniques, with all items sourced from Australia, Britain and Scandinavia.
If you're looking to make sure your surroundings resemble a set from Mad Men, Graham & Graham is an excellent place to start. Not only is there a wide selection of sixties-era lighting and ceramics to choose from, but there is a huge range of desks, chairs and sideboards by well known Danish furniture designers and a host of Eames copycats. They'll also do you some custom designed lampshades if you ask nicely.
Address: 142 Regent St, Redfern
Phone: (02) 8084 3983
Published on February 20, 2012 by Madeleine Watts