ARTS & ENTERTAINMENT
Concrete Playground Meets The Oxford Street Design Store
Concrete Playground sat down to chat with Alex and Lou, and checked out a typical day in their new shopfront.
Concrete Playground Meets The Oxford Street Design Store
Concrete Playground sat down to chat with Alex and Lou, and checked out a typical day in their new shopfront.
---
LOU HELLIWELL AND ALEX DE BONIS know that they're awesome. They know, because they found "you're awesome" written on a brown paper bag they got from the aptly-titled Awesome Foundation. It was for their new Oxford Street Design Store which — like the Paper Mill before it — is taking one of the City of Sydney's empty spaces and turning it into a den of art, design and cool, printed stuff. Out back, they're planning for talks, a convention, workspace and even a little education.
To get a closer look, Concrete Playground sat down to chat with Alex and Lou, and checked out a typical day in their new shopfront.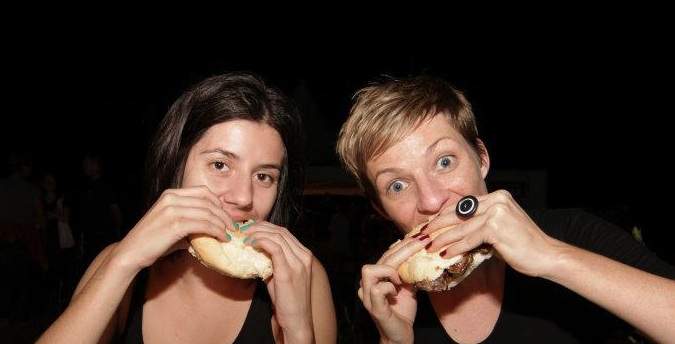 One of the first nights Lou Haliwell tried to close up the new Design Store, she found herself locked in. The big, heavy roller door out front popped off its runners and fell down loose onto the floor, too heavy for her to lift back up again. There's no back door.
I'm stuck. she thought, I have to sleep here. Working it open a little, using a chair, she got outside and began contemplating how on earth she was going to finish locking up. Just then, a young tradie walked by. He demanded, exasperated:
"What've you done now?" Lou was bewildered. But, with his help, she got the door lifted back onto its runners. He gave her a little kiss on the cheek and wandered away into the night. She never saw him again, but thanks to him she was able to go home.
The weirdest thing in this story is not that he turned up out of nowhere to help out. It's how normal these unsolicited offers of aid have become since Lou and Alex started up the Store. Everybody comes in wanting to do something. And meeting this pair of professional designers in person, it's easy to understand why. Their excitement and enthusiasm about the Store is palpable. You hear them talk about the designers who've turned up to sell things here, or the events they have planned for the venue space out back. You start wanting to help out yourself.
Normally the door goes up at midday. Customers wander in, a designer might wander out the back to sketch in the venue space, which is full of desks this time of day (a chair is rented out at $3 an hour, including WiFi). Lou or Alex settle behind the counter. Today it's Alex.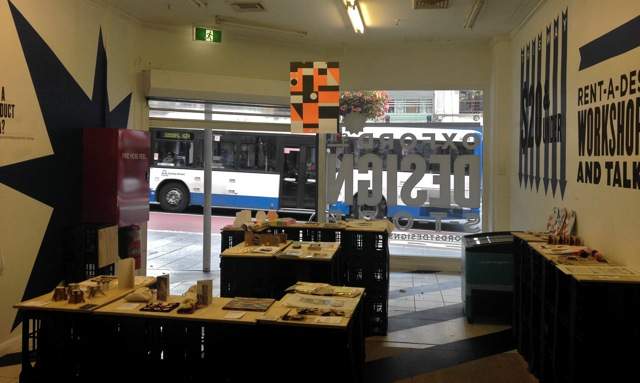 Both of them came from the quieter end of town. Alex from Campbelltown and Lou from Leeds, near Manchester, in the UK. They met while they both worked as designers in a well-respected Sydney studio. They found themselves complaining to each other that women's design work here didn't get the respect it deserved. So they decided to do something about it. Starting the blog Tough Titties, they highlighted Australian women's work in art and design. Only last year, they were nervously hosting the blog's first exhibition. Now they have a store.
The Store had a similarly casual start. Originally a Secret Garden proposal that got turned down, they read about submissions for the City of Sydney's empty spaces on Oxford Street and decided to send in a submission along the same lines. The City of Sydney loved the idea. It's a first for both. Neither had done blogs before, nor an exhibition, nor retail. This, Alex reckons, is a recurring motif.
"Most of the things we've done are a first-time thing." You'd never know that from the quality of their range. T-shirts, posters, jewellery, zines and even local ice-cream fill the showroom. The shop sells things for up to $20, funding its essentially non-profit operation with a 25% commission.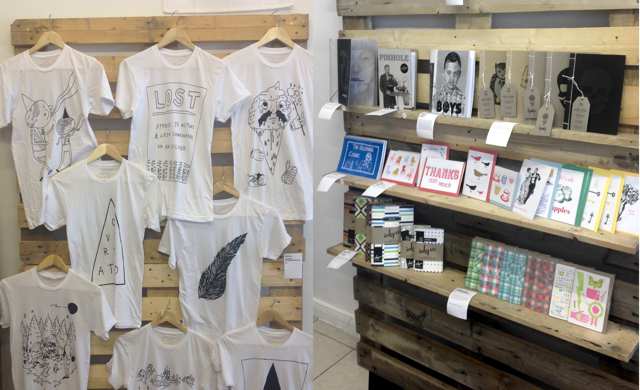 The two halves of the shop are divided by a sturdy, see-through cardboard partition. Next to it, a louvred chalkboard along the Store's side wall will soon fill up with the week's upcoming events. At the time of writing, the program was still on the verge of starting. However, there's already talk of getting together a skating film night, Jess Scully from Vivid Ideas is planning to organise fortnightly how-to talks and a Sydney chapter Melbourne's 'un-conference conference', Trampoline, is imminent in April. The idea is to bring the disparate elements of Sydney's art and design communities together, without getting cliquey. Alex puts it more succinctly: "We're like a dating service."
While there's already a rush to do and sell things at the Store, getting the practical side of the Store together was a bit harder. The City of Sydney offers a peppercorn rent, a kettle and a little publicity. Their fridge comes from Freecycle, the furniture mostly via Reverse Garbage. Since the Store's not residential, there's no regular garbage pickup. By chance, Alex's boyfriend owns a ute, and takes it to a sympathetic family member's business' commercial allowance. It's not clear how they'd afford it, otherwise.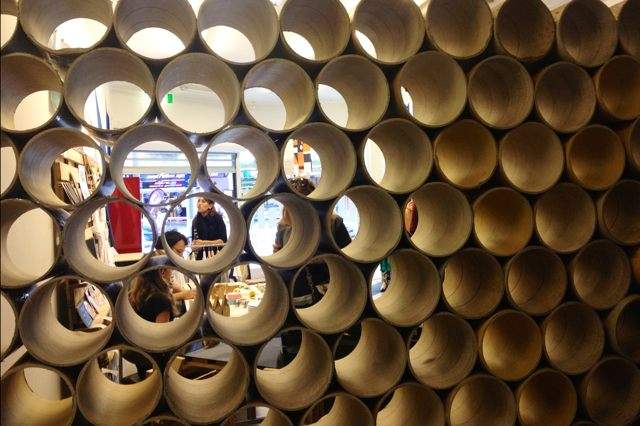 The only grant money they've had was the Awesome Foundation's $1000. All the rest so far is out of their own pockets. It's a precarious existence.
By three, a volunteer settles behind the counter. She's Lucinda, a visual communications student. Just then, a guy walks in with arms full of colourful and interesting-looking comics. He wants to sell them here.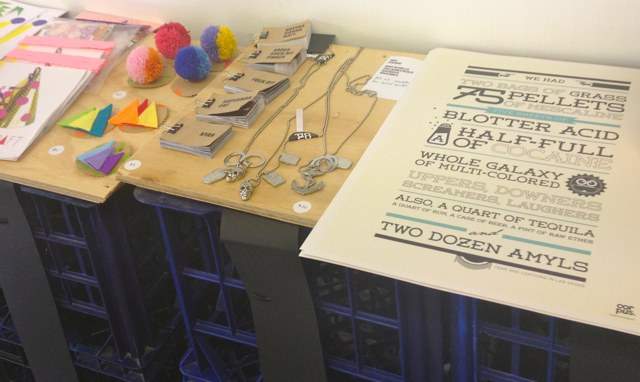 Alex checks out the comics. The guy turns out to be Leigh Rigozzi, part of Paper Mill poster-workshoppers, the (currently printerless) Rizzeria collective. What does he find most appealing about this kind of store? "That they would actually take my stuff."
This afternoon is quiet. Saturdays are the busiest, says Lucinda. Around six, Alex brings down the roller door and gets to work on the day's admin.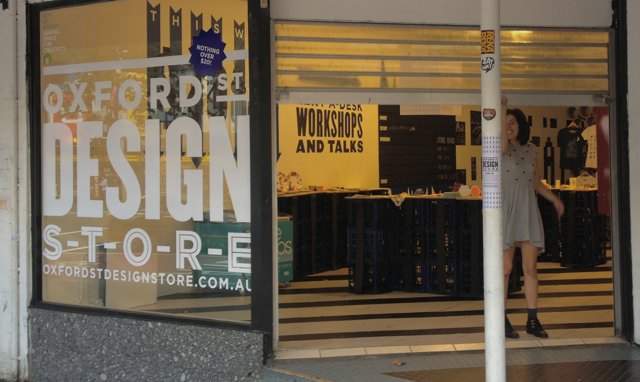 When she was little, Alex says, she always redrew, in place, the characters and words in her books. Grown up, she wondered: "How can I can I actually make money doing this?" It's a question Alex and Lou both answered with careers in design. Here, they're making it easier for the coming generation to do the same thing.
Published on March 26, 2012 by Zacha Rosen