The Best Outdoor Events to Head to in Sydney This Summer
Fresh air, sunny skies and a jam-packed calendar of outside events await.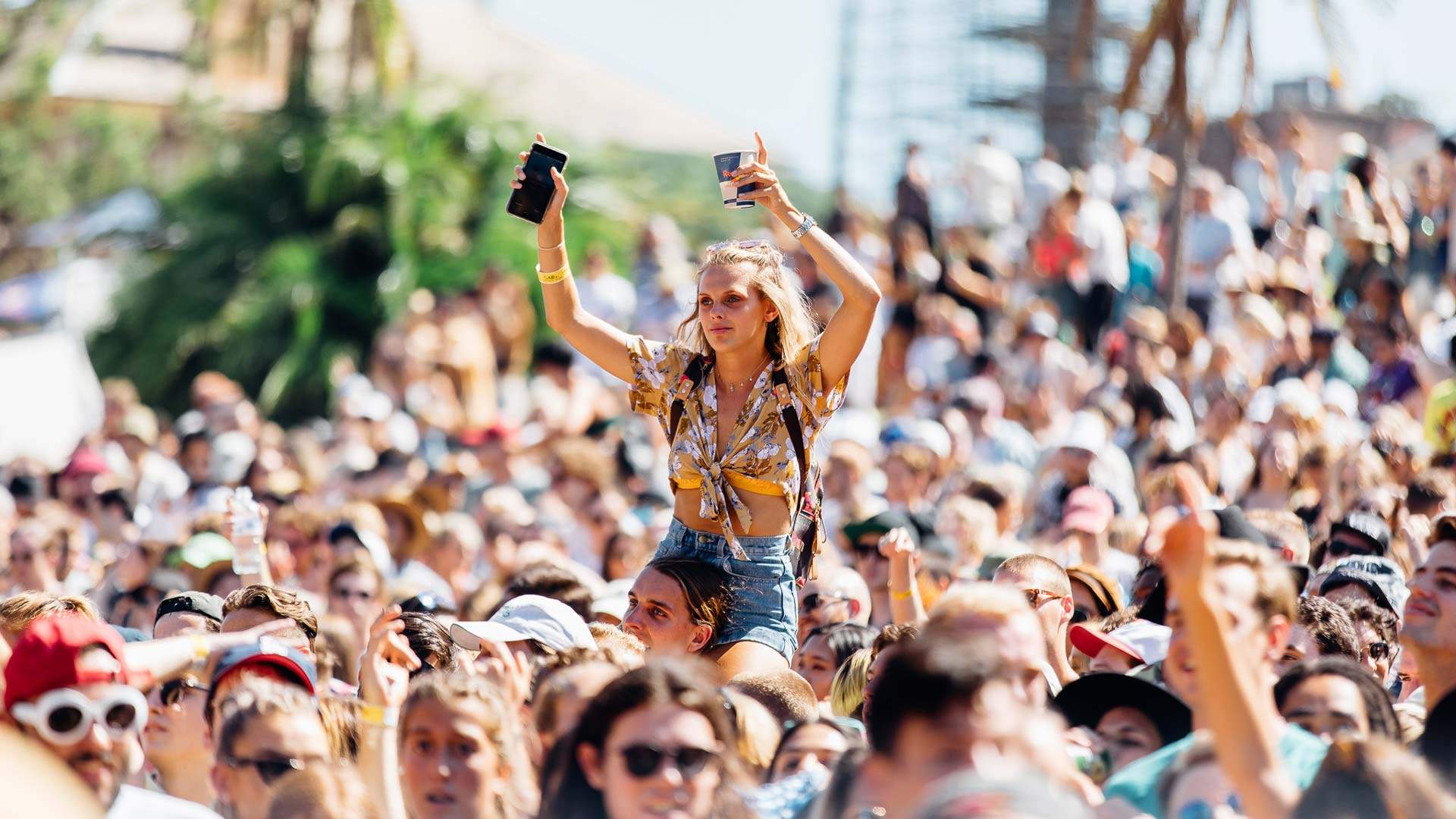 Summer is finally here and after a wet and woolly couple of years, we've been blessed with a run of sun here in Sydney. This makes it the perfect time to get your cultural fix at an outdoor event, or to head to a spot where you can enjoy a meal and something to drink while you soak in some rays.
Luckily, Sydney has plenty happening across its array of outdoor spaces this summer. Whether you're keen to putt your way through themed mini golf courses, upgrade your summer threads at a market or catch a movie at an openair cinema, this city's got you covered. Here's where to head if you're looking to make the most of the warm weather and crisp summer air.
Image: Laneway Festival, BCS Imaging
Travel & Leisure

Check your stress at the door on this communal one-day retreat in the rainforests of the Central Coast.

Food & Drink

This free night market is returning to Hurstville with more than 40 culinary stalls and a food-based art workshop.

Arts & Entertainment

A free 24-hour outdoor cinema playing Studio Ghibli and Wes Anderson films is popping up on Macquarie Street — but just for one day and night.

Food & Drink

Be The Grounds of Alexandria's guest to celebrate 100 years of Disney and its on-screen gems.

Arts & Entertainment

The Great Club is hosting a Hottest 100 party with its mates Baba's Place, Pepito's and Grumpy Donuts.

Arts & Entertainment

This monthly party brings laidback DJ sets to Norfolk Hotel's sun-soaked beer garden.

Arts & Entertainment

This annual celebration of Aboriginal and Torres Strait Islander cultures returns in full to Victoria Park, with Tia Gostelow and Aodhan.

Food & Drink

Hello Auntie and Philter Brewing are coming together for a Lunar New Year feast featuring exciting street food creations from Chef Cuong and his mum.

Travel & Leisure

The world's most exciting race on the water is coming to Sydney Harbour this February.

Arts & Entertainment

A star-studded lineup of Australian and international artists is taking over Thomas Dalton Park — and there's an exclusive package that'll have you stay nearby, sip refreshing summer bevs and dance under sunset skies with a VIP experience on the day.

Travel & Leisure

This massive celebration of Greek culture will take over Carss Bush Park with loukoumades, souvlaki, a huge barbecue and a fireworks display synchronised to Greek music.

Arts & Entertainment

Enjoy classic films and brand-new blockbusters under the stars at this free outdoor cinema.

Arts & Entertainment

Catch great live music and gorgeous views over the harbour every Saturday as the sun goes down.

Arts & Entertainment

Celebrate the Year of the Rabbit as Haymarket is taken over by performances, market stalls, themed feasts, lion dances and dragon boat racing.

Travel & Leisure

Retrosweat is taking its throwback 80s aerobics classes to the pool.

Food & Drink

Enjoy fish and chips under the sails of the Sydney Opera House at this summer pop-up restaurant.

Arts & Entertainment

This multi-sensory family of inflatable characters will spark wonder and help you beat the heat.

Arts & Entertainment

Spend a balmy summer's night watching a stellar lineup of short films right by Bondi Beach.

Arts & Entertainment

This annual Sydney Festival event provides a thoughtful way to collectively reflect on January 26.

Arts & Entertainment

Sydney's major arts festival returns for 2023 with more than 700 performances across 50-plus venues.

Travel & Leisure

The Pav is celebrating its first summer since relaunch with a stellar line-up of events.

Celebrate the year of good fortune with food stalls, fiery dancing dragons and inflatable bunny figurines floating across the streets of the lower north shore.

Travel & Leisure

Cruise around Darling Harbour in an old-school pedal boat this summer.

Food & Drink

Expect an Amalfi-inspired escape when Casa Aperol pops up on the shores of Bondi Beach this summer.

Arts & Entertainment

Settle in for an al fresco screening of 'The Menu' or 'There's Something About Mary'.

Arts & Entertainment

Cinema under the stars is returning to St Ives Showground with Christmas films, big-screen blockbusters and a three-day doggo fest.

Food & Drink

This summer, Thursday night at the Entertainment Quarter is for street food, drinks to match, live music and play for all ages.

Arts & Entertainment

Mrs Macquaries Point's stunning outdoor cinema is back for another summer, screening new, recent and classic flicks across 40 nights.

Travel & Leisure

A Pixar-themed mini golf course is popping up at the Pier St Underpass this summer.

Arts & Entertainment

This January, a neon-lit Shinjuku-inspired bar and a performance space is hitting Tumbalong Park as part of the 2023 Sydney Festival.

Arts & Entertainment

HAIM, Joji and Phoebe Bridgers headline Laneway's huge comeback lineup for 2023.

Arts & Entertainment

Spend an afternoon in Bicentennial Park drinking champagne, eating cheese, listening to French music and frolicking on the lawn.

Arts & Entertainment

An easy-going market packed with food, drinks and produce in the heart of the inner west.
Tap and select
Add to Home Screen
to access Concrete Playground easily next time.
x