The Best Things to Do in Sydney This Week
Make plans.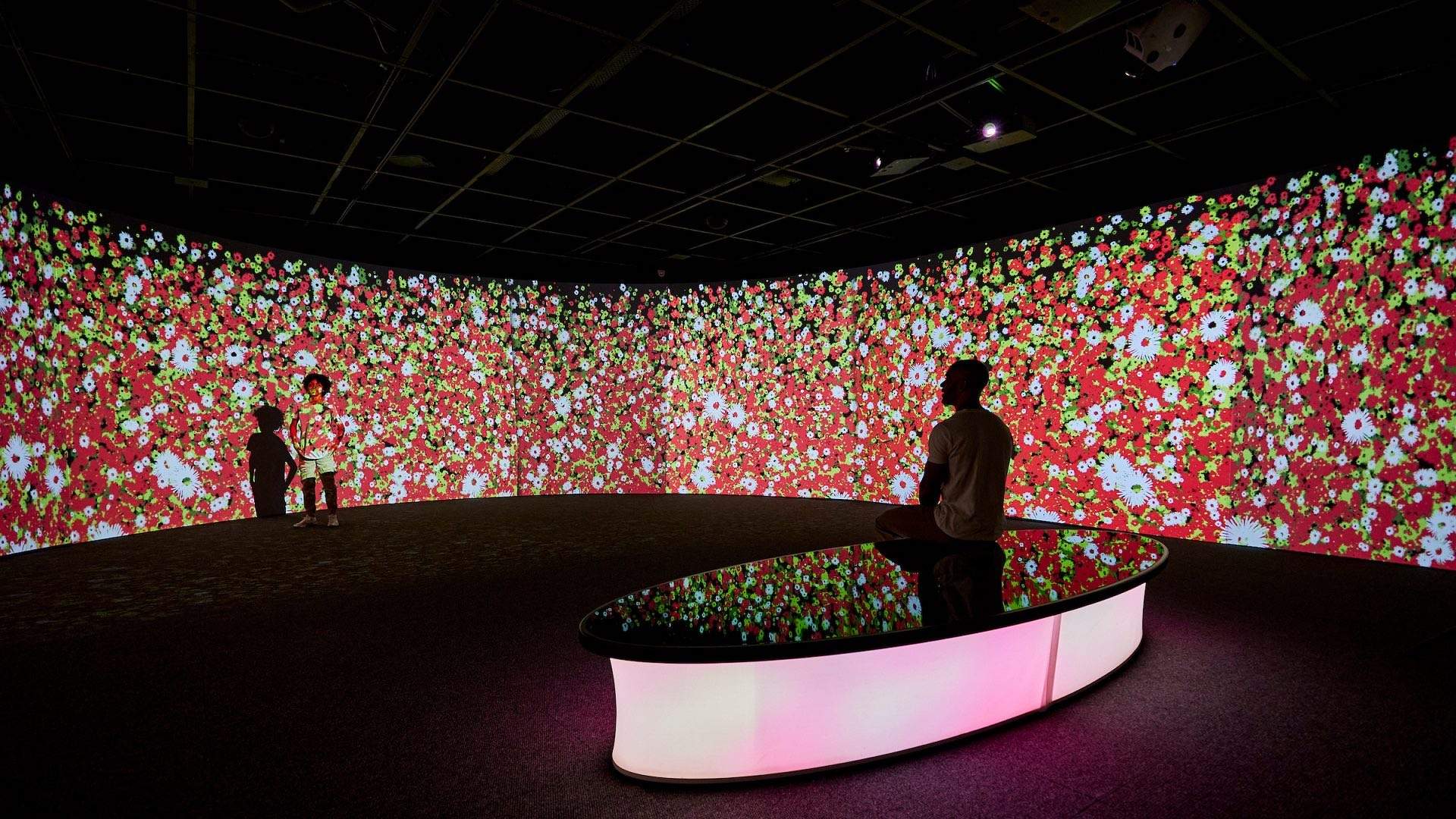 Heading back to the ol' daily grind can be pretty damn awful after a bright and shiny weekend of picnicking, bar hopping and patting dogs that aren't yours, but luckily Sydney's a 'keep the ball rolling' kind of city and has plenty of events, exhibitions, theatre, film festivals and live music for you to inject a little awesomeness into your week. Sure, use Monday for Netflix binges. Then get out there and sink your teeth into Sydney's best happenings this week.
Image: Sydney Living Museums, Songlines exhibition, Museum of Sydney. 12/5/2022. Picture James Horan
Arts & Entertainment

FanForce TV is showcasing Indigenous Australian stories and voices for NAIDOC Week.

Food & Drink

House of Darwin and Harry's are teaming up to help fund the restoration of basketball courts in remote Indigenous communities.

Arts & Entertainment

This workshop with Wiradjuri woman Sharon Smith is raising money for the Boomalli Aboriginal Artists Coop.

Arts & Entertainment

Set in Walmajarri Country, this powerful performance explores the displacement and survival of First Nations people.

Food & Drink

On July 6, claim your free voucher for an eight-piece wings feed courtesy of Gami — there are 5000 up for grabs.

Arts & Entertainment

This lyrical social-realist drama from British filmmaker Clio Barnard tells a tender and touching tale about two West Yorkshire residents looking for love and happiness.

Arts & Entertainment

Featuring superb performances and an involving narrative, this handsome 19th century-set French drama about big dreams and stark realities feels oh-so-relevant today.

Travel & Leisure

Head to the Entertainment Quarter for mulled wine, ice skating and holiday cheer this July.

Design & Style

The Swedish furniture giant is offering discounts of up to 50 percent off until July 10.

Arts & Entertainment

Based on the beloved movie of the same name, this Grammy and Tony Award-winning musical returns to Sydney for another winter season.

Arts & Entertainment

Broadway Shopping Centre is marking NAIDOC Week with a series of pop-ups including free art workshops.

Arts & Entertainment

Baz Luhrmann's take on the king of rock 'n' roll is a sprawling, exhilarating spectacle, as led by an exceptional Austin Butler in the pompadour and jumpsuits.

Arts & Entertainment

'Ex Machina' and 'Annihilation' filmmaker Alex Garland returns with a #MeToo horror film that's both blatant and piercing.

Travel & Leisure

A celebration of all things brick is heading to Sydney Showground on July 9 and 10 for the upcoming winter school holidays.

Arts & Entertainment

This Buzz Lightyear origin story doesn't soar to infinity and beyond, but it benefits from lively voice work and a scene-stealing robot cat.

Arts & Entertainment

Spoken only in gibberish, and unafraid to bare all, this New Zealand sex comedy starring Jackie van Beek, Jemaine Clement and Damon Herriman is revelatory several times over.

Food & Drink

Salt Meats Cheese is serving up a truffled-filled menu throughout July, including truffle baked brie, truffle gnocchi and truffle pizza.

Travel & Leisure

Whether your child loves competition, is a sports fanatic or just likes to have a go, there's an athletic activity with their name on it.

Arts & Entertainment

AGNSW is relaunching its huge free cinema program to celebrate 22 years of screenings.

Travel & Leisure

Explore over 70 stalls featuring beautiful local produce, artisanal clothing, homewares and more at this fortnightly Sunday market on the banks of the Parramatta River.

Arts & Entertainment

See the evolution of Australian studio ceramics at the Powerhouse Museum with over 400 works by 160 different artists.

Travel & Leisure

A 17-day festival at Australia's most famous beach with a ferris wheel, ice-skating rink, theatre shows and art.

Arts & Entertainment

Head to Museum of Sydney for an immersive exhibition with deep cultural connections.

Food & Drink

Let your tastebuds say "come what may" to this nine-course 'Moulin Rouge!'-themed degustation at Sydney fine-diner Nel.

Arts & Entertainment

The Broadway hit is finally bringing its all-singing, all-dancing romance to Sydney.

Travel & Leisure

Igloos are popping up at Pier One again — and this year, they're surrounded by lit-up cherry blossom trees.

Food & Drink

The humble bao has been given a Mexican twist for Fonda's new limited-edition collaboration menu.

Arts & Entertainment

Sydney Film Festival is dedicating its 2022 retrospective to an award-winning documentarian and his commitment to examining American institutions.

Arts & Entertainment

Calling all 90s teens: this film-to-theatre adaptation is bringing its 90s soundtrack and dangerous liaisons to Sydney.

Travel & Leisure

With the winter chill setting in, head here to take flight and forget the cold.

Arts & Entertainment

Add some rock 'n' roll to your after-work routine with a trivia, a live band and free beer.

Arts & Entertainment

Direct from London's Natural History Museum, the best nature photographs from the past year are now on display in Sydney.

Food & Drink

Butter's tour of creative ramen dishes is back by popular demand — starting with its OG fried chicken ramen, of course.

Food & Drink

Sydney's Tex-Mex bars are slinging cheap tacos one night a week.

Food & Drink

Party until 3am every Sunday night at Big Poppa's.

Arts & Entertainment

Over 20,000 plants have been installed, including one of the largest vertical green walls in the southern hemisphere.

Food & Drink

Head to Rocker each Sunday arvo for two hours of free-flowing rose, Sydney rock oysters, cauliflower hummus and live tunes.

Food & Drink

Sip Frosty Fruit slushies and eat roast lamb damper rolls at this limited-time bar in Sydney's CBD before it's demolished to make room for the new metro line.

Travel & Leisure

Explore the night sky at this astronomical tour in the Blue Mountains.

Food & Drink

Peruse vintage bric-a-brac while you snack on homemade dim sum in the Skyline Drive-In.

Food & Drink

Knock off work early and treat yourself to $10 cocktails and a selection of fried and sliced bar snacks.

Arts & Entertainment

An exhibition of art, science and history examines our changing attitudes to the humble eucalyptus family.

Food & Drink

Tuck into cheap, delicious oysters once a week.

Food & Drink

The Paddington restaurant serves coffee, scones and canelés from 8am, and sells boxes of fresh produce too.

Food & Drink

A weekend morning cornucopia of organic veggies, fruit, cheese and international dishes, plus fashion, homewares, books and more.

Design & Style

Find original wares by local designers, food stalls and a new growers market for fresh produce.

Travel & Leisure

Finally a yoga practice where you can literally touch the earth.
Tap and select
Add to Home Screen
to access Concrete Playground easily next time.
x