ARTS & ENTERTAINMENT
The Best Things to Do in Sydney This Week
Catch a live set at this intimate theatre or a new exhibition at the Powerhouse Museum.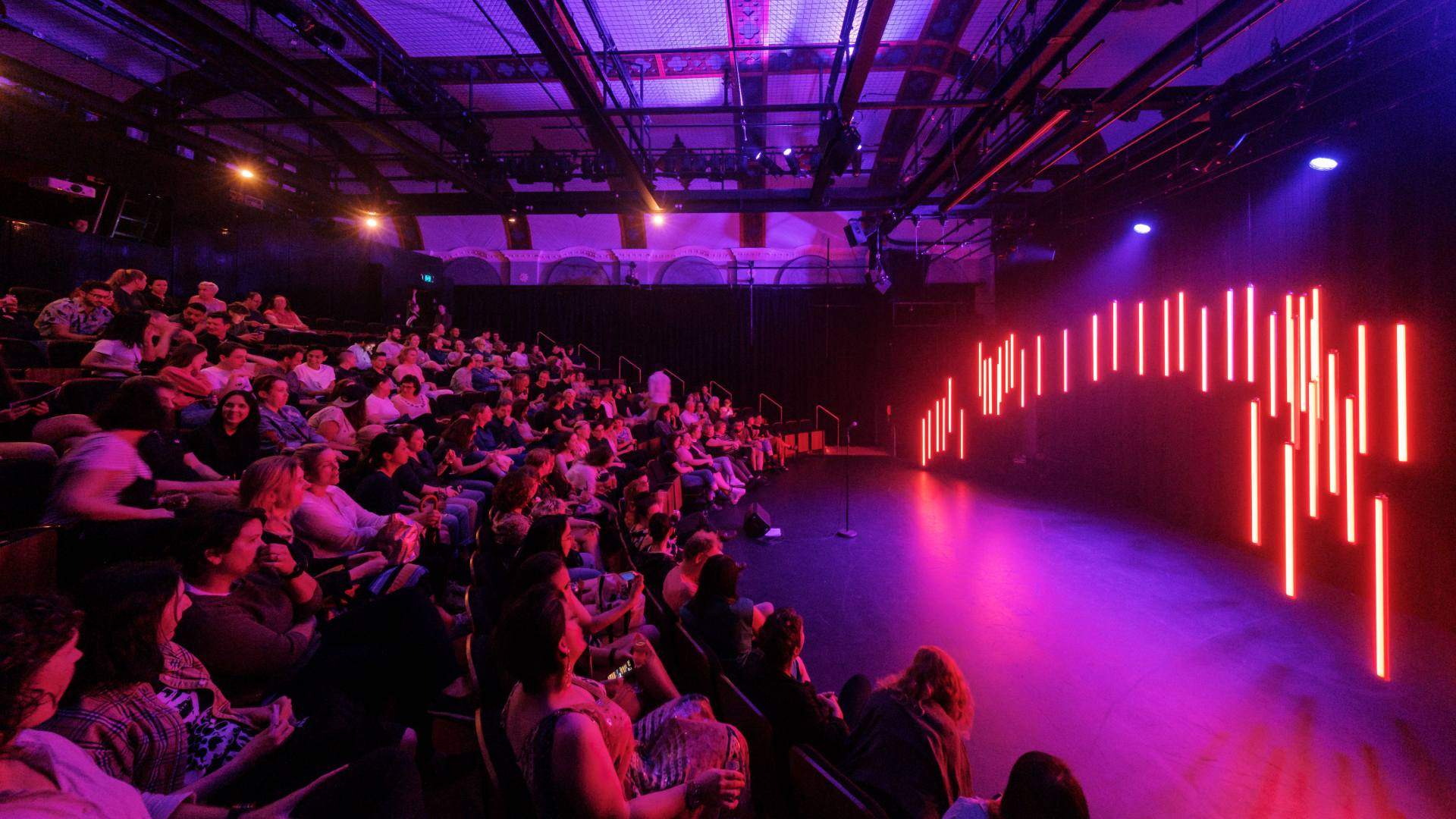 Heading back to the ol' daily grind can be pretty damn awful after a bright and shiny weekend of picnicking, bar hopping and patting dogs that aren't yours, but luckily Sydney's a 'keep the ball rolling' kind of city and has plenty of events, exhibitions, theatre, film festivals and live music for you to inject a little awesomeness into your week. Sure, use Monday for Netflix binges. Then get out there and sink your teeth into Sydney's best happenings this week.
For information about COVID-19 in NSW and current restrictions, head to the NSW Health website.
Image: Darlighurst Theatre Company by Robert Catto
Arts & Entertainment

This heart-filled pop-up from the Sugar Republic team has a confetti shower and a Las Vegas-style Chapel O' Love.

Arts & Entertainment

Starring Tom Holland and Daisy Ridley, this long-delayed space western is tedious, generic and struggles with its premise.

Arts & Entertainment

Disney's latest animated delight pairs breathtaking imagery and lively voice work with a moving story of hope.

Travel & Leisure

Do yoga, pilates and high intensity interval training outside the Sydney Opera House — while staring at views of Sydney Harbour.

Arts & Entertainment

Stock up on lembas bread to make it through all three films, back to back, on the big screen.

Food & Drink

Sip your way through mango, watermelon, passionfruit and grape Nerds-flavoured margaritas.

Food & Drink

A five-course vegan Italian banquet — with vegan wine and beer, too.

Arts & Entertainment

It's from the same team as 'Van Gogh Alive' — and you'll be able to step through a heap of famed 19th- and early 20th-century artworks.

Design & Style

Shop for new and secondhand threads for $5, with the proceeds going towards helping animals in need.

Arts & Entertainment

Catch everything from 'Midsommar' to 'Blade Runner' exactly as the filmmakers behind them intended.

Arts & Entertainment

It's touring a program of 37 films around the country, including twisty thrillers, engaging love stories and a movie inspired by Céline Dion.

Food & Drink

A month-long event filled with chilli-topped pizzas, spicy cocktails and chilli eating competitions.

Arts & Entertainment

Turkish-Cypriot immigrant Bayram Ali captured the Snowy Mountains' hydroelectric engineering in the 1950s–70s — see his 35 millimetre prints in this photographic exhibition.

Arts & Entertainment

Contemplate Sydney's — and your— history, identity and cultural belonging as you wander through Yayoi Kusama's immersive mirror ball installation.

Food & Drink

Mark the annual celebration by sipping inventive cocktails — or creating your own at home.

Arts & Entertainment

Featuring an exceptional performance by Frances McDormand, this deeply humanist road trip drama serves up a touching observational portrait of those that society happily overlooks.

Food & Drink

Sydney's newest market takes place on the foreshore of the Parramatta River once a month.

Arts & Entertainment

Leisurely and engaging, this documentary about elderly men and their dogs searching for truffles in Northern Italy serves up a rich and substantial cinematic meal.

Arts & Entertainment

Celebrating Australia's acclaimed Indigenous dance theatre, this excellent documentary also steps through the nation's past and paints a portrait of three siblings with dreams as big as their talents.

Arts & Entertainment

Denzel Washington, Rami Malek and Jared Leto co-star in this 90s-style serial killer thriller — and none of them will add new Oscars to their mantles for their efforts.

Arts & Entertainment

Vivid, honest and tender, this resonant and moving drama stars Steven Yeun as a Korean American father and farmer chasing a better life for his family.

Arts & Entertainment

Going virtual for the first time, this Australian film festival showcases documentaries about our changing world.

Food & Drink

The Grounds of Alexandria has given its garden a Moroccan-inspired makeover — and it's serving up Moroccan dessert boards, too.

Arts & Entertainment

Consider your festival cravings covered thanks to this Italian-themed pop-up gig space.

Arts & Entertainment

Zetland's outdoor music club features acts playing jazz, New Orleans funk, French swing, rockabilly and reggae.

Arts & Entertainment

Catch free talks, musical performances and exhibitions alongside a pop-up cocktail bar at the Powerhouse Museum after dark.

Arts & Entertainment

After sitting out 2020, the cinema showcase returns with 29 features, 19 documentaries and episodes from three TV series.

Food & Drink

Continue the vacay vibes at this south Sydney institution — backed by live tunes and ocean views.

Arts & Entertainment

Nab discounted tickets to a show, event or experience at midday each day until the end of March.

Arts & Entertainment

Screening everything from 'The Big Lebowski' and 'Fargo' to 'No Country for Old Men' and 'Inside Llewyn Davis'.

Arts & Entertainment

Scope out the Australian Museum's huge revamp, tour its new exhibitions and kick back to live tunes after hours.

Arts & Entertainment

This QAGOMA exhibition features both familiar and unseen works by the famed Queensland artist.

Arts & Entertainment

See the career-spanning first solo exhibition from one of the leading voices in the 'femail' art movement.

Arts & Entertainment

Watch 'The Meg', 'Free Willy' and 'Death on the Nile' on a rowboat or floating pontoon in Darling Harbour.

Arts & Entertainment

Take a stickybeak into the famed Australian artist's love of feathered creatures.

Arts & Entertainment

Watch new and classic flicks under the stars — while sitting in a director's chair in a laneway.

Arts & Entertainment

This colourful living exhibition features a 'watercolour painting' made from over 20,000 plants.
Tap and select
Add to Home Screen
to access Concrete Playground easily next time.
x