The Best Things to Do in Sydney This Week
Make plans.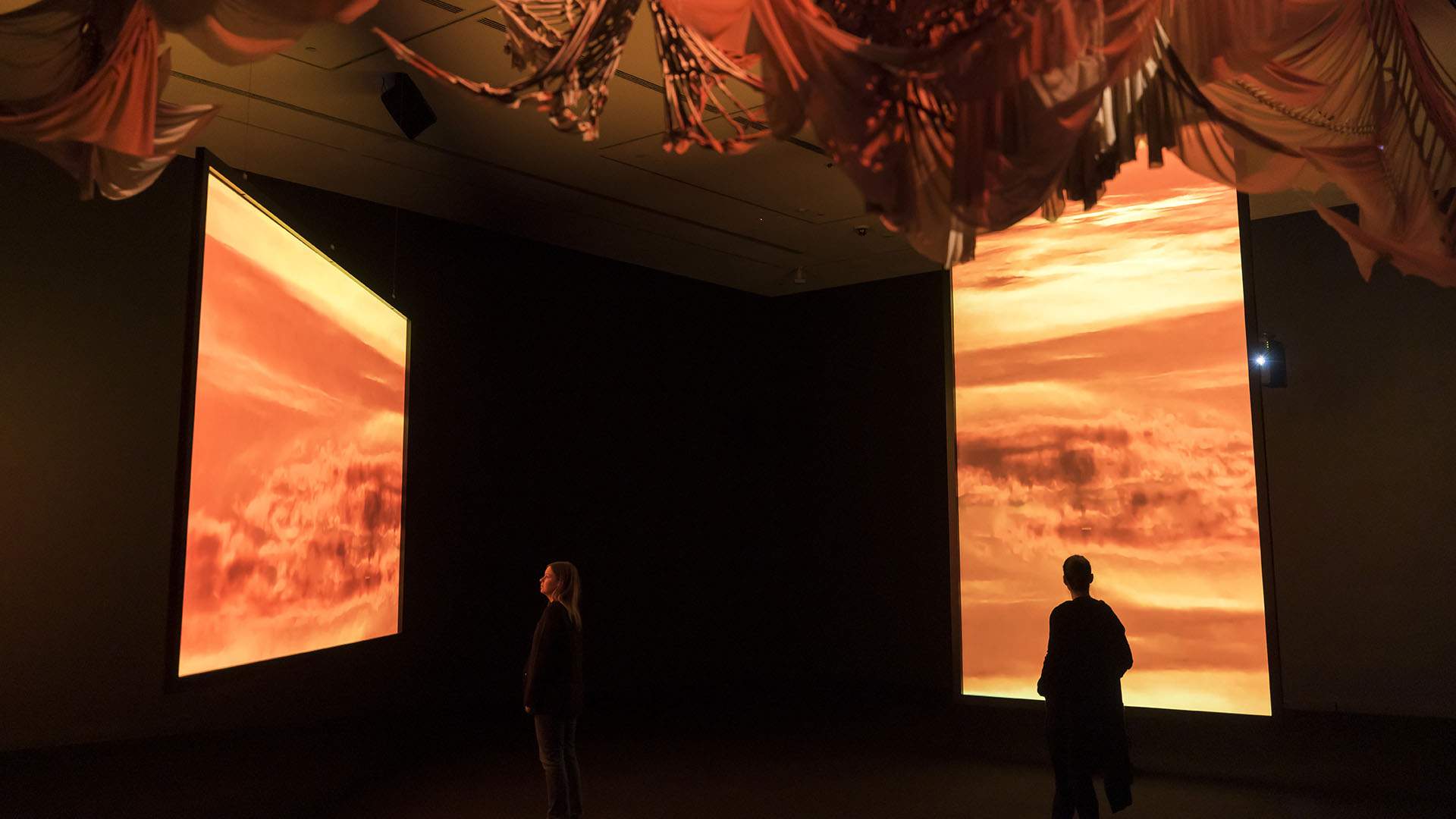 Heading back to the ol' daily grind can be pretty damn awful after a bright and shiny weekend of picnicking, bar hopping and patting dogs that aren't yours, but luckily Sydney's a 'keep the ball rolling' kind of city and has plenty of events, exhibitions, theatre, film festivals and live music for you to inject a little awesomeness into your week. Sure, use Monday for Netflix binges. Then get out there and sink your teeth into Sydney's best happenings this week.
Image: Ultra Unreal, Club Ate (Justin Shoulder, Bhenji Ra, and collaborators), ANG IDOL KO / YOU ARE MY IDOL (detail), 2022, installation view, Ultra Unreal, Museum of Contemporary Art Australia, Sydney, 2022, 2-channel video, HD, colour, sound, fabric, image courtesy and © the artists, photograph: Anna Kučera
Arts & Entertainment

This new film only exists as a single 35mm print, which deteriorates at each and every screening until it will completely fade away.

Arts & Entertainment

This lively Australian drama hops between local music fests — and will make you want to go to one ASAP.

Arts & Entertainment

Solely compiled from archival footage, this expertly edited documentary about Diana, Princess of Wales and her treatment by the media would make a gripping double feature with 'Spencer'.

Food & Drink

Rosa Cienfuegos is presenting six of her favourite varieties of tacos across six weeks.

Arts & Entertainment

Can't make it to MIFF in-person? Keen to fit more movies into your day? This year's Melbourne International Film Festival is streaming 77 films over two and a half weeks.

Arts & Entertainment

This spellbinding gothic mystery arrives at the Roslyn Packer Theatre from the acclaimed team behind 'The Picture of Dorian Gray'.

Arts & Entertainment

After 'Get Out' and 'Us', Jordan Peele adds another bold, intelligent, eerie and supremely entertaining horror masterpiece to his resume.

Travel & Leisure

Winter igloos, pop-up bars, food stalls and a live set from Murray Cook's Soul Movers will be taking over Tumbalong Park.

Food & Drink

Broadway Shopping Centre is giving out 100 free meals to students every Tuesday for the next three months.

Food & Drink

Nakano Darling, Tachinomi YP and Yakitori Yurippi are celebrating all things sake with limited-time set menus this winter.

Food & Drink

Feast your way through unlimited pork belly, chicken schnitzels, chicken wings and German sausages.

Arts & Entertainment

If 'Amelie' and 'Knives Out' combined, the end result would look like this candy-coloured French whodunnit.

Arts & Entertainment

Brad Pitt's charisma, scene-stealing supporting players and spectacular stunt choreography help this assassins-on-a-train action-comedy mostly prove a blast.

Arts & Entertainment

This free exhibition sees artist Cherine Fahd capture the people, communities and stories of Parramatta, thanks to a series of pop-up portrait studios.

Arts & Entertainment

This 19th-century First Nations love story from award-winning playwright Dylan Van Den Berg arrives for its inaugural season at Griffin Theatre Company.

Food & Drink

O Tama Carey and Danielle Alvarez are among the fantastic Sydney chefs taking part of this longstanding culinary school's spring experiences.

Food & Drink

This inner-city nightlife precinct is hosting a series of more than 50 events championing female and non-binary talent in hospitality and creative industries.

Food & Drink

Head to First Fleet Park to tuck into two different types of lobster rolls — plus truffle fries and glasses of champagne.

Arts & Entertainment

This French standout turns a single mother and five-star hotel chambermaid's hectic daily routine into a relentless thriller.

Arts & Entertainment

A six-kilometre whale tail sculpture trail is popping up along Sydney's Western Harbour waterfront.

Arts & Entertainment

This thorny satirical drama benefits from Ralph Fiennes at his best, playing a loathsome wealthy Londoner holidaying in Morocco and immersed in a tragedy.

Arts & Entertainment

As part of its 85th birthday celebrations, the Ritz is spending a year screening iconic Australian films on 35mm.

Food & Drink

Get creative hot chocolate flavours delivered to your door.

Arts & Entertainment

This 'Spicks and Specks' and 'Rockwiz'-style live variety show is hitting the Factory Theatre for two big nights.

Arts & Entertainment

Featuring work by six artists and collectives, this multi-sensory new MCA exhibition blends myths and reality to ponder possible futures.

Arts & Entertainment

Sink your teeth into a feast of vampire-themed flicks while sipping Bloody Shiraz gin cocktails.

Arts & Entertainment

Sydney's annual celebration of Korean cinema is back with the latest film from 'Oldboy' director Park Chan-wook — and the first Korean-language feature by Japanese filmmaker Hirokazu Kore-eda.

Food & Drink

Roaming carts will be doing the rounds at Opera Bar throughout July and August, equipped with raclette, s'mores and piping-hot cocktails.

Arts & Entertainment

Check out four stunning movie from the acclaimed South Korean director's filmography — 'Parasite' included.

Food & Drink

These private dining domes for groups of up to six are popping up at waterfront fine diner 6HEAD.

Food & Drink

Looking to warm up your winter exploits? Head to Wollongong to lounge in a luxe beachside igloo with Fireball shots and canapés.

Arts & Entertainment

Come for the no-holds-barred kabarett and stay for the astonishing circus, gender-bending aerial and fire-breathing sideshow.

Food & Drink

The Winery's leafy al fresco dining area has been given a makeover for winter and features a dreamy glamping tent.

Arts & Entertainment

The exhibition showcases the thought-provoking works of 212 creatives, with painting and photography joining sculptural pieces and more.

Arts & Entertainment

AGNSW is relaunching its huge free cinema program to celebrate 22 years of screenings.

Arts & Entertainment

Take a deep dive into First Nations histories and cultures on an expert-guided tour at the Australian Museum.

Travel & Leisure

Explore over 70 stalls featuring beautiful local produce, artisanal clothing, homewares and more at this fortnightly Sunday market on the banks of the Parramatta River.

Arts & Entertainment

To celebrate 85 years screening flicks, Randwick's Ritz Cinema is showing 85 movies over 85 days — one for each year, and in order.

Arts & Entertainment

See the evolution of Australian studio ceramics at the Powerhouse Museum with over 400 works by 160 different artists.

Arts & Entertainment

The Broadway hit is finally bringing its all-singing, all-dancing romance to Sydney.

Travel & Leisure

Igloos are popping up at Pier One again — and this year, they're surrounded by lit-up cherry blossom trees.

Arts & Entertainment

From The Beatles and INXS to One Direction, fangirls are the ones who have kept the light alive for these boy bands.

Arts & Entertainment

This huge new event will combine a two-day conference at CommBank Stadium with three days of live music all around Greater Western Sydney.

Arts & Entertainment

The music of the night will croon its way into the Sydney Opera House from August.

Arts & Entertainment

Add some rock 'n' roll to your after-work routine with a trivia, a live band and free beer.

Arts & Entertainment

Direct from London's Natural History Museum, the best nature photographs from the past year are now on display in Sydney.

Food & Drink

Butter's tour of creative ramen dishes is back by popular demand — starting with its OG fried chicken ramen, of course.

Food & Drink

Sydney's Tex-Mex bars are slinging cheap tacos one night a week.

Food & Drink

Party until 3am every Sunday night at Big Poppa's.

Food & Drink

Head to Rocker each Sunday arvo for two hours of free-flowing rose, Sydney rock oysters, cauliflower hummus and live tunes.

Food & Drink

Sip Frosty Fruit slushies and eat roast lamb damper rolls at this limited-time bar in Sydney's CBD before it's demolished to make room for the new metro line.

Travel & Leisure

Explore the night sky at this astronomical tour in the Blue Mountains.

Food & Drink

Peruse vintage bric-a-brac while you snack on homemade dim sum in the Skyline Drive-In.

Food & Drink

Knock off work early and treat yourself to $10 cocktails and a selection of fried and sliced bar snacks.

Arts & Entertainment

An exhibition of art, science and history examines our changing attitudes to the humble eucalyptus family.

Food & Drink

Tuck into cheap, delicious oysters once a week.

Food & Drink

The Paddington restaurant serves coffee, scones and canelés from 8am, and sells boxes of fresh produce too.

Food & Drink

A weekend morning cornucopia of organic veggies, fruit, cheese and international dishes, plus fashion, homewares, books and more.

Design & Style

Find original wares by local designers, food stalls and a new growers market for fresh produce.

Travel & Leisure

Finally a yoga practice where you can literally touch the earth.
Tap and select
Add to Home Screen
to access Concrete Playground easily next time.
x