ARTS & ENTERTAINMENT
The Best Things to Do in Sydney This Week
Wander through this immersive Monet exhibition, or catch a gig at a pop-up outdoor concert space.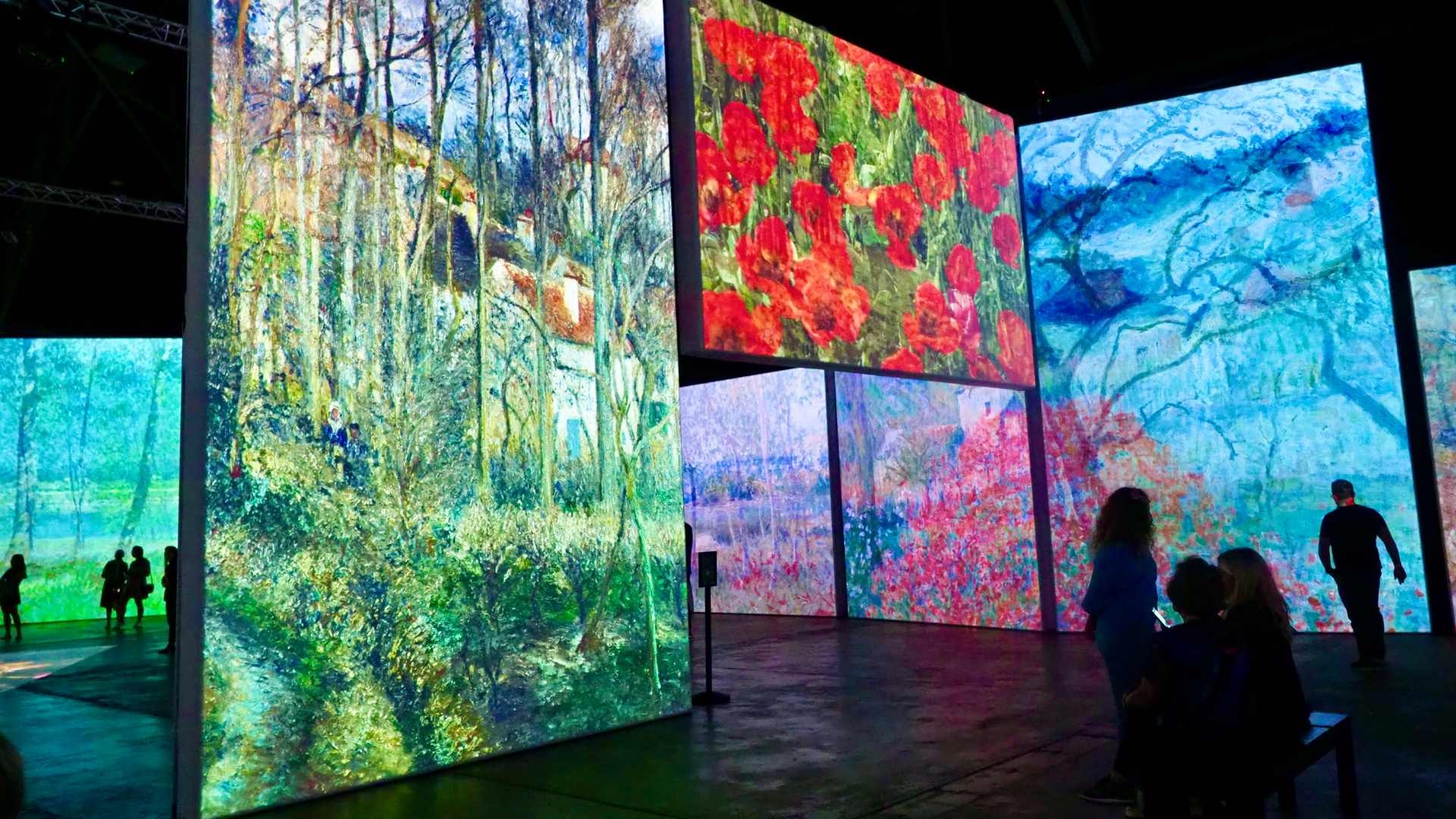 Heading back to the ol' daily grind can be pretty damn awful after a bright and shiny weekend of picnicking, bar hopping and patting dogs that aren't yours, but luckily Sydney's a 'keep the ball rolling' kind of city and has plenty of events, exhibitions, theatre, film festivals and live music for you to inject a little awesomeness into your week. Sure, use Monday for Netflix binges. Then get out there and sink your teeth into Sydney's best happenings this week.
Image: Monet & Friends
Arts & Entertainment

Stanley Tucci and Colin Firth are simply heartbreaking in this affecting drama about a long-term couple dealing with early-onset dementia.

Arts & Entertainment

An 11-day lineup of art, film, music, food and drink, timed to coincide with the the 2021 World Surfing League Rip Curl Narrabeen Classic.

Arts & Entertainment

The Chippendale gallery is exhibiting more than 30 luminous works until August.

Arts & Entertainment

This powerful production explores the commodification of Black women in the internet era.

Arts & Entertainment

Nine of the country's most exciting young artists are descending on Marly Bar for a free music festival.

Food & Drink

Fuel your avocado obsession with this special eight-week menu filled with avo-infused dishes and drinks.

Arts & Entertainment

Nominated for two Oscars, this compelling and confronting Romanian documentary spirals from a tragic fire to corruption in the country's health system.

Arts & Entertainment

This space-set survival-of-the-fittest thriller brings plenty of other movies to mind, but manages to still feel resonant enough.

Arts & Entertainment

A silent and swaggering Nicolas Cage battles demonic animatronic mascots in this horror flick, which is never as entertaining or out-there as it should be.

Food & Drink

Chiswick's kitchen garden has been turned into a private dining area serving a seasonal set menu and gin cocktails.

Arts & Entertainment

Enjoy antipasto burlesque, poetry readings, wheelie bin art and 'Dungeons & Dragons' at this six-week CBD party.

Arts & Entertainment

After the 2020 event was cancelled due to the pandemic, this year's exhibition is once again placing large-scale sculptures and installations throughout the rainforest.

Arts & Entertainment

With remarkable performances from Anthony Hopkins and Olivia Colman and a purposefully puzzle-like approach, this drama about dementia leaves a lasting imprint.

Arts & Entertainment

Bob Odenkirk stars in this 'John Wick'-style action-thriller, sliding into a gleefully OTT film with flair and texture.

Food & Drink

Shimmy with the sharks and moonwalk with manta rays at the aquarium's after-hours dance party.

Arts & Entertainment

This production is a fun spin on the teenage party trope — and it's making its way to a Sydney stage.

Food & Drink

Ten weeks, ten creative schnitzel variations — and a cheeky $10 Wednesday special if you want to sample them all.

Arts & Entertainment

Dance to DJs, listen to piano tunes and watch dance-themed movies — all at this free Darling Square event.

Arts & Entertainment

Head to Event Cinemas and score 50-percent off your ticket price every Tuesday — including in Vmax and Gold Class.

Travel & Leisure

The NSW Government is giving away free trees to 13,500 households in the Greater Sydney area.

Food & Drink

Sip your way through mango, watermelon, passionfruit and grape Nerds-flavoured margaritas.

Food & Drink

The Dolphin bring's back its brunch with cheese and bacon rotolo and smoky bloody marys.

Arts & Entertainment

An expansive survey of Persian arts and crafts will take over the Powerhouse Museum this autumn.

Arts & Entertainment

Contemplate Sydney's — and your— history, identity and cultural belonging as you wander through Yayoi Kusama's immersive mirror ball installation.

Arts & Entertainment

The National returns for 2021 to exhibit works from 39 rising Australian artists across three Sydney venues.

Arts & Entertainment

Don't throw away your shot to see the blockbuster, Tony Award-winning musical by Lin-Manuel Miranda.

Arts & Entertainment

The record-breaking Broadway musical, based on the smash-hit Disney film, is bringing Arendelle's frozen fractals and toe-tapping tunes Down Under.

Travel & Leisure

Explore the night sky at this astronomical tour in the Blue Mountains.

Food & Drink

Spectacular harbour views, breakfast and fine French bubbly make one extravagant way to start to the day.

Arts & Entertainment

Verdi's famed Italian opera — and its nine-metre-high chandelier — is coming to Sydney Harbour's floating stage.

Arts & Entertainment

Screening everything from 'The Big Lebowski' and 'Fargo' to 'No Country for Old Men' and 'Inside Llewyn Davis'.

Arts & Entertainment

Watch new and classic flicks under the stars — while sitting in a director's chair in a laneway.

Arts & Entertainment

This colourful living exhibition features a 'watercolour painting' made from over 20,000 plants.
Tap and select
Add to Home Screen
to access Concrete Playground easily next time.
x