The Best Things to Do in Sydney This Week
Make plans.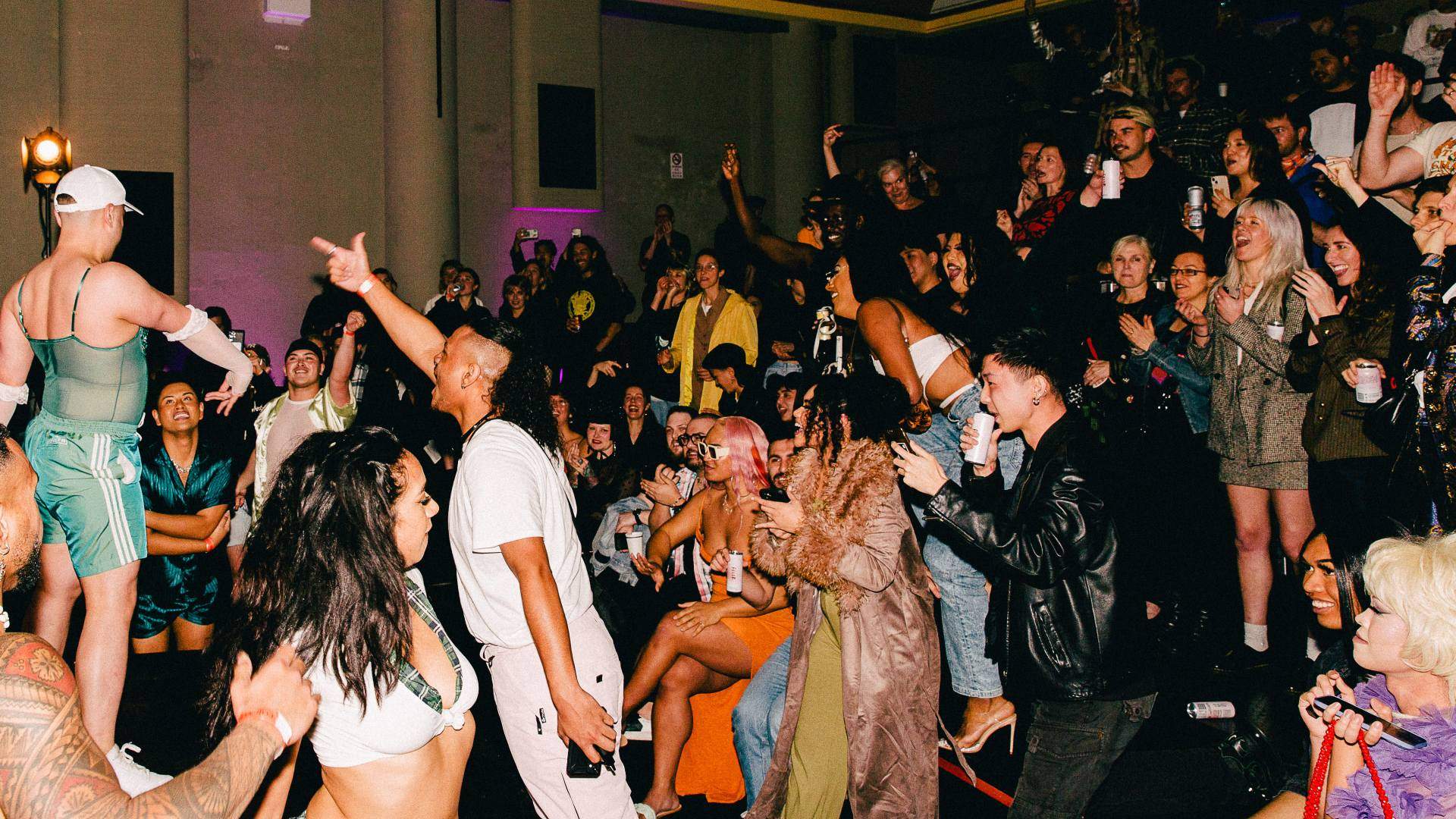 Heading back to the ol' daily grind can be pretty damn awful after a bright and shiny weekend of picnicking, bar hopping and patting dogs that aren't yours, but luckily Sydney's a 'keep the ball rolling' kind of city and has plenty of events, exhibitions, theatre, film festivals and live music for you to inject a little awesomeness into your week. Sure, use Monday for Netflix binges. Then get out there and sink your teeth into Sydney's best happenings this week.
Top image: Pleasures Playhouse, Anna Hay
Arts & Entertainment

Featuring the latest cinema experiment by 'Climax' director Gaspar Noé, plus Daft Punk's 'Interstella 5555: The 5tory of the 5ecret 5tar 5ystem', this four-day, 17-feature film festival ponders transformation.

Arts & Entertainment

The Lord Gladstone is getting the party started this long weekend with a 12-hour gig that stretches from 3pm until 3am.

Arts & Entertainment

Sam Rockwell and Saoirse Ronan make a cracking pair of 1950s sleuths in this Agatha Christie-loving murder-mystery.

Arts & Entertainment

These spring street parties will be taking over busy roads in Surry Hills, Pyrmont, Redfern, Haymarket, Glebe, Potts Point and the Sydney CBD.

Arts & Entertainment

Listen Out is returning to Sydney for 2022 with Disclosure and The Jungle Giants on the bill.

Food & Drink

There are three ways to play at Barangaroo House this October long weekend — including epic vinyl DJs at new hotspot Rekōdo — and entry's free.

Arts & Entertainment

Macedonian Australian filmmaker Goran Stolevski makes a mesmerising debut with this stunningly shot horror movie about shapeshifting witches.

Food & Drink

'Masterchef' alum Jess Hodge has opened a pop-up deli in The Rocks, celebrating native ingredients via classic sandwiches and snacks.

Food & Drink

This new BYO Chinese restaurant is offering 80-cent dumplings from 5.30pm each day.

Food & Drink

Enjoy a nostalgic Australian barbecue spread and bottomless cocktails over a bangin' 90s soundtrack.

Arts & Entertainment

This absorbing and inspirational documentary focuses on Melbourne trauma cleaner Sandra Pankhurst, unfurling the stories behind her varied life and her messy-but-crucial line of work.

Arts & Entertainment

George Clooney and Julia Roberts team up again, this time for their first rom-com together — and their charisma and banter is the Queensland-shot film's biggest drawcard.

Travel & Leisure

Whether your child loves competition, is a sports fanatic or just likes to have a go, there's an athletic activity with their name on it.

Arts & Entertainment

'Cobain: Montage of Heck' director Brett Morgen turns David Bowie's life, music, performances and impact into a dazzling kaleidoscopic documentary that's as shapeshifting and boundary-pushing as the icon himself.

Food & Drink

Dan Hong and Adam Liaw will be hosting free cooking demonstrations in Chatswood as part of this two-week food trail.

Food & Drink

The Bavarian's Sydney venues are celebrating Oktoberfest with parties, eight German-style beers, schnapps, giant pretzels, pork-heavy menus and Sunday sausage sizzles.

Arts & Entertainment

A getaway-gone-bad slasher flick, a savvy dark comedy and a twisty whodunnit, this Amandla Stenberg-, Maria Bakalova- and Pete Davidson-starring horror gem slays.

Arts & Entertainment

Set within a sonic catering institute, the latest film by 'In Fabric' director Peter Strickland serves up another wild, witty and wonderfully weird concoction.

Arts & Entertainment

Pair classic flicks with Biang Biang Noodles and natural wine in an old, usually abandoned Chinatown cinema.

Food & Drink

DOOM JUICE's new St Peters cellar door is hosting weekly culinary pop-ups with chefs from Sagra, Cafe Paci, Bar Louise and The Old Fitz.

Arts & Entertainment

Tender, affecting and resonant, and filled with wonderful performances, this Gaelic-language coming-of-age drama tells a small tale with a big impact.

Arts & Entertainment

This 35-day music and arts festival is taking over an abandoned Chinatown cinema.

Travel & Leisure

Australia's largest privately-owned cool climate garden is hosting a luxury glamping experience for one month.

Food & Drink

Looking to elevate your bar crawl? You're in luck — five stellar Sydney bars are putting the spotlight on whisky cocktails this September.

Food & Drink

Lobster and champagne lunches, retrospective feasts, classic film double features, dance parties and $5 margaritas are all part of the program taking over Surry Hills.

Food & Drink

Merivale is celebrating all things beer with a craft brew festival, a Dan Hong and Michael Fox long lunch and heaps more.

Arts & Entertainment

500-plus events over 50 venues are popping up around the city for this year's independent arts festival.

Arts & Entertainment

Sydney's Italian Film Festival is back for 2022 with Italian box office hits, Sophia Loren-starring classics and a Luca Guadagnino-helmed documentary about a shoemaker to the stars.

Food & Drink

Broadway Shopping Centre is giving out 100 free meals to students every Tuesday for the next three months.

Food & Drink

Feast your way through unlimited pork belly, chicken schnitzels, chicken wings and German sausages.

Arts & Entertainment

This free exhibition sees artist Cherine Fahd capture the people, communities and stories of Parramatta, thanks to a series of pop-up portrait studios.

Food & Drink

O Tama Carey and Danielle Alvarez are among the fantastic Sydney chefs taking part of this longstanding culinary school's spring experiences.

Arts & Entertainment

Discover creative works as you explore the vast green grounds of Rookwood Cemetery.

Arts & Entertainment

As part of its 85th birthday celebrations, the Ritz is spending a year screening iconic Australian films on 35mm.

Arts & Entertainment

Featuring work by six artists and collectives, this multi-sensory new MCA exhibition blends myths and reality to ponder possible futures.

Arts & Entertainment

Your heart will go on at this comedic 'Titanic' recreation at the Australian National Maritime Museum.

Arts & Entertainment

AGNSW is relaunching its huge free cinema program to celebrate 22 years of screenings.

Arts & Entertainment

Take a deep dive into First Nations histories and cultures on an expert-guided tour at the Australian Museum.

Travel & Leisure

Explore over 70 stalls featuring beautiful local produce, artisanal clothing, homewares and more at this fortnightly Sunday market on the banks of the Parramatta River.

Arts & Entertainment

To celebrate 85 years screening flicks, Randwick's Ritz Cinema is showing 85 movies over 85 days — one for each year, and in order.

Arts & Entertainment

Melina Marchetta's beloved 1992 book has already been adapted into a movie — and now a stage version is heading to Belvoir.

Arts & Entertainment

See the evolution of Australian studio ceramics at the Powerhouse Museum with over 400 works by 160 different artists.

Arts & Entertainment

The music of the night will croon its way into the Sydney Opera House from August.

Arts & Entertainment

Add some rock 'n' roll to your after-work routine with a trivia, a live band and free beer.

Arts & Entertainment

An easy-going market packed with food, drinks and produce in the heart of the inner west.

Arts & Entertainment

Direct from London's Natural History Museum, the best nature photographs from the past year are now on display in Sydney.

Food & Drink

Butter's tour of creative ramen dishes is back by popular demand — starting with its OG fried chicken ramen, of course.

Food & Drink

Sydney's Tex-Mex bars are slinging cheap tacos one night a week.

Food & Drink

Party until 3am every Sunday night at Big Poppa's.

Food & Drink

Head to Rocker each Sunday arvo for two hours of free-flowing rose, Sydney rock oysters, cauliflower hummus and live tunes.

Food & Drink

Sip Frosty Fruit slushies and eat roast lamb damper rolls at this limited-time bar in Sydney's CBD before it's demolished to make room for the new metro line.

Travel & Leisure

Explore the night sky at this astronomical tour in the Blue Mountains.

Food & Drink

The Paddington restaurant serves coffee, scones and canelés from 8am, and sells boxes of fresh produce too.

Food & Drink

A weekend morning cornucopia of organic veggies, fruit, cheese and international dishes, plus fashion, homewares, books and more.

Design & Style

Find original wares by local designers, food stalls and a new growers market for fresh produce.

Travel & Leisure

Finally a yoga practice where you can literally touch the earth.
Tap and select
Add to Home Screen
to access Concrete Playground easily next time.
x