The Best Things to Do in Sydney This Weekend
Make plans.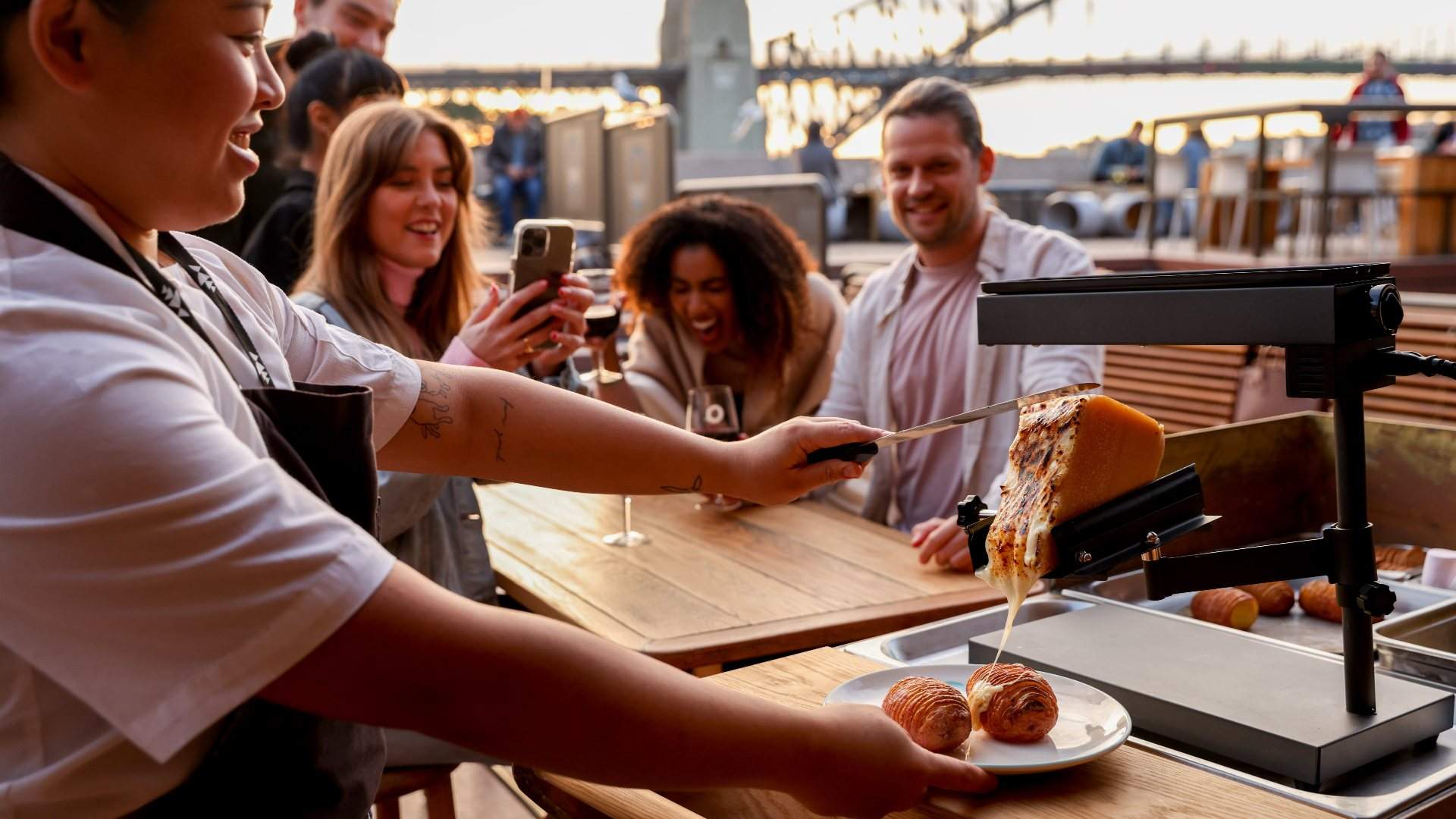 Weekends are precious. You want to make the most of those glorious days devoid of responsibility and overflowing with possibility. Luckily, Sydney's got plenty happening to make sure you don't spend the days indoors binge-watching Netflix and instead discovering new bars, absorbing art and feasting your way through food markets. Here are our picks of this weekend's happenings.
Image: Harbourside Carts at Opera Bar
Food & Drink

Broadway Shopping Centre is giving out 100 free meals to students every Tuesday for the next three months.

Food & Drink

Nakano Darling, Tachinomi YP and Yakitori Yurippi are celebrating all things sake with limited-time set menus this winter.

Food & Drink

Feast your way through unlimited pork belly, chicken schnitzels, chicken wings and German sausages.

Arts & Entertainment

If 'Amelie' and 'Knives Out' combined, the end result would look like this candy-coloured French whodunnit.

Arts & Entertainment

Brad Pitt's charisma, scene-stealing supporting players and spectacular stunt choreography help this assassins-on-a-train action-comedy mostly prove a blast.

Arts & Entertainment

This free exhibition sees artist Cherine Fahd capture the people, communities and stories of Parramatta, thanks to a series of pop-up portrait studios.

Food & Drink

O Tama Carey and Danielle Alvarez are among the fantastic Sydney chefs taking part of this longstanding culinary school's spring experiences.

Food & Drink

This inner-city nightlife precinct is hosting a series of more than 50 events championing female and non-binary talent in hospitality and creative industries.

Arts & Entertainment

This French standout turns a single mother and five-star hotel chambermaid's hectic daily routine into a relentless thriller.

Arts & Entertainment

This thorny satirical drama benefits from Ralph Fiennes at his best, playing a loathsome wealthy Londoner holidaying in Morocco and immersed in a tragedy.

Arts & Entertainment

As part of its 85th birthday celebrations, the Ritz is spending a year screening iconic Australian films on 35mm.

Arts & Entertainment

A 20-years-in-the-making production exploring family mystery, memory and migration is playing at Carriageworks this August.

Arts & Entertainment

Penélope Cruz and Antonio Banderas are fantastic in this sharp and witty Spanish Argentine comedy about filmmaking.

Food & Drink

Penfolds is collaborating with Surry Hills diner nel, art collective Babekühl and Client Liaison for an immersive winetasting experience.

Arts & Entertainment

Nab exclusive Gang of Youths merch alongside the band's own beer and wine from this Chippendale pop-up.

Food & Drink

Get creative hot chocolate flavours delivered to your door.

Arts & Entertainment

This 2018 bestseller jumps from the page to the screen, but proves as pristine and polished as a swampy southern gothic murder-mystery melodrama can be.

Arts & Entertainment

Featuring work by six artists and collectives, this multi-sensory new MCA exhibition blends myths and reality to ponder possible futures.

Arts & Entertainment

Play witness to the brilliance of Shakespeare's most-loved plays and a new stand-out Walsh Bay theatre.

Arts & Entertainment

Reteaming with his 'Sinister' director Scott Derrickson, Ethan Hawke is unnervingly excellent in this tense and eerie 70s-set horror film.

Food & Drink

Roaming carts will be doing the rounds at Opera Bar throughout July and August, equipped with raclette, s'mores and piping-hot cocktails.

Food & Drink

Try four unique flavours of gelato — all centred around fresh truffles — at this new Circular Quay gelateria.

Arts & Entertainment

Check out four stunning movie from the acclaimed South Korean director's filmography — 'Parasite' included.

Food & Drink

The Sheraton Grand Sydney Hyde Park is celebrating truffle season with a special high tea menu.

Food & Drink

For three weeks, El Camino Cantina is splashing together Long Island iced teas and margaritas in one boozy beverage.

Food & Drink

These private dining domes for groups of up to six are popping up at waterfront fine diner 6HEAD.

Food & Drink

Looking to warm up your winter exploits? Head to Wollongong to lounge in a luxe beachside igloo with Fireball shots and canapés.

Arts & Entertainment

This pop-up cinema lets you hit your streaming queue while relaxing in recliners, staring at a 150-inch screen and eating unlimited free popcorn.

Food & Drink

You can get your post-ski party fix without leaving Sydney this winter.

Food & Drink

The Winery's leafy al fresco dining area has been given a makeover for winter and features a dreamy glamping tent.

Arts & Entertainment

The exhibition showcases the thought-provoking works of 212 creatives, with painting and photography joining sculptural pieces and more.

Arts & Entertainment

Calling all Nordic cinema fans: Australia's annual showcase of Scandi movies returns to Sydney.

Arts & Entertainment

AGNSW is relaunching its huge free cinema program to celebrate 22 years of screenings.

Travel & Leisure

Explore over 70 stalls featuring beautiful local produce, artisanal clothing, homewares and more at this fortnightly Sunday market on the banks of the Parramatta River.

Arts & Entertainment

To celebrate 85 years screening flicks, Randwick's Ritz Cinema is showing 85 movies over 85 days — one for each year, and in order.

Arts & Entertainment

See the evolution of Australian studio ceramics at the Powerhouse Museum with over 400 works by 160 different artists.

Arts & Entertainment

The Broadway hit is finally bringing its all-singing, all-dancing romance to Sydney.

Travel & Leisure

Igloos are popping up at Pier One again — and this year, they're surrounded by lit-up cherry blossom trees.

Arts & Entertainment

Direct from London's Natural History Museum, the best nature photographs from the past year are now on display in Sydney.

Arts & Entertainment

From The Beatles and INXS to One Direction, fangirls are the ones who have kept the light alive for these boy bands.

Food & Drink

Butter's tour of creative ramen dishes is back by popular demand — starting with its OG fried chicken ramen, of course.

Food & Drink

Party until 3am every Sunday night at Big Poppa's.

Travel & Leisure

Sydney's two-day dog expo is back — and so is its dedicated puppy patting zone.

Food & Drink

Sip Frosty Fruit slushies and eat roast lamb damper rolls at this limited-time bar in Sydney's CBD before it's demolished to make room for the new metro line.

Arts & Entertainment

An exhibition of art, science and history examines our changing attitudes to the humble eucalyptus family.

Food & Drink

The Paddington restaurant serves coffee, scones and canelés from 8am, and sells boxes of fresh produce too.

Design & Style

Find original wares by local designers, food stalls and a new growers market for fresh produce.

Food & Drink

Peruse vintage bric-a-brac while you snack on homemade dim sum in the Skyline Drive-In.

Travel & Leisure

Finally a yoga practice where you can literally touch the earth.
Tap and select
Add to Home Screen
to access Concrete Playground easily next time.
x