The Best Things to Do in Sydney This Weekend
Make plans.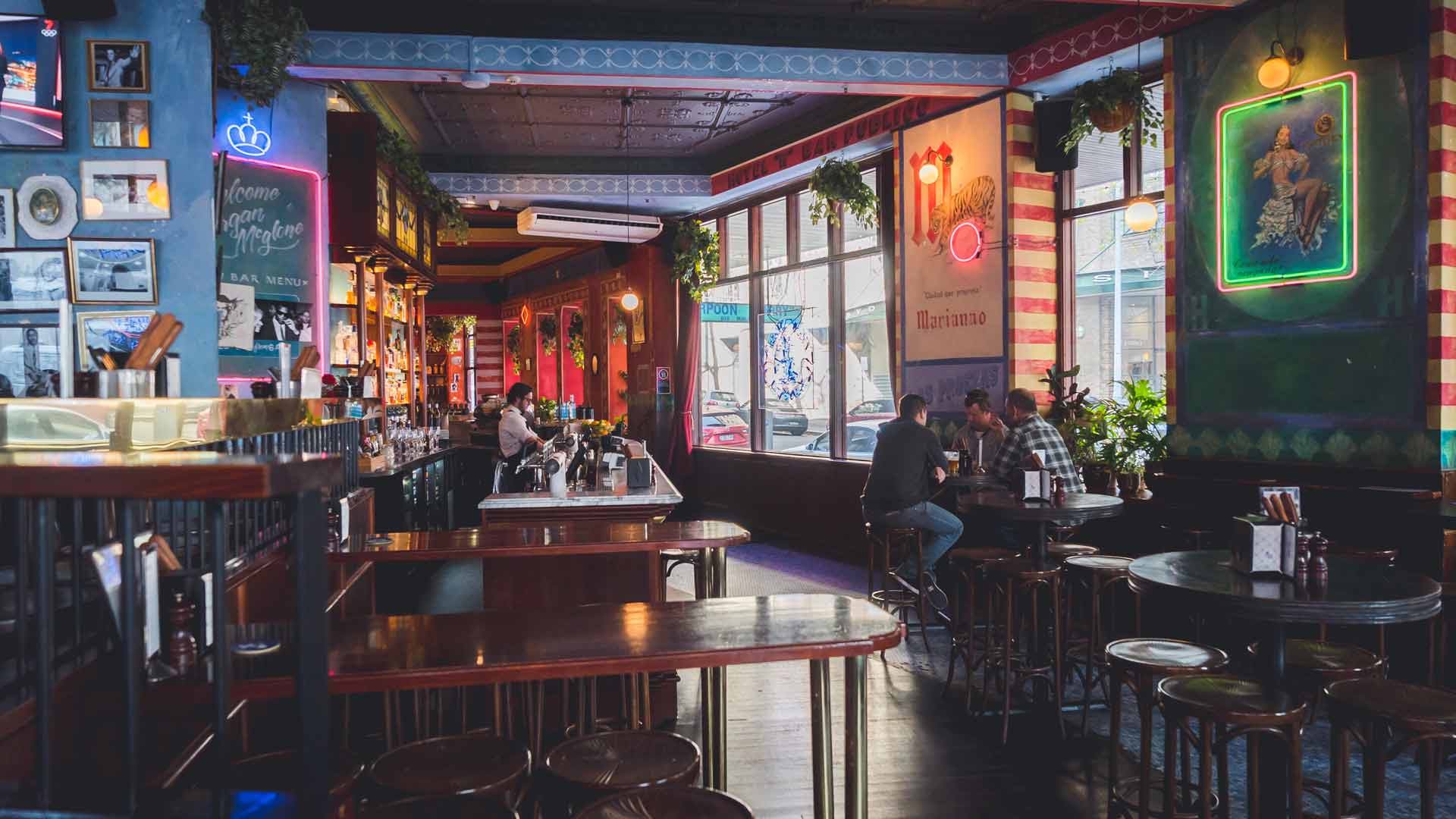 Weekends are precious. You want to make the most of those glorious days devoid of responsibility and overflowing with possibility. Luckily, Sydney's got plenty happening to make sure you don't spend the days indoors binge-watching Netflix and instead discovering new bars, absorbing art and feasting your way through food markets. Here are our picks of this weekend's happenings.
Image: Harry's
Arts & Entertainment

This exceptional Norwegian horror film is one of the most disturbing movies about childhood — and superpowers — to reach screens in recent years.

Arts & Entertainment

This Italian award-winner is a gripping mafia movie and a stunning coming-of-age drama all in one.

Arts & Entertainment

Head to Museum of Sydney for an immersive exhibition with deep cultural connections.

Food & Drink

The inner west brewery will be pouring cold beers and showing coverage of the federal election until late on politics' night of nights.

Design & Style

Nonna's Grocer is taking over Oxford Street's Abstract Thoughts Gallery for a two-day market.

Arts & Entertainment

Colin Firth and 'Succession' star Matthew Macfadyen lead this World War II-set tale of espionage intrigue, which is based on a story so wild that it can only be true.

Arts & Entertainment

Almost 400 writers and thinkers will take to the stage across 234 events, all linked to this year's theme 'Change My Mind'.

Arts & Entertainment

Bringing Stephen King's 1980 novel to the big screen for the second time, this dull remake only burns two things: its audience's time and patience.

Design & Style

This luxury homewares label is transforming its Paddington store into a pop-up marketplace, with a dreamy curation of food, flowers, bedding and more.

Travel & Leisure

Igloos are popping up at Pier One again — and this year, they're surrounded by lit-up cherry blossom trees.

Food & Drink

The humble bao has been given a Mexican twist for Fonda's new limited-edition collaboration menu.

Arts & Entertainment

After reimagining Henry Lawson's short story for the stage and page, Leah Purcell brings her First Nations, feminist and anti-colonial take on the tale to cinemas.

Arts & Entertainment

'Portrait of a Lady on Fire' filmmaker Céline Sciamma returns with a magical and insightful tale about childhood — and it's one of her best movies yet.

Arts & Entertainment

Directed by 'Evil Dead' legend Sam Raimi, the latest MCU film about surgeon-turned-sorcerer Dr Stephen Strange is darker and trippier but still dispiritingly standard.

Arts & Entertainment

Over three weeks, Sydney Zoo will become home to a heap of light activations, luminescent animals, an ice rink, glow-in-the-dark golf and a pop-up bar from 4 Pines.

Travel & Leisure

Find your way gnome and back with this month-long installation throughout Chatswood's CBD this May.

Food & Drink

The Great Australasian Beer Spectapular returns to Sydney with 120 brews, including beers inspired by cheesecake and poutine.

Food & Drink

This Surry Hill favourite is hosting a month-long marg fest with prawn taquitos and birria tacos.

Arts & Entertainment

Direct from London's Natural History Museum, the best nature photographs from the past year are now on display in Sydney.

Food & Drink

Get a box filled with 31 different flavours of rocky road delivered to your door.

Food & Drink

A heap of Sydney restaurants are offering half-price meals till the end of May.

Food & Drink

Pop-ups on the sand, food truck parties and craft brews aplenty — they're all a part of this northern beaches food festival.

Food & Drink

Matt Moran's Woollahra restaurant is turning ten — and celebrating with a special birthday menu.

Food & Drink

Butter's tour of creative ramen dishes is back by popular demand — starting with its OG fried chicken ramen, of course.

Arts & Entertainment

Local and international comedic greats are descending on Sydney to deliver a month-long program jam-packed with laughs.

Food & Drink

Twenty-five of Sydney's favourite bars are whipping up exclusive cocktails during this month-long festival of booze.

Food & Drink

YCK Laneways is throwing a six-week food and music festival, headed-up by a three day celebration with Maybe Sammy, Cantina OK!, Sneaky Sound System and Day1 in Barrack Street.

Arts & Entertainment

What happens when the national sport is forced to dismantle its heteronormativity?

Arts & Entertainment

Shell House is throwing a two-month food and music festival with sets from Nina Las Vegas, Late Nite Tuff Guy, Touch Sensitive and pop-ups from Licoreria Limantour and Attaboy.

Arts & Entertainment

The Tony Award-winning Broadway musical is bringing romance and old-world charm to Sydney.

Food & Drink

Party until 3am every Sunday night at Big Poppa's.

Arts & Entertainment

Catch a cutting-edge lineup of local and international DJs at this party from the Lost Paradise crew every Sunday.

Arts & Entertainment

The 23rd edition of Sydney's Biennale will feature a 600-metre-square bamboo structure, a huge mirrored pavilion and intricate portraits made out of grass.

Arts & Entertainment

Lego finds a way — with more than 50 dinosaurs, props and scenes from the movie built out of the popular plastic bricks.

Arts & Entertainment

Explore Australia's most iconic contributions to cinema via this exclusive exhibition of costumes, props and behind-the-scenes footage.

Arts & Entertainment

Watch all 22 of the Spanish auteur's films on the big screen, including classics like 'All About My Mother' and his latest feature 'Parallel Mothers'.

Arts & Entertainment

Over 20,000 plants have been installed, including one of the largest vertical green walls in the southern hemisphere.

Food & Drink

Head to Three Blue Ducks Rosebery every Sunday for a next-level barbecue feast and live music.

Food & Drink

Head to Rocker each Sunday arvo for two hours of free-flowing rose, Sydney rock oysters, cauliflower hummus and live tunes.

Food & Drink

Sip Frosty Fruit slushies and eat roast lamb damper rolls at this limited-time bar in Sydney's CBD before it's demolished to make room for the new metro line.

Arts & Entertainment

White Rabbit Gallery's exhibition will explore how to get a narrative or piece of work to cut through in a nation of over one billion people.

Arts & Entertainment

An exhibition of art, science and history examines our changing attitudes to the humble eucalyptus family.

Food & Drink

The Paddington restaurant serves coffee, scones and canelés from 8am, and sells boxes of fresh produce too.

Design & Style

Find original wares by local designers, food stalls and a new growers market for fresh produce.

Food & Drink

Food and fashion with a Middle Eastern flourish.

Food & Drink

Peruse vintage bric-a-brac while you snack on homemade dim sum in the Skyline Drive-In.

Travel & Leisure

Finally a yoga practice where you can literally touch the earth.
Tap and select
Add to Home Screen
to access Concrete Playground easily next time.
x