FOOD & DRINK
The Best Things to Do in Sydney This Weekend
Explore this outdoor art exhibition in the Blue Mountains, or head to one of three Sydney galleries for a huge biennial art exhibition.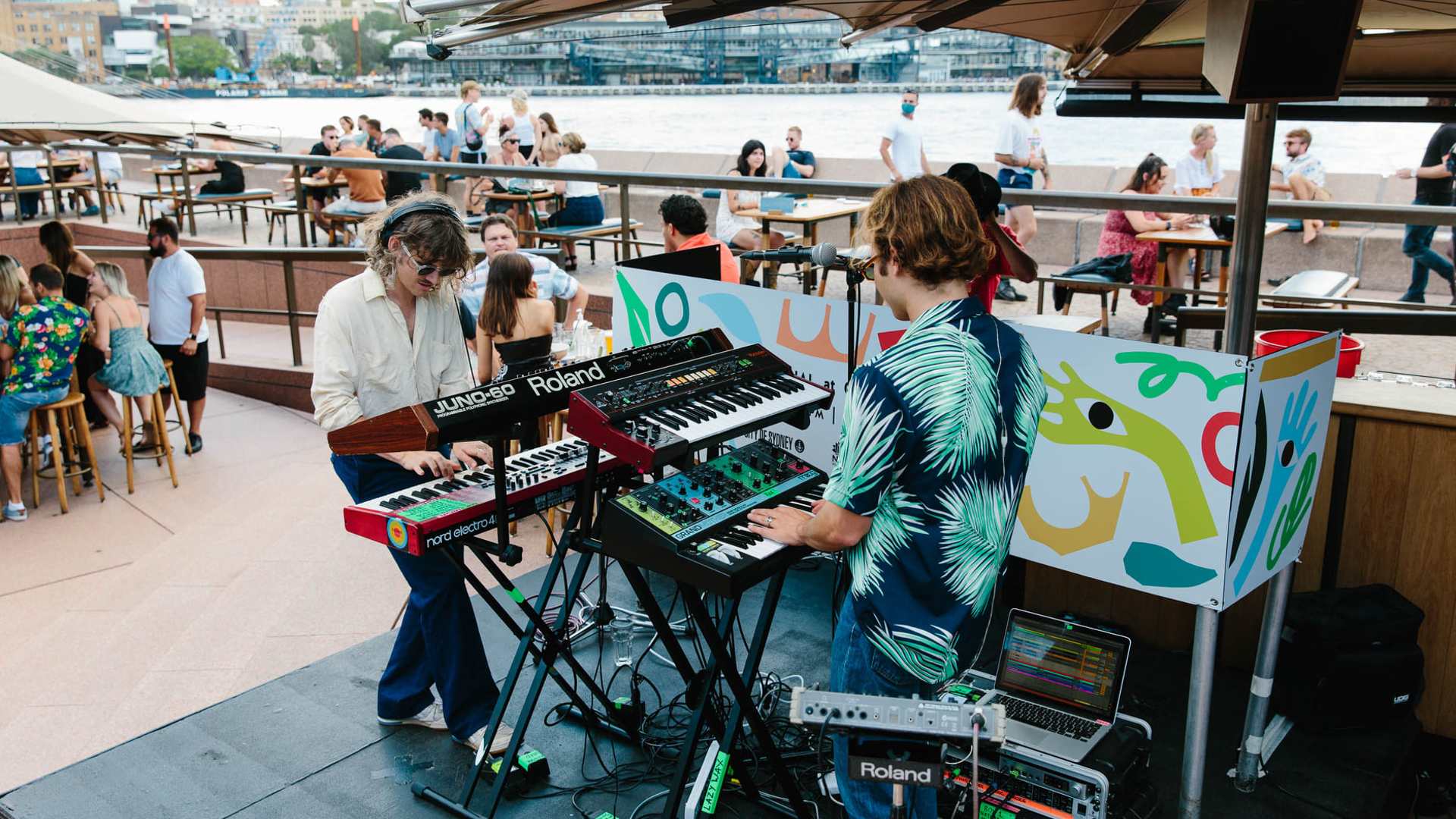 Weekends are precious. You want to make the most of those glorious days devoid of responsibility and overflowing with possibility. Luckily, Sydney's got plenty happening to make sure you don't spend the days indoors binge-watching Netflix and instead discovering new bars, absorbing art and feasting your way through food markets. Here are our picks of this weekend's happenings.
Image: Picnic Social by Carlos Walters
Arts & Entertainment

This exhibition celebrates Pintupi artists and the 21st anniversary of the Western Desert Dialysis Appeal with eight historically significant artworks.

Food & Drink

Sip Frosty Fruit slushies and eat roast lamb damper rolls at this limited-time bar in Sydney's CBD before it's demolished to make room for the new metro line.

Arts & Entertainment

Jumping online in 2021, this returning Aussie film festival explores the struggles and splendours of the environment.

Arts & Entertainment

Add some scares to your October viewing at this Australian horror festival's 13th annual event.

Food & Drink

Celebrate spring with this pop-up cherry blossom garden and limited edition cocktail menu from Roku gin.

Food & Drink

Messina is serving up mango crepes filled with mango sorbet for two days.

Arts & Entertainment

Filled with breathtaking mountaineering footage, this tense and thoughtful documentary focuses on Canadian alpinist Marc-André Leclerc and his free-climbing exploits.

Arts & Entertainment

Affecting, surreal and starkly unsettling, this Noomi Rapace-starring folk-horror delight focuses on a grieving couple and their farm's newest arrival.

Food & Drink

Darling Square's IIKO Mazesoba is giving its brothless ramen a spooky halloween makeover this October.

Arts & Entertainment

Acclaimed Sydney-based Sri Lankan-born artist Ramesh Mario Nithiyendran has transformed Sullivan+Strumpf's Zetland gallery with this collection of surreal figures.

Arts & Entertainment

Carriageworks is taking its program of experimental art exhibitions and conversations online this year.

Arts & Entertainment

M Night Shyamalan's latest thriller is frequently unnerving, insidious and moving — and also a little too neat.

Food & Drink

Get $10 martinis and lobster rolls at this new CBD bar and bistro.

Arts & Entertainment

This music biopic about the Queen of Soul follows familiar beats, but Jennifer Hudson shines singing Aretha Franklin's hefty catalogue of hits.

Arts & Entertainment

Rebecca Hall is exceptional in a haunted house movie that's made with horror style as well as smarts, but also sometimes falls victim to its own indulgences.

Arts & Entertainment

A hit at Sundance 2020, this intimately observed and astonishingly acted drama focuses on a family struggling with the repercussions of a fraying marriage.

Arts & Entertainment

Sharp, relatable and also filled with cringe-inducingly awkward moments, this impressive debut feature spends a day at a shiva with a college senior.

Arts & Entertainment

In its 25th film, the Marvel Cinematic Universe introduces a new superhero — and adds a supremely well-cast martial arts movie to the sprawling franchise.

Arts & Entertainment

A winner at the 2020 Sundance Film Festival, this beautifully evocative existential drama follows unborn souls vying for a chance to live.

Arts & Entertainment

Nicolas Cage puts in one of his finest performances yet in this thoughtful revenge thriller about a truffle hunter searching for his stolen pig.

Arts & Entertainment

After 'Snowtown' and 'True History of the Kelly Gang', Australian filmmaker Justin Kurzel examines the lead-up to the Port Arthur massacre in this unsettling and astounding drama.

Arts & Entertainment

The 90s horror franchise gets a sharp, smart and sublimely shot new instalment, as produced and co-written by Jordan Peele.

Arts & Entertainment

Questlove jumps behind the lens with this exceptional documentary, which brings footage from the 1969 Harlem Cultural Festival — aka "Black Woodstock" — to the screen.

Arts & Entertainment

An advertisement masquerading as a movie, this 25-years-later sequel wastes both basketball superstar LeBron James and his animated Looney Tunes co-stars.

Arts & Entertainment

This sensitive and poignant documentary revisits Australia's 2019–20 bushfires, paying tribute to the communities affected and exploring the aftermath.

Food & Drink

Head to the Royal Botanic Gardens throughout spring and summer for Australia's first pop-up hard seltzer bar.

Food & Drink

Fonda's new limited-edition taco packs and bottled margs are primed for your next lockdown-friendly fiesta.

Food & Drink

Luna Park's festival of spooky, spine-tingling, stomach-turning attractions is returning for seven nights only.

Arts & Entertainment

Adam Driver and Marion Cotillard play star-crossed lovers in this spectacular musical melodrama from 'Holy Motors' director Leos Carax and art-pop duo Sparks.

Arts & Entertainment

Ryan Reynolds draws upon his usual likeable charms in this blatant riff on 'The Truman Show', but set inside an online video game.

Arts & Entertainment

Making his documentary debut, 'Baby Driver' director Edgar Wright helms a delightful tribute to the five-decade-old art-pop group that should be everyone's favourite band.

Arts & Entertainment

Sydney's annual science fiction film fest is going virtual, and national — and you can stream all of its 80 films for $29.99.

Food & Drink

Elevate your first trip to the park with this picnic hamper from Potts Point favourite Dear Sainte Eloise.

Food & Drink

Pick up chilli oil and black sesame focaccia, custard bombolini and fresh loaves of sourdough at Fabbrica's weekly pop-up bakery.

Food & Drink

Bondi and Parramatta favourite Ciccia Bella has reopened for takeaway and is now offering finish-at-home meals.

Food & Drink

Order yourself a packed set menu to enjoy at home from one of The Star's many eateries.

Arts & Entertainment

The DC Extended Universe gives its crew of supervillain criminals a big-screen do-over — and the resulting film is lively, raucous and well-cast, but also repetitive and average.

Arts & Entertainment

Borrow a DVD or VHS — or share your own — at the Randwick Ritz's lockdown lending library.

Travel & Leisure

Stay fit and learn some new moves with Sydney Dance Company's on-demand and live-streamed classes.

Arts & Entertainment

Australia's annual celebration of Korean cinema returns with a strong lineup of new must-sees and recent favourites.

Arts & Entertainment

Dwayne Johnson and Emily Blunt make a delightful team in Disney's latest formulaic and corny flick based on a theme park ride.

Arts & Entertainment

Australia's longest running and most prestigious art awards for Aboriginal and Torres Strait Islander artists is back — and you can catch it IRL or online.

Arts & Entertainment

Combining spy thrills with family dramas — and aided by a top-notch cast — the 24th film in the Marvel Cinematic Universe finally gives the first female Avenger her own solo feature.

Arts & Entertainment

Lin-Manuel Miranda's vibrant love letter to Washington Heights hits the big screen, with intoxicating, invigorating and exuberant results.

Food & Drink

Head to Hunter Street between 4–6pm every day for $1 slices before the Sydney favourite closes.

Arts & Entertainment

A new exhibition and event series on truth telling and First Nations resistance.

Food & Drink

The tour will feature a different dish each month — starting with its OG fried chicken ramen, of course.

Arts & Entertainment

A smash on Broadway since 2017, it's based on the true story of 7000 air passengers who became grounded in Canada after September 11.

Arts & Entertainment

An exhibition of art, science and history examines our changing attitudes to the humble eucalyptus family.

Arts & Entertainment

The Powerhouse Museum has dug into its collection to bring us eight influential designers from the worlds of advertising, publishing and fine art.

Arts & Entertainment

See the portraits of Australia's social pages in this exhibition of photographer Robert Rosen's works.

Arts & Entertainment

Take a deep dive into the history of the modern keyboard and its influence across jazz, rock, pop and soul.

Arts & Entertainment

Why should supercars get all the glory? These micro vehicles show the rise of travelling in a compact and economical fashion over the last six decades.

Food & Drink

Close out your Sundays with drinks, free tunes and Opera Bar's harbour view.

Food & Drink

The Paddington restaurant serves coffee, scones and canelés from 8am, and sells boxes of fresh produce too.

Design & Style

Find original wares by local designers, food stalls and a new growers market for fresh produce.

Food & Drink

Food and fashion with a Middle Eastern flourish.

Food & Drink

Peruse vintage bric-a-brac while you snack on homemade dim sum in the Skyline Drive-In.

Travel & Leisure

Finally a yoga practice where you can literally touch the earth.
Tap and select
Add to Home Screen
to access Concrete Playground easily next time.
x