The Best Things to Do in Sydney This Weekend
Tokyo Bird is serving up a highball and bar snack special, and you'll find $20 happy hour deals around Surry Hills.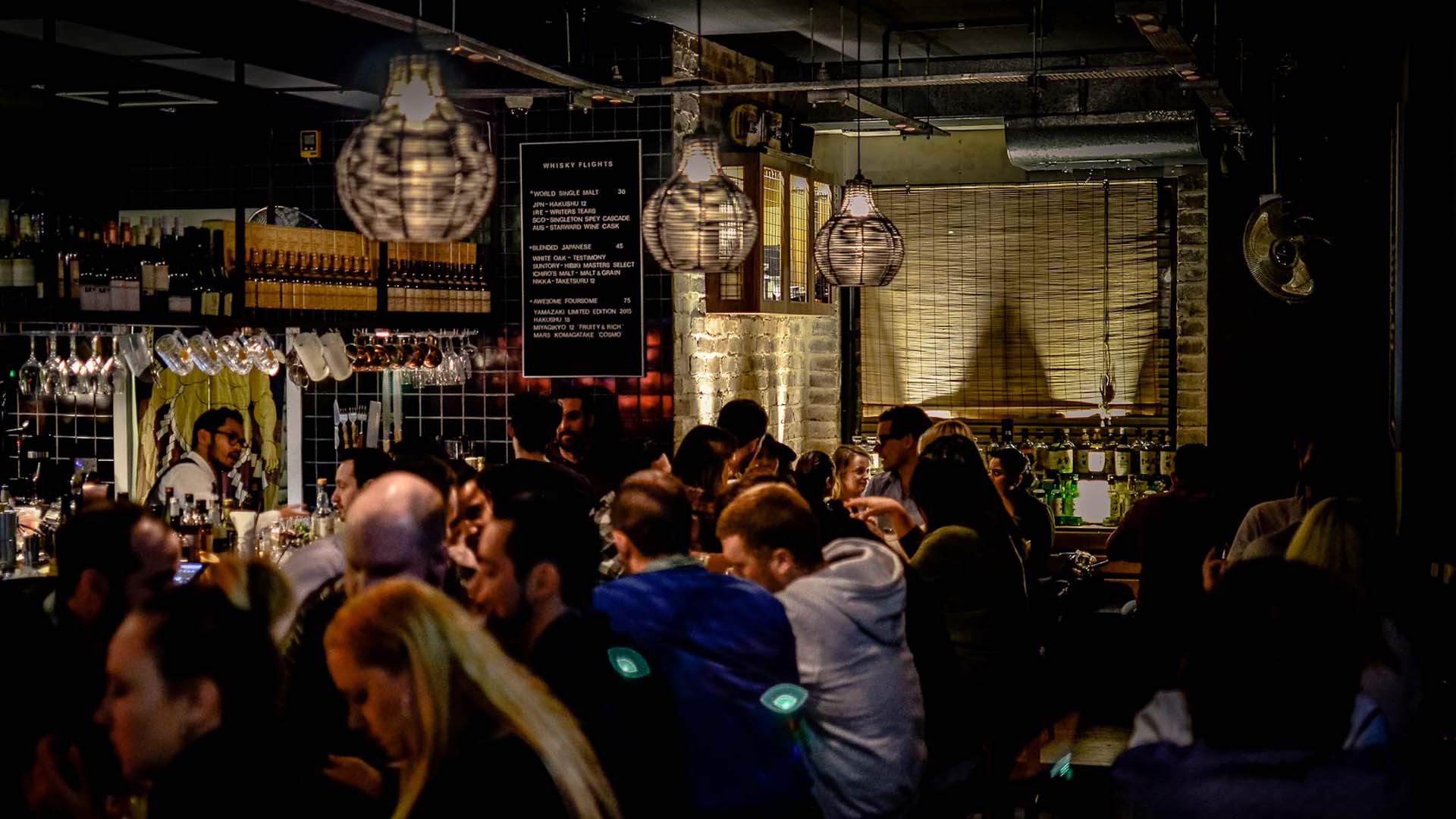 Weekends are precious. You want to make the most of those glorious days devoid of responsibility and overflowing with possibility. Luckily, Sydney's got plenty happening to make sure you don't spend the days indoors binge-watching Netflix and instead discovering new bars, absorbing art and feasting your way through food markets. Here are our picks for what's on in Sydney this weekend.
Image: Tokyo Bird, Heart of Surry Hills
Arts & Entertainment

A culinary thriller-slash-black comedy with bite, this Ralph Fiennes- and Anya Taylor-Joy-starring cinematic dish is savage, savvy and slickly satisfying.

Arts & Entertainment

The 'The Shape of Water' and 'Pan's Labyrinth' director's stop-motion take on the beloved 19th-century Italian tale might just be the most magical yet.

Arts & Entertainment

Timothée Chalamet and Taylor Russell play cannibal lovers road-tripping through America's midwest in this evocative and exquisite film from 'Call Me By Your Name' director Luca Guadagnino.

Food & Drink

Snack your way through Danish open sandwiches, pancakes and hotdogs while you shop for the perfect Christmas gift.

Design & Style

The Powerhouse Museum is hosting a two-month run of this immersive multi-sensory Gucci exhibition.

Arts & Entertainment

Benoit Blanc is back on the case in this sequel to 2019's whodunnit hit 'Knives Out', which serves up another smart and superbly cast puzzle box of a film.

Arts & Entertainment

Stream your way through queer film highlights during MQFF's week-long online program.

Food & Drink

This local natural winemaker is popping up at The Lansdowne, The Duke of Enmore, Leichardt Bowlo and Laguma with free tastings, vinyl and DJ sets.

Arts & Entertainment

For his first movie in seven years, Oscar-winning director Alejandro González Iñárritu ponders the weight of being a filmmaker in a feature both spectacular and indulgent.

Arts & Entertainment

Carey Mulligan and Zoe Kazan lead this powerful newspaper drama, which follows the journalists who broke the Harvey Weinstein story.

Food & Drink

Whether you want to learn the secrets of Singapore chilli crab or perfect your paella, these summer classes will level up your cooking game.

Arts & Entertainment

Step inside one of Joost Bakker's most ambitious zero-waste projects yet: a fully sustainable, recyclable home in Melbourne's Federation Square that grows all of its own food.

Food & Drink

The likes of Bitter Phew, Butter, Bar Nina, Giuls, Goros, The Winery and Dean's Lounge are serving up happy hour deals for $20.

Travel & Leisure

Check off your Christmas shopping list outdoors this year, while you browse artisan products and festive foods.

Arts & Entertainment

Filled with stunning nature cinematography, this awe-inspiring documentary charts the search for a Tibetan snow leopard.

Arts & Entertainment

There's nothing false about this astute and hilarious NZ comedy about faking it till you make it in a social media-ruled world — or about Ana Scotney's exceptional performance.

Food & Drink

The New Orleans-inspired Barangaroo spot is hosting a stand-out Thanksgiving feast.

Arts & Entertainment

The Marvel Cinematic Universe's most electrifying instalment yet gets an engaging-enough sequel, which grapples with grief and also franchise box-ticking.

Food & Drink

Let them eat cake at this chic French-inspired high tea at the Sofitel Sydney Wentworth.

Arts & Entertainment

The final exhibition of 2022 showcases Karen Black's reinterpretation of radical care.

Food & Drink

Celebrate the almost-start-of-Summer — and some seriously impressive distilleries — at this iconic Shoalhaven location.

Food & Drink

This month-long program is unleashing events, pop-ups and limited-time deals across a heap of Surry Hills favourites.

Food & Drink

Food, fashion and festivities will transform Martin Place into a Christmas wonderland.

Design & Style

Whether your interest is environmental or economical, this interactive event is making it easier than ever to get on board with e-transport.

Arts & Entertainment

Submerge yourself in the deep ocean and uncover the wonders of these ancient predators.

Food & Drink

We hope you're ho, ho, hungry: nel is dishing up a Christmas-themed 11-course degustation.

Food & Drink

Bistrot 916's much-hyped double cheeseburger is back on the menu for lunches Friday–Sunday — alongside $1 oysters.

Food & Drink

Carbs. Coffee. Cocktails. Proof that when it comes to the important things in life, Madonna was right – Italians do it better.

Food & Drink

Head to The Entertainment Quarter every Wednesday and Saturday to shop, eat and meet a variety of makers.

Food & Drink

You'll find Skittle, marshmallow and fairy bread margs — and 'rita tasting paddles — at this five-week festival.

Arts & Entertainment

Flume, Steve Lacy and The Wombats lead Spilt Milk's return along the east coast.

Arts & Entertainment

JIFF returns to Sydney for its second festival of 2022 — this time with a 50-movie lineup.

Food & Drink

Enjoy a nostalgic Australian barbecue spread and bottomless cocktails over a bangin' 90s soundtrack.

Food & Drink

DOOM JUICE's new St Peters cellar door is hosting weekly culinary pop-ups with chefs from Sagra, Cafe Paci, Bar Louise and The Old Fitz.

Arts & Entertainment

This exhibition features never-before-seen footage of bands like Nirvana, Foo Fighters and Beastie Boys taking to Australian stages.

Food & Drink

O Tama Carey and Danielle Alvarez are among the fantastic Sydney chefs taking part of this longstanding culinary school's spring experiences.

Arts & Entertainment

As part of its 85th birthday celebrations, the Ritz is spending a year screening iconic Australian films on 35mm.

Travel & Leisure

Explore over 70 stalls featuring beautiful local produce, artisanal clothing, homewares and more at this fortnightly Sunday market on the banks of the Parramatta River.

Arts & Entertainment

See the evolution of Australian studio ceramics at the Powerhouse Museum with over 400 works by 160 different artists.

Arts & Entertainment

The Broadway hit is finally bringing its all-singing, all-dancing romance to Sydney.

Arts & Entertainment

Direct from London's Natural History Museum, the best nature photographs from the past year are now on display in Sydney.

Food & Drink

Party until 3am every Sunday night at Big Poppa's.

Arts & Entertainment

Glass slippers and pumpkin carriages are coming to Sydney, with the Broadway production dancing into the Sydney Lyric Theatre from October.

Food & Drink

Sip Frosty Fruit slushies and eat roast lamb damper rolls at this limited-time bar in Sydney's CBD before it's demolished to make room for the new metro line.

Food & Drink

The Paddington restaurant serves coffee, scones and canelés from 8am, and sells boxes of fresh produce too.

Design & Style

Find original wares by local designers, food stalls and a new growers market for fresh produce.

Travel & Leisure

Finally a yoga practice where you can literally touch the earth.
Tap and select
Add to Home Screen
to access Concrete Playground easily next time.
x