TRAVEL & LEISURE
Five Snow Activities in Victoria to Add to Your Winter Holiday Checklist
From dogsledding to wintery cheese adventures and world-class alpine resorts.
Five Snow Activities in Victoria to Add to Your Winter Holiday Checklist
From dogsledding to wintery cheese adventures and world-class alpine resorts.
in partnership with

If you're after a wintry escape from the city, Victoria's High Country should be high on your hit list of destinations. When winter starts, the snow-cloaked mountains become a wonderland of cold weather experiences. From dogsledding to wintery cheese adventures to world-class alpine resorts, the snow-based activities are virtually limitless.
Since 1973, Macpac has been kitting out adventurers with the latest technical clothing to protect you from whatever harsh conditions you encounter. So, together, we've picked out five of the best experiences you can organise right now for a winter getaway in Victoria this year. We've also included some packing tips — because when sweeping backcountry trails, you need to make sure you have the right gear.

SNOWSHOE YOUR WAY TO CHEESE FONDUE
This isn't quite your average wine and cheese night. The Snowshoe to Cheese Fondue adventure leads you through the snow gums, concluding with some high-quality French cheese and a delightful three-course dinner. After departing at sunset, you'll follow your dedicated guide through a 30-minute snowshoe tour before arriving at a remote eco-village. Find a warm spot inside the central tipi and indulge in a spectacular meal.
Up in the ice peaks, you'll also learn the culinary secrets behind making traditional fondue while sipping a glass of Scandinavian-style spiced wine by the outdoor fire. For adventurers who want to take their wintertime journey to the next level, you can also opt to spend the night in a plush alpine dome.
Pack this: Macpac Men's & Women's Quest Hoody, $199.99

LET HUSKIES GUIDE YOU THROUGH THE ALPS
Among the unique activities on offer in Australia's winter wonderland, one of the best ways to experience the alpine region is going dogsledding with a pack of huskies. The Howling Huskies is one of Australia's most prominent dogsledding services. Take your pick from seven incredible tours, ranging from rapid 30-minute trips to epic four-hour ventures that include traipsing through the snowy countryside along the nation's longest commercial dogsled trail.
This great alpine adventure is possible at both Mount Baw Baw (two and a half hours from Melbourne) and Mount Hotham (four and a half hours from Melbourne), and each offers its own maze of backcountry trails and special panoramic views. The husky squad is made up of 58 dogs altogether, with 47 of those rescued over the last few years. The temperature may be icy, but these doggos will give you all the warm and fuzzy feels.
Pack this: Macpac Piste Gloves Unisex, $59.99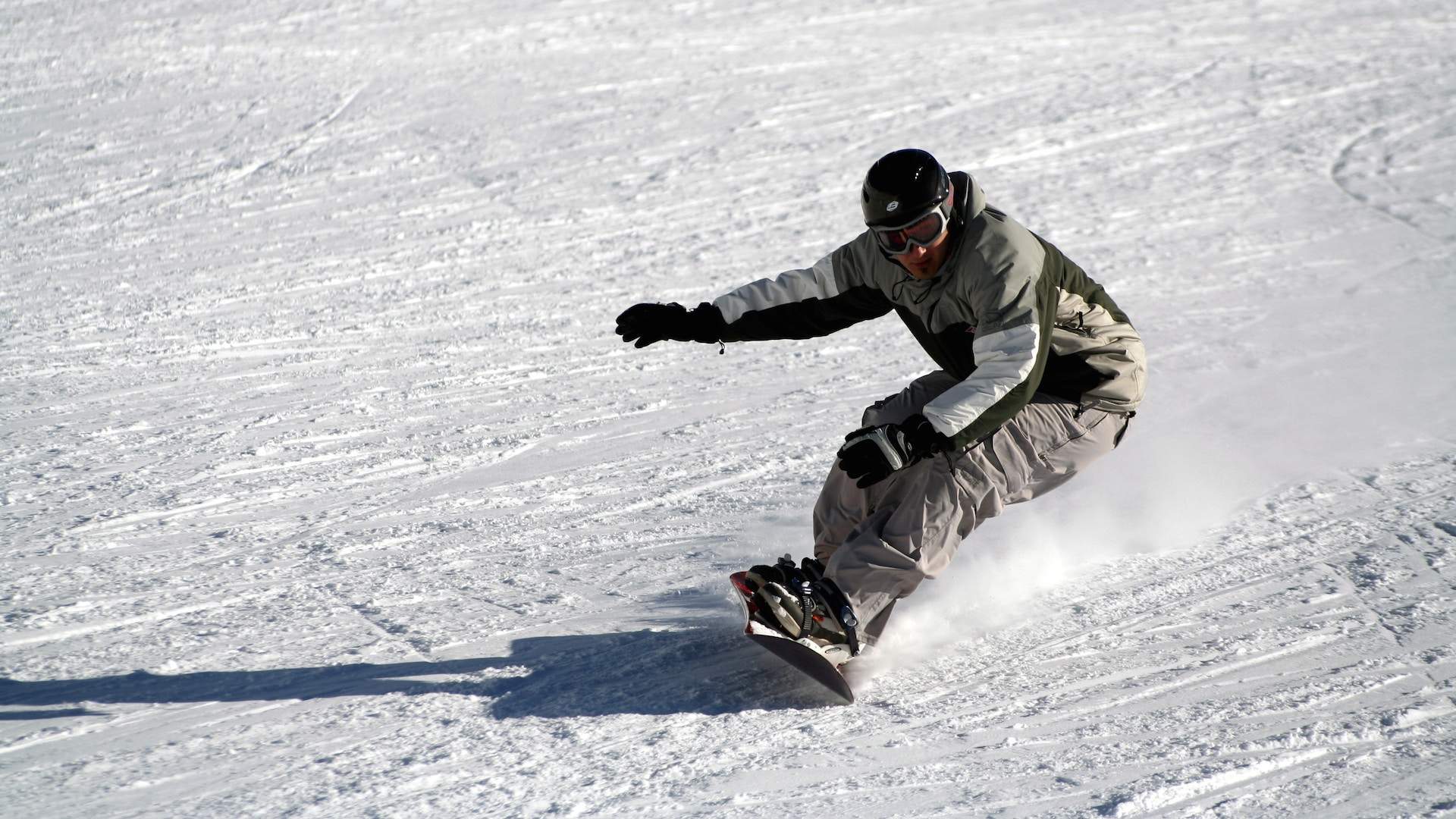 SNOWBOARD WITH AN OLYMPIC CHAMPION
Falls Creek is quite possibly Victoria's most picturesque snowcapped location, featuring striking rolling hills, towering snow gums and a variety of charming stays. This section of the Alpine National Park boasts 450 hectares of skiable terrain and 90 awesome runs for snowboarders to test out.
The Backcountry Tours with Steve Lee will whisk you away with the three-time Winter Olympian and legendary free-rider to visit the mountain's remote open bowls and vertigo-inducing steeps and chutes for an action-packed day. You don't have to be a pro — Falls Creek has some great runs for beginners such as the Wombat's Ramble, which is Australia's longest at just over two kilometres.
Pack this: Macpac Powder Ski Jacket Men's & Women's, $349.99

CROSS-COUNTRY SKI THROUGH SNOWY MEADOWS
When it comes to cross-country skiing, Lake Mountain is the third most visited destination in the world for this gut-busting activity. The rugged landscape hosts a sprawling network of ski trails spread across the mountain, which both beginners and expert skiers are more than welcome to come and explore.
As the closest snow resort to Melbourne, Lake Mountain is home to 30 kilometres of groomed trails. Meanwhile, a further 7 kilometres of ungroomed tracks present more of a challenge for the well-versed skier. After a morning of activity, warm up and share a relaxing glass of wine at Lake Mountain Resort cafe.
Pack this: Macpac Tech Ski Socks, $34.99

SKI AND SPA AT MOUNT BULLER
Mount Buller is undoubtedly one of Victoria's (and Australia's, for that matter) most popular winter destinations. It presents snow lovers with a variety of slopes and terrains that stretch across the enormous mountainside. Whether you're just starting out or have grown up attached to a pair of skis, Mount Buller is bound to have a run that suits your skill level.
Particularly popular amongst skiers, Mount Buller features 300 hectares of snowy scenery for you to explore. Once you've had enough action for the day, warm yourself up with dinner and drinks at one of 30 bars or restaurants situated nearby. More than just a snow sports destination, Mount Buller also offers a luxe spa resort, a cinema, a museum and even a sculpture park for when your body needs a break from the slopes. 
Pack this: Macpac Merino 220 Merino Baselayers, $109.99
Published on May 09, 2019 by Hudson Brown