A Less Obvious Guide to Queenstown
Backcountry cycle trails, irresistible tacos, bustling weekend markets and endless volumes of wine — here's how to spend a weekend in New Zealand's adventure capital.
One mention of Queenstown and you'll likely think of bungy jumping, snow sports and picturesque landscapes in every possible direction. There's so much more to New Zealand's adventure capital if you're not in the market for an obvious head-first adrenaline rush and queuing all day for an Instagram-famous burger. Think: backcountry cycle trails, irresistible tacos, bustling weekend markets and endless volumes of wine. This is your less obvious guide to Queenstown.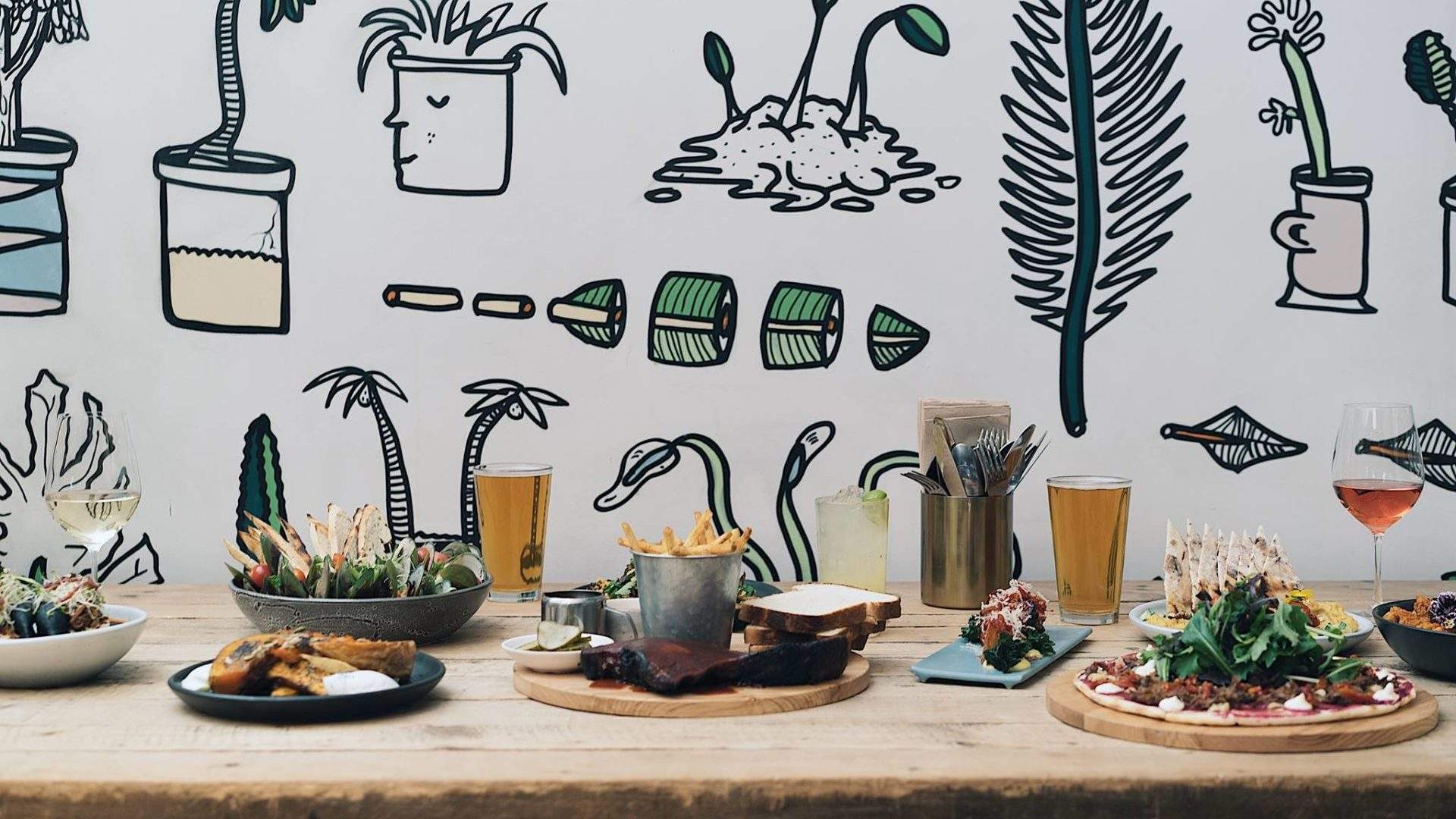 EAT & DRINK
A gothic portrait of Bill Murray takes pride of place above the fireplace at Yonder. The homage is the kind of eccentric vibe you can expect from the eatery, which comes from Sydney's World Bar collaborators Steve Ward and Gary Livesey. Found in Queenstown's historic 1882 McNeill's Cottage, the space opened its doors last year and has since developed a reputation as the destination for generous sharing plates and great cocktails. Entering the contemporary all-day eatery, you'll stumble across a cabinet stacked with mouthwatering treats like sticky date loaf, blueberry cheesecake and chocolate brownie. For a point of difference, pair your treat with a pitch black charcoal latte. Those who decided to eat-in will have the option of kicking off their day or healing last night's wounds with the perfect early morning combo of a bacon butty, fries and bloody mary. After dark the menu turns into a sharing affair with items like fall-apart brisket and accompanying stack of white bread take pride of place on most tables. We can also vouch for the half chicken and ancient grain salad — much focus has been put on gluten and vegan dietary requirements. The florescent-lit back bar is the place to continue your dining adventure with live music kicking off on the weekends. Our pick from the cocktail list is the Seven Year Sour, a tarty mix of rum, blood orange, citrus and lager.
For something on the run, Taco Medic is the place to grab a bite and make some new friends in the process. The taco joint originally started as a food truck though has since evolved into a permanent taco nook down the end of hospitality laneway, Stafford Street. While there's an option to order at the pop-up window, we recommend heading inside and waiting for your order at the bar. Here you can wait with a frozen margarita in hand and watch the action unfold as the staff hand-roll corn tortillas and chips. The Bajaman is a must; it arrives with fried market fish, creamy jalapeño sauce, tomato salsa and lime to squeeze.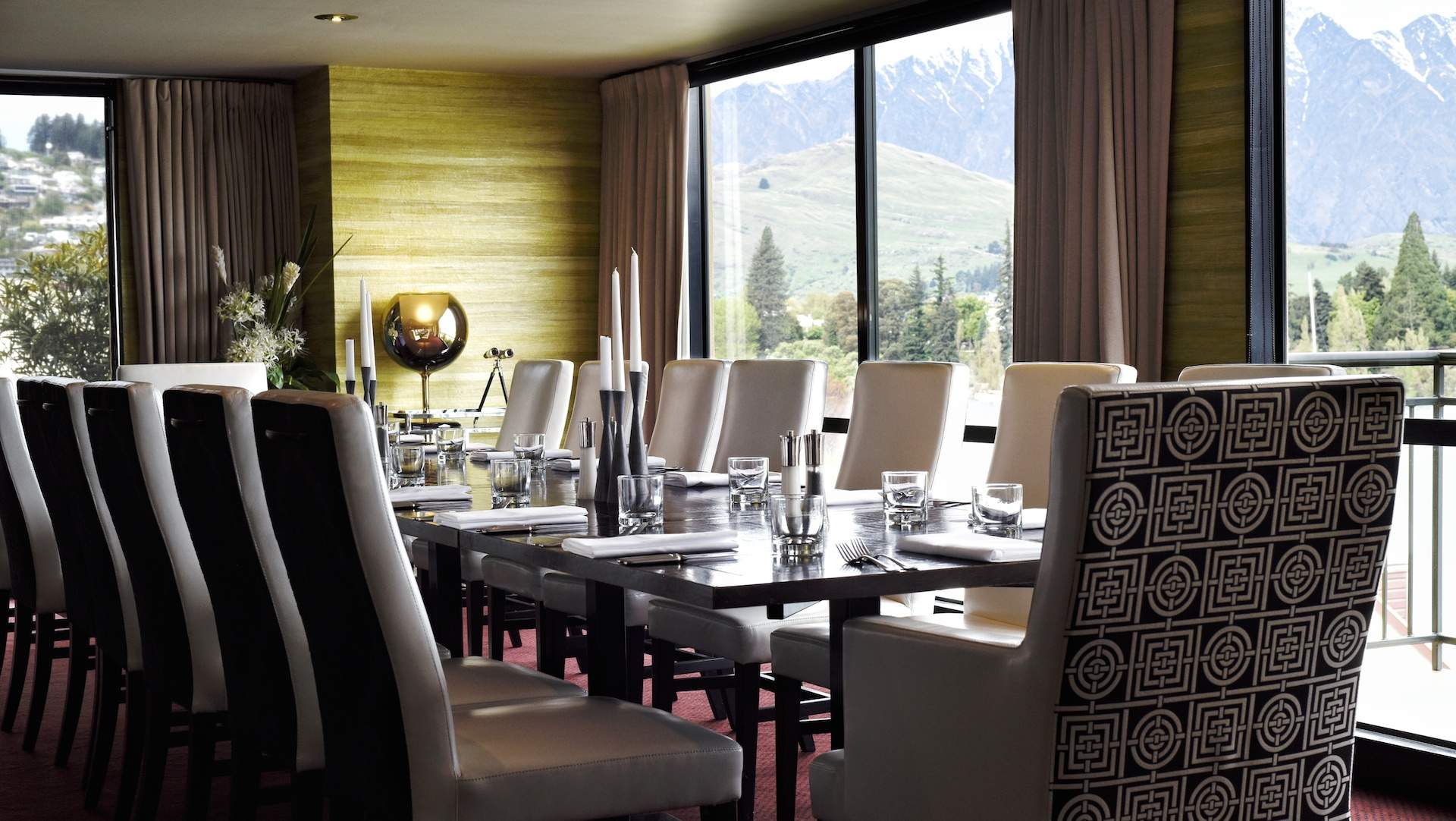 For a special occasion, stunning lakeside boutique Hotel St Moritz boasts award-winning restaurant, Lombardi. Overlooking Lake Wakatipu, a table in the restaurant allows you to sit back and enjoy your meal while spying everything from paragliders to shark-shaped jet boats and the historic Earnslaw Steamship floating by in a plume of smoke. Splashing out on three courses is recommended. Start your experience with either seared scallops, manuka smoked lamb tenderloins or soup of the day before going large on the signature Fiordland venison loin or the duo of lamb. Elsewhere, there's an entire wood-fire menu featuring lasagne and a selection of pizzas. If room for dessert is limited, try one of the unique dessert cocktails — flavours include Toblerone, tiramasu and cremé brûlée. And if the cocktails become too much, there's always a room downstairs.
If relaxing with a wine in hand is more your style, there's always the option of exploring wine country in your own time by car, with a sober driver, that is. Gibbston Valley is home to more than 75 wineries and cellar doors — some even home to Central Otago's oldest vines. The cooler climate and changes in elevation also provide some interesting drops for the tasting. For great wine and a picturesque setting, drop by Chard Farm. A visit to the family-owned winery in the Kawarau Gorge will lead you up a windy dirt road that was once part of the main coach link between Queenstown and Cromwell — just don't look over the edge of the precarious cliff. The vineyard sits at the top and specialises in single vineyard Pinot Noir — most which welcome descriptions like juicy, pure and crisp. We couldn't get enough of the incredibly fresh 2015 Pinot Gris. Tastings are complimentary though donations are gratefully accepted. Across the road is Penegrine, which feels more like steeping into the futuristic wine-tasting lab. Here, tastings are also complimentary and come with the option of choosing particular vintages or leaving your destiny in the hands or the host. Further down the road you'll come across the Gibbston Tavern — a watering hole where you can sample local wines, Southland beer and wood-fired pizza.

SEE & DO
If you're around on the weekend an unmissable destination should be the Remarkables Market. Found ten minutes drive from the city in Frankton, the market is where you'll find proper locals stopping by for a caffeine hit or lounging about on the grass. Shopping wise, you can pick up everything from chopping boards crafted out of French wine barrels to the famous Gibston cheese, handcrafted jewellery and mega rocking chairs that come covered in cow hide and animal furs (good luck with getting these ones home). Self-proclaimed "meat preachers" Zamora are one of the most popular stallholders at the market. From the smoking grill comes sausages on a stick and the infamous pork belly sandwich — the perfect combination of crispy pork and puffy bread loaded with coleslaw and creamy aioli. We suggest grabbing a spot at one of the communal tables and finishing off the experience with one of Plantera's vegan sweets.
Around the Basin is a cycle company offering both self-guided and supported tours along the Gibbston wine trail and backcountry. The Arrowtown to Queenstown tour is exactly that; a 35 kilometre ride from the historic gold mining village back to the city. After shuttling from headquarters in Queenstown you'll be left to make your way in your own time along the Arrow River Trail toward the Twin Rivers Trail, along the Kawarau and Shotover Rivers to the shores of Lake Wakatipu and onward to Queenstown Bay. The trail is recommend as a full day ride which allows time for exploring, photo opportunities, café stops and in this instance, getting lost in suburbia. It took roughly five hours to cycle the trail of isolated country roads and dirt track, across swing bridges and through pine forests. And if you'd prefer not to work the legs, Around the Basin also has the option of electric bikes.
Hikes are a popular pastime in Queenstown and there's something for every skill level, from easy one-hour strolls to three-day high country treks. Let's start with the former. The Queenstown Gardens offer an escape from the hustle of the city. Make your way through perfectly manicured gardens, past frisbee golf grounds, beneath the pine forest canopy and to the headland for a brilliant photo opportunity. Found at the base of the Arrow River, Tobins Track is a one-hour return walk that climbs to the Crown Terrace. While your legs may be screaming, at the summit you'll be welcome with glorious views across the Wakatipu basin. For something excruciatingly hard, skip the gondola queue and take the trail by foot.
GETTING THERE
Queenstown has a fully functioning international airport so flying direct from across foreign waters is no problem at all. The airport is approximately ten minutes from the city centre. Buses run to all major hotels every 15 minutes.
Introducing Concrete Playground Trips
Book unique getaways and adventures dreamed up by our editors