TRAVEL & LEISURE
A Weekend in Mudgee, NSW's Original Hipster Settlement
Love your small bars? Mudgee's had it covered since 1923.
Small wine bars might be all the rage in Sydney right now, but Mudgee's had it covered since 1923. Back when we were cruising around in Ford Model Ts, a 22-year-old by the name of Robert Roth bought a terrace on Market Street. He turned it into a general store, selling the odd tipple on-the-sly to a particularly parched farmer or two. But the authorities pressed him to go legal and NSW welcomed one of its first-ever wine bars.
He must've known what he was doing. Ninety-one years later, I'm here on a Saturday evening, and Roth's Wine Bar (30 Market St, Mudgee; (02) 6372 1222) is buzzing. It's part Sydney-sass and part Melbourne-funky. Think candles, couches, live music and an easy-to-chat-to crowd. You can buy beverages with genuinely country names like 1080 (yes, it's also a fox bait) and Lucjet, plus there's an extensive, 80 percent local wine list.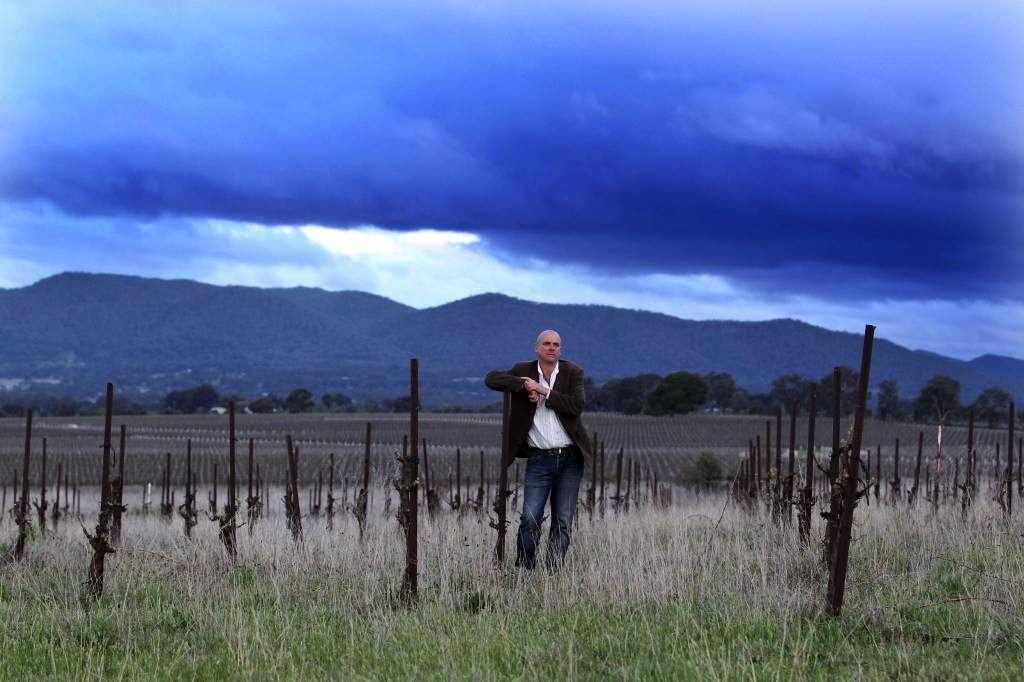 ORGANIC AND LOCAVORE
In fact, drinking and eating locavore-style is what this town is all about. Just ask David Lowe. Not only is he a sixth-generation Mudgeean, he's also a passionate advocate of intelligent farming and regionalism — and the man behind Lowe Wines (Tinja Lane, Mudgee; (02) 6372 0800). They're certified organic and biodynamic. "I've only ever wanted to be a winemaker," he says. "It's what gets me up in the morning." When David was just 14, he started digging out the cellar by hand.
A visit is not merely a tasting; it's an immersive experience. The spacious cellar door offers views over the vineyards and a 40-minute self-guided walking trail incorporating a biodynamic compost, rescue donkeys and a recycled 'chook palace'. The events menu, coordinated by David's partner and food legend Kim Currie varies from ten-course vintage birthdays (the next one's coming up on April 12) to monthly, often sold-out winemakers tables to Iron Chef-inspired comps.

THE GRAPE PIONEERS
Lowe Wines is but one of 40 wineries in the Mudgee locale, where winemaking's been going on for 150 years. That's more variety than most mortals can handle over the course of a boozy weekend — but without the crowds, bucks' parties and mini-buses that tend to frequent bigger regions like the Hunter. Most winemakers still have time to chat at the cellar door.
At Vinifera (194 Henry Lawson Drive, Mudgee; (02) 6372 2461), where Spanish wines are the specialty, Debbie McKendry tells me that she and her husband Tony planted the vineyards in 1994. "Our first grapes were tempranillo, chardonnay and cabernet," she recalls. "At that stage nobody knew what tempranillo was. There were only about four people with it. We decided that Mudgee had a similar climate to the Rioja region in northern Spain and that it would be something different."
I try a dark, tangy, spicy Gran Tinto (a combination of ganarcha, graciano, tempicynillo and cabernet sauvignon) and an excellent, marmalade-y, apricot-y dessert wine dubbed 'Easter Semillon'. Outside, the sunny lawns tempt a lazy afternoon of badminton, croquet and Jenga.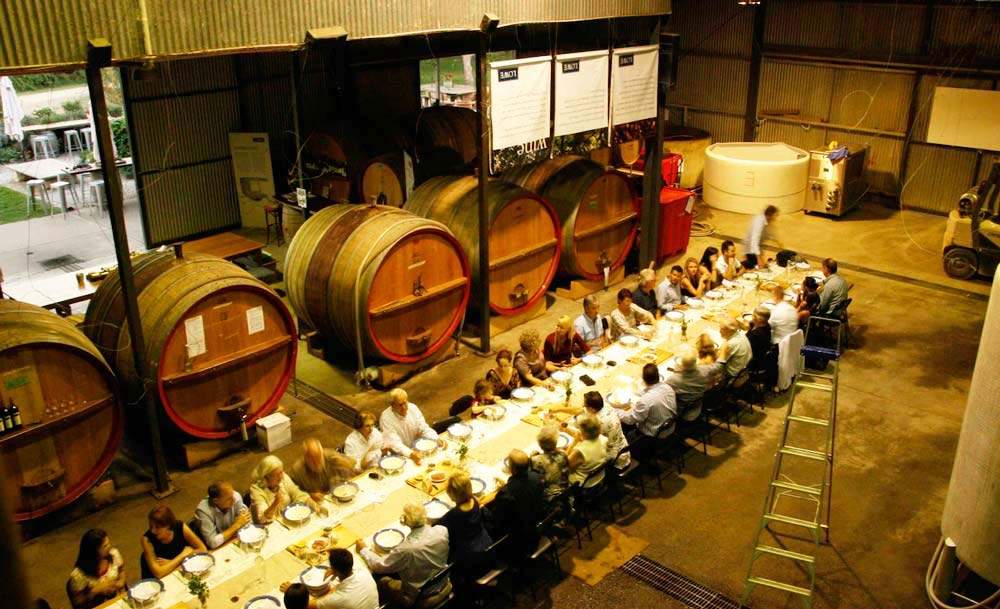 There are more drops to sample, however, so move on I must. In fact, the Vinifera property is also home to Mudgee's first boutique distillery, Baker Williams ((02) 6373 9332). Distiller Nathan Williams and his partner Helen developed a "fascination" for high-quality spirits and liqueurs while travelling in the US. They set up Baker Williams in December 2012 and, in a short time, have developed a well-balanced yet fittingly indulgent butterscotch schnapps, a refreshing coffee liqueur sourced from local beans and a rouge vert jus. The "first ferment of whiskey is out the back," Nathan tells me. "We'll be starting distillation next week."
Vinifera's Mediterranean focus is also shared at Di Lusso (Eurunderee Lane, Mudgee; (02) 6373 3125) and Mansfield (Eurunderee Lane, Mudgee; (02) 6373 3871). The former is a specialist in all-things Italian. Think a seasonal menu, woodfired pizzas and impeccably landscaped grounds. Plus, they've recently released an exceptional vermentino reserve. The latter presents a complex tasting list visiting a diverse array of grapes and crossing the entire Mediterranean. Current standout is the 2010 touriga nacional, a Portugese drop.
For further wine adventures, there's Moothi Estate (85 Rocky Waterhole Road, Mudgee; (02) 6372 2925), which lies southeast of the town and is one of Mudgee's highest vineyards. The food platters are generous and the pinot grigio particularly drinkable. Just off the Castlereagh Highway, stop into Optimiste (Horseflat Lane, Mullamuddy; 0428 640 800), where an entire homestead is dedicated to tasting. So you can kick back on a couch in the loungeroom, or on the shady verandah, trying up to 11 different grape varieties. Potentially dangerous if you're on the way home to Sydney.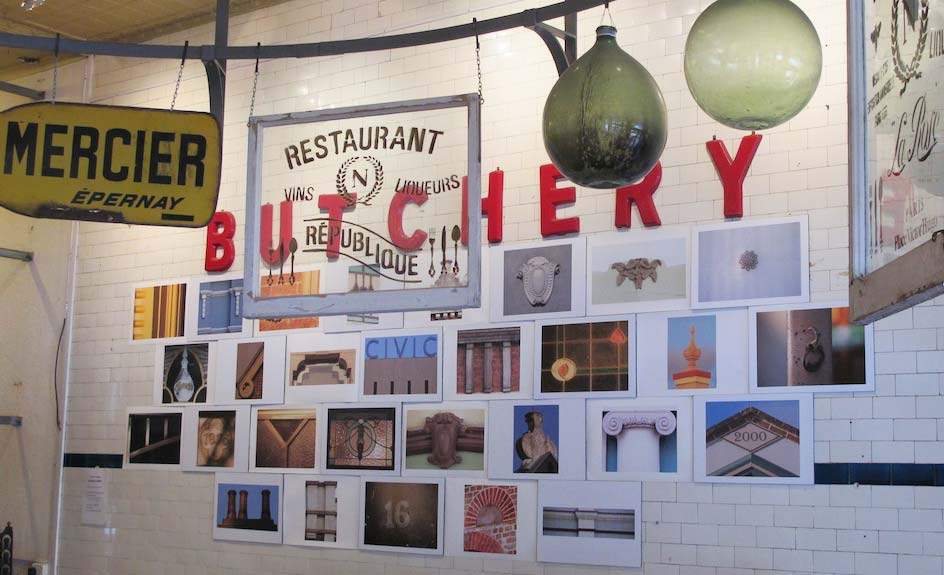 CUTE CAFES WITHOUT THE QUEUES
Having had a coffee in three different cafes, I'm wondering if the barista police deal out especially harsh penalties around here. Standards are astoundingly high. A local blend from Yarrabin Road Roasters is on the menu at intimate, French-style cafe-by-day, wine-bar-by-night Alby + Esthers (61 Market St, Mudgee; (02) 6372 1555). It's chocolatey, spicy and has its origins in Brazil, Ethiopia, Columbia and Sumatra.
The bigger, eclectically outfitted Butcher Shop Cafe (49 Church St, Mudgee; (02) 6372 7373) (yes, it was once a butcher's), bustling with locals, offers a less intense experience but it's still a fine Saturday morning starter.
For breakfast, a suitably creamy eggs Benedict is to be found at the roomy, white-painted, French-farmhouse spirited Market Street Cafe (Market Street pedestrian crossing, Mudgee; (02) 6372 0052). The menu is keep it simple; do it well. For dinner, I head to the Wineglass Bar and Grill inside the Cobb and Co. Boutique Hotel (97 Market St, Mudgee; (02) 6372 7245), where I discover a long local wine list and an especially good fractured chocolate meringue and raspberry dessert.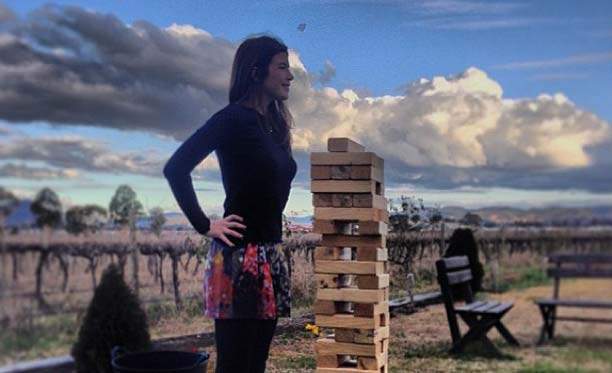 EVERYWHERE AN ART SHOW
"We have a very strong, active art community here," Helen Harwood tells me. I'm standing in the Fairview Artspace (6 Henry Lawson Drive, Mudgee; (02) 6372 2850). It's a cosy cafe/gallery. After or before caffeinating and snacking, you can wander through several rooms where permanent and temporary works are on show. This month, Lewisham-based artist Filippa Buttitta's Lost Child in the Bush is the centrepiece. It's a contemporary reimagining of the images imprinted in the Australian consciousness by works like Frederick McCubbin's Lost (1907) and Joan Lindsay's Picnic at Hanging Rock.
For Indigenous art (as well as a host of natively sourced foods and products), there's the Indigiearth Showroom (1/55 Market St, Mudgee; (02) 6372 1878). It's a 100 percent Aboriginal-owned and -operated business, powered by Sharon Winsor.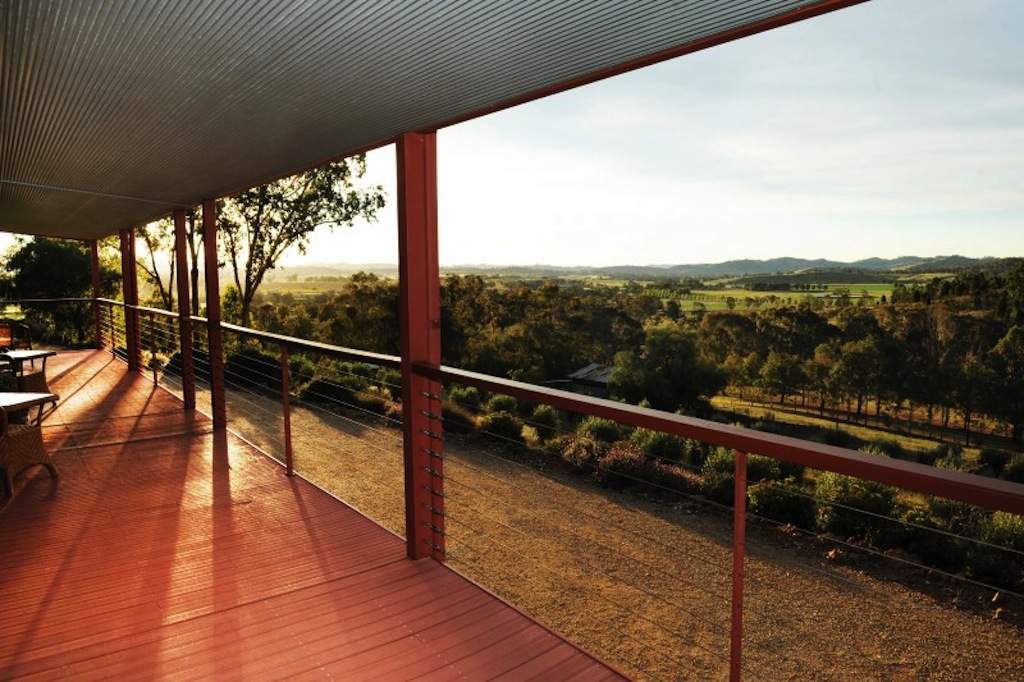 SALTWATER SLEEP SPOT
About 7 kilometres north of the township, a winding, climbing dirt road leads to Wombadah Guesthouse (44 Tierney Lane, Mudgee; (02) 6373 3176). Henry Lawson's schoolteacher, Mr John Tierney, was the original property owner. His homestead was lost in a fire, but the new building features four truly king-sized rooms (with beds to match) offering ridiculously beautiful views over the Mudgee Valley. An idyllic organic olive grove makes up the foreground. "We've been here for ten years," Ray Whitfield, who runs Wombadah with his wife, Kaye, tells me. "It's what we always wanted to do."
You can tell. Every detail is taken care of, from the luxurious linen to the handmade toiletries to the ample, home-cooked breakfast. Behind the house, there's a shimmering in-ground saltwater pool and spa, backdropped by forest. If only there weren't another 34 wineries to investigate.

Published on April 07, 2014 by Jasmine Crittenden