TRAVEL & LEISURE
The Ten Most Spectacular Waterfalls in the World
Take a coffee break adventure.
The Ten Most Spectacular Waterfalls in the World
Take a coffee break adventure.
---
in partnership with

Formed by volcanic glaciers, continental shifts and cheeky soft/hard rock flow, waterfalls are one of the world's most ridiculously dramatic natural wonders. TLC told you not to chase 'em, and yet nature lovers worldwide decide year after year to not stick to the rivers and the lakes that they're used to, instead trekking, driving and flying to find these cascading crusaders in the most remote of locations.
But what of the mightiest? From theatrically large plunge waterfalls to sparkling cave falls and elegant horsetails, the world's most spectacular waterfalls will make your jaw drop and your credit card drop serious cashola on Expedia. Sure, the ever-famous Niagara Falls sure is epic, but after you've vicariously honeymooned or selfied there, it's time to start chasing a few more.
Take a coffee break and take a scroll through some of the world's most incredible waterfalls. We've teamed up with NESCAFÉ to help you take the desk break you, as a hardworking human being, deserve.
SELJALANDSFOSS, ICELAND
Long before Iceland dreamt up Bjork, Airwaves Festival and a lack of surnames, the very land magicked up one of the world's most insanely beautiful waterfalls — bearing a name that resembles a whispy dessert you inhale by singing backwards. Seljalandsfoss is one of Iceland's highest and best-known waterfalls, showering its ethereal H2O into a shimmering pool in the country's South Region. It boasts a smooth 60-metre drop and derives from a volcanic glacier/Elven mage den called Eyjafjallajokull. Best bit? You can hike through the falls and take the world's best Instagram photo from inside a little cave. Dammit Iceland you magical, magical crowdpleaser.
BAATARA GORGE WATERFALL, LEBANON
Plenty of waterfalls cascade over sheer cliffs with mighty, postcard-friendly abandon, but this one is different. Known as the 'Cave of Three Bridges', Baatara Gorge waterfall descends through three natural 'bridges' on the Lebanon Mountain Trail. After the plateau's ice melts in spring, this Jurassic limestone cave lands itself a pretty waterfall and accompanying sinkhole. Yep, sinkhole. This one's best seen from the bridges.
VICTORIA FALLS
Want to see the mother of all curtains of cascading water? Then head to Victoria Falls on the border of Zambia and Zimbabwe. Despite being neither the tallest nor widest natural landmark of its type, it is still considered the largest in the world. Given that it's the only waterfall in the world with a length of more than a kilometre and a height of more than 100 metres (1.708km and 108m, to be exact), that's understandable. In fact, columns of spray from the massive sheet of falling liquid can be seen from more than 20 kilometres away, while its rushing stream can be heard at more than twice that distance.
SUTHERLAND FALLS, MILFORD SOUND
Take a small detour off the famed four-day Milford Track, and you'll find yourself face to face with one of the most awe-inspiring natural wonders New Zealand's South Island has to offer. At a staggering 580m tall, the three-tiered Sutherland Falls is the the highest waterfall in the country, with the plummeting H2O generating enough raw force to make the ground shake under your feet. Good luck making yourself heard over that. Those not up for a hike can also visit the falls by helicopter, although really, where's the satisfaction in that?
IGUAZU FALLS, ARGENTINA
If you've seen the movies Moonraker, Miami Vice, Indiana Jones and the Kingdom of the Crystal Skull or Captain America: Civil War, then you've seen Iguazu Falls. And if there's a reason that both filmmakers and tourists alike are drawn to the Brazilian and Argentinian wonder, it just might be the fact that it boasts between 150 and 300 different drops, depending on the water level at any given time. Formed by a volcanic eruption, its name roughly translates to 'big water' in English, after all. Plus, being able to get up close and personal is also part of its appeal, with the canyon walkway along the stretch known as Devil's Throat a popular attraction.
MULTNOMAH FALLS, OREGON
Next time you're stocking up on Voodoo Doughnuts, craft beer and Simpsons reference selfies in Portland, head 19kms east, keep going when you get to Troutdale (yep, Troutdale) and you'll find yourself a fall in the Columbia River Gorge. Formed as a result of the cataclysmic Missoula Floods that swept the gorge at the end of the last ice age, Multnomah is the tallest waterfall in the state of Oregon — and by gum, she's pretty. Because Oregon, there are many trails to complement the falls — you can take an easy one to Benson Footbridge and stand between the upper and lower cascades.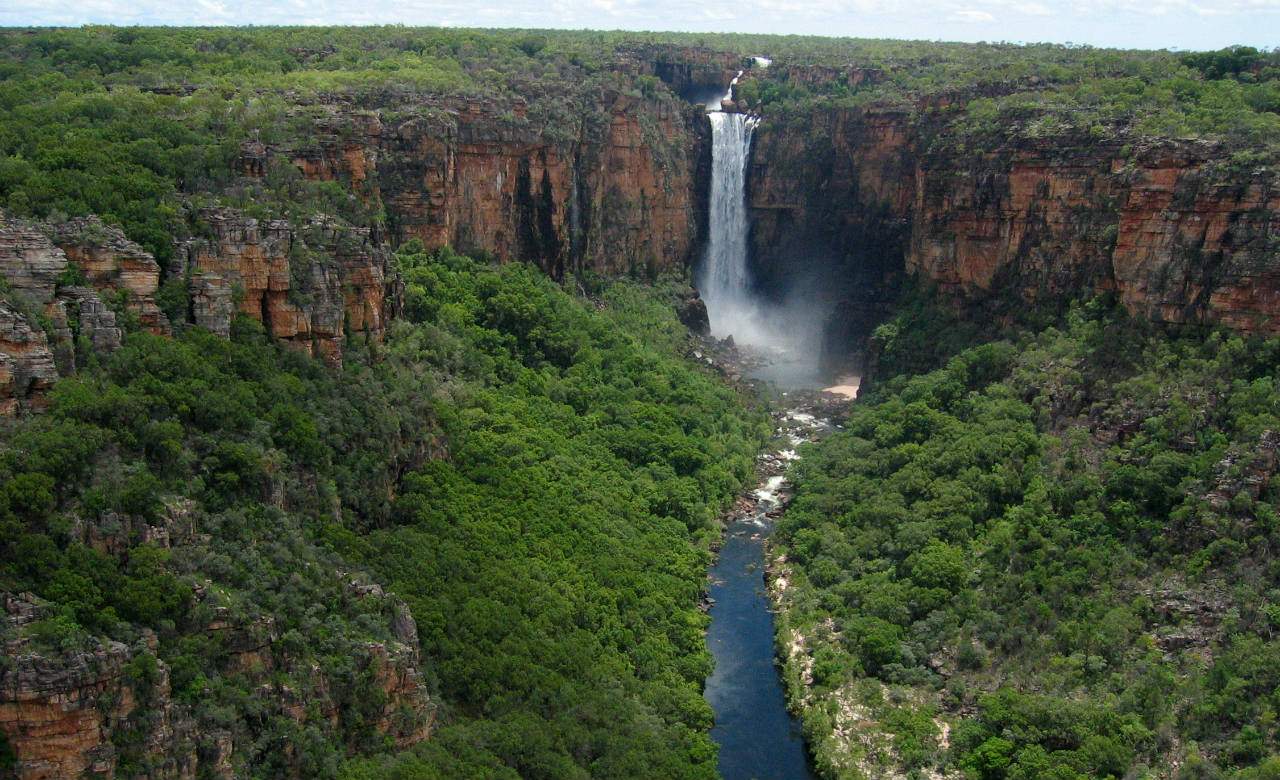 JIM JIM FALLS, KAKADU NATIONAL PARK
Looming over the UNESCO World Heritage-listed Kakadu National Park in the Northern Territory's Top End, the Jim Jim Falls beat out some stiff competition to represent Australia on this list. Plunging over 200m from the Arnhem Land Escarpment, the falls makes for a breathtaking site amidst red ochre cliffs and lush green foliage of the surrounding NT landscape. In drier months (roughly June to October), visitors can approach by 4WD and take a dip in the ice-cold plunge pool. You'll have no such luck during the tropical season however, when the fierce raging waters render the road impassable and make an aerial approach the only feasible option.
BRIDALVEIL FALL, YOSEMITE
When the snow melts in one of America's mightiest national parks, the cliffs royally gush. One of Yosemite's best? Bridalveil Fall. It's a cool 188 metres tall, cranks a solid mist (hence the 'bridal veil' nod) and boasts a mean mythology. Apparently, the local Ahwahneechee people thought the fall to be home to Pohono, an evil spirit. You'll get pretty drenched in mist if you get too close to this one, best to head to the world famous Tunnel View spot.
TEGENUNGAN, UBUD
One of the only waterfalls in Bali that isn't hidden away in the mountains or highlands, Tegenungan is absolutely surrounded by lush, palmy, jungle greenery. Pretty hidden from tourist trails, this gem of a Balinese waterfall is a popular local spot, located about five kilometres southeast of Ubud on the sacred Petanu River. You can head down an epic flight of steps to get to the foot of the falls and have a swim. If you can find us a better place to simultaneously cannonball and find our Zen, please let us know.
KEREPAKUPAI VENA (ANGEL FALLS), VENEZUELA
'Spectacular' undermines the pure majesty of the world's highest uninterrupted waterfall. Cascading over Canaima National Park's Auyantepui mountain, Venezuela's Angel Falls stands at a casual 979 metres tall and dramatically plunges to 807 metres. Currently named for the first person to fly over them in 1960, US pilot Jimmie Angel, the falls are also known as Kerepakupai Vená in Pemon, meaning 'waterfall of the deepest place'.
Top image: Taylor Leopold.
By Shannon Connellan, Tom Clift and Sarah Ward.
Published on July 14, 2016 by Shannon Connellan