CP Picks: How to Have the Weirdest and Wildest Dark Mofo 2023 If You're a Last-Minute Planner
If ever there's an arts festival that's all about embracing the unexpected, revelling in the moment and making last-minute plans, it's this one.
When TRANCE was added to Dark Mofo's 2023 lineup, it didn't just gift the festival a three-day theatre-meets-rave performance from Berlin-based Chinese artist Tianzhuo Chen. It did that, of course, but it also distilled the essence of the Tasmanian winter fest down into one must-see event. At this show, you don't just buy a ticket, take a seat and get 90 minutes of entertainment. Rather, you wander in and out, enjoying a true experience — and, in the ultimate act of fest surrender, you let yourself go along for the ride.
That really is Dark Mofo in a nutshell. Each year, its June lineup features much that you need to plan ahead to attend; hot tickets sell out, and fast. But if there's ever been an arts festival that lends itself to seeing where the moment takes you, embracing the unexpected and revelling in the moment, it's this one. And, gloriously, that makes it a delight for last-minute planners.
Haven't locked in your Dark Mofo schedule yet? We understand — and we're here to help. Now that the festival is underway until Thursday, June 22, the CP Team has put together a guide to our top picks for a stunning time if you're the kind of person who only decides what they're doing on the day. Obviously, TRANCE is on the list, but so are nine other standouts.
DEAFHEAVEN PERFORMING SUNBATHER
Ten years ago, almost to the day, Sunbather changed metal music. Its transcendent mix of glistening guitars, hellish black metal vocals and impassioned drums were divisive at the time, but would go on to influence musicians both inside and beyond heavy metal spheres for the next decade.
A festival exclusive, Deafheaven Performing Sunbather is a must-see for fans of any kind of rock music. The seasoned performers will be hitting the Odeon stage on Thursday, June 15 for an hour-long tour through their beloved album. You'll hear the epic first rising note of 'Dream House', then everything through to the grand fadeout of 'The Pecan Tree' — and you'll hear something astonishing.
Ben Hansen, Junior Editor
A DIVINE COMEDY
If you're heading south to Dark Mofo's fortnight-long dedication to hedonism, you probably already know that you're in for all-day debauchery, boundary-pushing displays of creativity and a bloody great time. But if you haven't locked in your itinerary, A Divine Comedy is a stellar choice to add to your lineup.
This two-hour Australian-exclusive movement piece comes from choreographer Florentina Holzinger, whose work is characterised by a fusion of dance, stunts and pushing her audience's comfort levels to the max. In this piece, we join Dante on her travels through "hell, purgatory and paradise". Through a red haze, an all-female-identifying cast brings to life the journey of horror, joy and everything in between — with motocross, hypnosis and plenty of bodily fluids thrown in, too. There are tickets available for Friday, June 16–Sunday, June 18, with the Sunday show Auslan interpreted for those with accessibility needs.
Grace MacKenzie, Branded Content Manager
SILENT SYMPHONY
Sound and vision. It's such a simple combination, and it hums at the heart of all festival experiences. We see. We listen. We're engaged, entertained and maybe even transformed — including (or perhaps especially) when we're in darkness, hearing kinetic light and sound instruments, all thanks to Silent Symphony by London-based arts collective United Visual Artists.
Part of Dark Mofo's free program, and letting attendees drop in from 4–10pm Thursday, June 8–Sunday, June 11 and Wednesday, June 14–Thursday, June 15, this City Hall work has a clear purpose: to send its audience into the cosmos. Everything seen and heard is inspired by the belief that the universe has its own inaudible music, with UVA creating a piece that mimics planetary orbit. If stepping into a haze and being enveloped by what follows is your kind of release, prepare to be transported.
Sarah Ward, Associate Editor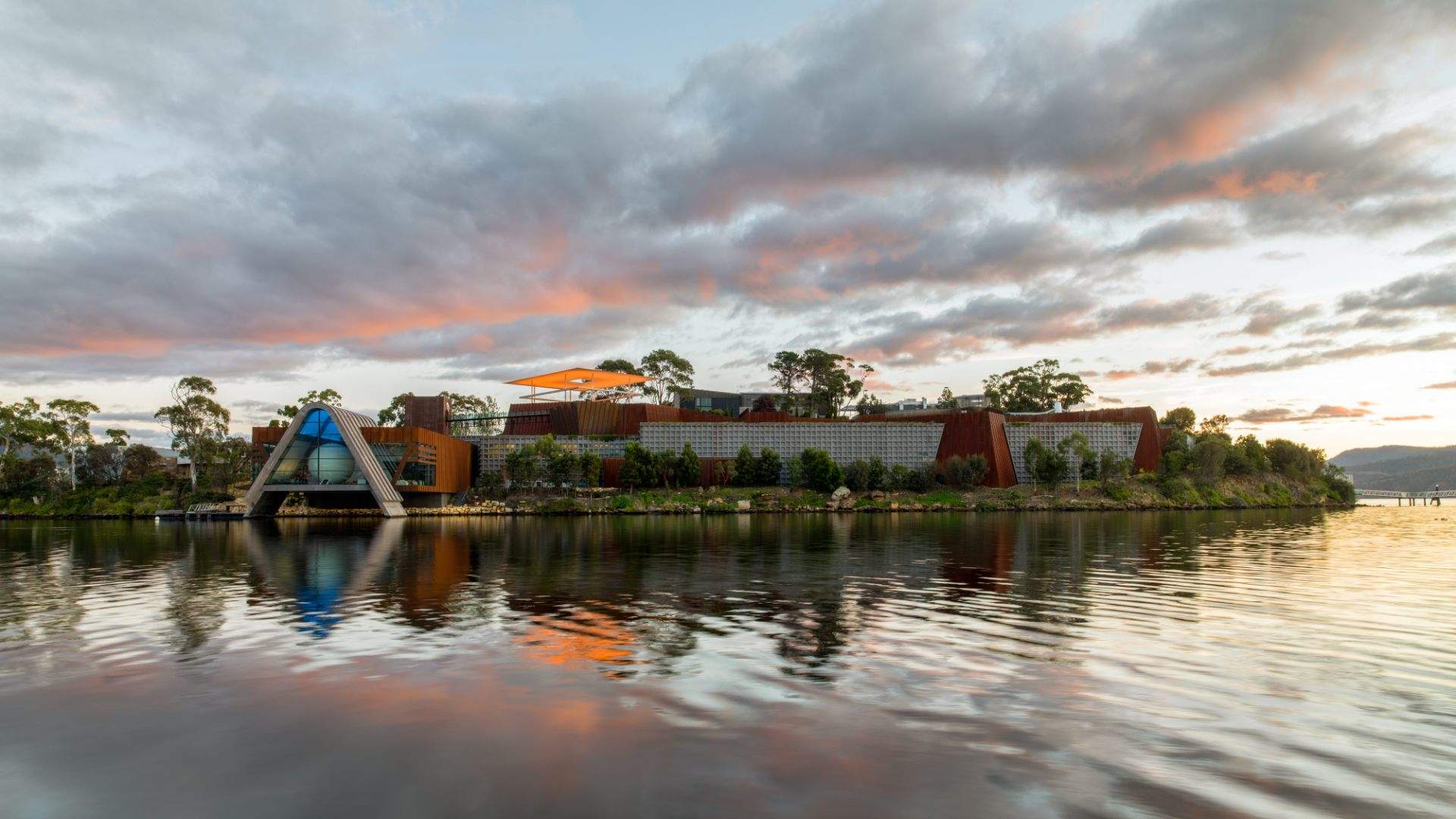 SEX + DEATH DAYCLUB
So many of Dark Mofo's events are scheduled in the evenings, but I'm keen to explore even more during the day. That's why the Sex + Death Dayclub is on my agenda. This nightclub is only open during the afternoon, and is hidden within the Mona museum itself, running from Friday, June 9–Monday, June 12 and again from Friday, June 16–Monday, June 19.
Simply purchase entry into the museum and find the club at the IMPORT EXPORT lounge. Inside, you'll grab some drinks, hide (or dance) in some dark corners of the installation, and listen to DJs and live music chosen by Hobart-based artist Ben Salter. Either start your day here or kick on to this joint in the morning, after a big night out at some of Dark Mofo's other wild events.
Andrew Zuccala, SEO Editor
HYMNS TO THE DEAD
I'm no longer in my moshing prime (in fact I'm years past it), but I still believe that thrashing in a circle pit is a pastime that's truly ageless. Putting the 'dark' in Dark Mofo is Hymns to the Dead — a black metal extravaganza featuring a triumvirate of acts traversing three continents for a night of metal carnage and axe-crunching musical brutality.
On the lineup: Haunter from the USA, Zuriaake from China (yes there's a ripe metal scene in China worth investigating) and Dødheimsgard, the legendary Norwegian visionaries of the genre. If spiritual enlightenment is what you seek at Dark Mofo and extreme loud noise is your pathway to achieving it, you just might find the divine here.
Suz Tucker, Editorial Director
WINTER FEAST
If you're in Hobart for Dark Mofo, a visit to the Winter Feast across Thursday, June 8–Sunday, June 11 and Thursday, June 15–Sunday, June 18 is a must. Arrive hungry and dive headfirst into 85-plus different culinary stallholders ranging from tender barbecue and local wines to sustainable cheeses and next-level s'mores. Chef's Table alum Ana Roš is flying in for the occasion to headline the food fest with a four-course exploration of Slovenian and Tasmanian eats.
Some other choice suggestions for stallholders to hit up include Bruny Island Oysters (a must when in Tassie); Moo Brew, which has created a limited-edition Winter IPA; Formosa Bites, serving up chargrilled satay squid on a stick; Baked Snow, for deep-fried Taiwanese chicken or scallop sandwiches; and Eden Pantry, for a homely serving of apple pie and vanilla ice cream to round out your night.
Ben Hansen, Junior Editor
BLUE VELVET LOUNGE
Didn't make it to Dark Mofo in time for the David Lynch-inspired masquerade ball, which kicked off the already weird and wild fest in the most fitting manner possible? Don't worry, there's more where that came from. You don't need to don a mask to hit the Blue Velvet Lounge, but you will be in a place most wonderful and strange. Here's hoping that cherry pie will be on the menu.
Open nightly from Thursday, June 8–Sunday, June 11 and Wednesday, June 14–Sunday, June 18, and free to enter, this Dark Park spot is all about hanging out over tunes, performances, bites and beverages — Dark Mofo-style, of course, which means that anything can and will happen. It's also home to this year's ogoh-ogoh, the sculpture that invites attendees to write down their fears, which will be burnt at the end of this year's run.
Sarah Ward, Associate Editor
TRANCE
Drop-in drop-out 12-hour performance TRANCE from Tianzhuo Chen plunges you into an immersive otherworldly space filled with cartoonish larger-than-life creatures. Here, from Thursday, June 8–Saturday, June 10, you'll find a group of multi-talented performers flexing their range of talents across the mammoth day-to-night show.
Depending when you arrive, you might find yourself among a bassy DJ set, a crunk dance-off, a concert from a metal band or a ambient wave of electronic music. Whichever awaits, they'll be accompanied by the movement of the troupe, with the goal of making you truly connect with the moment and your experience, and — as the name says — putting you into a state of trance.
Ben Hansen, Junior Editor
TRENTEMØLLER
If you're like me, aka a poor planner through and through, then you might not be organised to head down to Dark Mofo until the closing days of the festival. That's fine, because events like Trentemøller's Tasmanian stop are on the schedule to keep us latecomers occupied — I'll see you there.
The Danish electronic music composer hits MAC2, a large waterfront space, on Sunday, June 18. And for this show, he's taking cues from an environment that has a lot in common with Dark Mofo: Scandinavia. Kicking off at 9pm, the concert will flit between a state of frenetic and the serene, fuelled by electronic shoegaze tunes. Will we feel a viking spirit? Fingers crossed.
Alec Jones, Junior Writer
NIGHT MASS: EXSTASIA
You haven't done Dark Mofo right if you haven't added Night Mass: Exstasia to your itinerary. Here, you can let all of your worries fade away as the music captivates your senses. This must-attend event will take you on an intoxicating journey across genres, from techno and synth-pop to manic garage and baile funk, as you tear up the dance floor — and there's still tickets on offer for Friday, June 9 and Friday, June 16.
Whichever evening you pick, expect a lineup of memorable tunes featuring influences around the world, and likely discovering your new favourite artists. And, of course, dancing well into the early hours of the next morning.
Nishika Sharma, Editorial Assistant
Dark Mofo 2023 runs from Thursday, June 8–Thursday, June 22 in Hobart, Tasmania, with tickets on sale now. 
Still looking for Dark Mofo inspiration? Check out our wholesome-to-hedonistic guide, which'll help you stack your festival itinerary based on the level of chaos you're after.
Top image: TRANCE by Tianzhuo Chen | Dark Mofo 2023. Photo credit: Camille Blake. Image courtesy of the artist and Dark Mofo.
Feeling inspired to book a getaway? You can now book your next dream holiday through Concrete Playground Trips with deals on flights, stays and experiences at destinations all around the world.
Concrete Playground Trips
Book unique getaways and adventures dreamed up by our editors