Five Wine Pairings for Nostalgic Aussie Snacks According to Odd Culture Group's Jordan Blackman
Ever wanted to match a natural wine with cheese and bacon Shapes or berry Roll-Ups?
Head into Sydney's Odd Culture in Newtown, or its new accompanying bottle shop and small bar SPON, and you'll be greeted with a stack of tasty wine and snack pairings. The venue's chicken liver pâté with potato chips and fish sauce caramel is one of the Harbour City's best bar snacks.
The same can be said down in Melbourne, where Odd Culture's Fitzroy digs boasts the same addictive trio on its snack menu. And, all three offer charcuterie from LP's Quality Meats — all of which can be paired with a white, red, skin-contact, rosé or pét-nat.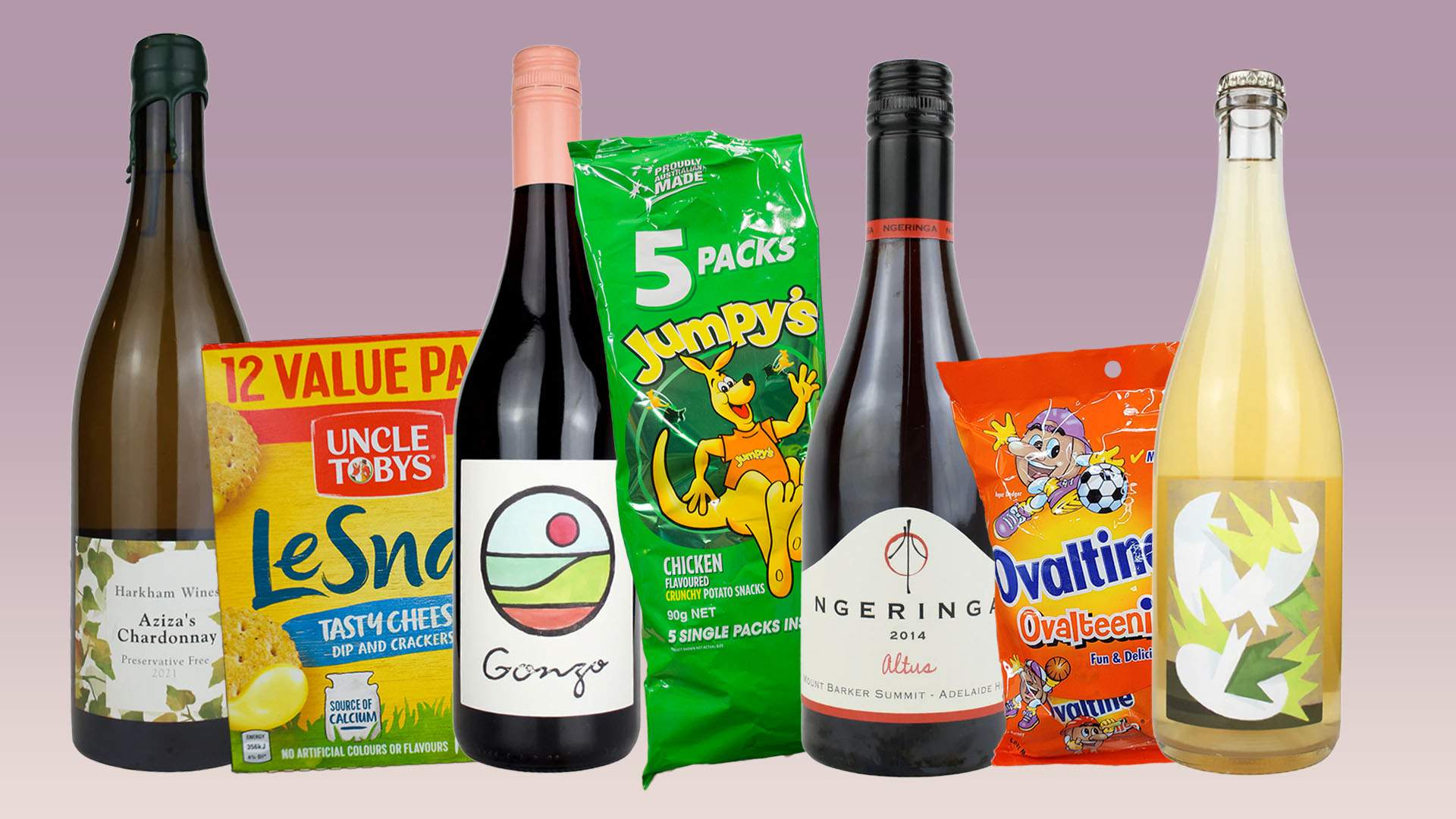 But, sometimes you're not on the hunt for something as extravagant as pâté and instead are hankering for a snack with a bit more nostalgic familiarity. Well, not to worry — we've asked Odd Culture Group's Beverage Manager Jordan Blackman (Odd Culture, The Duke of Enmore, The Old Fitz) for suggestions for the best wines to pair with schoolyard snacks, all of which are available in-store or online at SPON. (And, yes, SPON ships beyond New South Wales.)
If you've ever craved a natty wine with a full box of cheese and bacon Shapes, or wondered what drop would partner well with a berry Roll-Up, we've got you covered.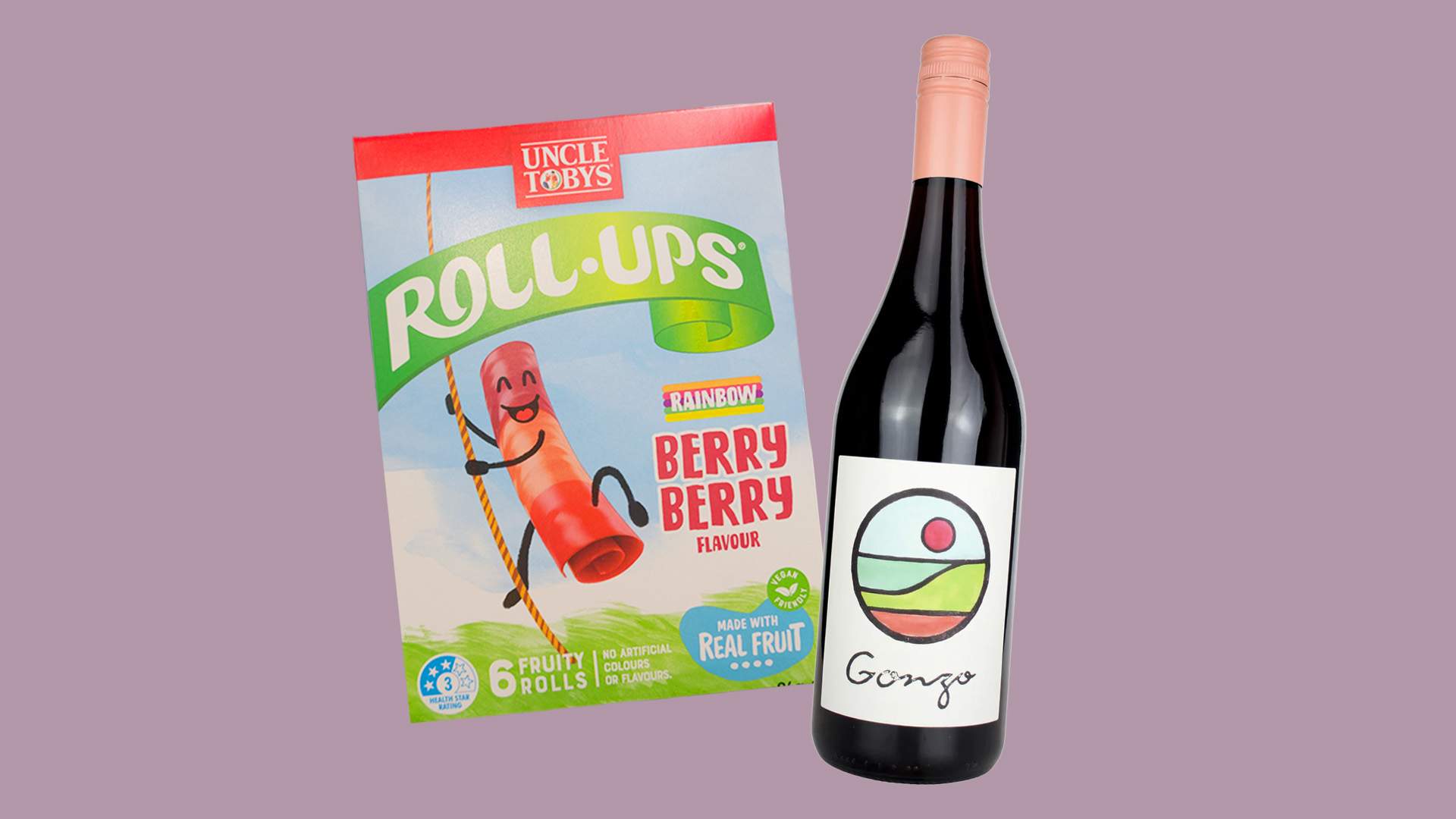 ROLL-UPS
Jordan: "If we're talking Roll-Ups, then we simply can't go past grenache. Candied fruit with a lick of spice — a match made in heaven. Grab a bottle of 2021 Les Fruits Gonzo made from a blend of grenache and cinsault. Bright and crunchy with juicy red fruits (think strawberry, raspberry and cherry) and gentle tannin. Great chilled, great at room temp.
It goes without saying we're talking about the best flavour of Roll-Ups here — and that's strawberry."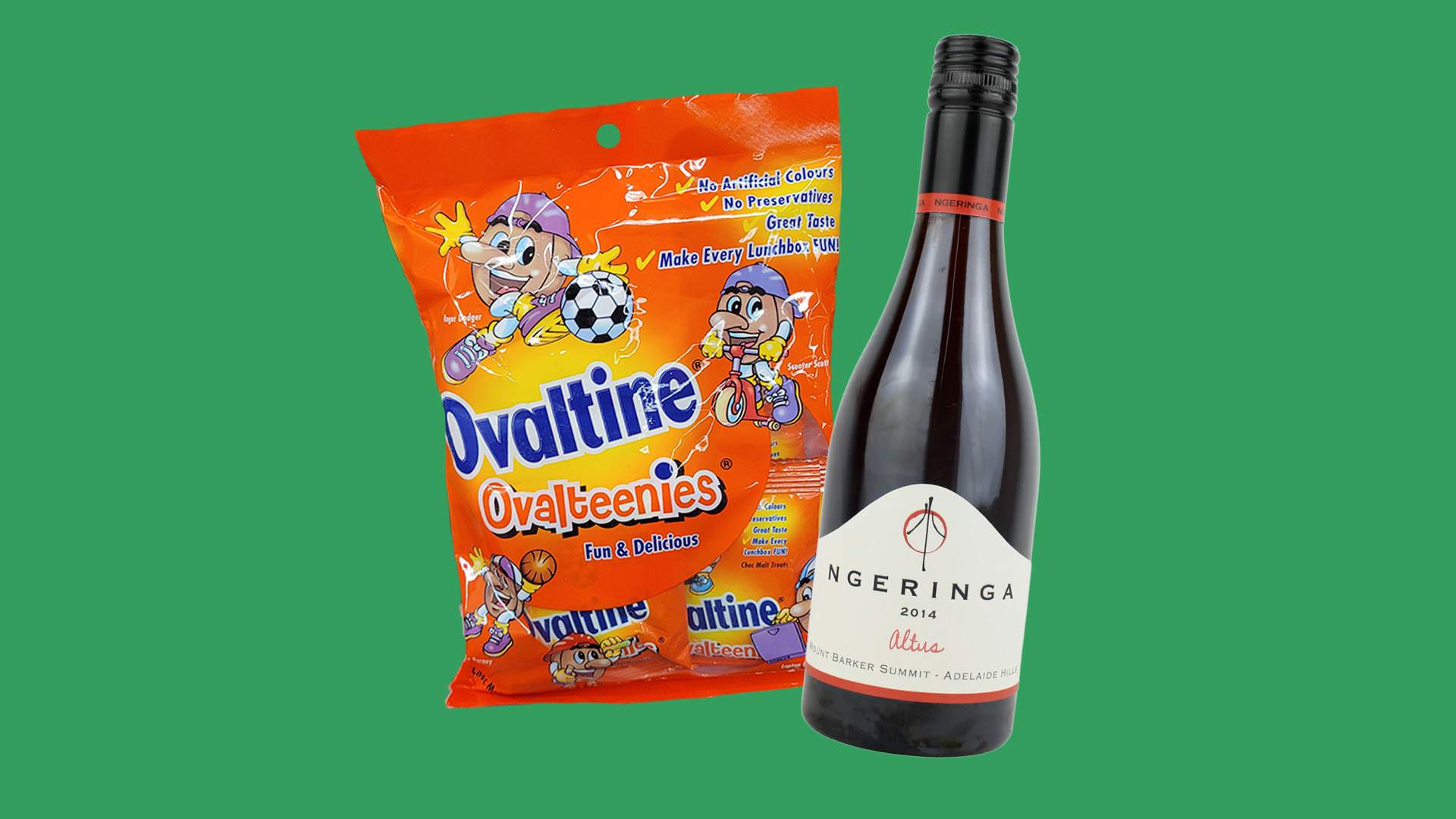 OVALTEENIES
Jordan: "Why do they call it Ovaltine? The mug is round. The jar is round. They should call it Roundtine. Anyway.
Steering away from anything too hectic that might overwhelm the sweet, delicate chocolate malt of our precious Ovalteenies, I'd crack into some Ngeringa Altus from Mount Barker. Inspired by Vin Santo by way of Tuscany, it's sweet yet oxidative and insanely complex — crème caramel, Turkish delight, hazelnut and dried fruits drenched in honey."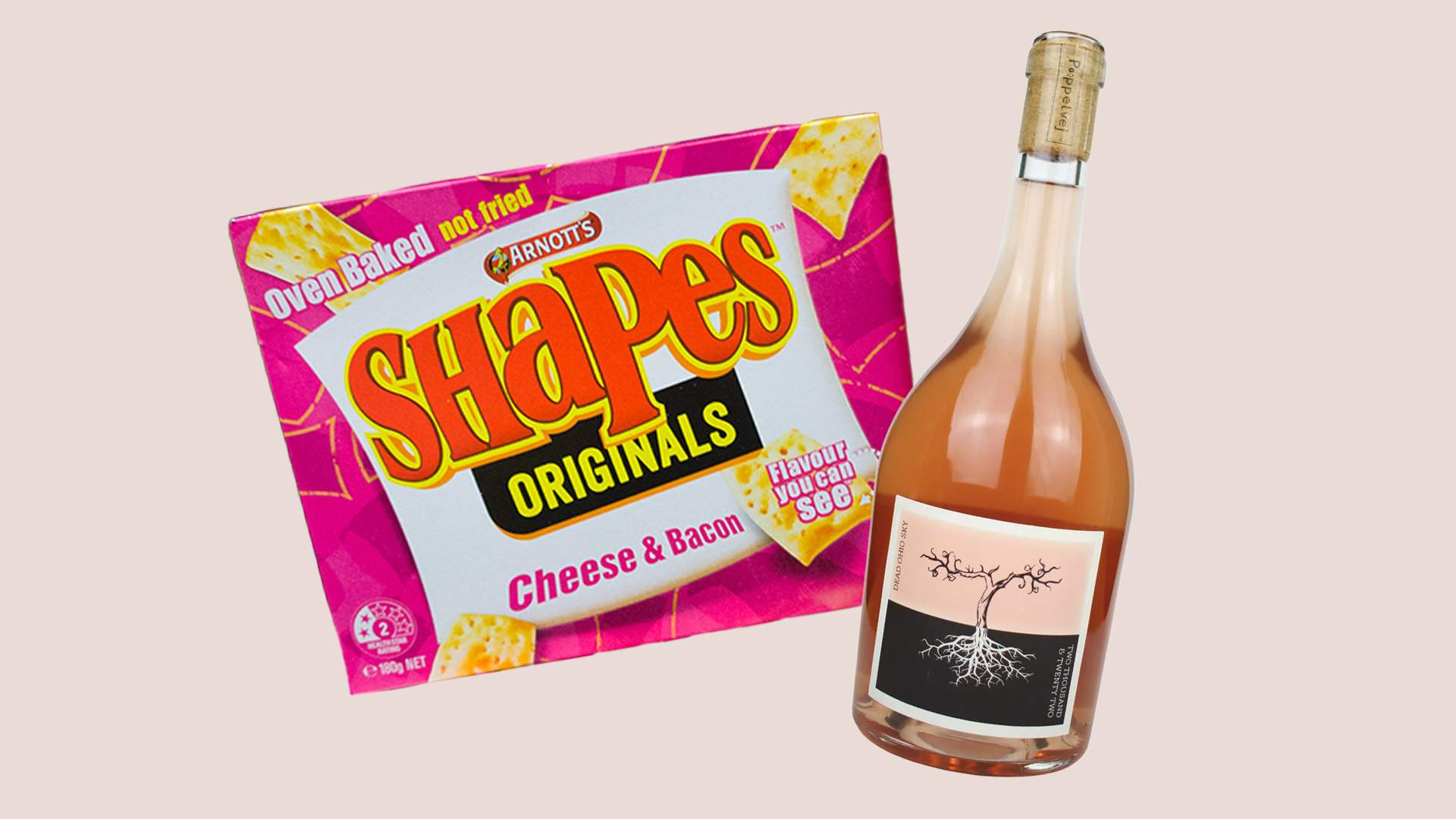 CHEESE AND BACON SHAPES
Jordan: "My mind immediately gravitated towards Bandol rosé from the south of France — weighty, powerful and made from mourvèdre, often said to be quite 'meaty'.
In the spirit of keeping things homegrown, I've gone with a longstanding favourite: 2022 Poppelvej Dead Ohio Sky Rosé which clearly draws inspiration from the Bandol. Organically grown Mourvèdre from McLaren Vale with texture turned up to eleven, it's serious, savoury and spicy all the while refreshing and moreish — kind of like cheese and bacon Shapes?"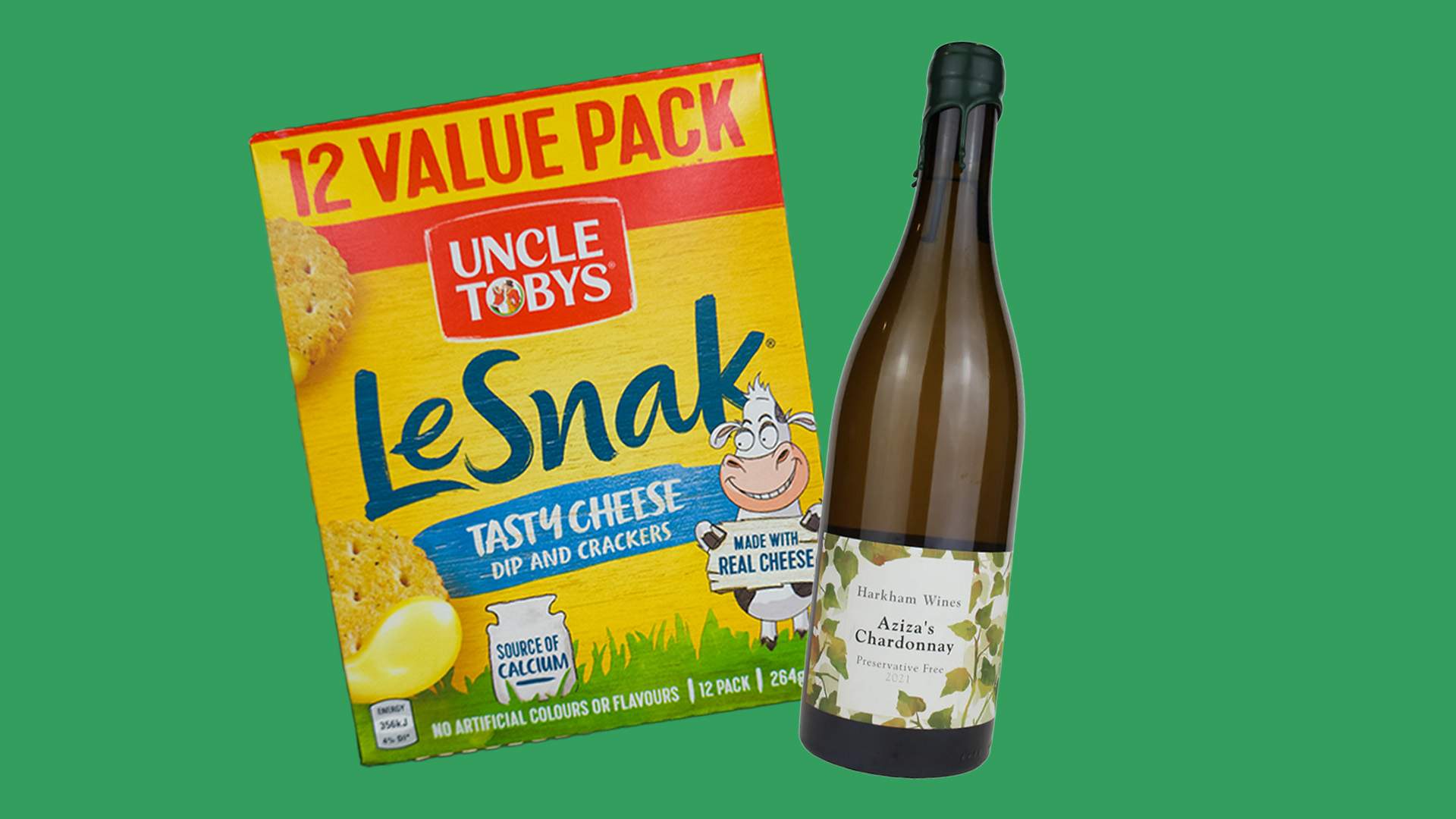 LE SNAK
Jordan: "Cheese and crackers, but not just any ordinary cheese and/or cracker — elevate your lunchbox with Le Snak and a bottle of 2021 Harkham Aziza's Chardonnay.
Hands down, one of my favourite cuvées — zero adds, clean as a whistle, alive! Naturally fermented and rested in seasoned French oak, these two play almost too well together coaxing out notes of fresh sourdough, vanilla biscuits and whipped cream while racy acidity keeps everything in check."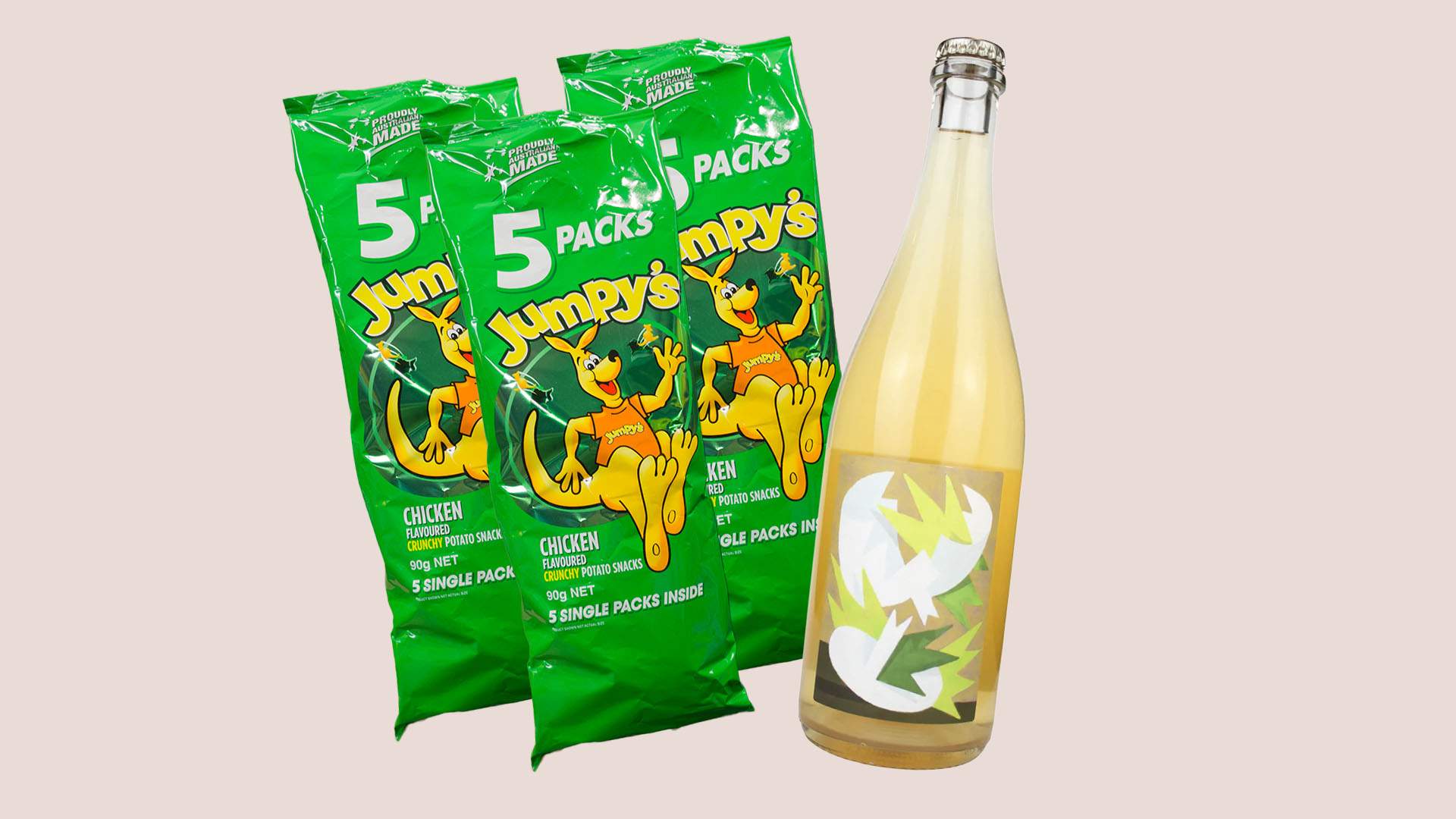 JUMPY'S
Jordan: "Apparently there are other flavours of Jumpy's than chicken?
2022 Trutta Pétillant Naturel Blanc is the obvious choice here. A blend of chardonnay and riesling, this organic fizz is brimming with energy, bright acidity and reminds us of another nostalgic Australian snack — oh, glorious Splice! Saline, zippy and ultimately refreshing — a perfect match for couch snacks of the kangaroo-shaped kind. We love salty snacks with our bubbles."
Head to SPON's website — or in-store if you're in Sydney — if you want to get your hands on any of the mentioned wines. SPON is open at 256 King Street, Newtown 12pm–10pm Monday–Thursday, 12pm–12am Friday and 11am–12am Saturday.
Concrete Playground Trips
Book unique getaways and adventures dreamed up by our editors