New Zealand Ski Fields Are Preparing to Open for the 2021 Season
Resorts across the country are starting to roll out plans for the post-coronavirus season. 
After the disrupted domestic-only ski season in 2020 — and with travellers from Australia permitted to enter New Zealand without quarantining from mid-April 2021 — thrill-seekers from both sides of the ditch could be hitting NZ's pristine slopes from as early as June.
That means it's less than 70 days until NZ Ski's fields, including Coronet Peak and The Remarkables in Queenstown and Canterbury's Mount Hutt are up and running for winter. The operator has plenty going on this season, including opening the country's first eight-person chairlift and night skiing events.
Mount Hutt is set to be the first to open from Friday, June 11–Sunday, October 17. It will be open seven days with capacity on the mountain increased thanks to the brand new Nor'west Express eight-seat chairlift. With a ride time of only two minutes, the lift will have capacity to carry up to 3000 skiers per hour. It also features a loading carpet to assist those who are new to using chairlifts. The field's full moon skiing event will also return.
Coronet Peak will be open from Saturday, June 19 right through until Sunday, September 26. The ski field plans to operate its popular after-hours night skiing events every Wednesday and Friday from June 25 onwards. The 48th dog derby is also on the cards.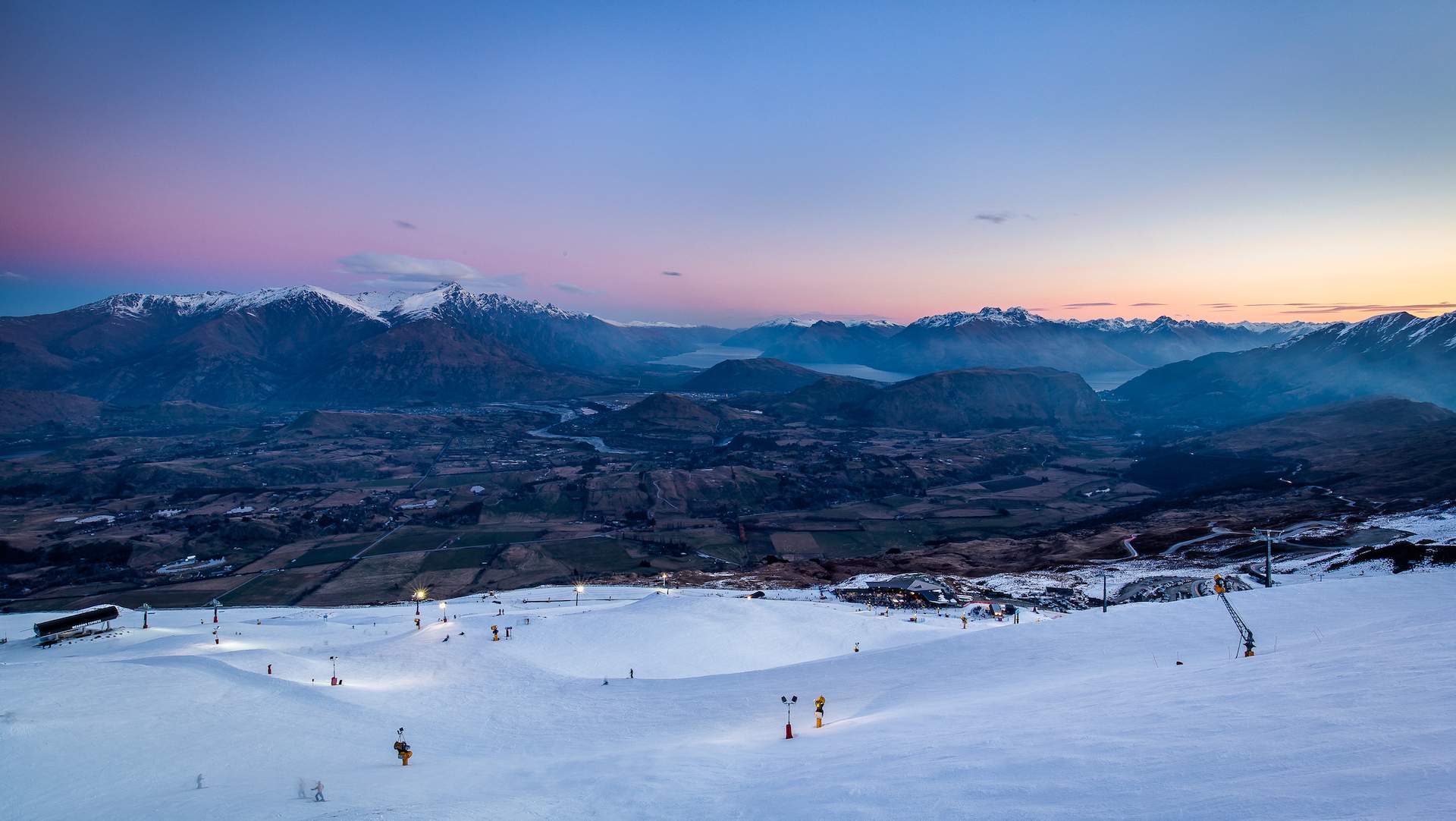 Fellow Queenstown favourite The Remarkables will be open every day of the week from Saturday, June 26 through to Sunday, October 17. The mountain's Sugar Bowl development includes two brand new trails and a new snowmaking system mean better snow coverage on the Serpentine side of the mountain.
Cardrona Alpine Resort's Olympic-sized superpipe will be open from Saturday, June 12 until Sunday, October 17.. The ski field is also adding another chairlift to its network, which opens up a new major section of skiable terrain on the southern face. Sibling ski field Treble Cone is scheduled to open from Saturday, June 26–Sunday, September 26, and for cross-country skiers and snow-shoers, Cardrona's Snow Farm is intending to open for the 2021 winter from Friday, June 18–Sunday, September 19.
The largest ski area in the nation, Mt Ruapehu, is preparing to open its Happy Valley (Saturday, June 5), Turoa (Saturday, July 3), Whakapapa (Saturday, July 3) fields, too, which will give skiers and snowboarders access to the mountain's natural pipes, steep chutes and vertical drop of 722 metres. The alpine village says the opening will be subject to snow conditions.
With the quarantine-free trans-Tasman travel bubble set to open from Sunday, April 18, a rise in visitor numbers is expected across all fields. All ski field 2021 season plans are dependent on snow conditions, as well as COVID-19 guidelines and expectations set out by the New Zealand Government.
For more information about NZ's ski fields, head to the various websites for Mount Hutt, Coronet Peak, The Remarkables, Cardrona Alpine Resort, Treble Cone, Snow Farm and Mt Ruapehu.
Images: NZSki.
Published on April 09, 2021 by Stephen Heard