Five Dreamy Hot Pools Around Australia to Plan Your Next Winter Adventure Around
From multimillion-dollar luxury retreats to bush baths that are open 24 hours a day.
in partnership with

If you can find us an activity more decadently wintry than slipping into a steaming bath of natural mineral water in the middle of the wilderness, we'll eat our collective hats. You might usually associate the likes of Iceland, the French Alps or New Zealand with thermal baths, but the good news is that we also have our fair share of stunning bush hot pools where you can indulge in some serious mineral water therapy. Plus, we've got some serious mountaintops complete with supersized hot tubs, so why go overseas?
From pristine beaches and bountiful wine regions to alpine hideaways and bustling country towns, Australia has a wealth of places to explore at any time of year. We've partnered with Tourism Australia to help you plan your road trips, weekend detours and summer getaways so that when you're ready to hit the road you can Holiday Here This Year.
Under current COVID-19 restrictions in Australia, there are restrictions on where you can go on a holiday. Bookmark this for when you can explore once again.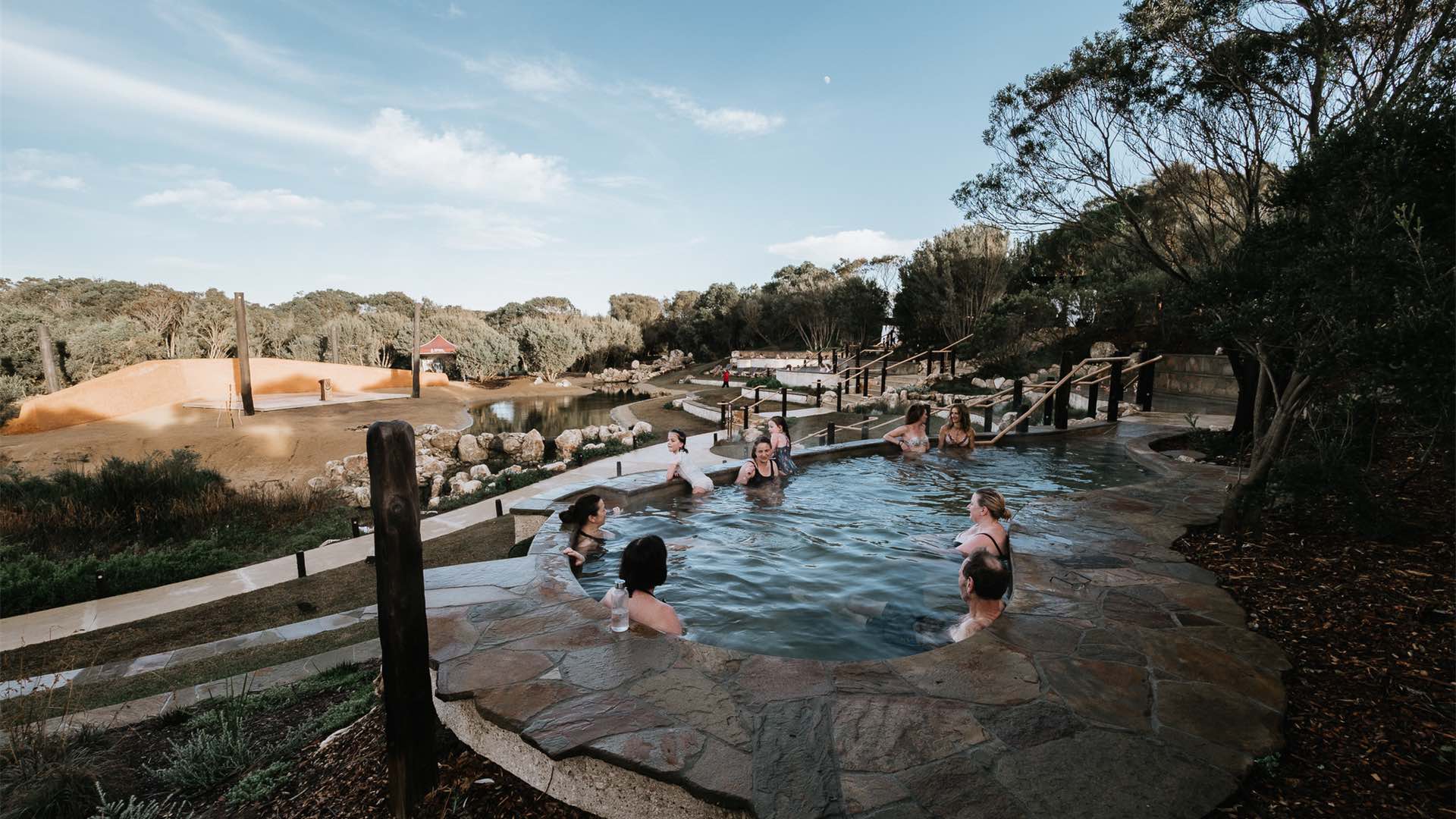 PENINSULA HOT SPRINGS, VICTORIA
This is where Victorians escape to for thermal relief. The drive down the Mornington Peninsula to the Peninsula Hot Springs retreat is basically a Melburnian pilgrimage — especially as it underwent a $13 million upgrade in 2018. It has cold plunge pools, hot spring pools and an impressive outdoor Bath House Amphitheatre in a remote and picturesque hilltop location. There's also a hamam, an underground sauna, cave pool and the pool at the top of the hill which affords 360-degree views of the area. Plus, a cafe, a cultural meeting space designed in collaboration with local Indigenous Elders, and a multipurpose wellness centre for classes and talks. For the full experience, book in for one of the spa's treatments, from 60-minute bioactive facials to 180-minute packages with organic mineral mud wraps, relaxing massages, hair and scalp treatments and breakfast or lunch in the cafe.
Where? 140 Springs Lane, Fingal, Victoria. How much? $35–55 entry to the Bath House.
YARRANGOBILLY CAVES THERMAL POOL, NSW
It's not hard to see why this thermal pool in the Kosciuszko National Park is a local favourite. Quiet, secluded, with heaps to explore in the surroundings, it's the perfect destination for a crisp winter weekend. Filled with water from a natural hot spring, the 20-metre pool remains at a perfect 27 degrees all year round. Get there via a short (but steep!) 700-metre walk from the nearby car park, or wind your way along the three-kilometre River Walk. If the temps aren't too frosty, have a post-swim feed in the adjacent picnic area before exploring the surrounding caves.
Where? 50 Yarrangobilly Caves Road, Yarrangobilly, NSW. How much? $4 per car (national park entry fee). 
LIGHTNING RIDGE ARTESIAN BORE BATHS, LIGHTNING RIDGE, NSW
Located just outside the opal-mining town of Lightning Ridge, these delightful baths are surrounded by remote bushland and gloriously removed from all signs of civilisation. Open 24 hours a day (except from 10am–noon each weekday for cleaning), you can soak in the hot waters at sunrise, sunset, or any other time your little heart desires. Night swims are particularly recommended as you can float in the 40-degree water while taking in the stunning expanse of the starry rural sky. A popular meeting place for Lightning Ridge residents, the baths are also a great place to get a feel for local life. Best of all? It won't cost you a thing.
Where? Pandora Street, Lightning Ridge, NSW. How much? Free!
HEPBURN BATHHOUSE, VICTORIA
Hepburn Bathhouse and Spa, about two hours northwest of Melbourne, is another achievable day trip for Melburnians. The bathhouse, built back in 1895, is the oldest in the whole country and is continually warmed to 34 degrees. Take your pick of communal swimming experiences, from a magnesium pool to an outdoor creek pool. Plus, there's a pavilion cafe that has been serving up goodies to visitors since 1908 (go for the Devonshire Tea) and a day spa with private mineral baths, massage options and steam therapies. Once you've bathed, try drinking the waters: various springs are dotted around Hepburn Mineral Springs Reserve. You can also extend your stay by booking into one of the ten luxury villas overlooking surrounding bushland.
Where? Mineral Springs Reserve Road, Hepburn Springs, Victoria. How much? $45–55 adult entry to the Bathhouse.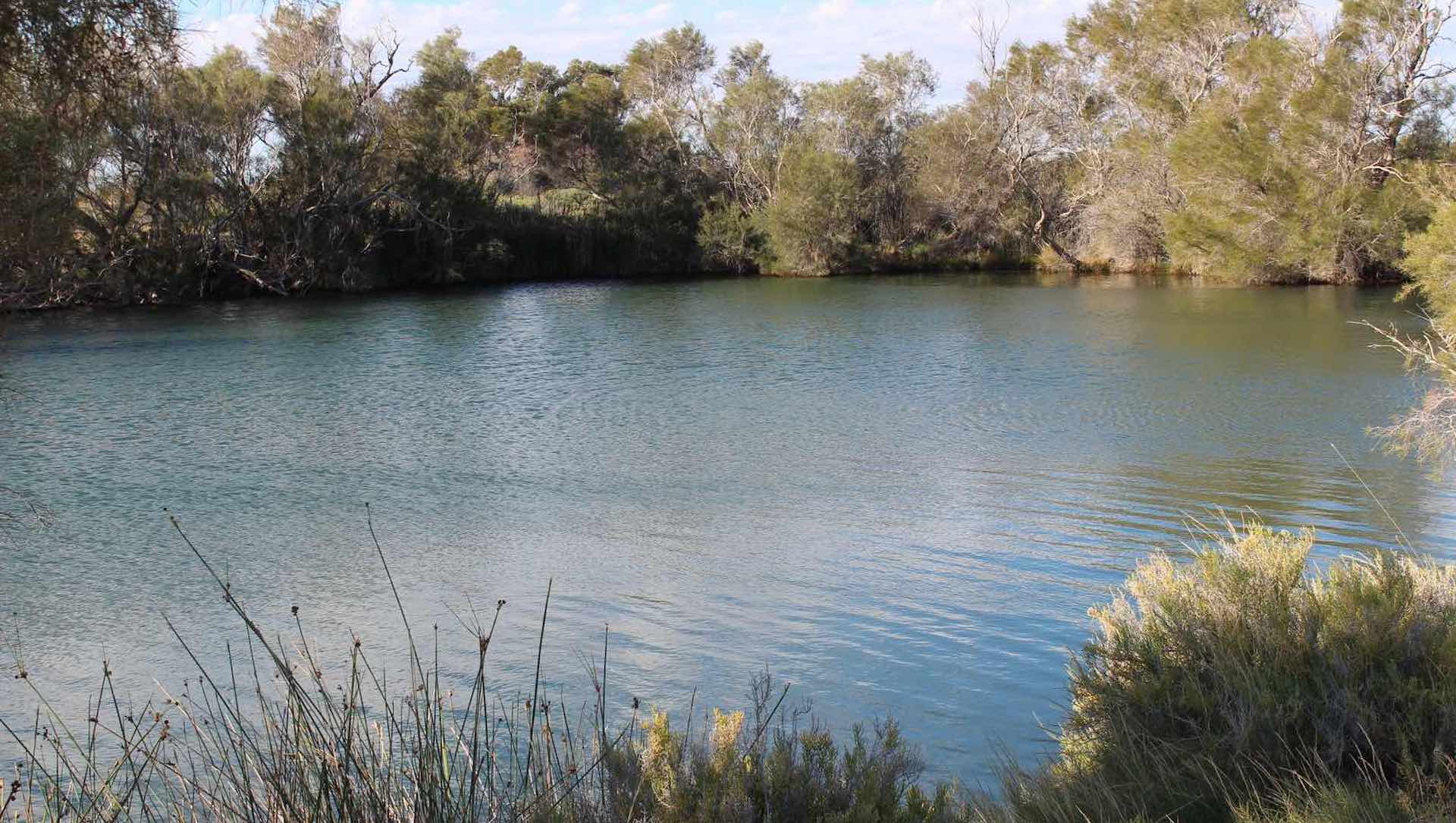 WITJIRA-DALHOUSIE SPRINGS, SA
The most remote point on this list is Witjira-Dalhousie Springs — a cluster of around 60 natural hot springs located on the edge of the Simpson Desert, in northern South Australia, about 250 kilometres southeast of Alice Springs. It's certainly worth seeking out if you're driving towards the Red Centre. The Great Artesian Basin groundwater below is more than one million years old, and temperatures in the natural springs ranges from 38–43 degrees, so don't say in for too long at a time — you might find yourself a little dizzy and pruney if you do. Witjira-Dalhousie has cultural significance to the local Indigenous peoples and is associated with Dreamtime stories of the area. Due to its historical importance, the site is included on the Australian National Heritage List.
Where? Witjira National Park, South Australia. How much? Free.
Whether you're planning to travel for a couple of nights or a couple of weeks, Holiday Here This Year and you'll be supporting Australian businesses while you explore the best of our country's diverse landscapes and attractions.
Top image: Destination NSW. 
Introducing Concrete Playground Trips
Book unique getaways and adventures dreamed up by our editors