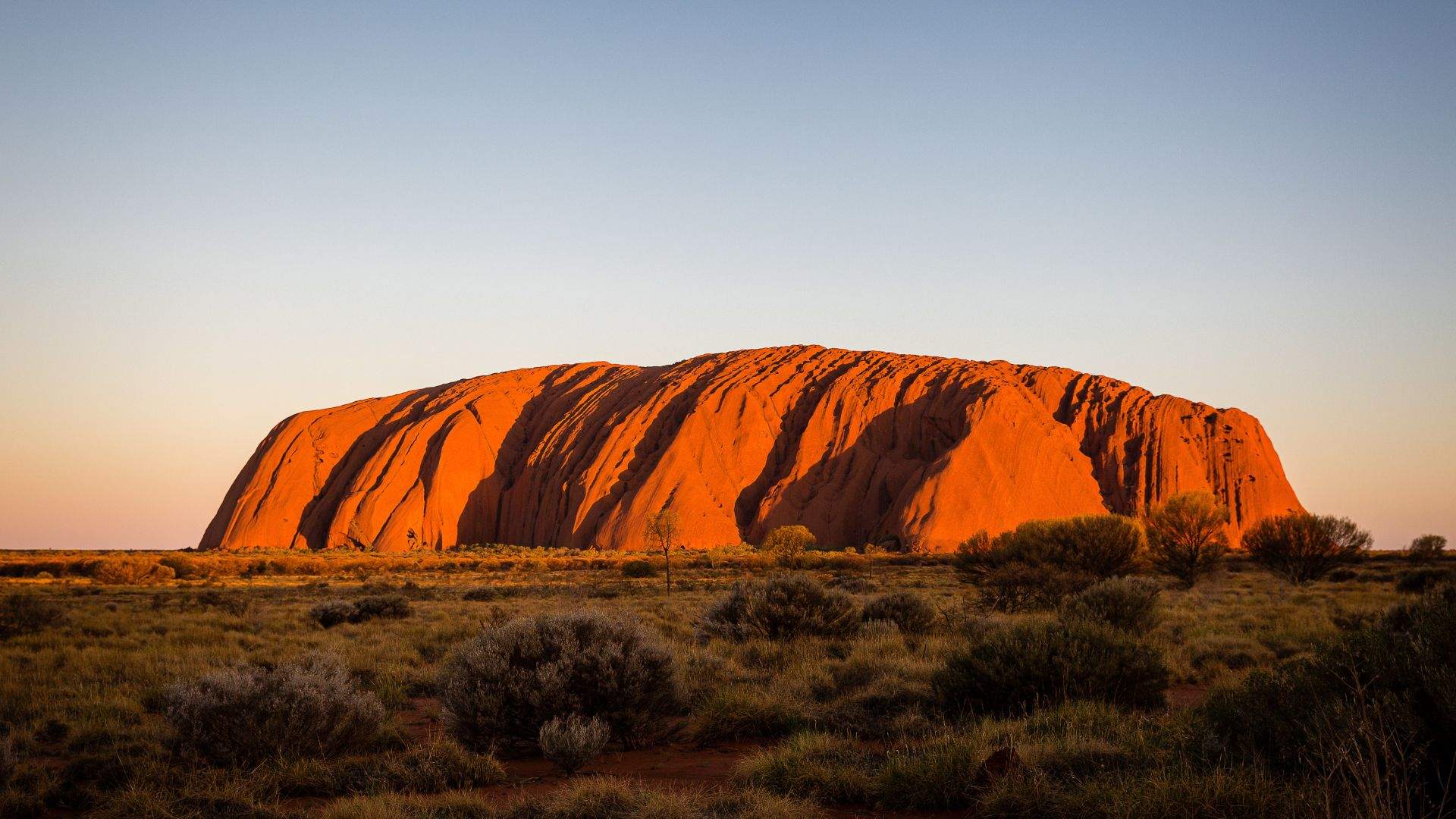 Exploring the Rich Culture and Stunning Vistas of the Red Centre
Desert Beauty
Immerse yourself in the rich culture of the Aṉangu people, and marvel at the stunning vistas of Uluṟu and Kata Tjuṯa.
The Red Centre is the epicentre and spiritual heart of the land now known as Australia. Here, you can witness the unrelenting natural beauty of Uluru and Kata Tjuṯa, take in breathtaking views and experience the rich unbroken cultural practices of the Aṉangu, the Yankunytjatjara and Pitjantjatjara people, the traditional landowners of Uluru-Kata Tjuṯa National Park who have been on this land for at least 30,000 years. We've compiled this guide with Tourism Northern Territory, so you know the best places to eat, stay and play in Uluru and the Red Centre.
As you explore the red terrain, you'll discover the stories and traditions that have been passed down through generations. From the ancient rock art that adorns the caves to the bustling cultural centre that showcases the contemporary lives of the Aṉangu people, Uluru is a sacred place where the past and present converge. The region has something for every kind of traveller so whether you're taking a sunrise or sunset tour, hiking through the stunning landscape, or relaxing in your luxury digs or campsite, you'll be captivated by the raw beauty of the desert.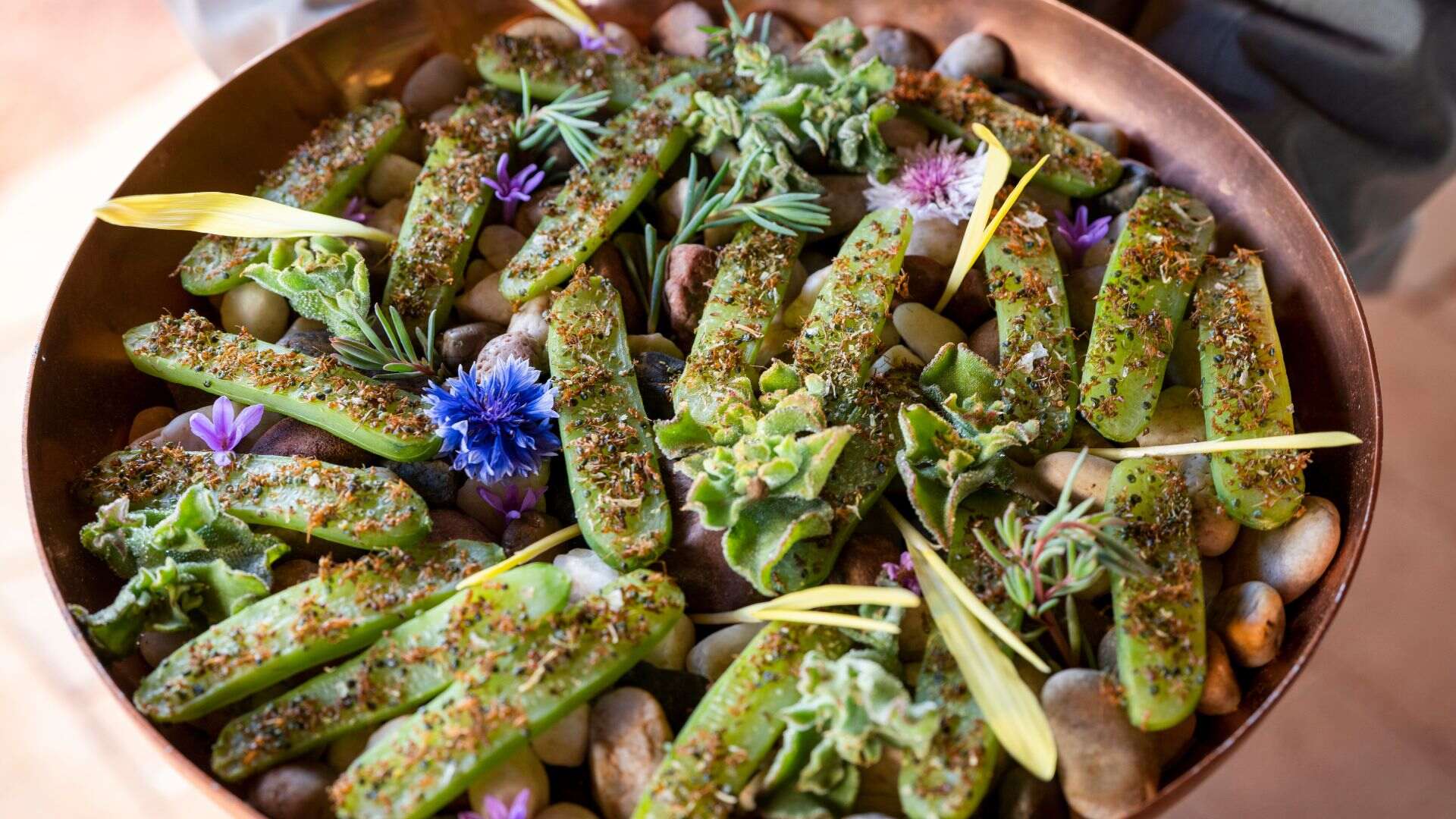 Feast on the Indigenous flavours of Australia while the sun sets on Uluru.
EAT
Uluru and its surrounding area have plenty of delicious choices that showcase the unique flavours of the outback. Whether you're looking for a luxury dining experience or a casual meal, there's something to fit the bill.
For a truly unforgettable evening, look no further than Tali Wiru. An intimate and exclusive gastronomic experience that only hosts 20 guests at a time. The evening begins with champagne and canapés as the sun sets on the surrounding red desert. As night rolls in, guests are served a four-course feast. The menu features a fusion of Indigenous and contemporary Australian cuisine, paired with a carefully curated selection of wines. After you've been fed and watered, an Indigenous storyteller will share stories from the world's oldest living culture. It's a once-in-a-lifetime dining experience that's not to be missed.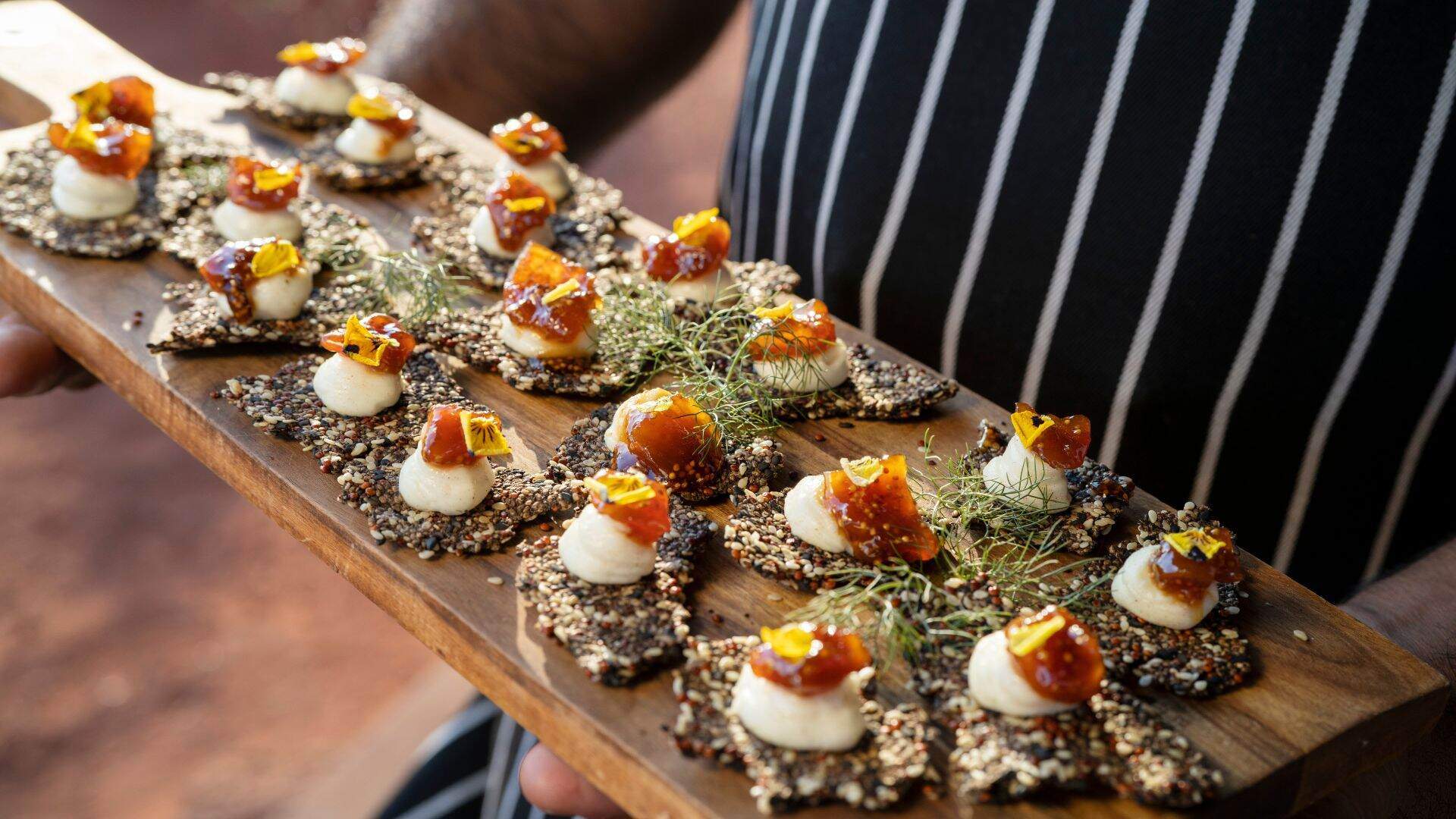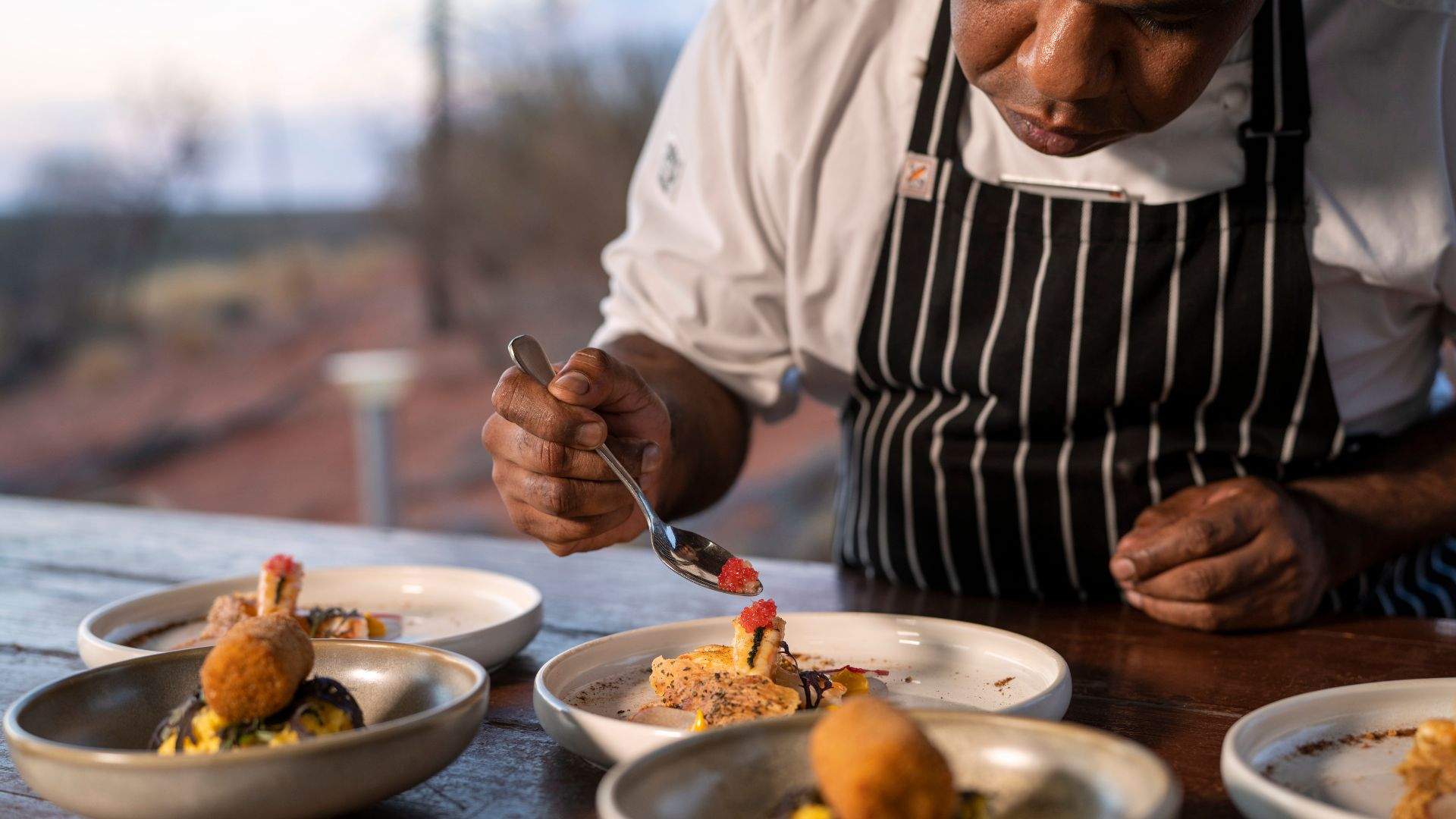 Not satisfied with one outstanding open-air eatery, Uluru offers another at the Sounds of Silence. Enjoy 360-degree views of the vast crimson landscape. The menu features a range of true Australian specialties including barramundi, kangaroo, emu, and crocodile as well as numerous Indigenous bush fruits all complemented by the finest Aussie wines. After your meal, your attention will be brought to the skis as a resident 'star talker' takes you on a tour of the southern night sky. Finish with a glass of port or, if you're there during winter, a warming cup of mulled wine.
Another open-air must-see is the critically acclaimed Field of Light Uluru by the internationally celebrated artist Bruce Munro. Originally meant to be a short-term art installation, the work has now been extended indefinitely due to popular demand. The exhibition, aptly named Tili Wiru Tjuta Nyakutjaku or 'looking at lots of beautiful lights' in local Pitjantjatjara is Munro's largest work to date. You can stop by after one of the other dining experiences or enjoy a meal there at the 'A Night at Field of Light'. You will enjoy a three-course bush tucker menu, accompanied by a selection of fine wines and beers.
If you're looking for something a little more low-key, consider a sunset picnic at the Uluru and Kata Tjuta sunset viewing areas. Pack your own meal, or you can book a private sunset picnic through one of the local tour operators.
If you'd prefer the indoors, the luxurious Sails in the Desert Hotel has an onsite restaurant Ilkari that serves up modern Australian cuisine with Indigenous influences for a three-course dinner seating or daily buffet-style breakfast and dinner.
If you want to fuel up with a quick bite before you head out to the park — or refuel after a day of hiking — Geckos Cafe located in the Ayers Rock Resort, offers a range of breakfast, lunch, and dinner options, with plenty of vegetarian and gluten-free meals available.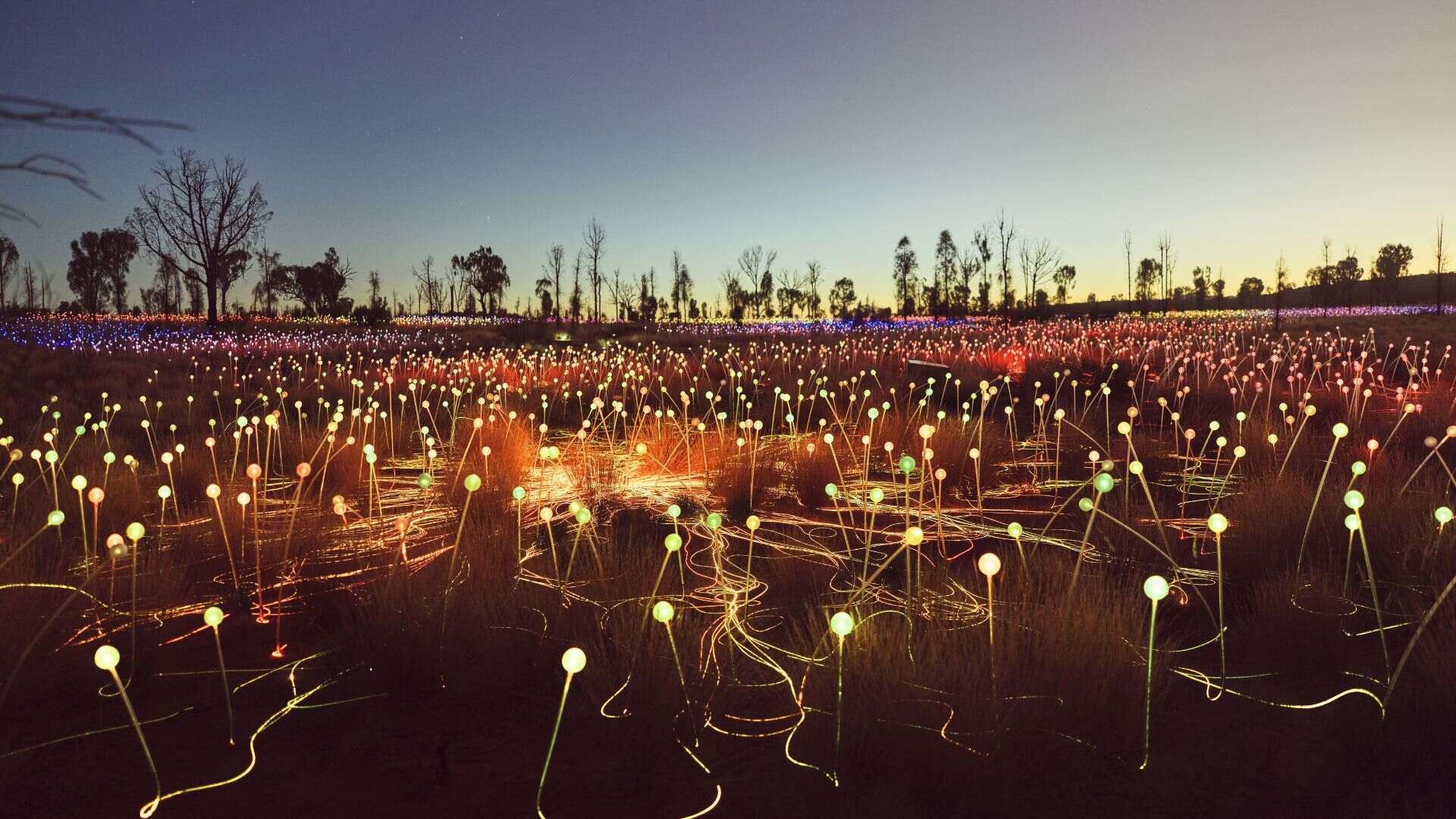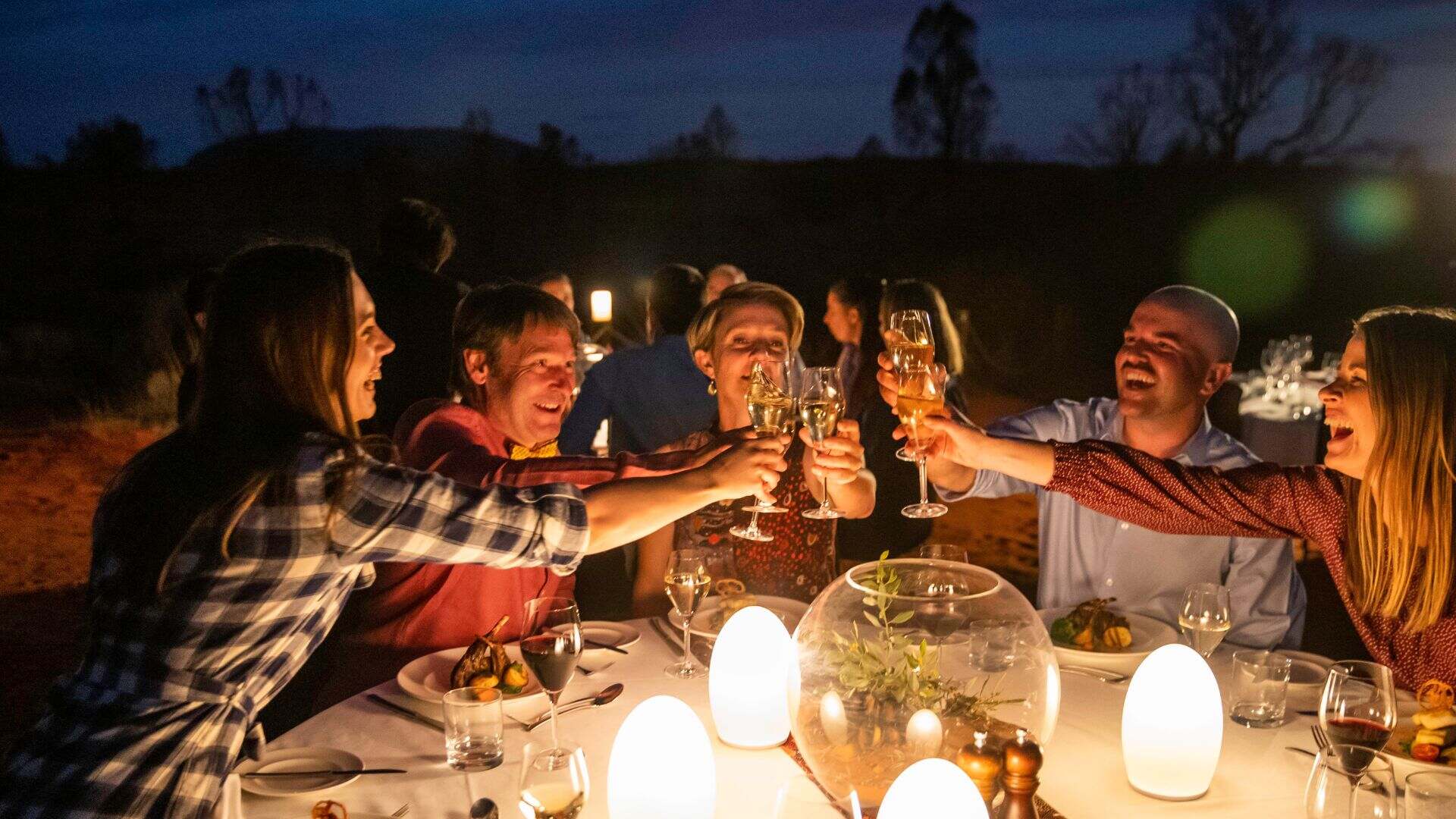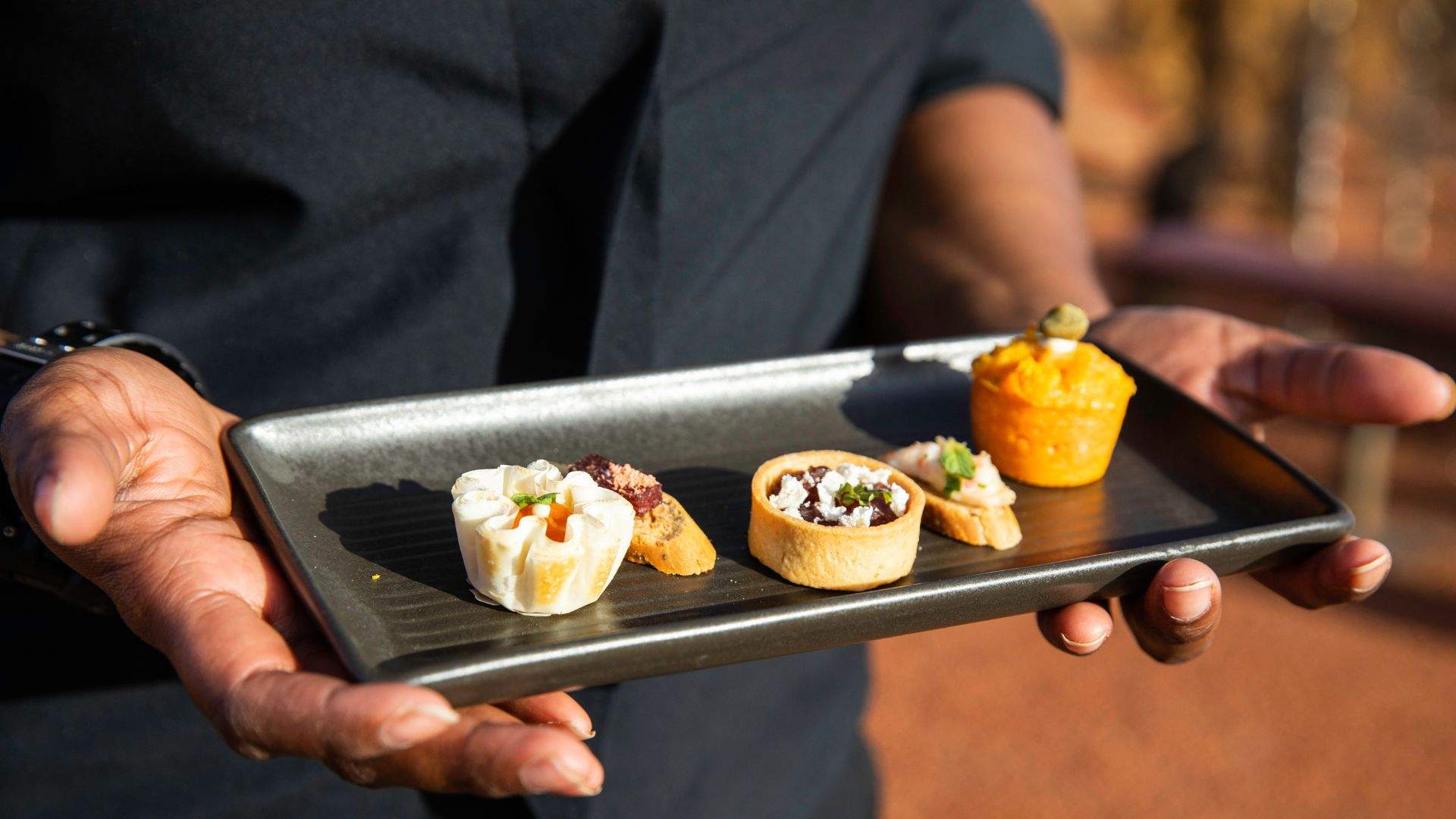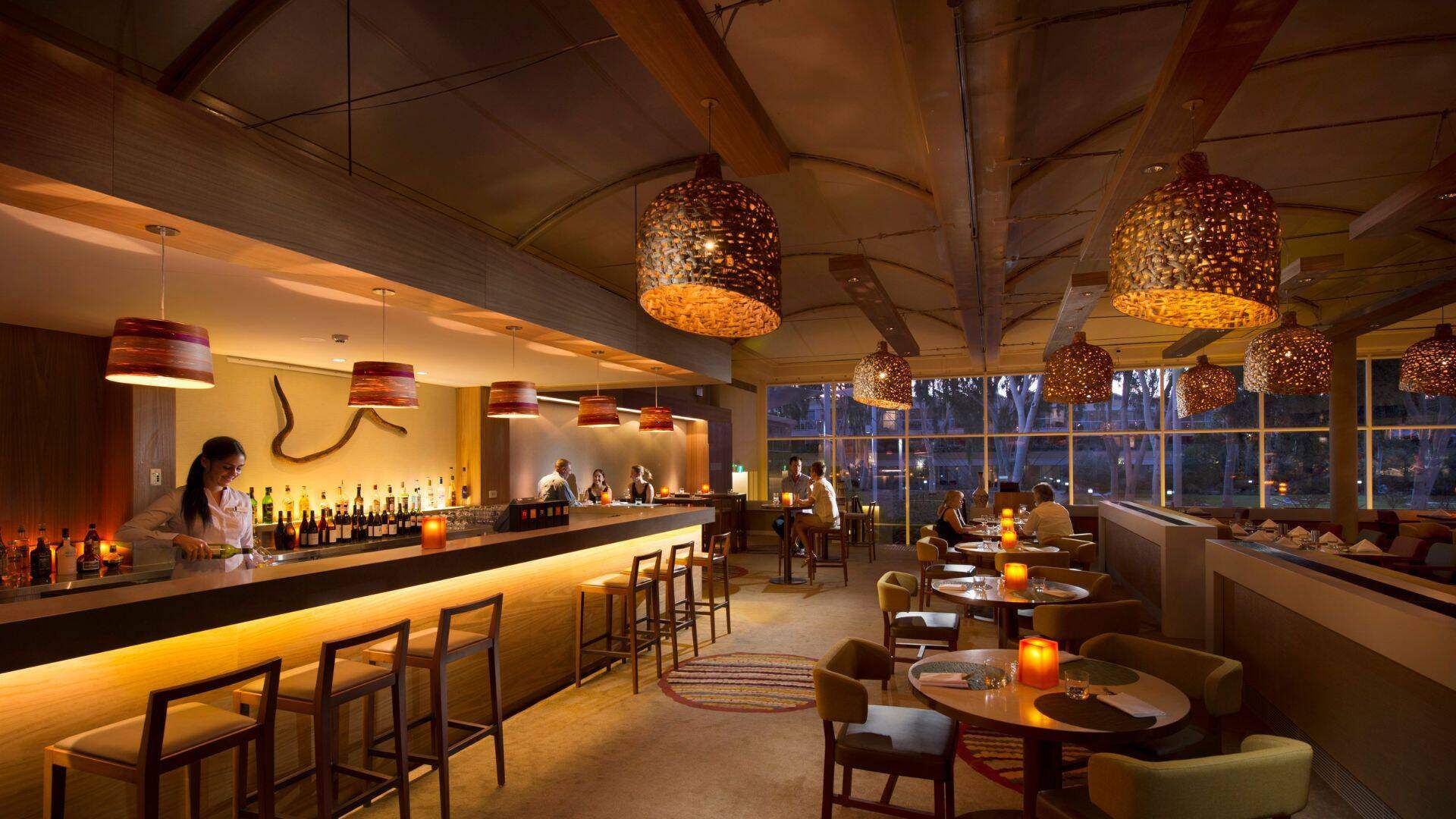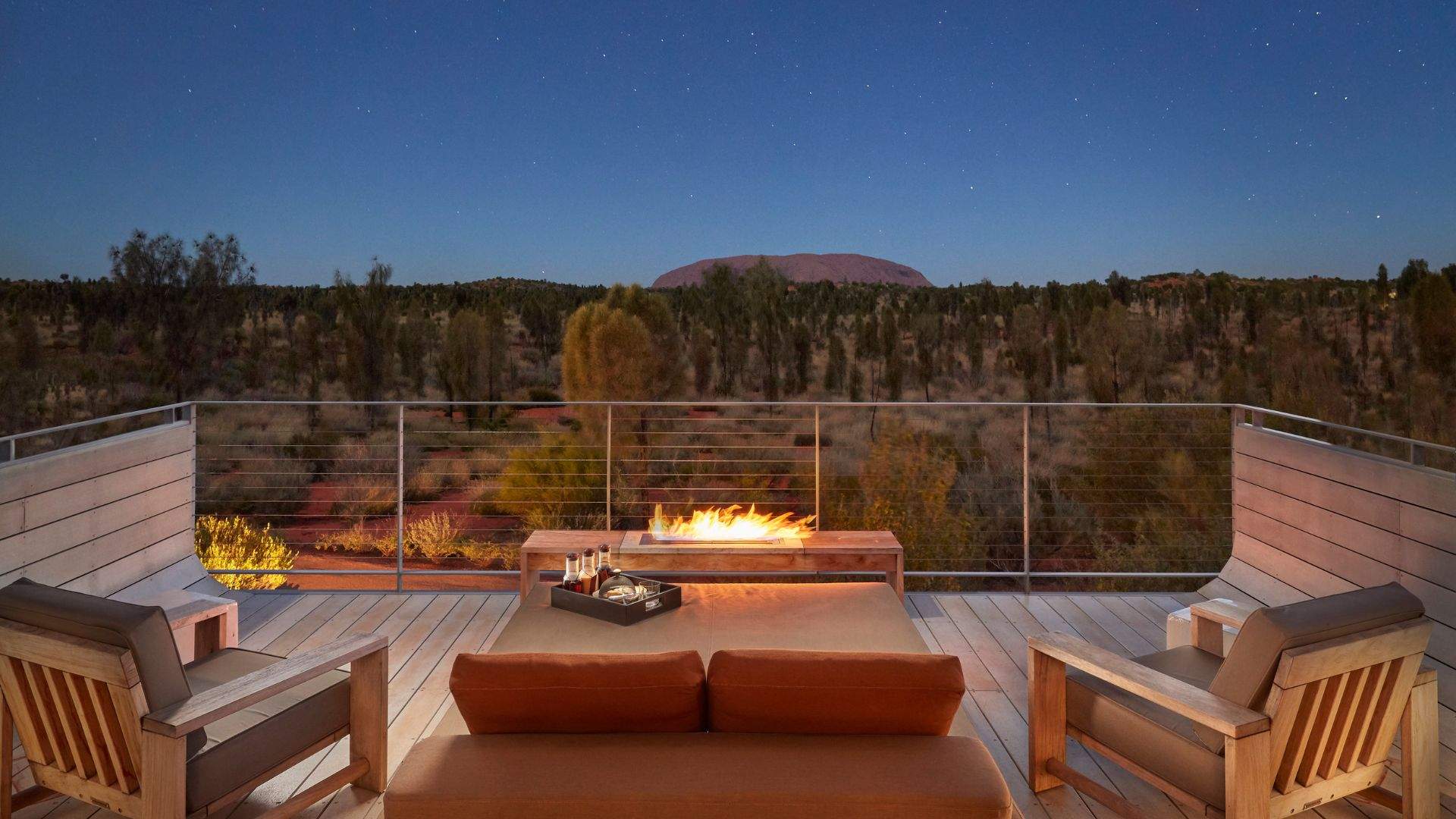 From five star outback stays to campgrounds in the desert.
STAY
With so much to explore in Uluru and its surrounding area, you'll want to find the perfect place to rest your head at night. Luckily, there are plenty of options that cater to all budgets and tastes.
For a truly unforgettable experience, book a stay at Longitude 131°. The luxury tents all feature a rain shower, private balcony, fireplace and, most importantly, unparalleled Uluru views. For an even more glamorous experience you can stay at the two-bedroom ensuite Dune Pavilion, Australia's only accommodation to offer views of both Uluru and Kata Tjuṯa — as well as a private plunge pool. Gourmet meals and fine wines are all included as part of your stay.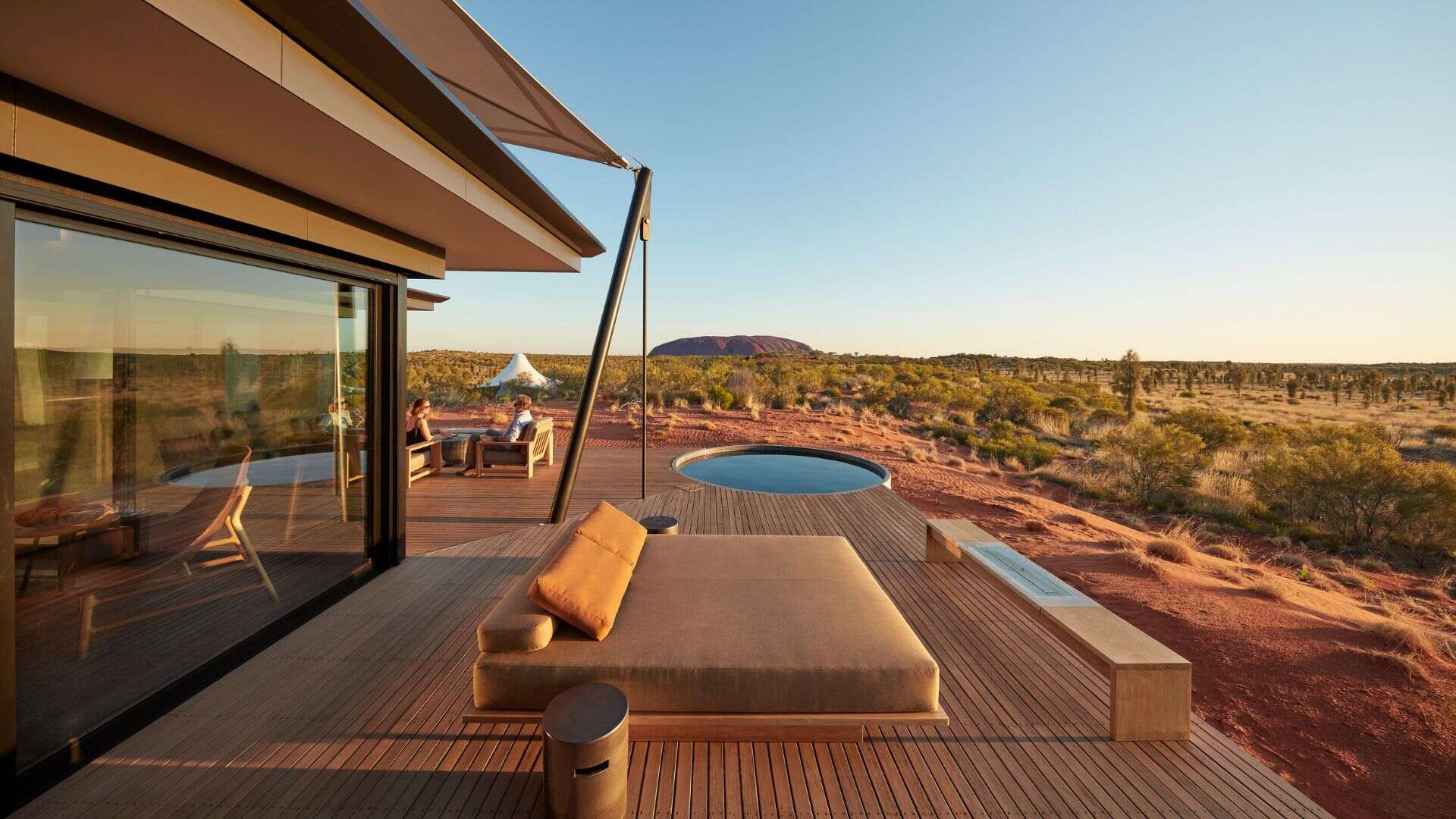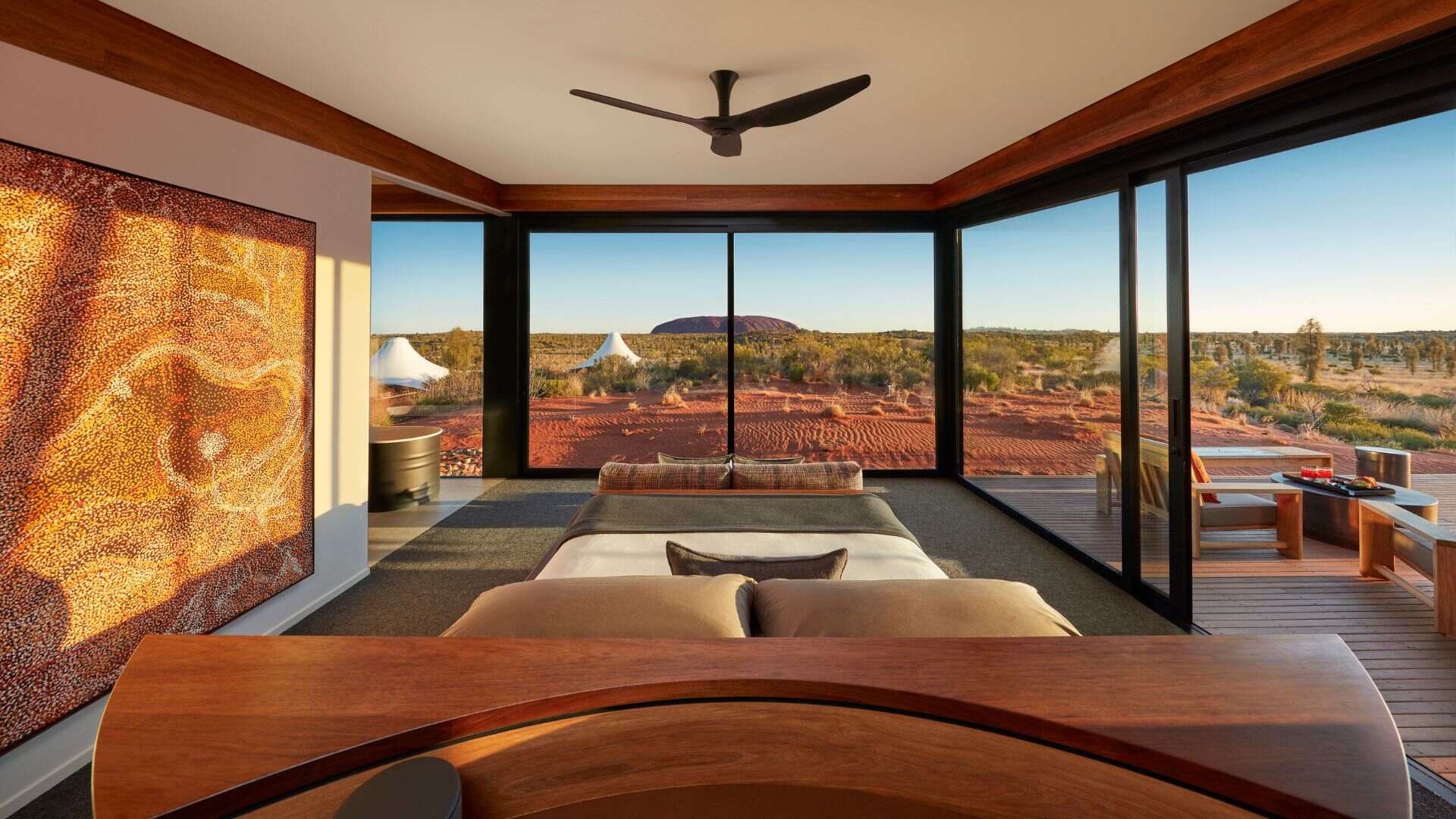 Voyages Ayers Rock Resort offers a range of accommodation options suitable for all budgets and travellers and boasts the quickest access to the National Park, as it is literally located within its grounds. First off the bat for the outback traveller, there's the Ayers Rock Campground. This family-friendly campground offers a range of accommodation options, from powered campsites to cabins and permanent tents. It's the perfect spot for a fun and affordable outback adventure.
For a luxurious stay, look no further than Sails in the Desert in the Ayers Rock Resort. Boasting spacious rooms with all the modern amenities you could want, as well as a stunning outdoor pool and several on-site dining options, including the aforementioned Ilkari Restaurant. Relax by the pool, indulge in a spa treatment at the Red Ochre Spa, or take part in one of the hotel's many guided tours or cultural activities such as the one-of-a-kind Indigenous art at the stunning Mulgara Gallery.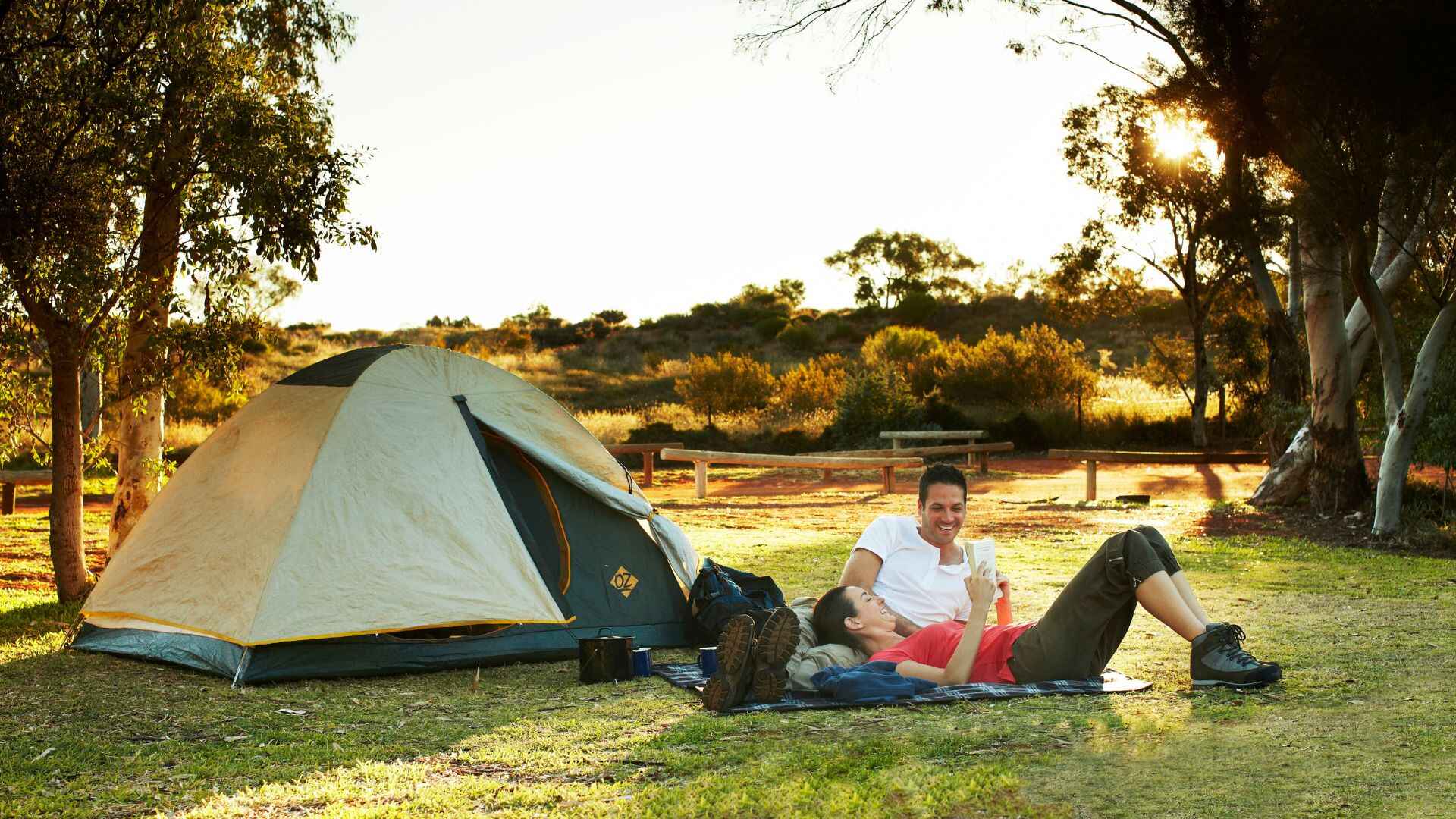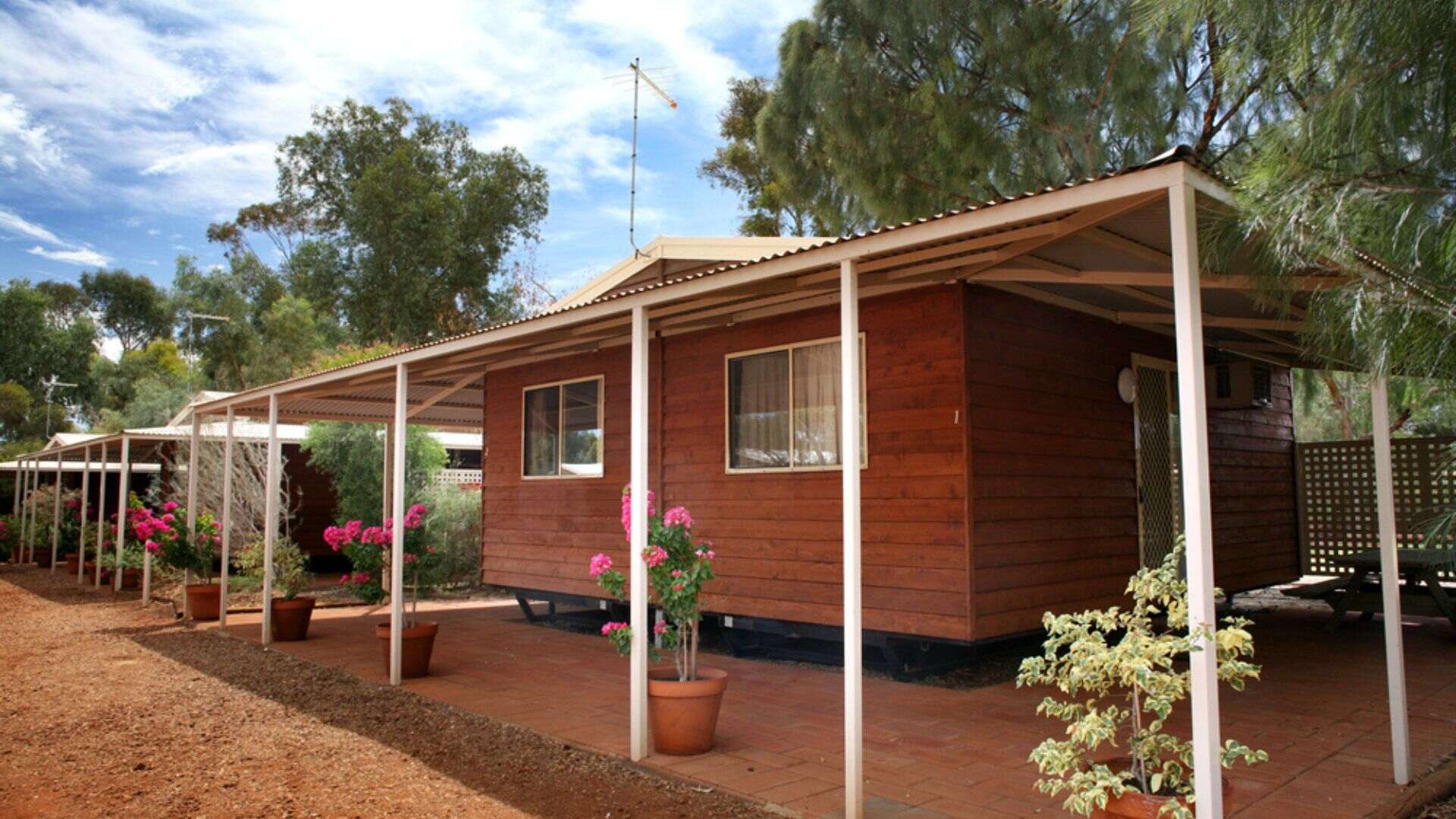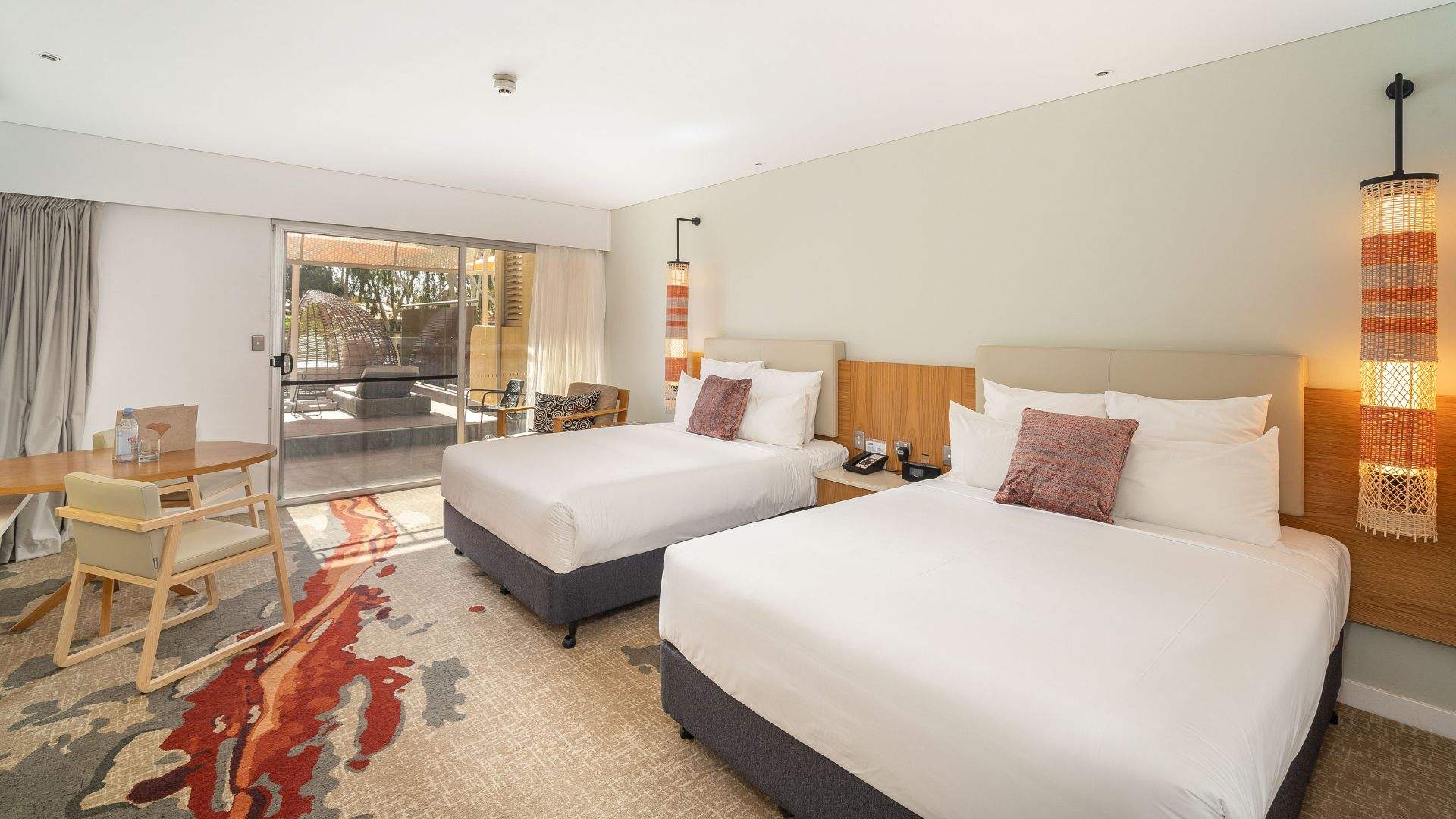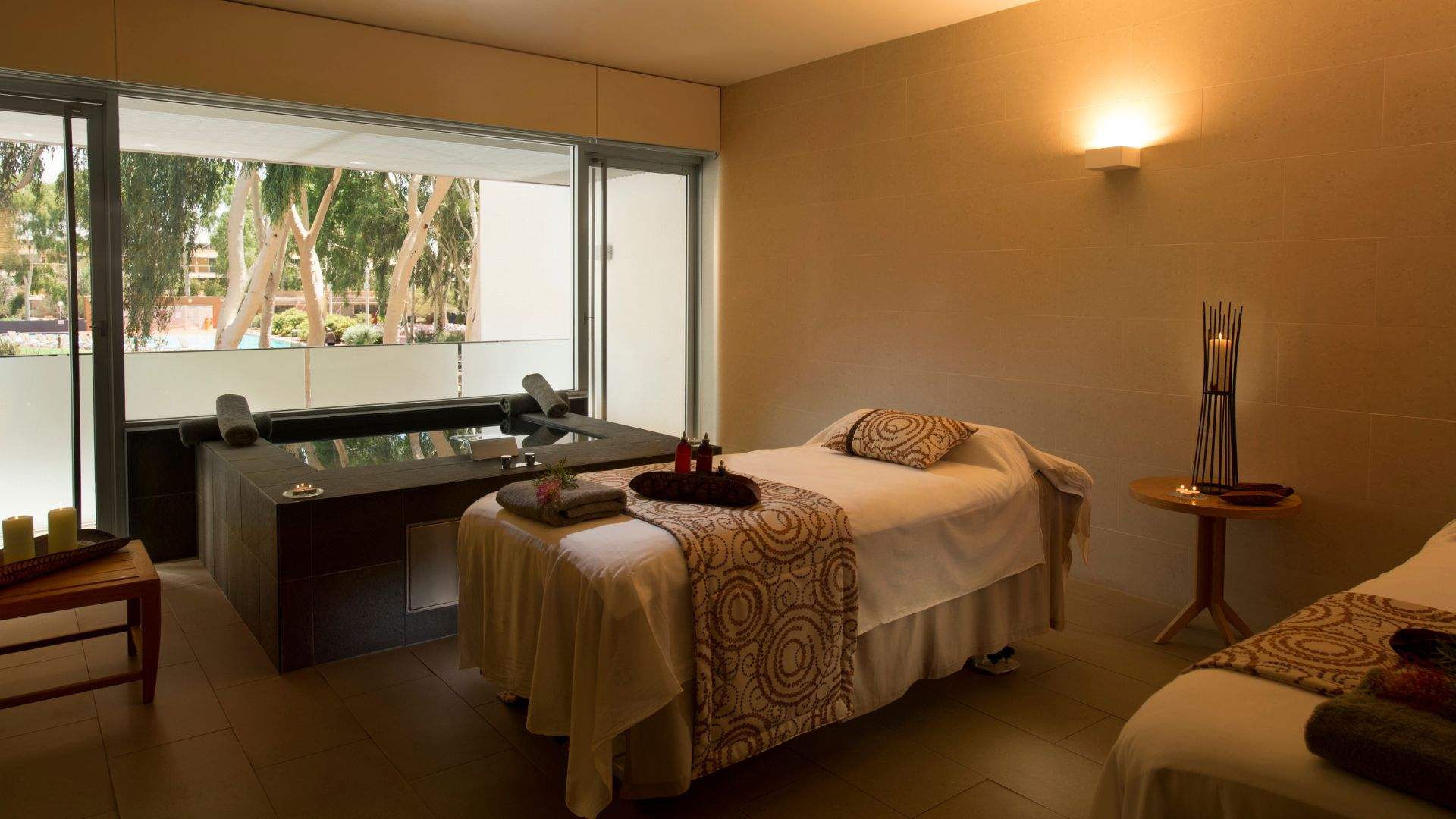 Desert Gardens Hotel is a great option at the Ayers Rock Resort. Relax on your own private balcony or head down to chill by the hotel pool or try a cocktail from Bunya Bar before dining at the onsite Arnguli Grill Restaurant. Rooms are spacious and comfortable, with many featuring stunning views of Uluru.
For a more contemporary and fun boutique stay, you could check out The Lost Camel Hotel. This modern and stylish hotel features a mix of Aboriginal and urban themes, as well as a pool, bar, and restaurant. It's the perfect spot for travellers looking for something a bit different in the heart of the outback. Whereas larger groups or families might prefer Emu Walk Apartments — offering a home away from home in the heart of the Red Centre. The apartments are fully self-contained, with kitchen and laundry facilities, and also conveniently located near the Ayers Rock Resort's town centre.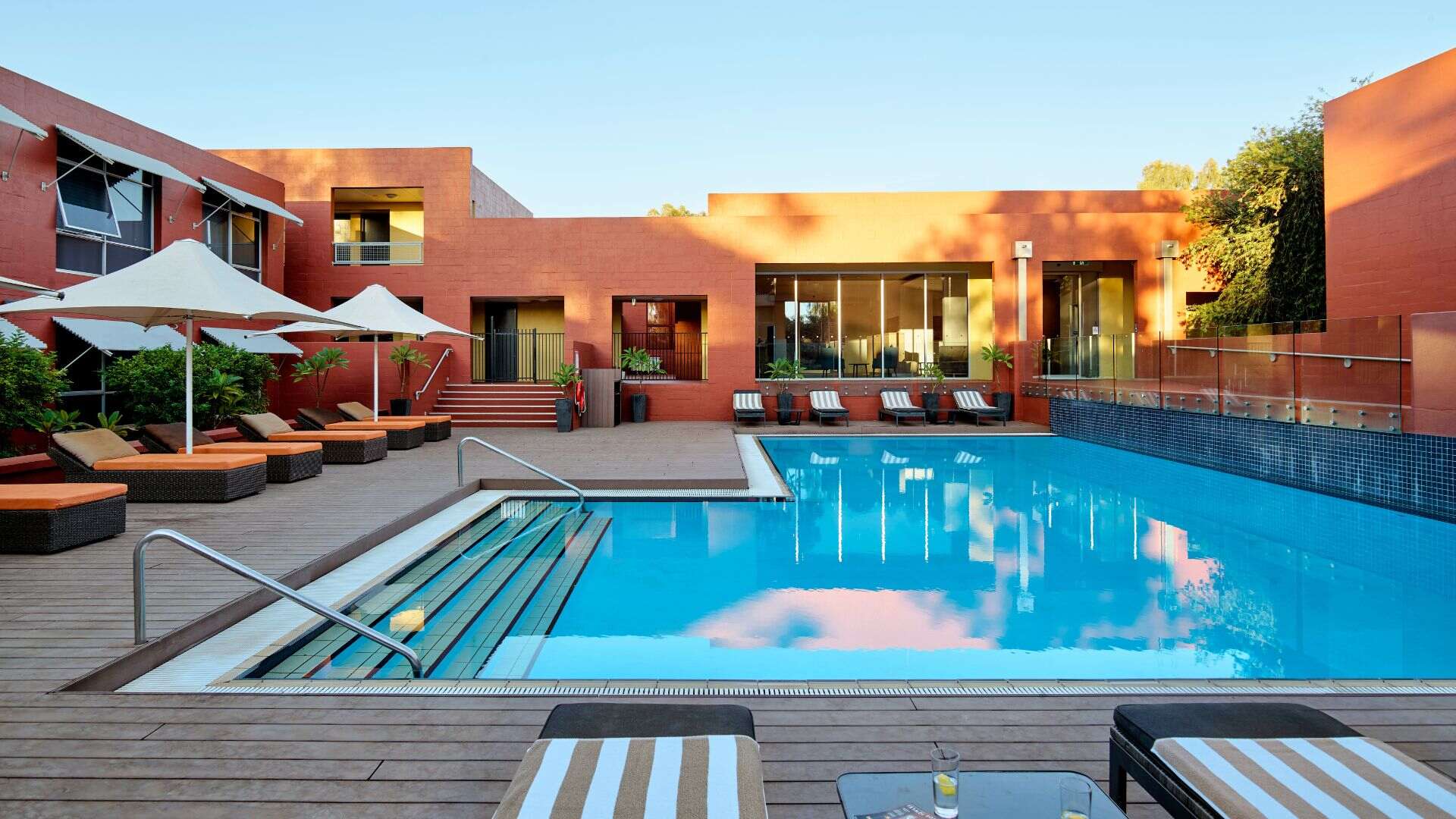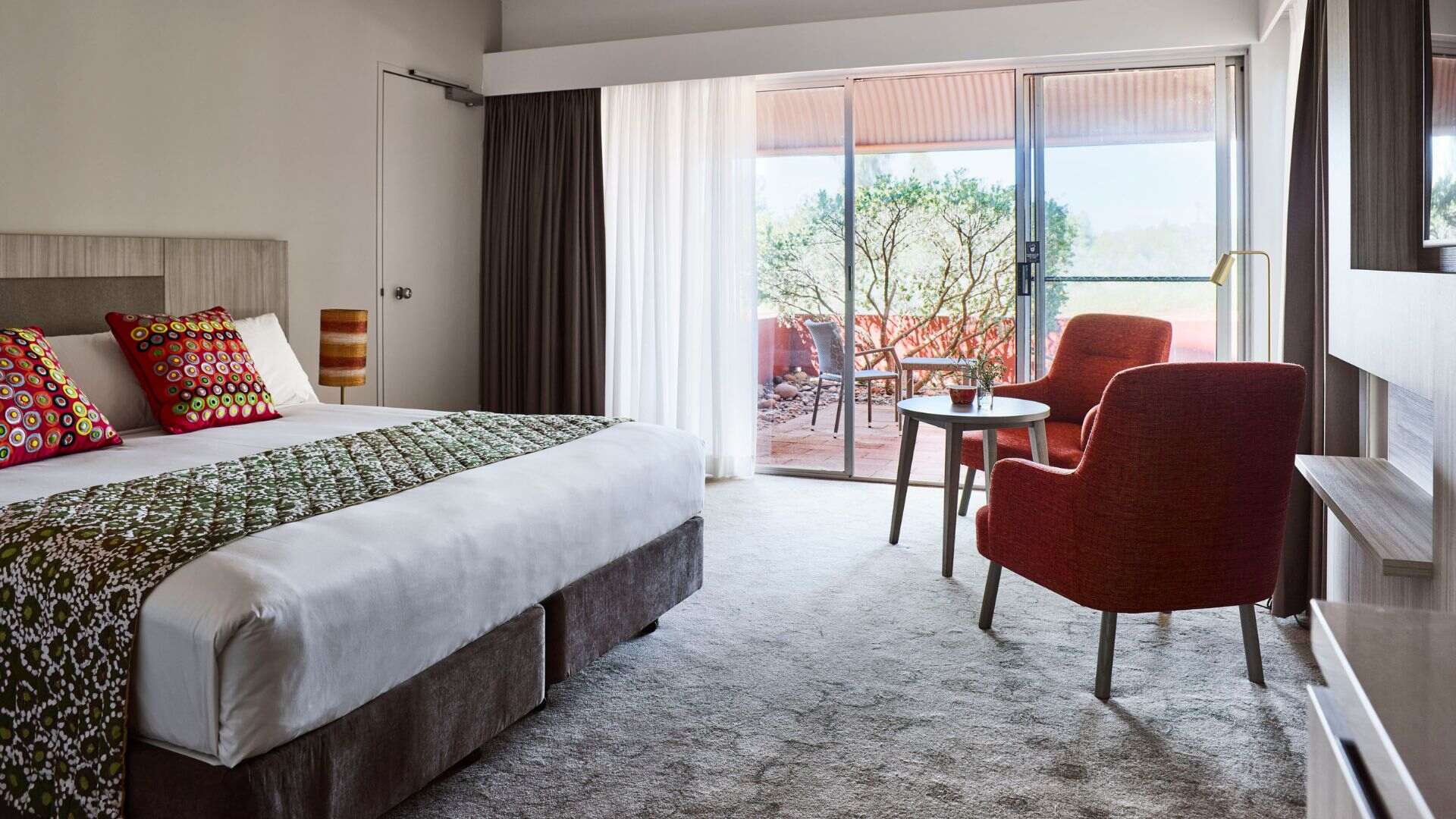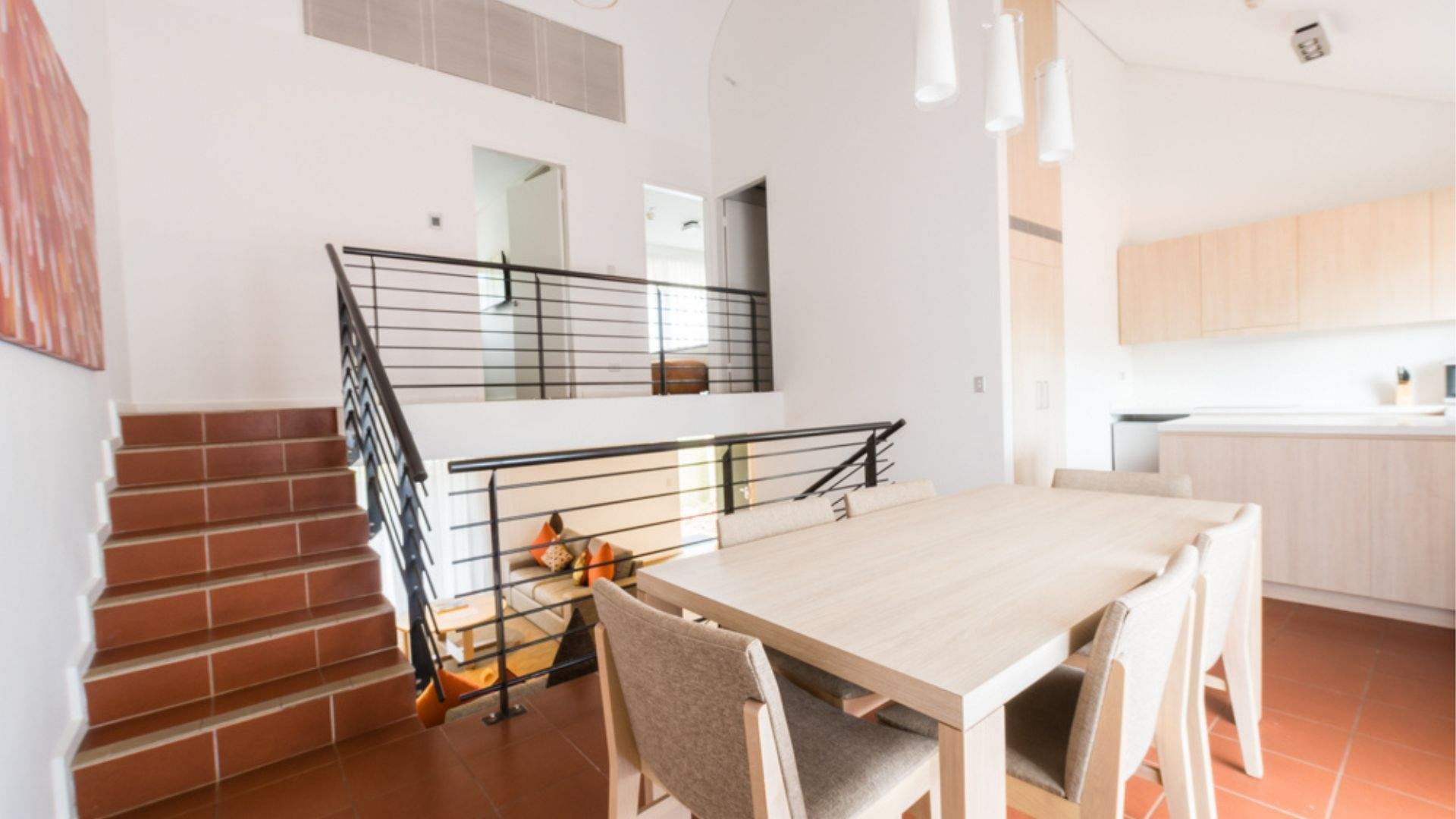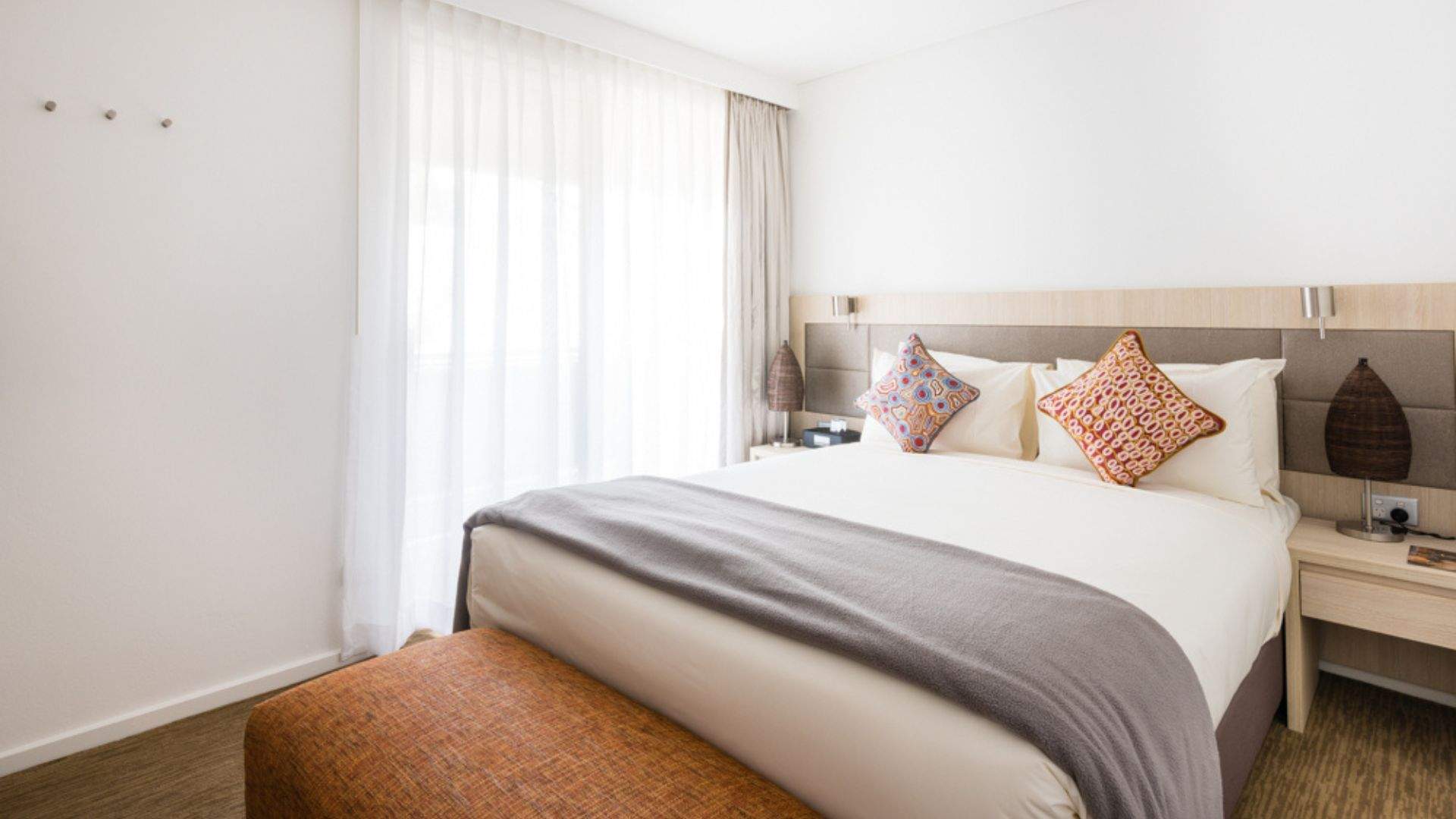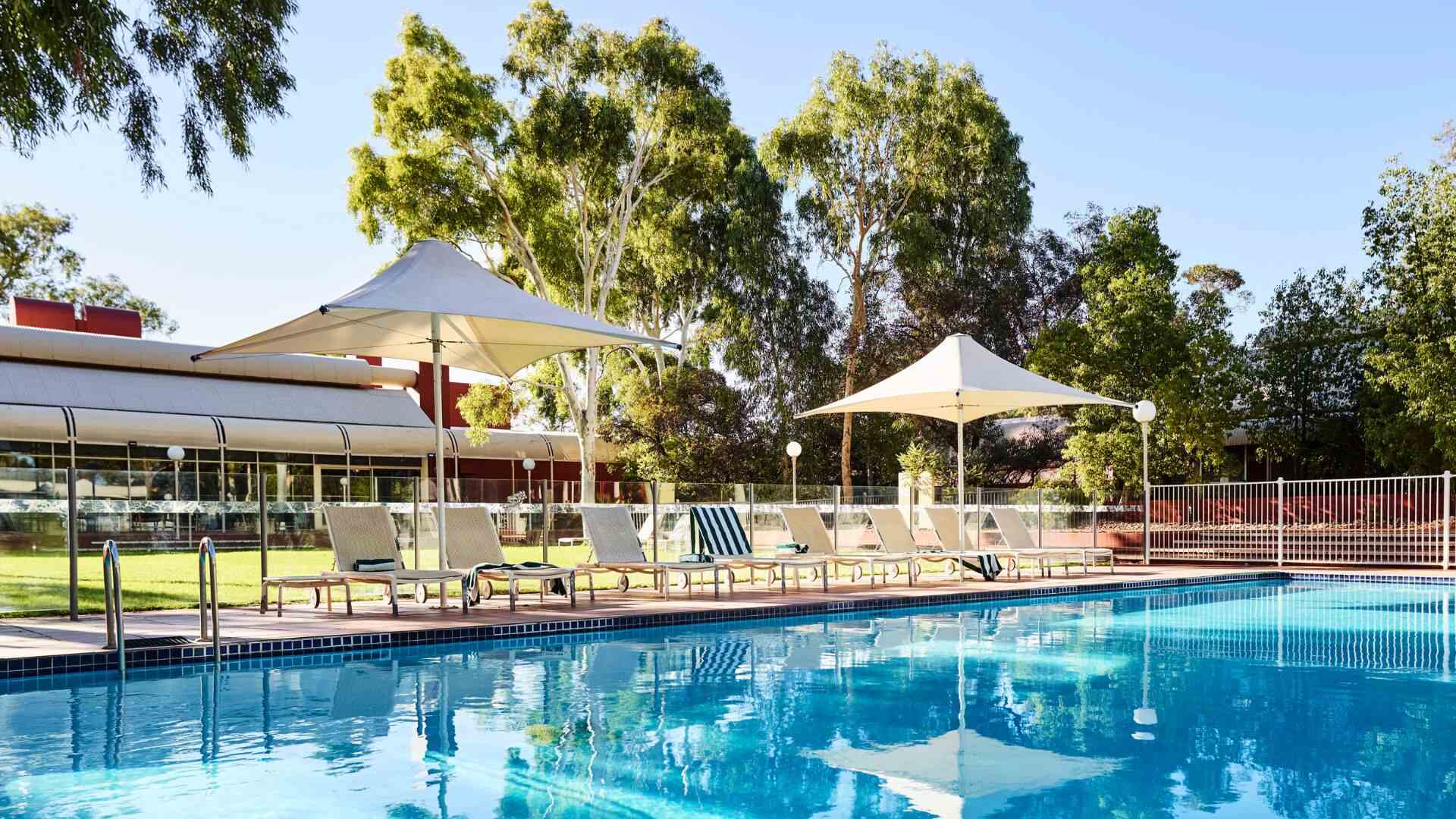 Explore Kata Tjuṯa on camelback, on foot and in the air.
PLAY
No trip to the Red Centre is complete without visiting Uluru. At 348 metres high it has a commanding presence in the region. Its eminence can be felt as soon as you arrive in this deeply spiritual location.
For a hands-on cultural experience, consider taking a Maruku dot painting workshop. This Indigenous-owned and operated business offers a range of workshops and tours that allow visitors to learn about traditional art and craft techniques. You'll have the opportunity to create your own dot painting to take home as a souvenir.
For those that may prefer to enjoy the scenery but without the hiking, there are lots of options to explore the park from the ground and the skies. Lean into the modern age and opt for a Segway tour to explore the region at your own pace, or a bike to cover more ground and still get some exercise in. Experience the stunning colours of the Red Centre at sunrise or sunset with a camel ride. The peaceful rhythm of the camels' gait is the perfect way to take in the beauty of Uluru and the surrounding desert — book in advance, as these tours can be popular
Explore the stunning rock formations of Kata Tjuṯa (also known as The Olgas) about 40 kilometres west of Uluru. This group of 36 massive, dome-shaped rocks is also sacred to the Aṉangu people. There are numerous walking trails in the region from the easy to the more difficult like the 7.4 kilometres Valley of the Winds Walk that will take you through creek beds and up steep slopes. Be sure to wear sturdy shoes, bring lots of water and wear plenty of sunscreen.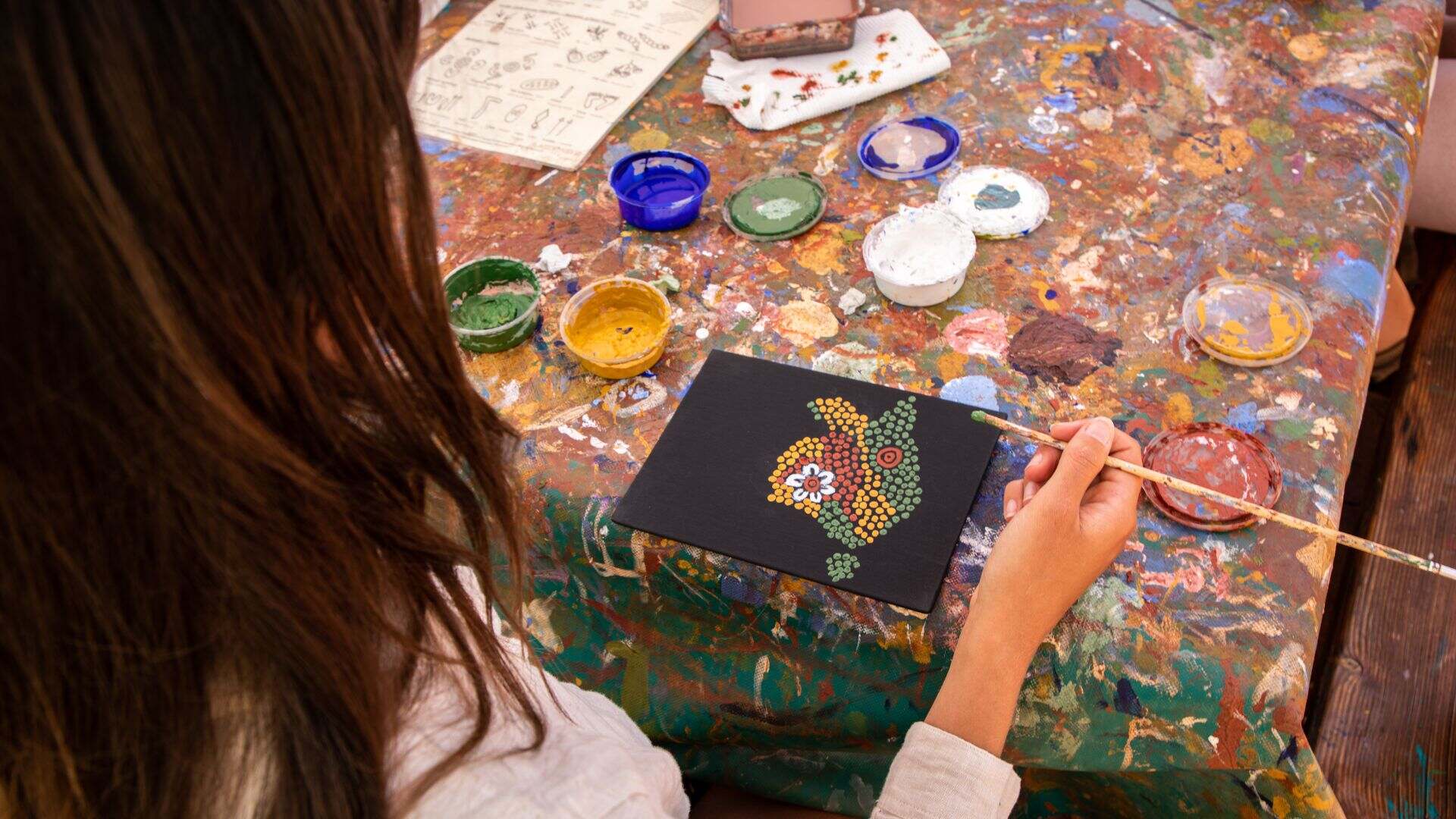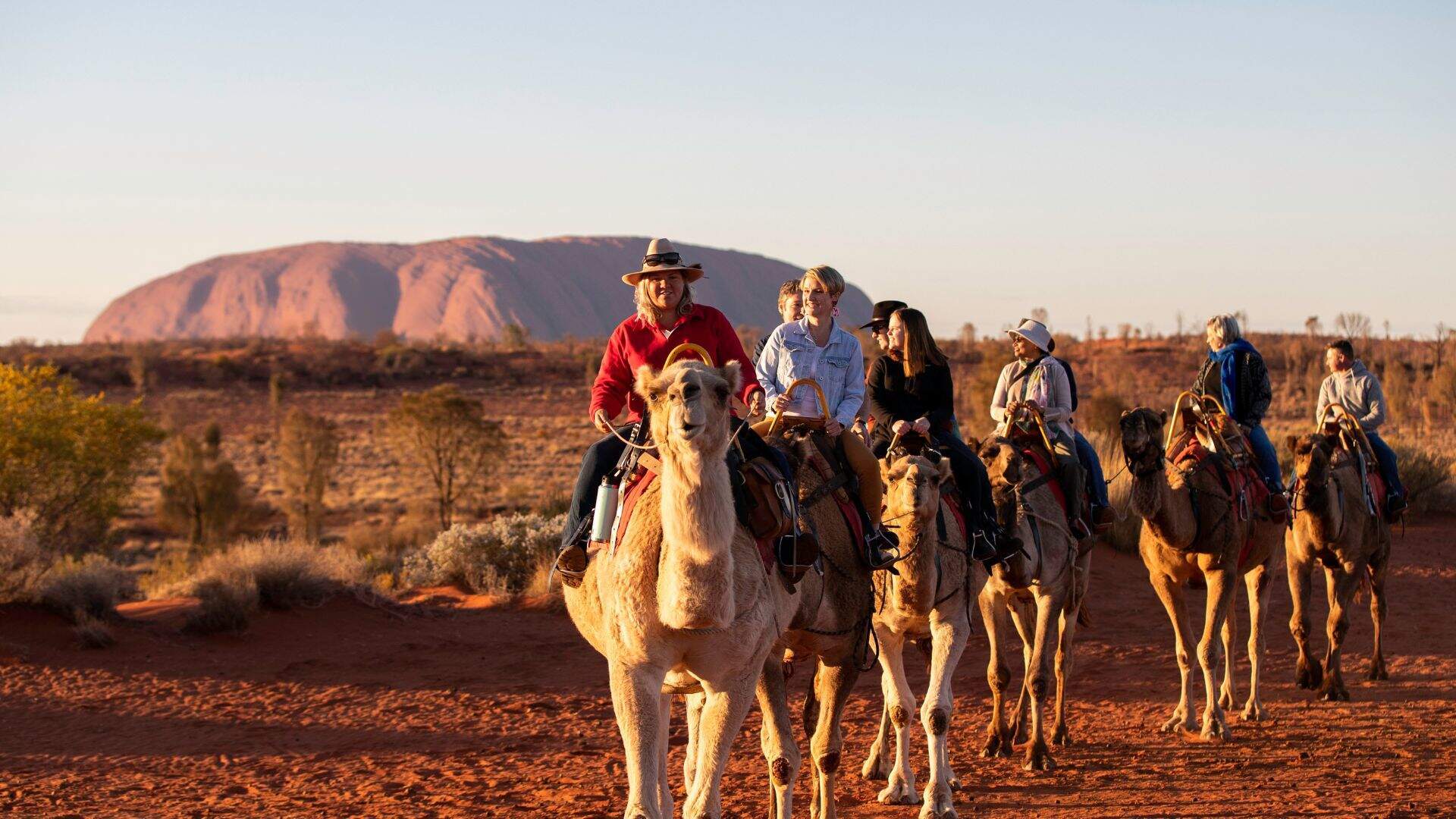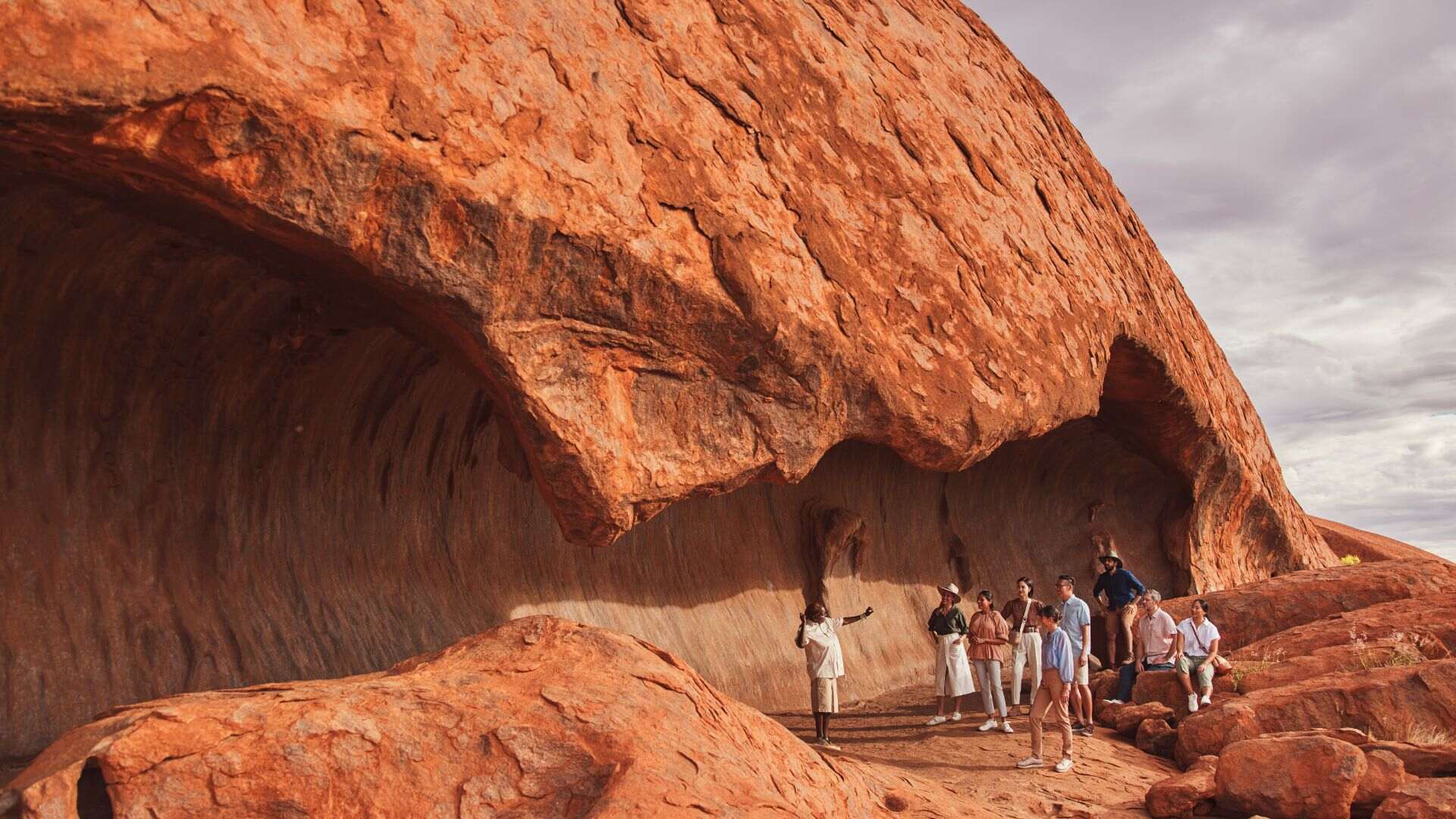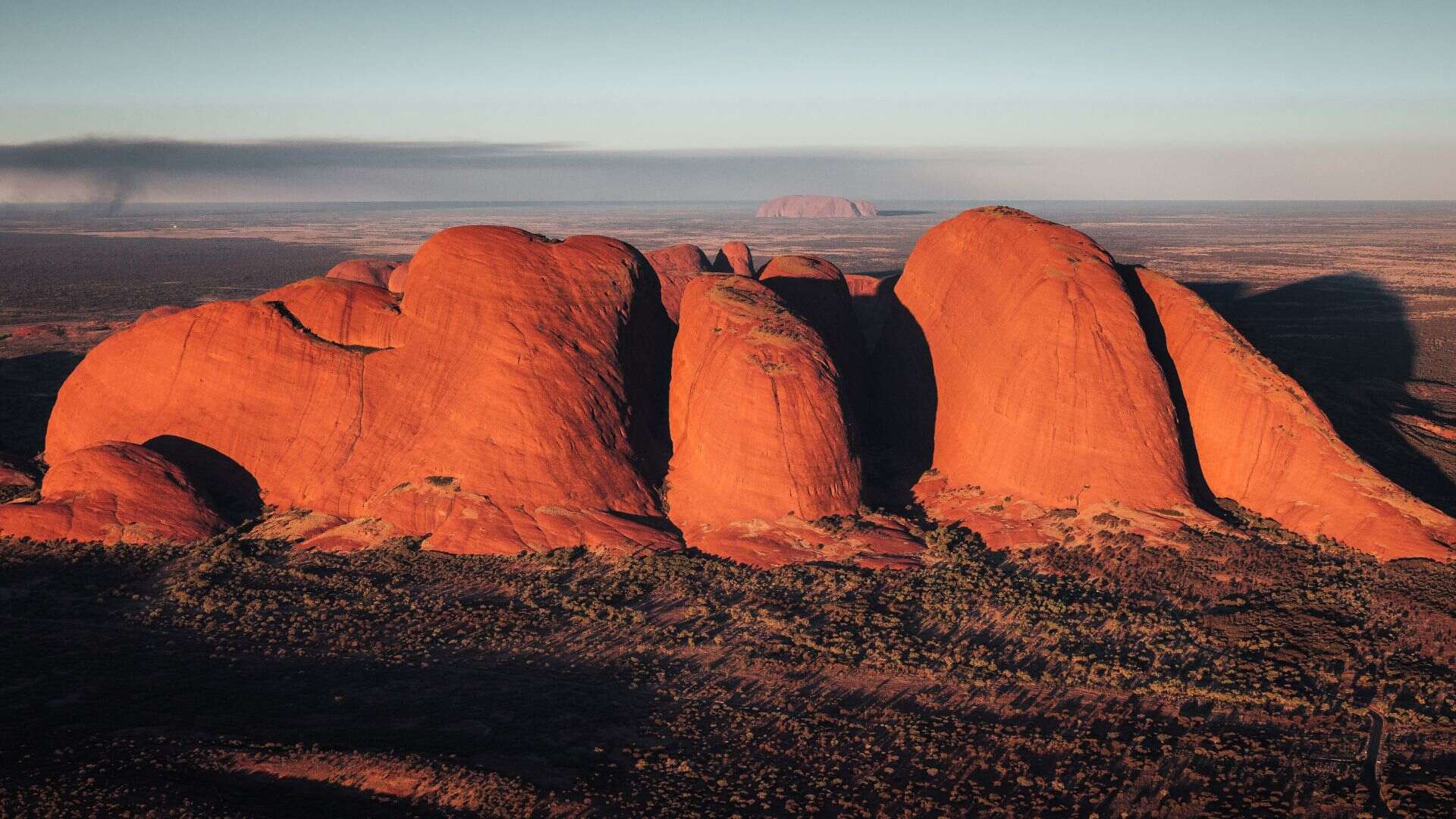 Experience a bird's-eye view of Uluru and Kata Tjuṯa with a helicopter flight tour. See the stunning landscape from a whole new perspective and gain a deeper appreciation for the scale and beauty of these natural wonders. There is a range of tour options available, from short scenic flights to longer tours that take you over nearby landmarks like Kings Canyon and Lake Amadeus.
If you are up for a road trip Kings Canyon is well worth the trek. Located three hours' drive away in Watarrka National Park, take on the Rim Walk, which offers stunning views of the red cliffs of the canyon and the surrounding desert. Take note of iconic locations along the famous walk, such as Priscilla's Crack (made famous by the Aussie movie classic Priscilla Queen of the Desert), the weathered domes of 'The Lost City', and the Garden of Eden. On your way back, stop in at Kings Canyon Resort or Kings Creek Station for a bite to eat or even stay at the Drovers Dream luxury glamping tents. While there, don't miss the chance to take part in the Karrke workshop, where you can learn about Indigenous culture and bush tucker. Also, something not to miss is the six-course Under a Desert Moon dining experience — where the only light comes from the moon overhead and flickering fire. The perfect way to toast your adventure in the outback.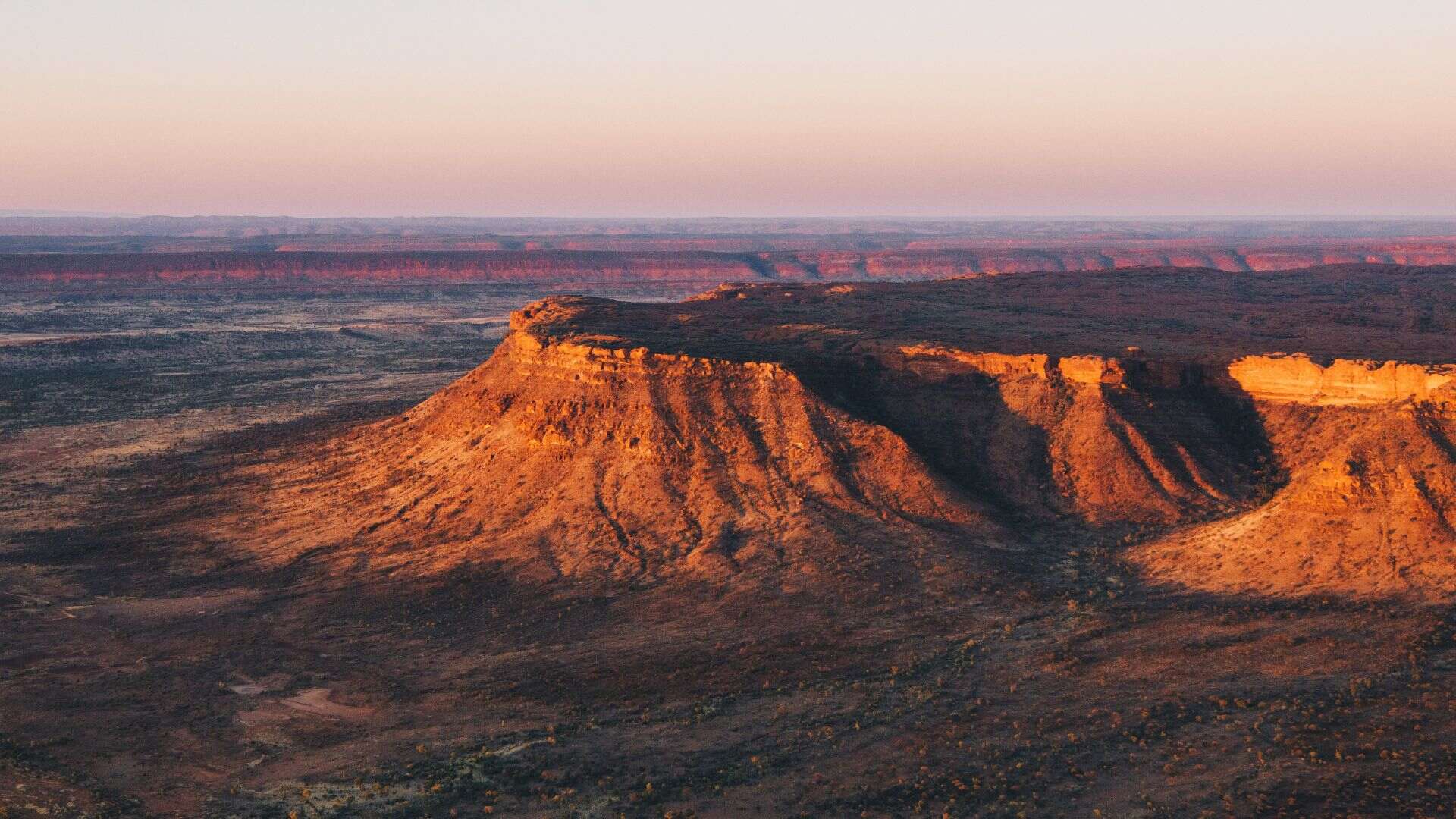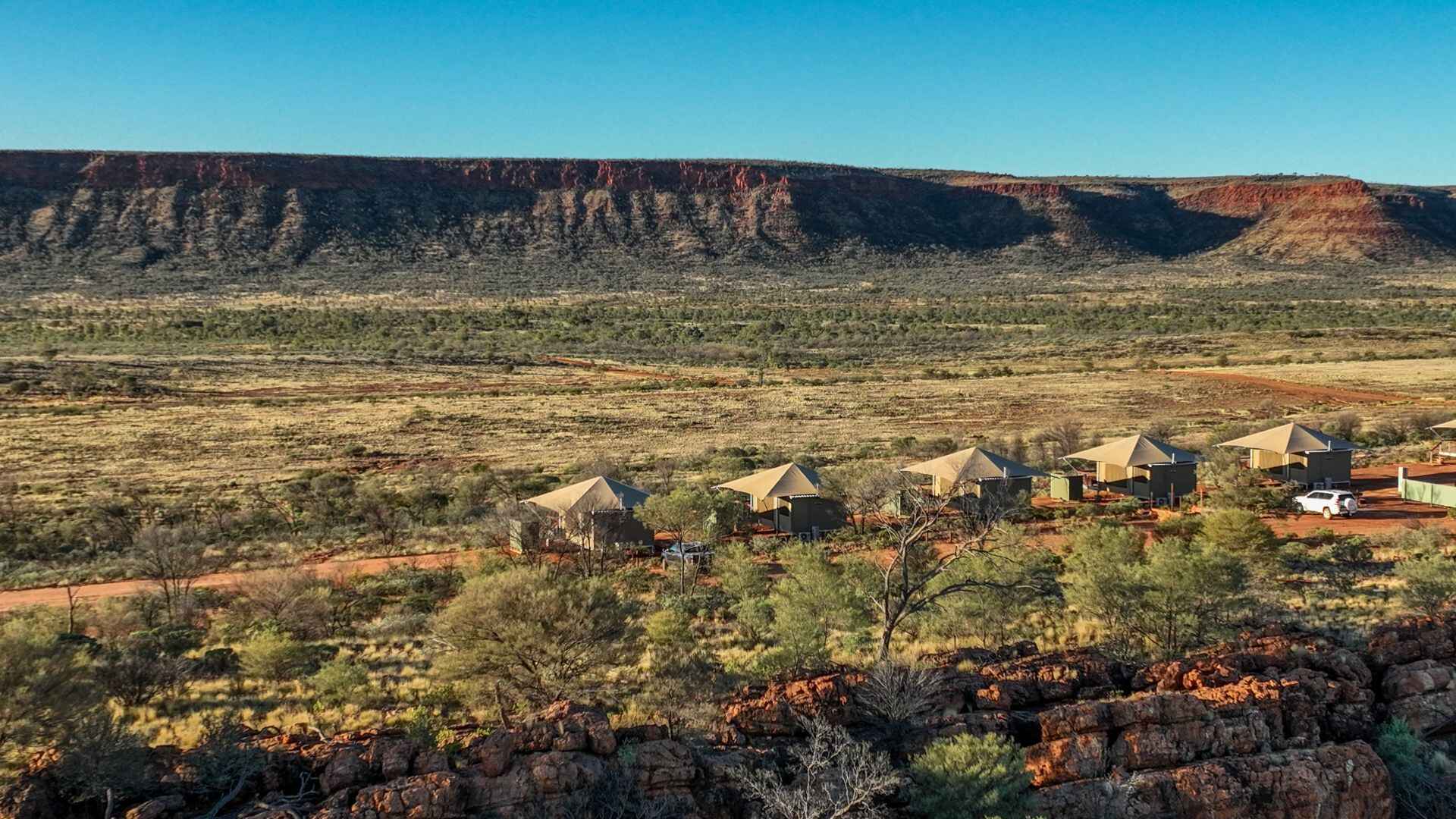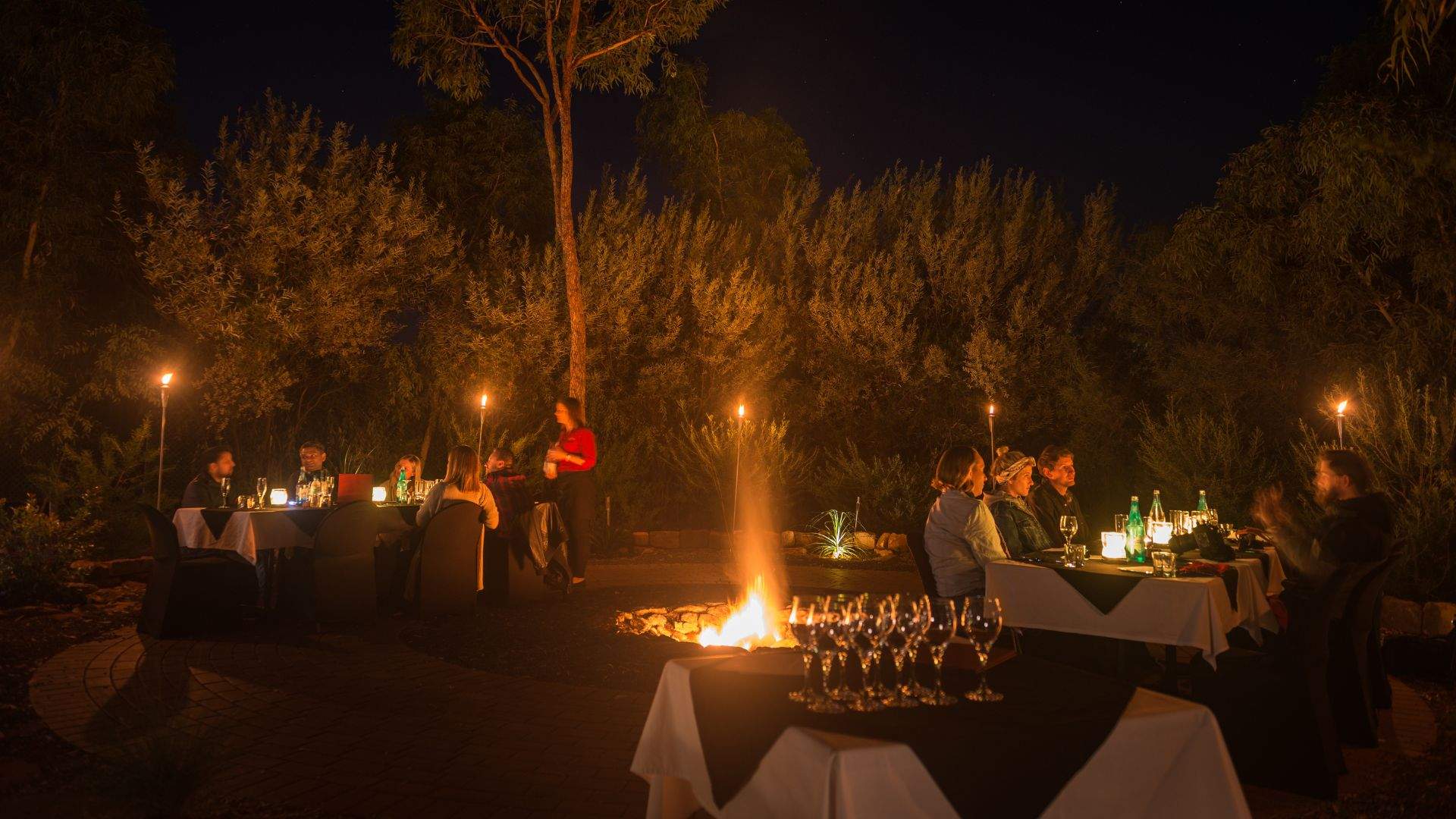 Whether it's your first stop or the next leg in your NT adventure, Uluṟu is a destination that promises to leave a lasting impression on visitors. Book flight deals to Uluṟu at jetstar.com.
Images (in order): Kate Flowers (top image); Eat: Tourism Australia, Tourism Australia, Tourism Australia, Tourism Australia, Helen Orr, Helen Orr, Adam Abruzzone; Stay: George Apostolidis, George Apostolidis, George Apostolidis, Anson Smart Photography, R McKenner, Liza Hats Photography, Adam Abruzzone, Voyages Indigenous Australia, Anson Smart Photography, Grace Henley, Grace Henley, Anson Smart Photography, Nic Morley, The Salty Travellers, Helen Orr, Tourism Australia, Jason Charles Hill, Shaun Jeffers, Kings Creek Station, Matt Glastonbury.
Concrete Playground Trips
Book unique getaways and adventures dreamed up by our editors