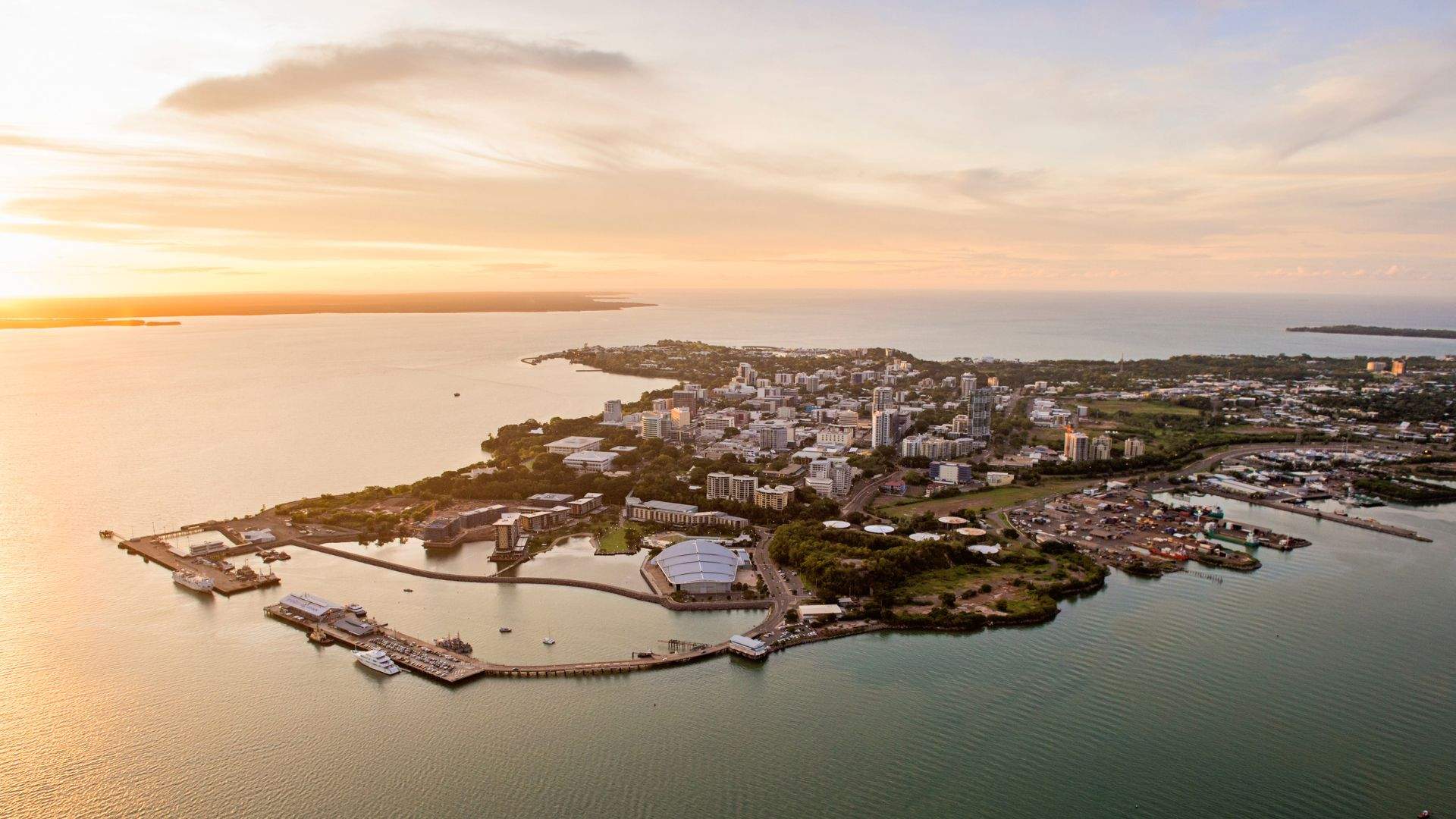 Discover Darwin, Where Urban Energy Meets Outback Spirit
Tropical Capital City
Uncover the best of Darwin's sun, sea and sand with this destination guide to the Top End's capital city and tropical surrounds.
Surrounded on three sides by the Timor Sea on the picturesque coast of the Top End, Darwin is the lush and vibrant capital city that should be on your Aussie bucket list. Darwin boasts a unique blend of tropical climate, diverse cultures, and natural beauty. If you're a foodie looking to sample the city's diverse culinary scene, a nature-lover seeking out adventure in the great outdoors, or simply looking to unwind and take it all in, the Northern Territory's capital has something for you.
Together with Tourism Northern Territory, we've compiled this destination guide so you know the best places to eat, stay and play in Darwin and its surrounds. Whether you're here for a week or a weekend, there are incredible experiences around every corner. From the bustling city centre to the tranquil beachfront bistros and lush national parks, we'll show you all the best spots to soak up the tropical vibe and make the most of your stay.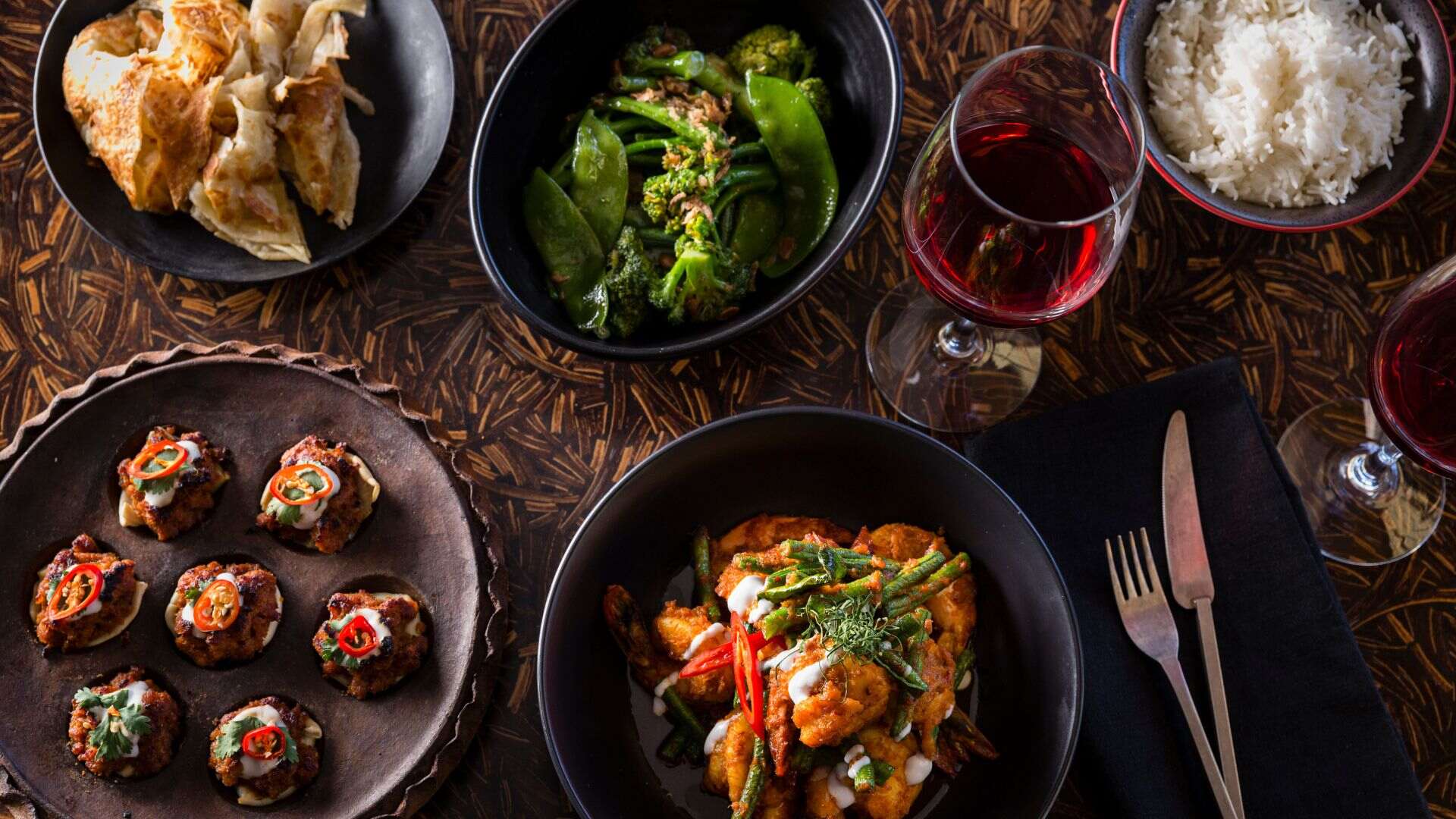 Expect ocean-fresh seafood and Asian influences from Darwin's neighbours in every bite.
EAT
Darwin may be known for its tropical weather and natural wonders, but it's also a hub for foodies looking to indulge in a diverse range of cuisines. An array of native Australian, Modern Australian and Asian plates await you in the Top End.
For a taste of Darwin's vibrant street food scene, head to the markets. Parap Village Markets is held every Saturday from 8am–2pm, and they feature a range of food stalls serving up everything from fresh juices to Vietnamese banh mi. Be sure to try laksa (the local favourite), tropical smoothies and satay prawns. Follow up with a brew at Six Tanks Brewing Co, a local microbrewery serving a range of unique craft beers and delicious pub fare. For an evening stroll in the market, check out the Mindil Beach Sunset Markets. What started as a small night market over 30 years ago has blossomed into one of the largest markets in Darwin — and a true celebration of the city's cultural melting pot status. Tuck into delicious Indonesian and Aussie foods, explore the local Aboriginal art from local craftspeople and marvel at street performances all while taking in the city's classic pink-hued sunset.
A perfect example of the Asian culinary infusions here is Hanuman. Helmed by renowned chef Jimmy Shu, this fine-dining restaurant will take you on a culinary journey through Southeast Asia. With a unique blend of Thai, Indian and Nonya cuisines, you'll find roti, prawn pakoras, roast duck salad, beef vindaloo, eggplant pacchadi and biryani — just to name a few. Try the signature dessert — black rice brulée — made of pandan-infused custard with black rice, mango, crème fraîche and sesame meringue. Or, go for the banquet menu and feast on the bold and exotic flavours of the establishment's signature dishes.
For Sri Lankan fare, head to former Masterchef–contestant Minoli's stunning venue in the heart of Darwin CBD: Ella by Minoli. Named for a beautiful jungle town in her family's home country, Ella is a cosy find offering a contemporary twist on traditional Sri Lankan fare. Savour curry leaf–cured snapper, kiwifruit with mustard seed and turmeric and gothamba roti (which you should slather with pol sambal or the seasonal chutney). The cocktail list is also spectacular. Instead of a your typical piña colada, there's a Ceylon Milk Punch laced with arrack, Havana Especial, Kraken, Campari, spices, Ceylon tea, lemon and toasted coconut. Or maybe you'll be tempted by the Island Medicine, a sip with pineapple and jalapeño syrup, lemongrass, fresh ginger and Colombo gin.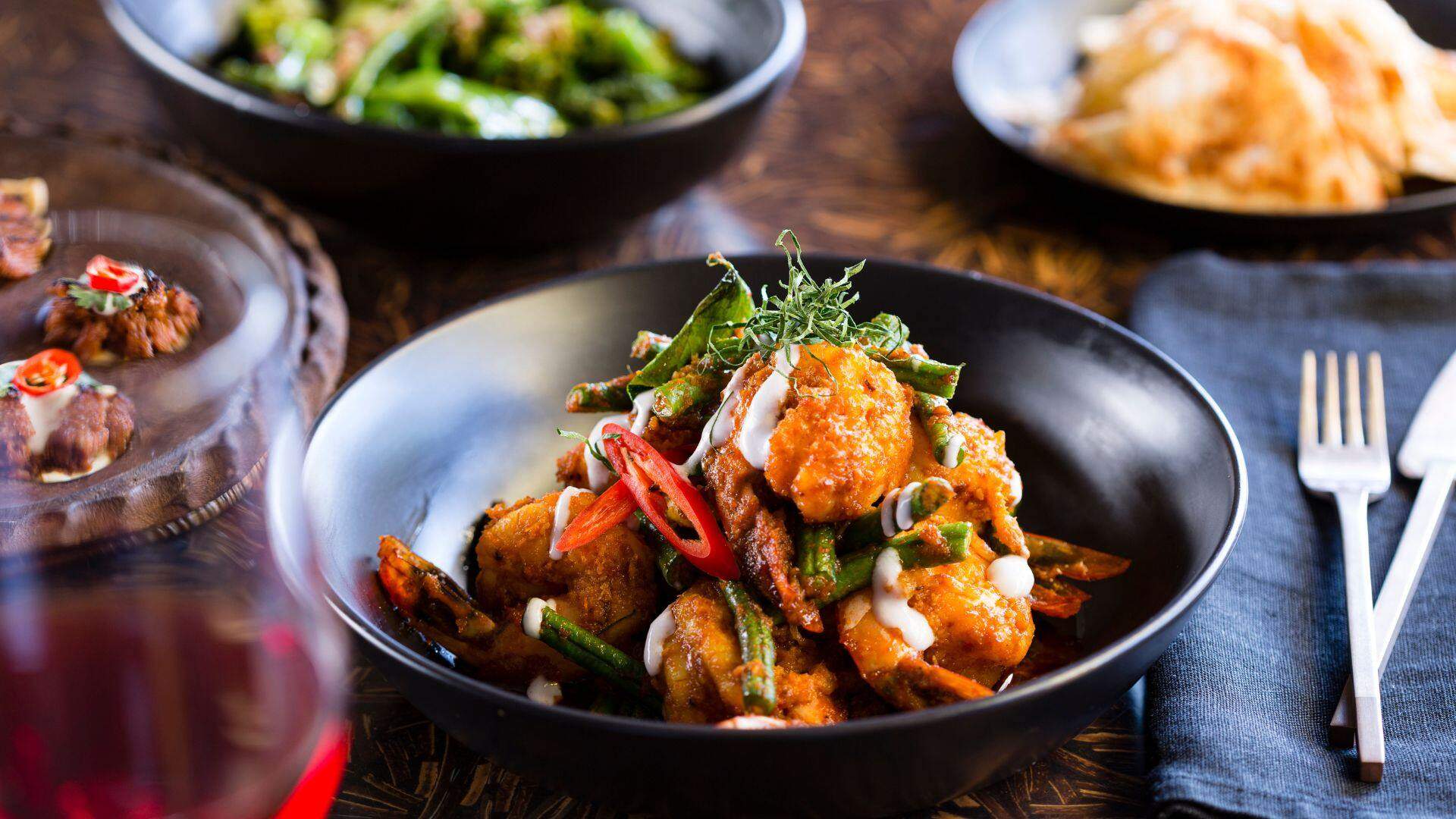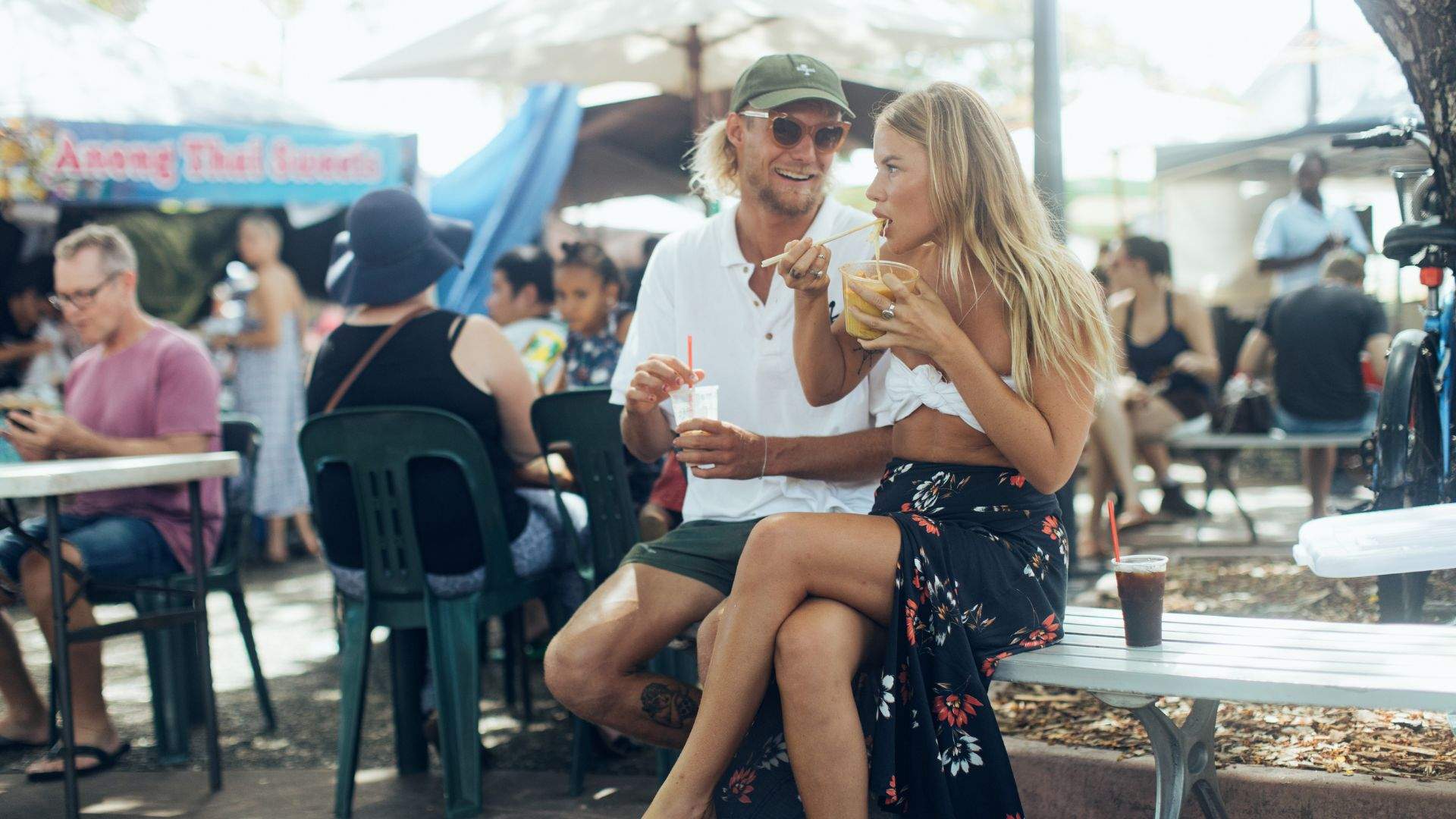 Of course, being on the water guarantees some of the best seafood dishes out there. For fresh seafood and excellent seafront views, you can't miss Darwin Waterfront Oyster Bar. This charming restaurant offers a range of fresh seafood dishes, including its famous seafood platter and oysters served in an array of styles including crab and béarnaise sauce, chilli and cheese, smoked salmon, and panko. The menu doesn't stop at seafood: you can also enjoy some kangaroo spring rolls and popcorn crocodile if you're in the mood for land-based tucker.
For views with circus vibes, head to Lola's Pergola at Cullen Bay. This so-called carnival on the water is slinging pizzas, burgers, pasta and other Aussie pub classics alongside classic cocktails. See the boats come in as guests jump on the carousel — and then have a go on the rocking horse outside yourself.
Nestled in the lush surroundings of East Point Reserve, Pee Wee's at the Point is a fine dining restaurant that offers stunning views of Darwin Harbour. The menu features a range of modern Australian dishes, including locally sourced seafood such as wild-caught saltwater barramundi, tiger prawns, buffalo tartare and crocodile la lot — with is a betel leaf topped with seared crocodile mince, chilli, ginger, coconut and peanuts.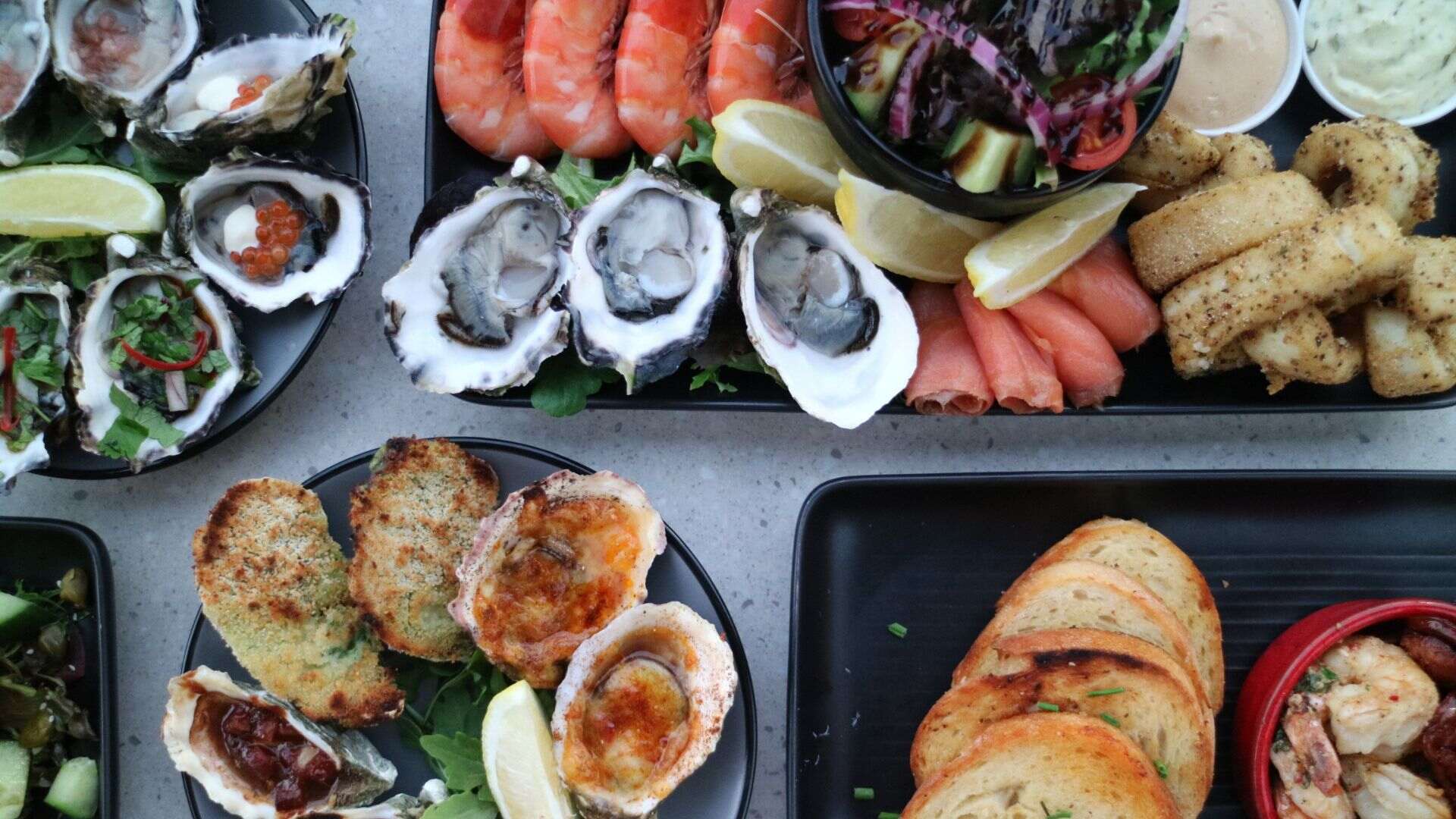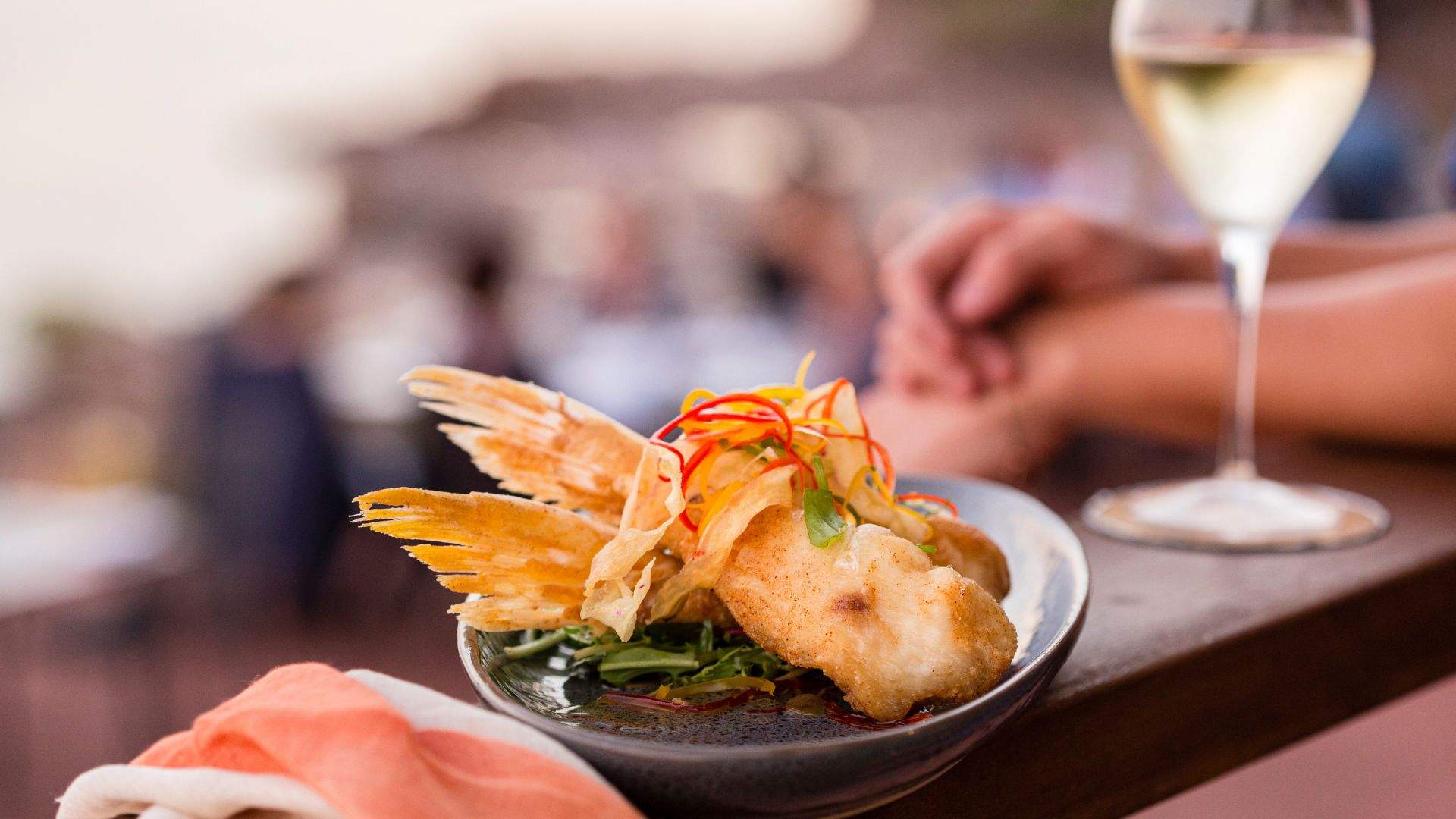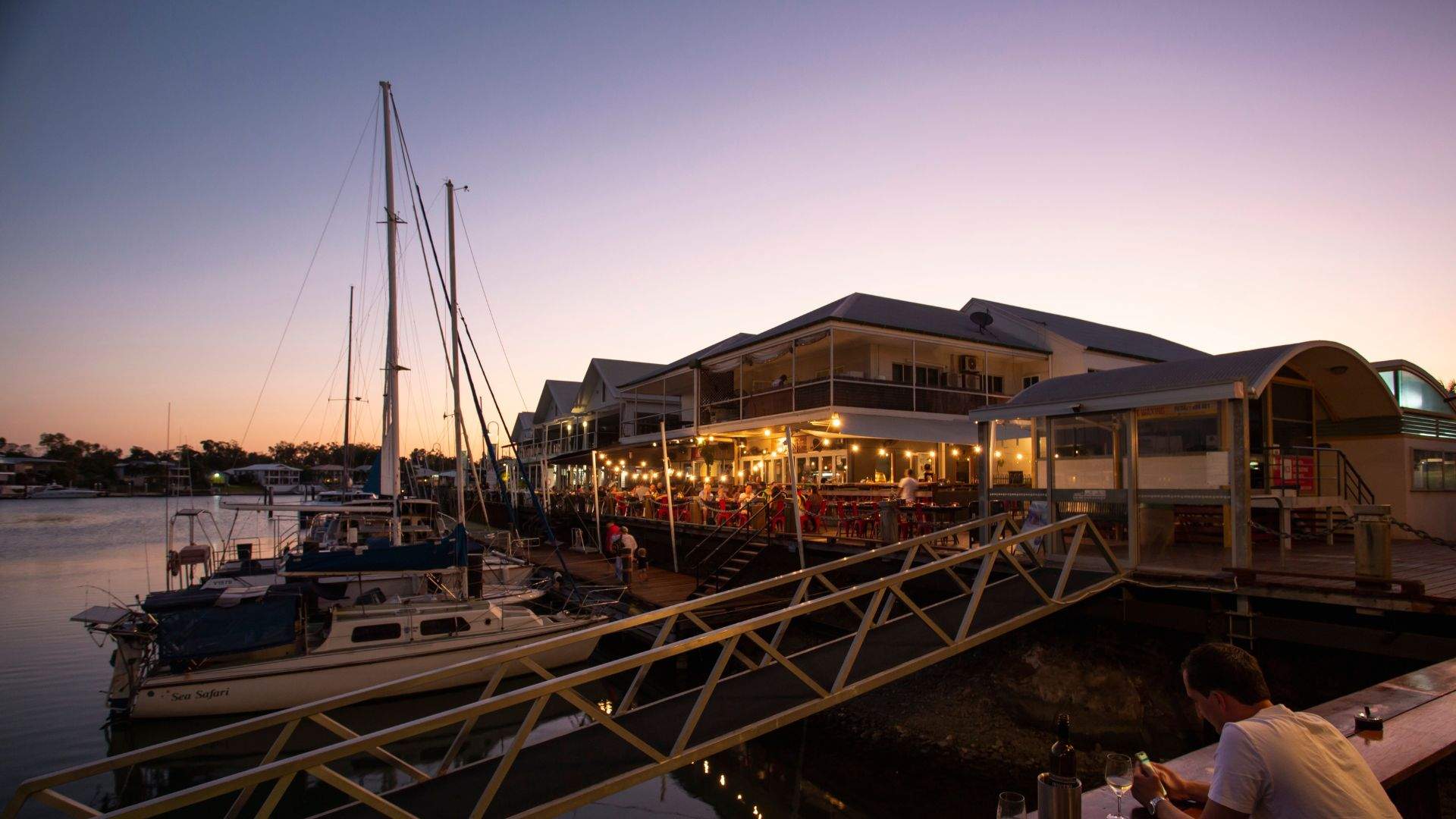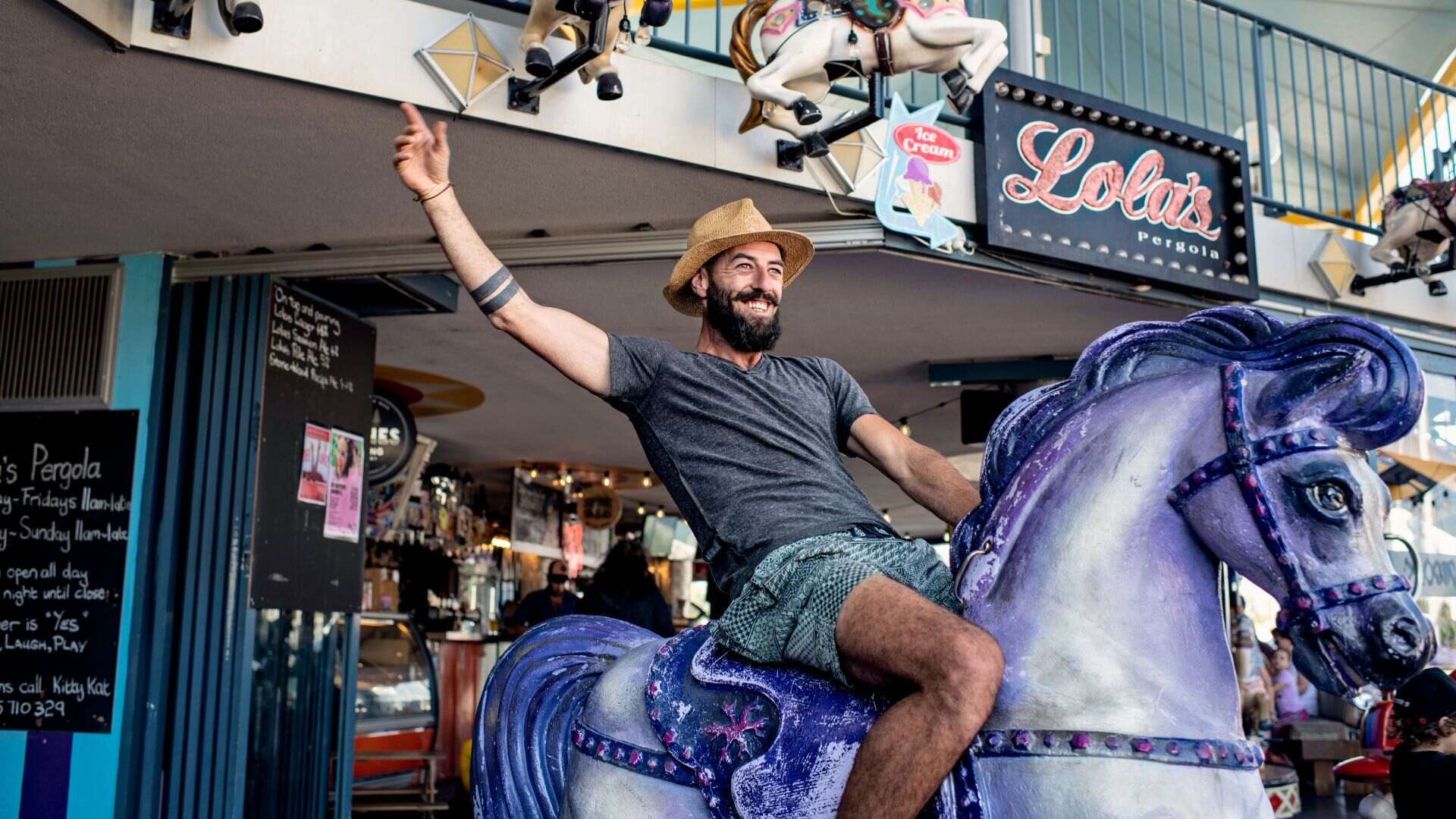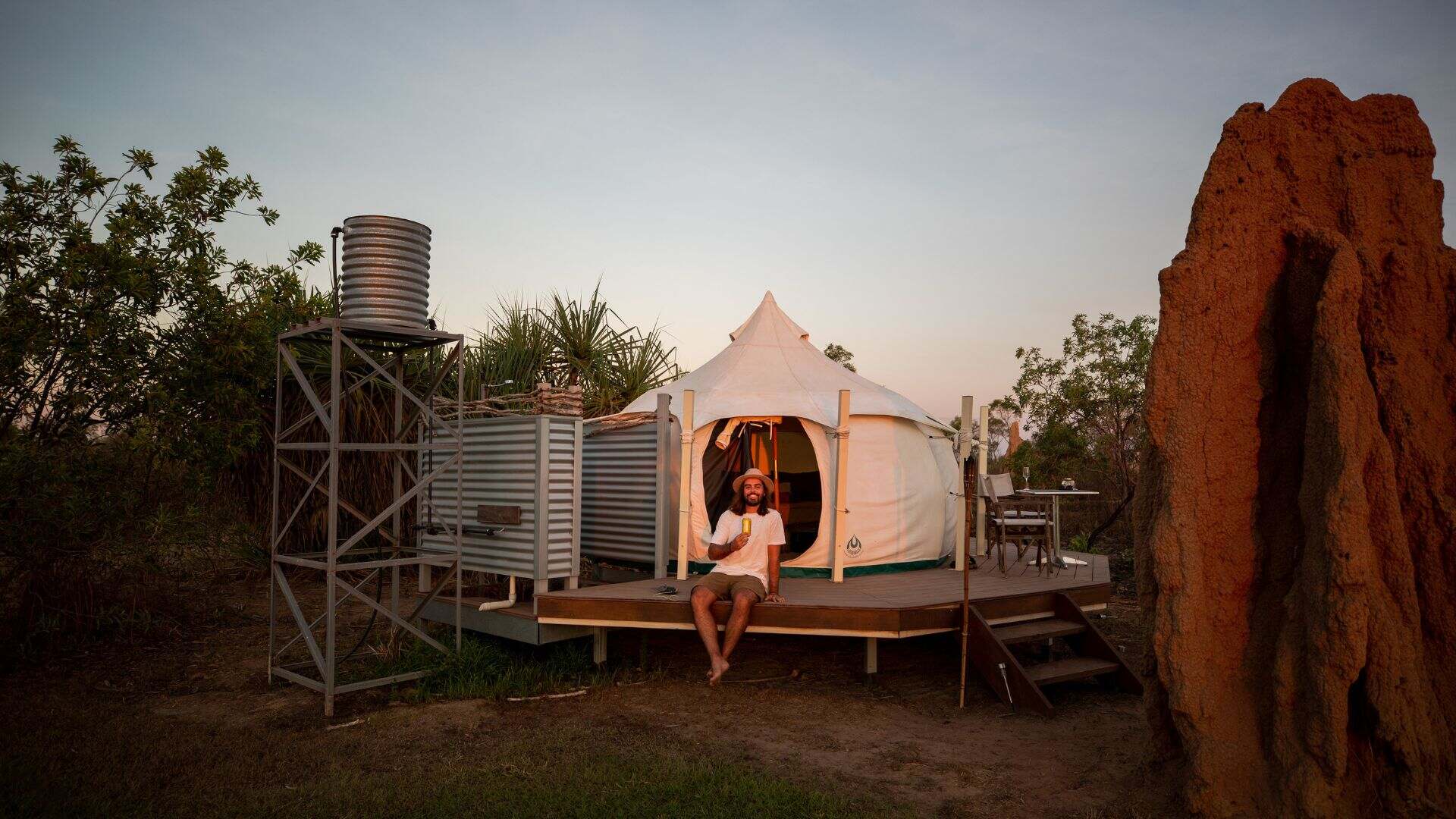 From a city hotel overlooking the sea to an outback safari and luxury island retreat.
STAY
After all that good grub you're going to be in need of a comfortable spot to relax and recharge. Depending on your budget and itinerary, Darwin has stellar accommodation options to suit. For those wanting to stay in the city with a beachfront vista look no further than the Mindil Beach Casino Resort's Lagoon Rooms. These spacious rooms overlook the resort's beautiful lagoon pool and offer easy access to the famous Mindil Beach. Enjoy a drink at the swim-up bar or head to the spa to indulge in a relaxing treatment.
If you're travelling in a group of mates or with family, you may prefer to stay at Adina Apartment Hotel in the capital city's vibrant waterfront precinct. Offering spacious modern apartments with stunning views of the harbour, it's a comfortable and convenient base from which to explore the city.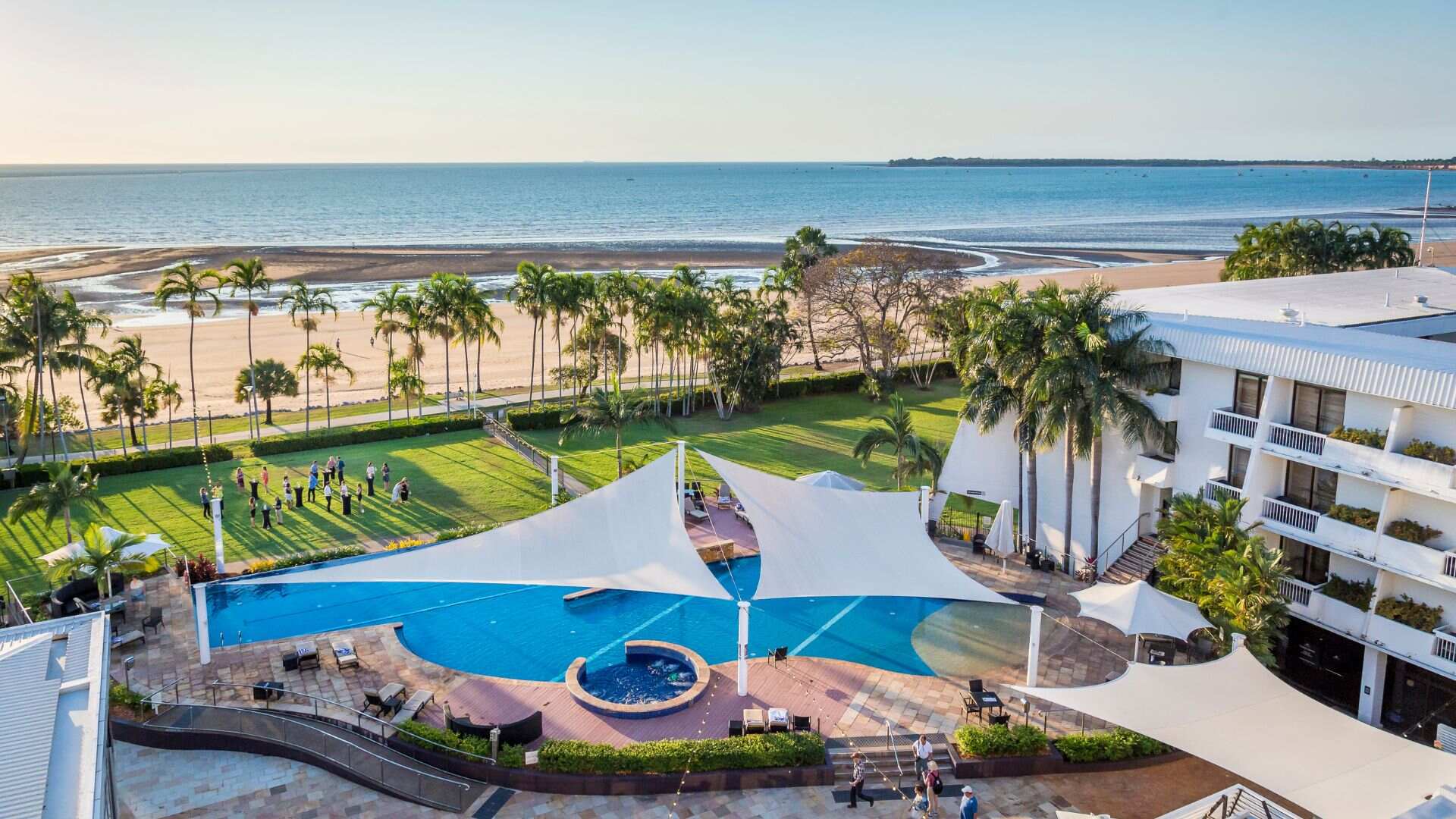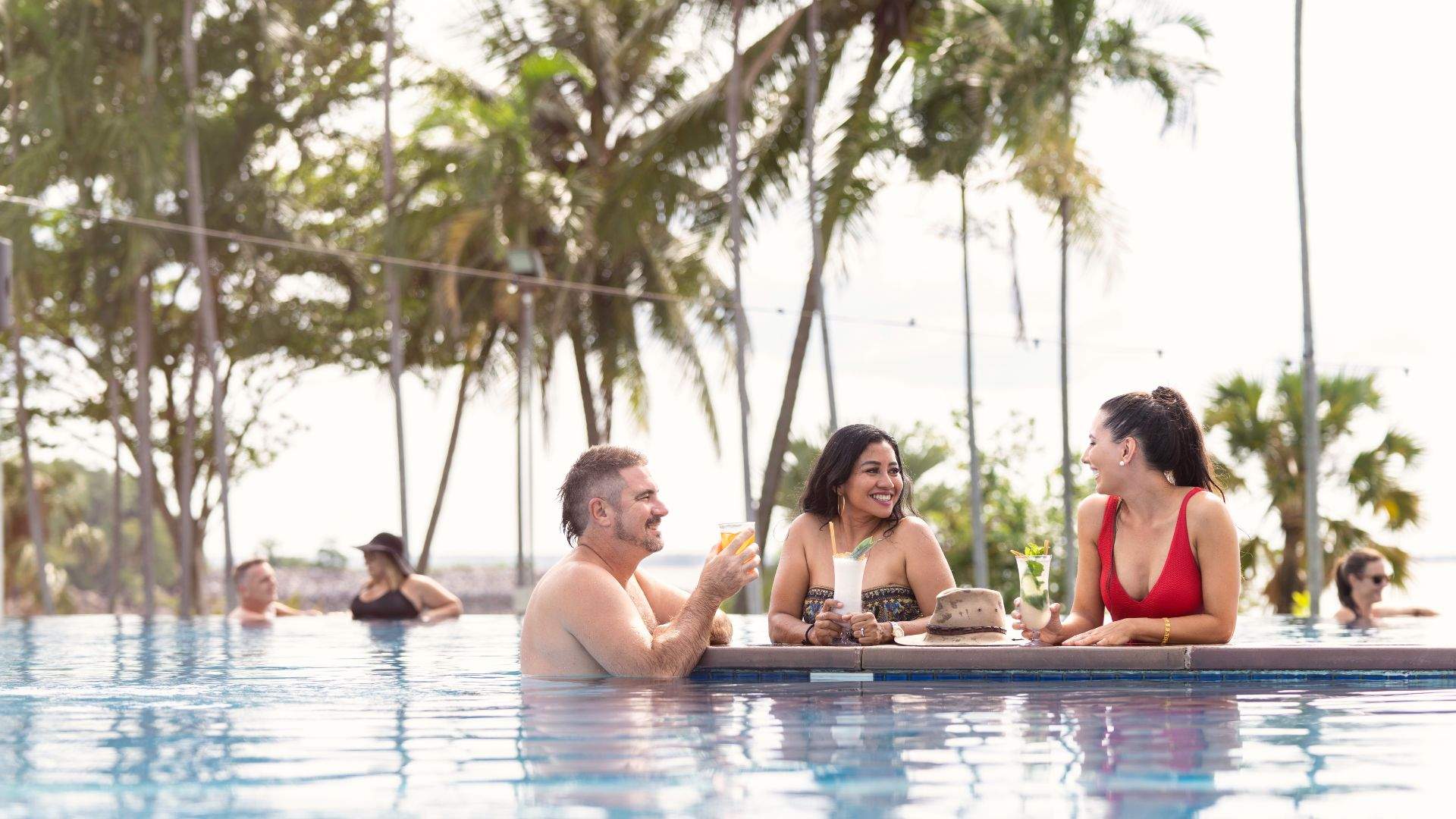 Those wanting to be truly immersed in nature should check out Hideaway Litchfield. A rustic and secluded getaway, this eco-friendly retreat includes three former shipping-container-turned-luxury cabins and a trio of hideaway huts nestled in the bush just minutes away from Wangi Falls in Litchfield National Park. Wake up to the sounds of the bush at this family-run glamping spot.
For more adventure in your bush excursion head to Top End Safari Camp, brought to you by Matt Wright, the Outback Wrangler himself. Located off the Finnis River system, the Top End Safari team offers a whole range of tours and activities. The overnight tour includes transfers from Darwin, the crocodile encounter and feeding, an airboat cruise, a helicopter flight over the floodplains, a sunset cheese board, BBQ breakfast and of course, getting to stay in one of the 15 deluxe lotus belle tents.
Each tent is fitted with modern earthy furnishings complete with a double bed, open-air shower and private deck. The camp also has a large shaded common deck area complete with a pool, firepit, dining area and bar for when it's time to enjoy a cold beverage while soaking up the sunset over the floodplains.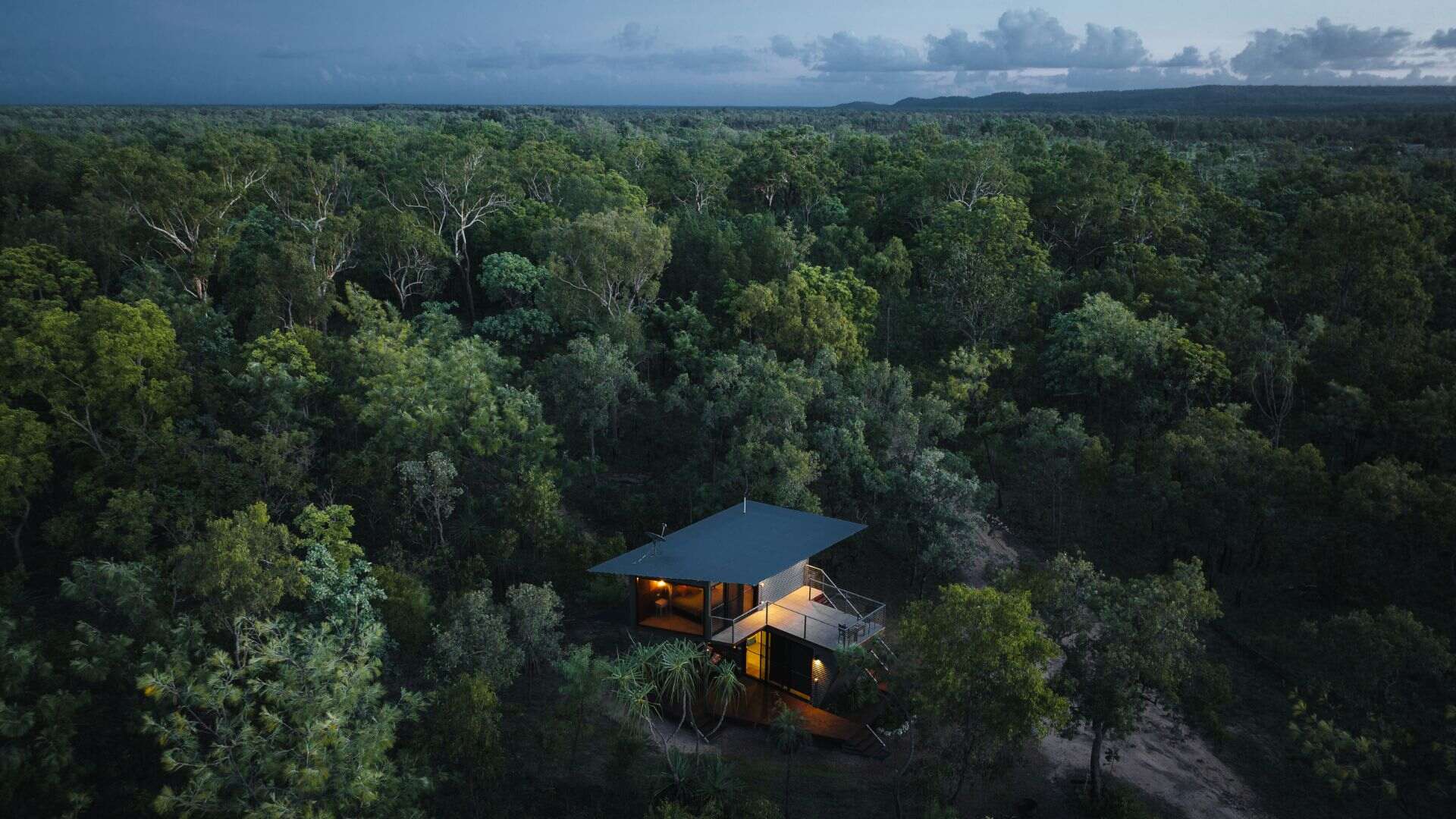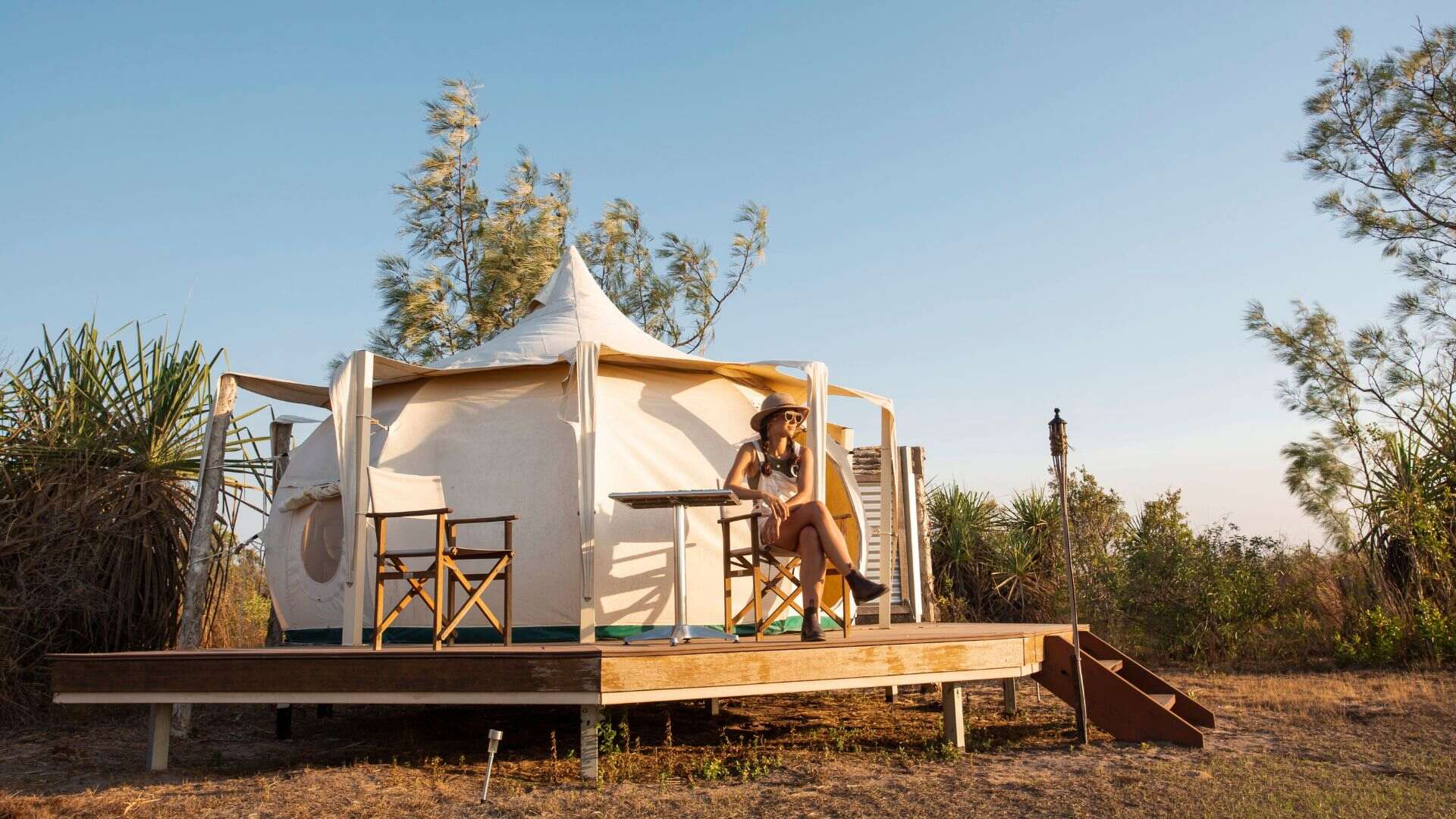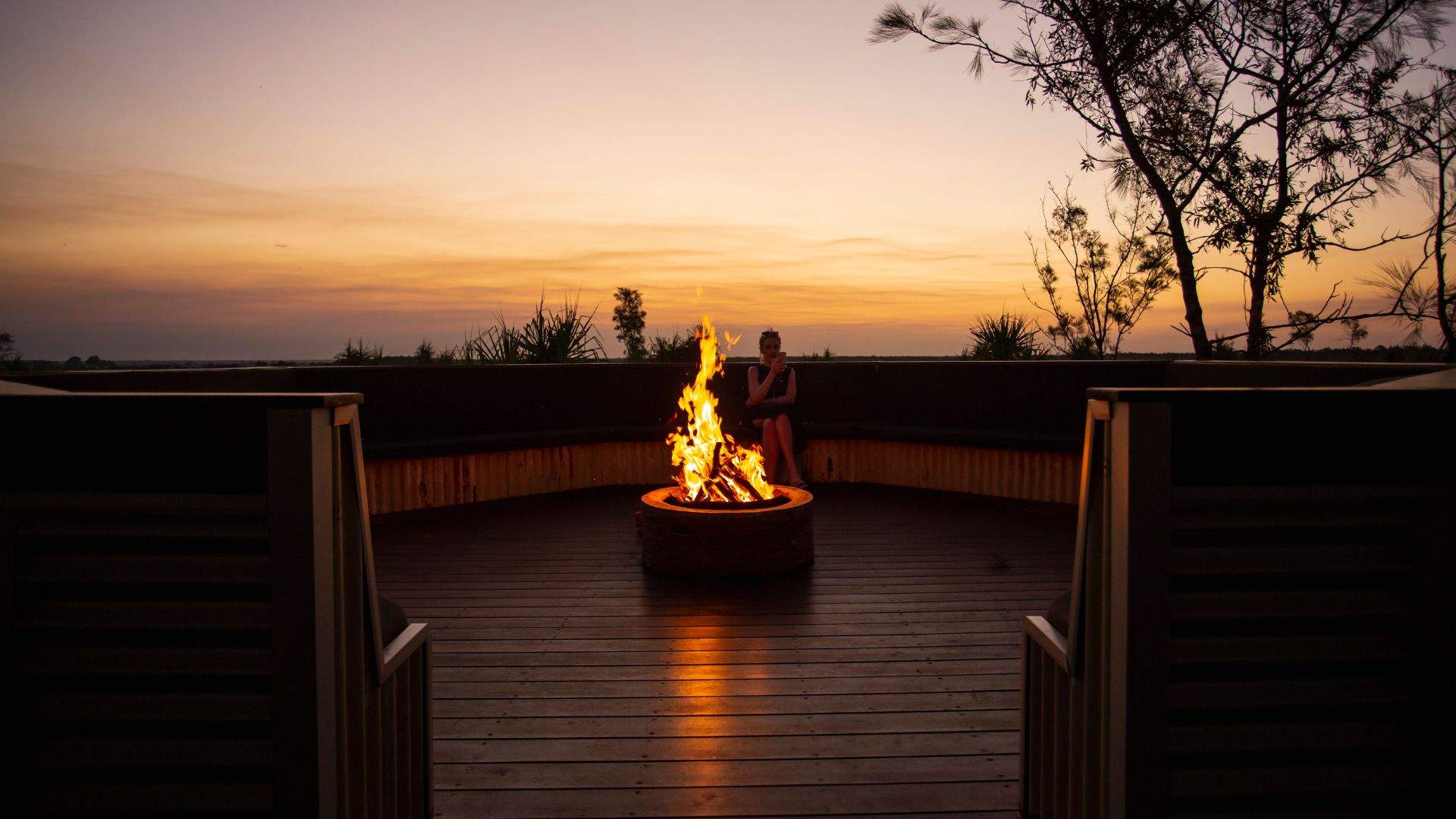 To take your Top End experience to the next level, you can't get more secluded than an island retreat. The Tiwi Islands are only a short boat ride from Darwin. The Tiwi Island Retreat is set amongst a pristine marine sanctuary on the western side of Bathurst Island. There are various accommodation options on offer at the retreat from the ocean and village rooms to the luxury safari tents on the beach — which include a private ocean-front spa.
Check out the bookable experiences provided by the retreat to enhance your time on the island from fishing, buggy beach tours of 5 Mile Beach, Indigenous art and culture experiences, helicopter tours and more. All that and at the end of the day you can tuck into Asian-Indigneous fusion meals at the retreat's restaurant. Enjoy locally caught seafood cooked over an open fire and smoker using paperbark for a unique dining experience on the beach.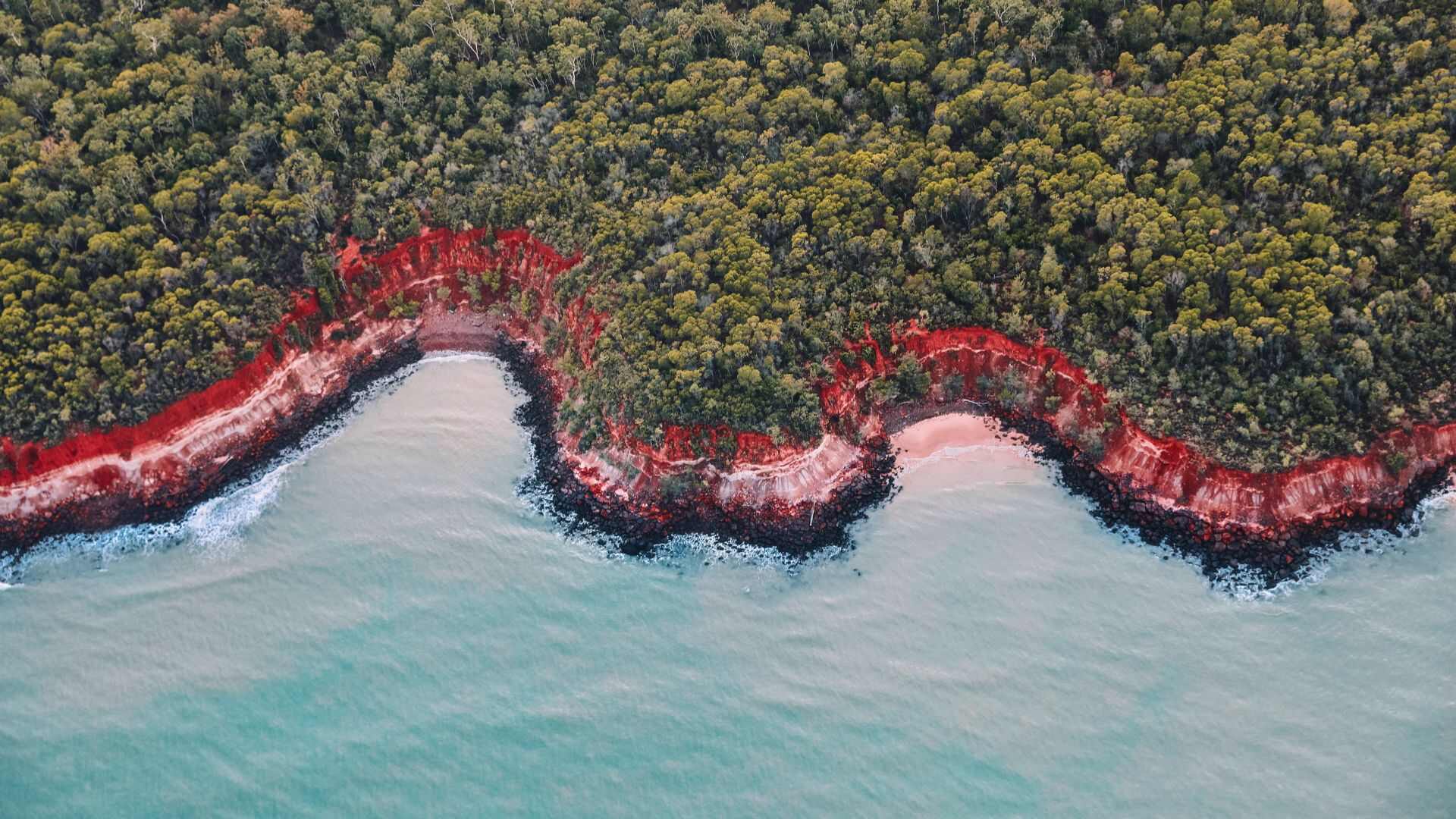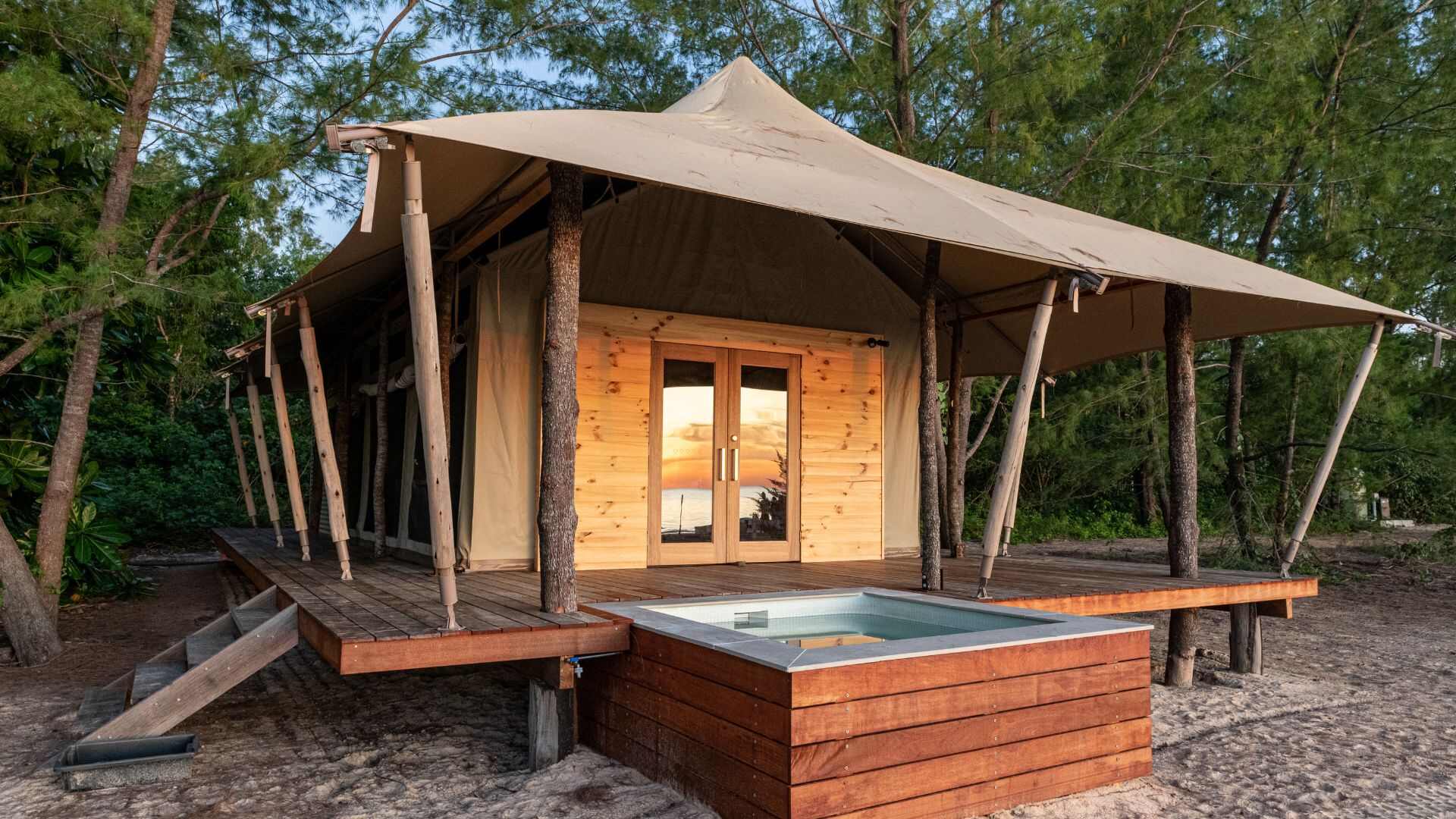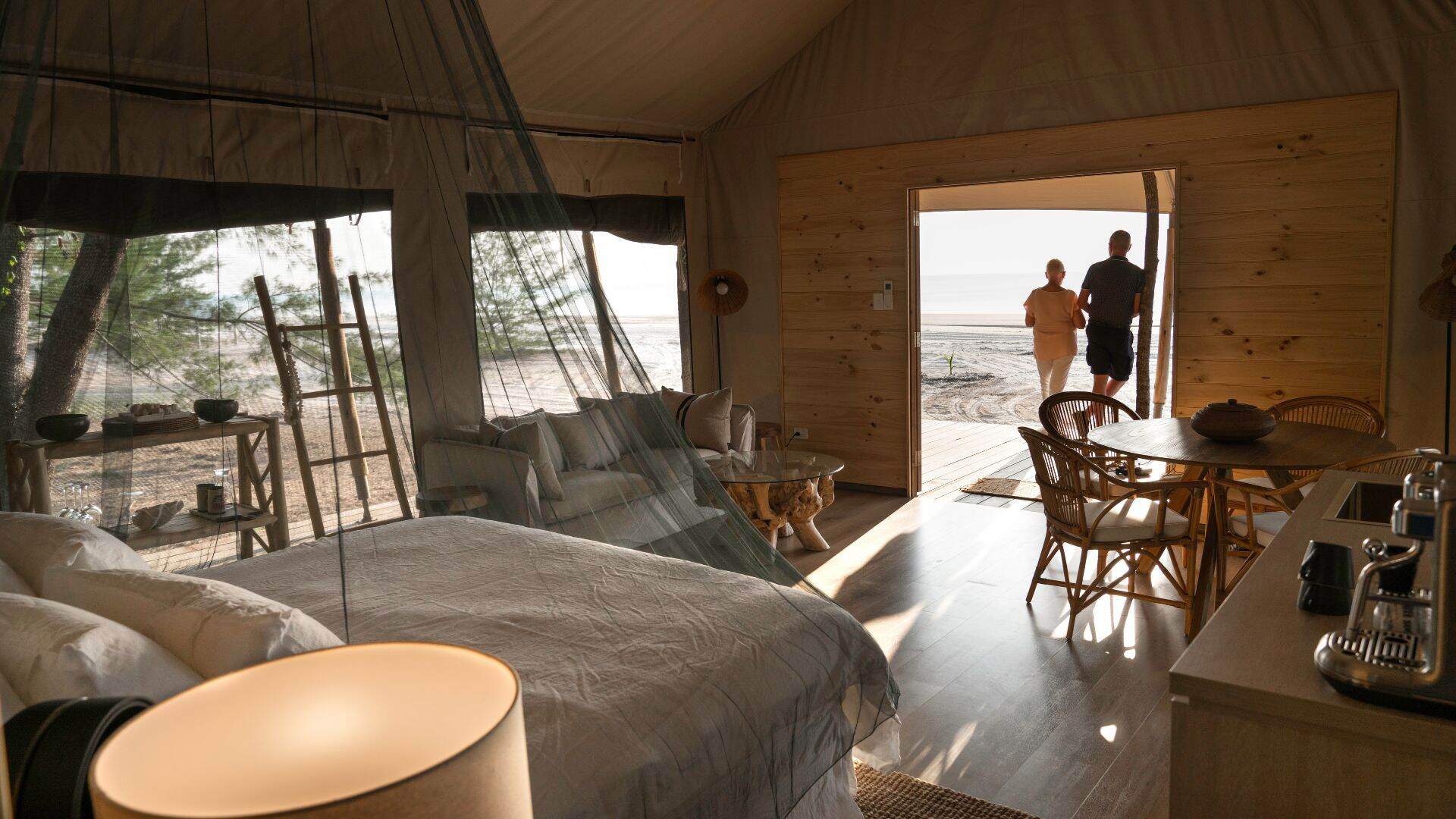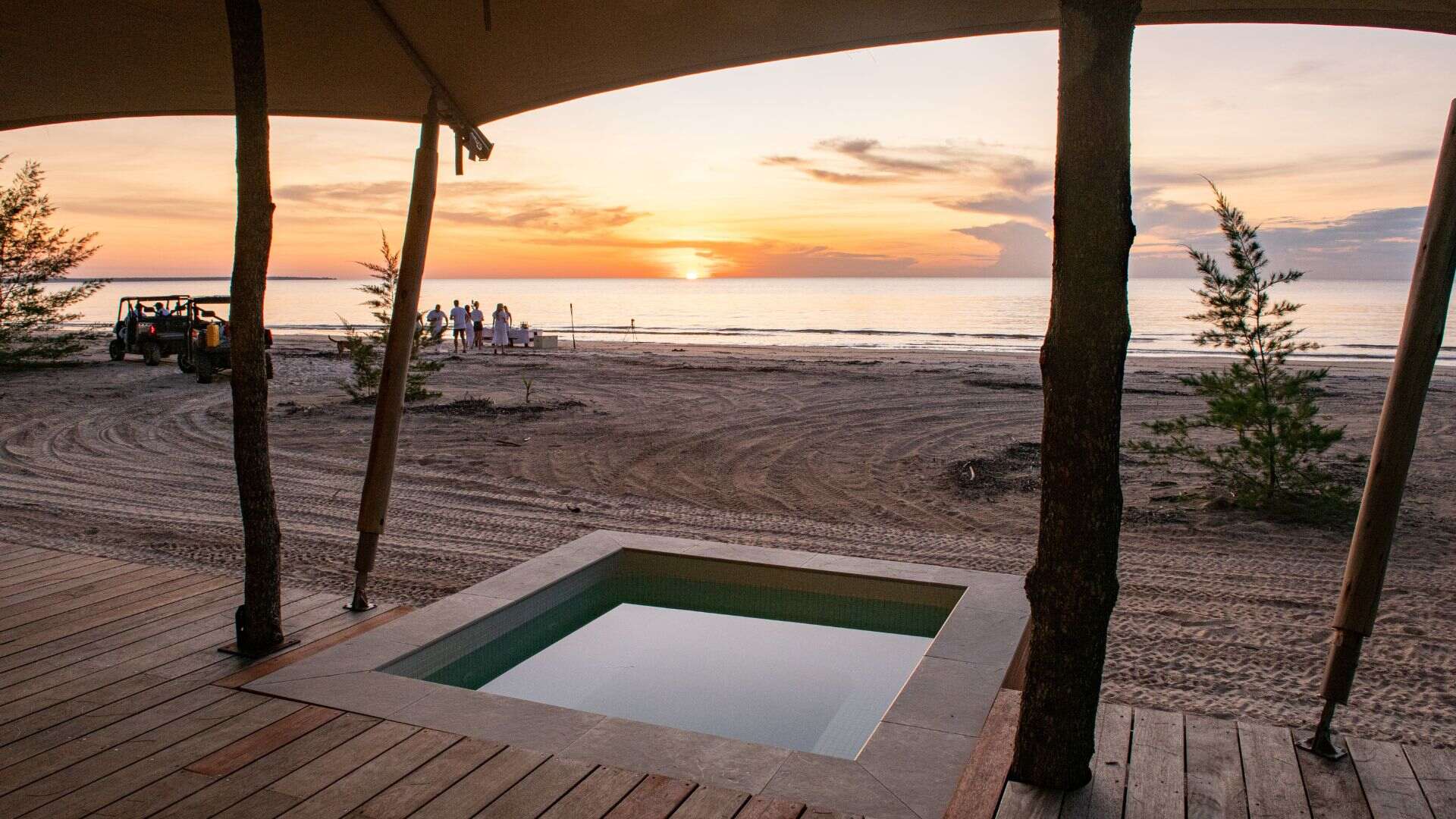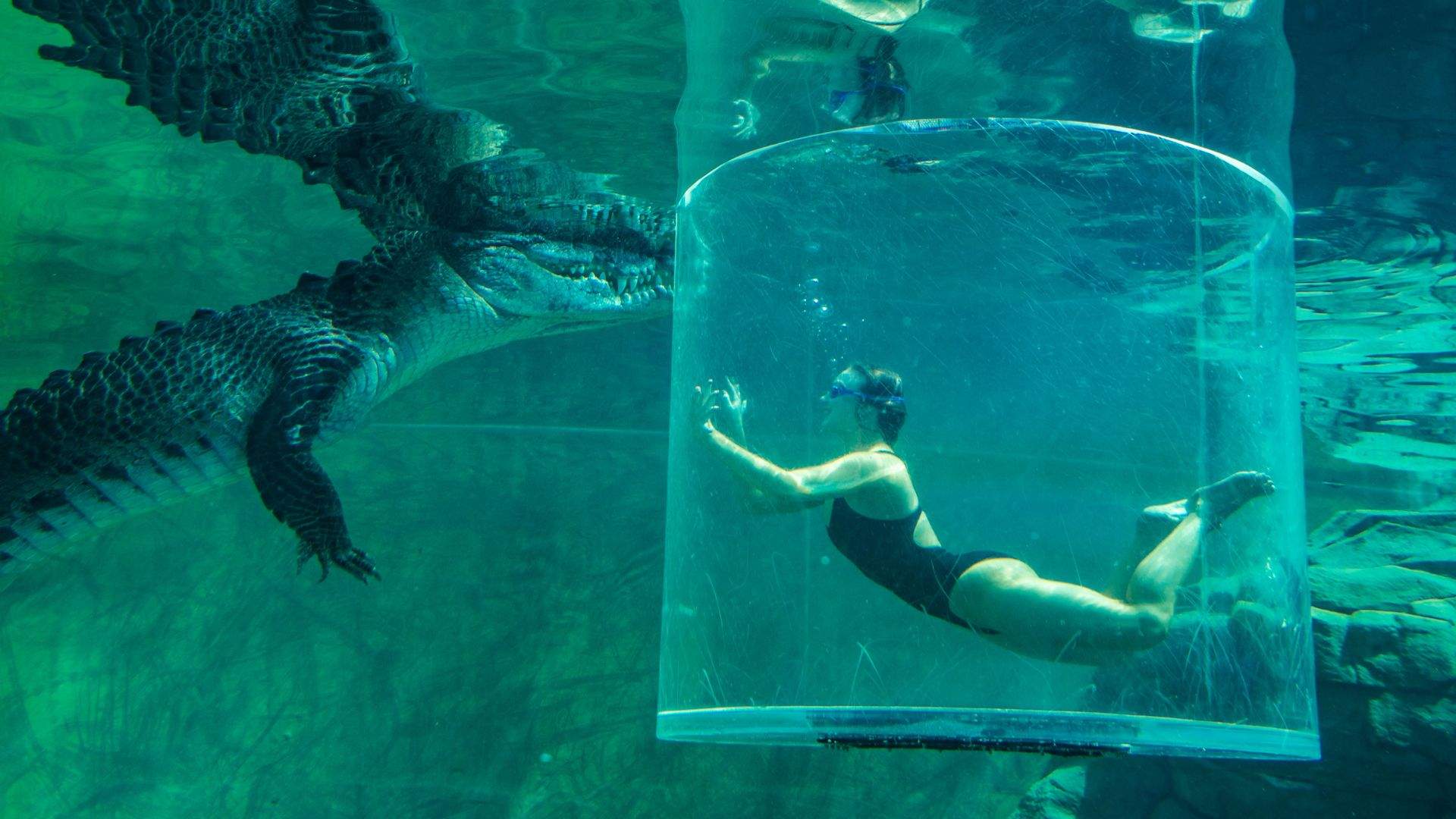 Get up close and personal with salties, take a dip in natural plunge pools and experience Aboriginal culture.
PLAY
You don't come to Darwin just for relaxation. The Top End's tropical capital is the gateway to adventure. Whether you're planning to explore island life, encounter crocs in the wetlands, cool off under a waterfall or try your hand at jet skis there's something to whet your desire for adventure in the capital city.
The stunning harbour should be first on your list once you get to Darwin. As the city is surrounded by glistening waters, it's no wonder that it inspires so much leisure time in the city — too bad about all those crocs! You won't need to worry about getting a snap from a salty when you're exploring the harbour on one of the many fantastic harbour cruises. A sunset cruise lets you take in the city skyline, the harbour and the surrounding coastline softly lit with an orangey hue. Alternatively, get your adrenaline pumping with a jet ski tour, and experience a thrilling guided tour around Darwin Harbour at high speeds.
Get up close and personal with the salties at Crocosaurus Cove. Take the plunge into the Cage of Death and swim with a crocodile — be sure to make time to see the crocs in the wild at one of the jumping croc cruises, only a short drive outside the city on the Adelaide River. After a swim with a croc, a bit of relaxation will be essential, so saunter down to the waterfront and pull up a chair, grab your beverage of choice and relax under the stars as you enjoy a movie at the Deckchair Cinema.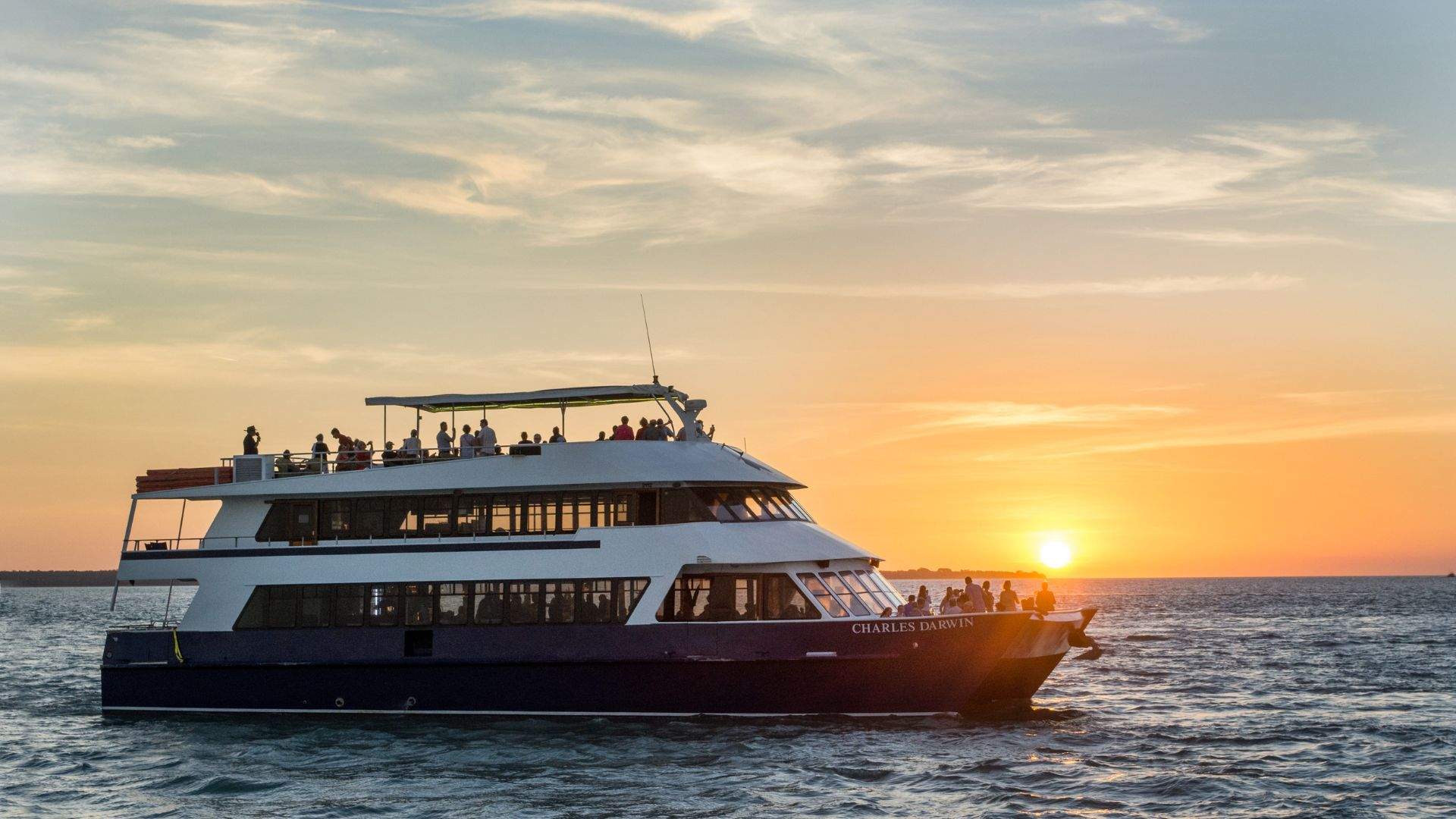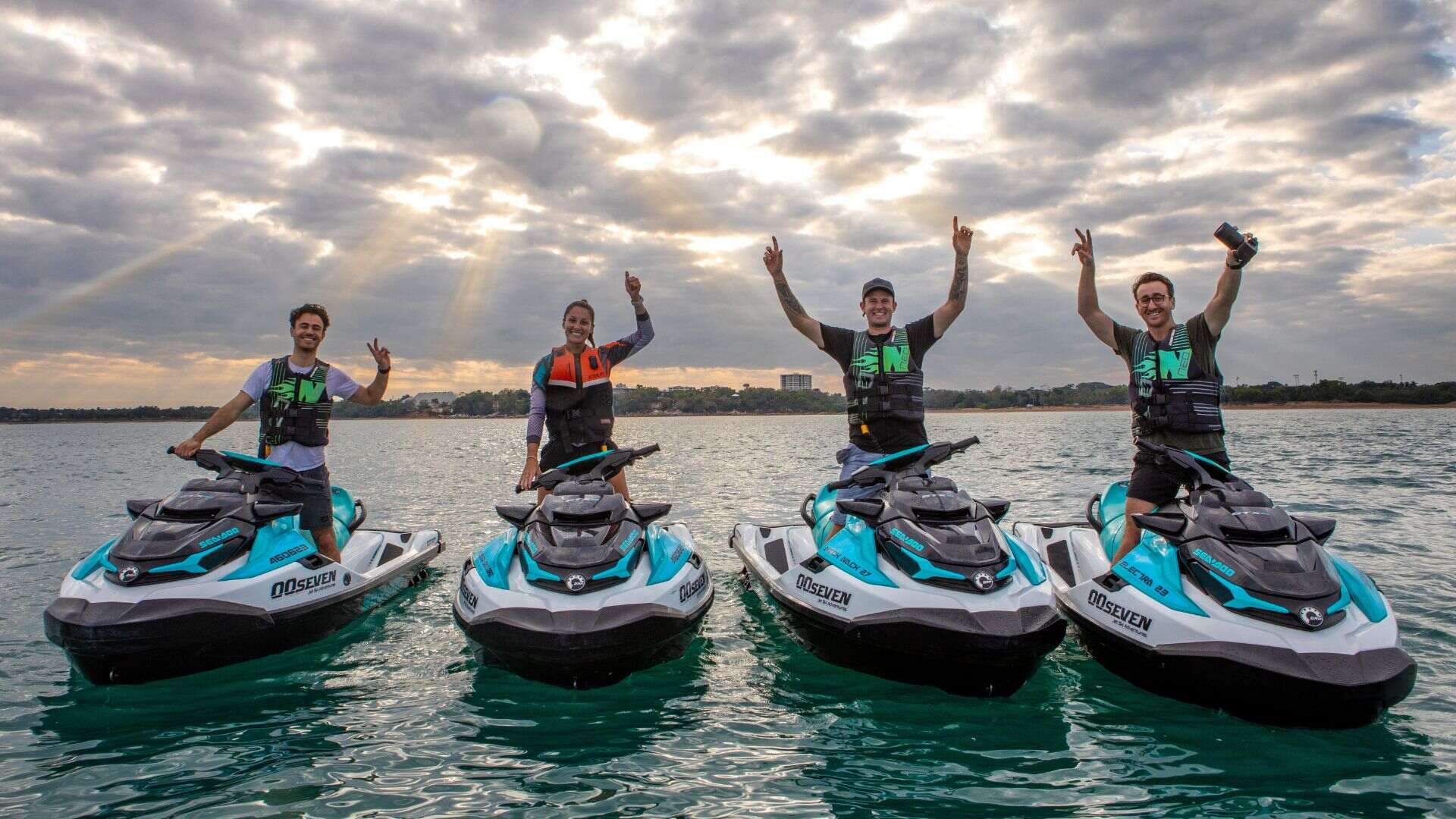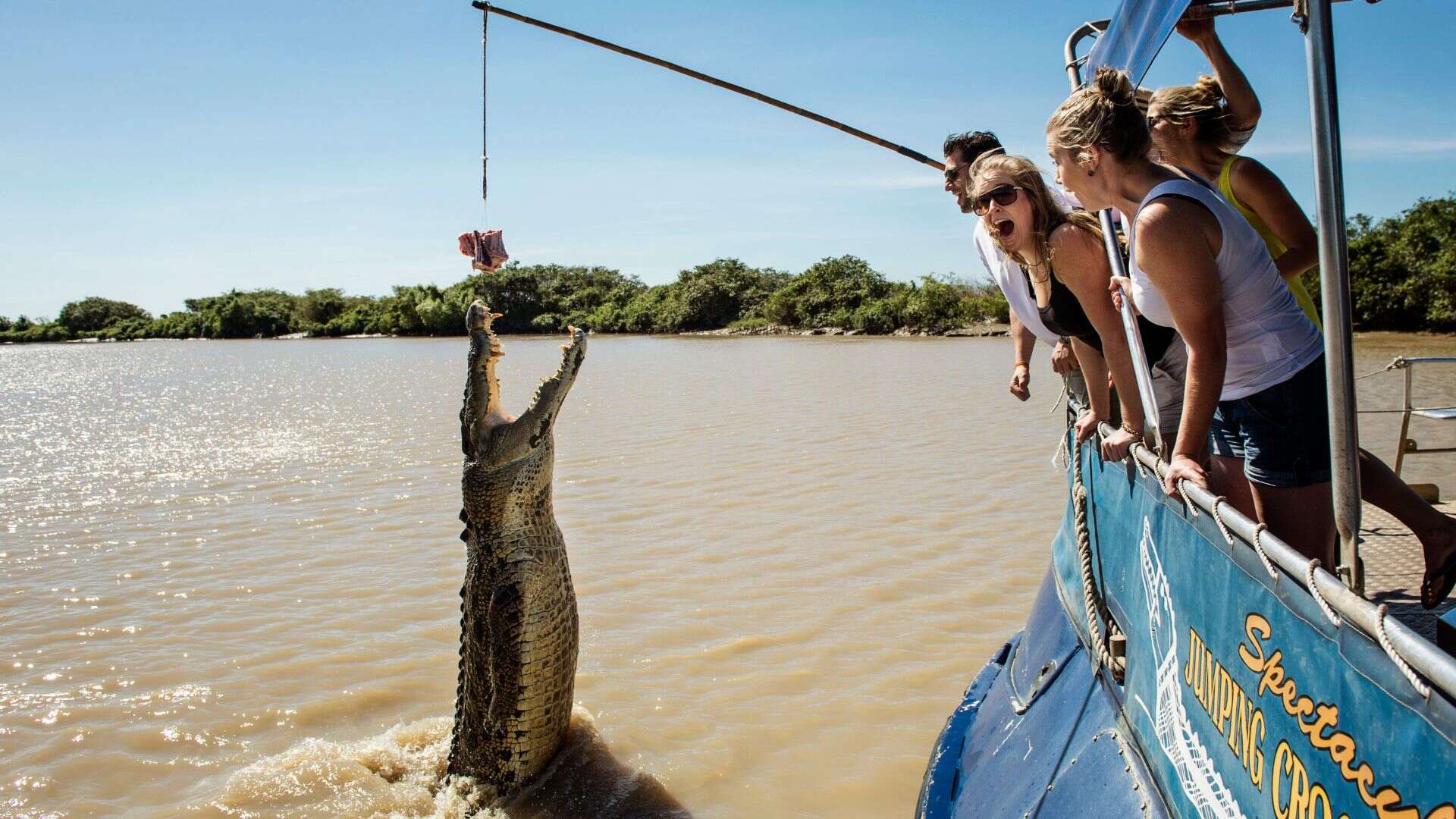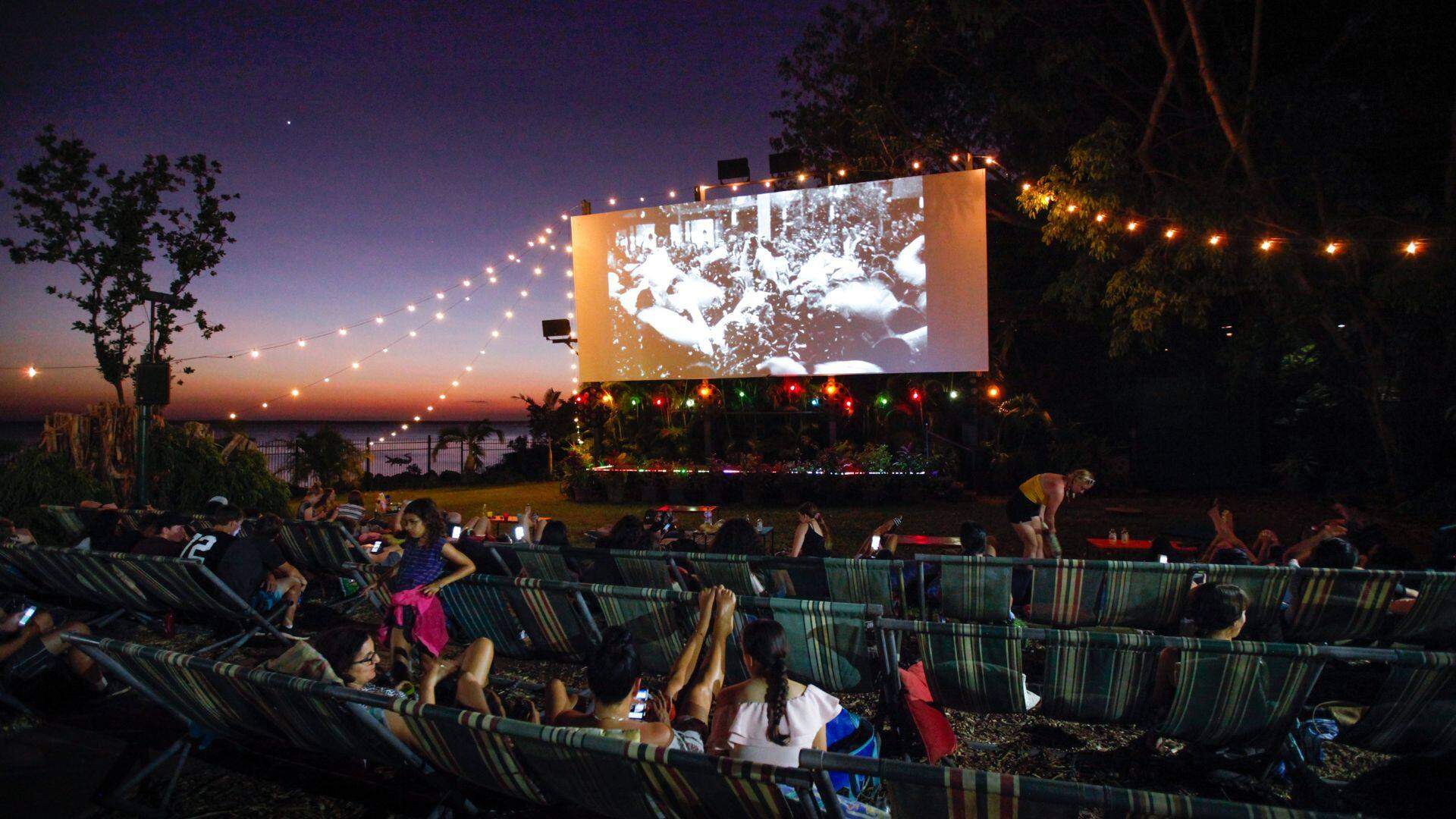 Uncover the natural beauty and traditions of the Tiwi Islands on a day trip from Darwin. Known as the 'Island of Smiles' you'll soon discover why with its thriving Indigenous culture, breathtaking sunsets and passion for Aussie rules football — akin to religion on Tiwi.
Enjoy a cup of billy tea and damper with Tiwi women elders, more affectionately called the 'morning tea ladies', and learn about the meanings behind the traditional smoking ceremonies and dancing that take place on the islands, then stop by an art centre to watch the artists at work, hear their stories and purchase artwork.
Join a tour led by a local Aboriginal guide to explore the island's white sand beaches, tropical rainforest, clay-like cliffs, and dense jungle — then take a dip in the shady waterhole at Tomorapi Falls. It's an unforgettable adventure that will give you a glimpse into the traditional life of the Tiwi people and leave an indelible mark.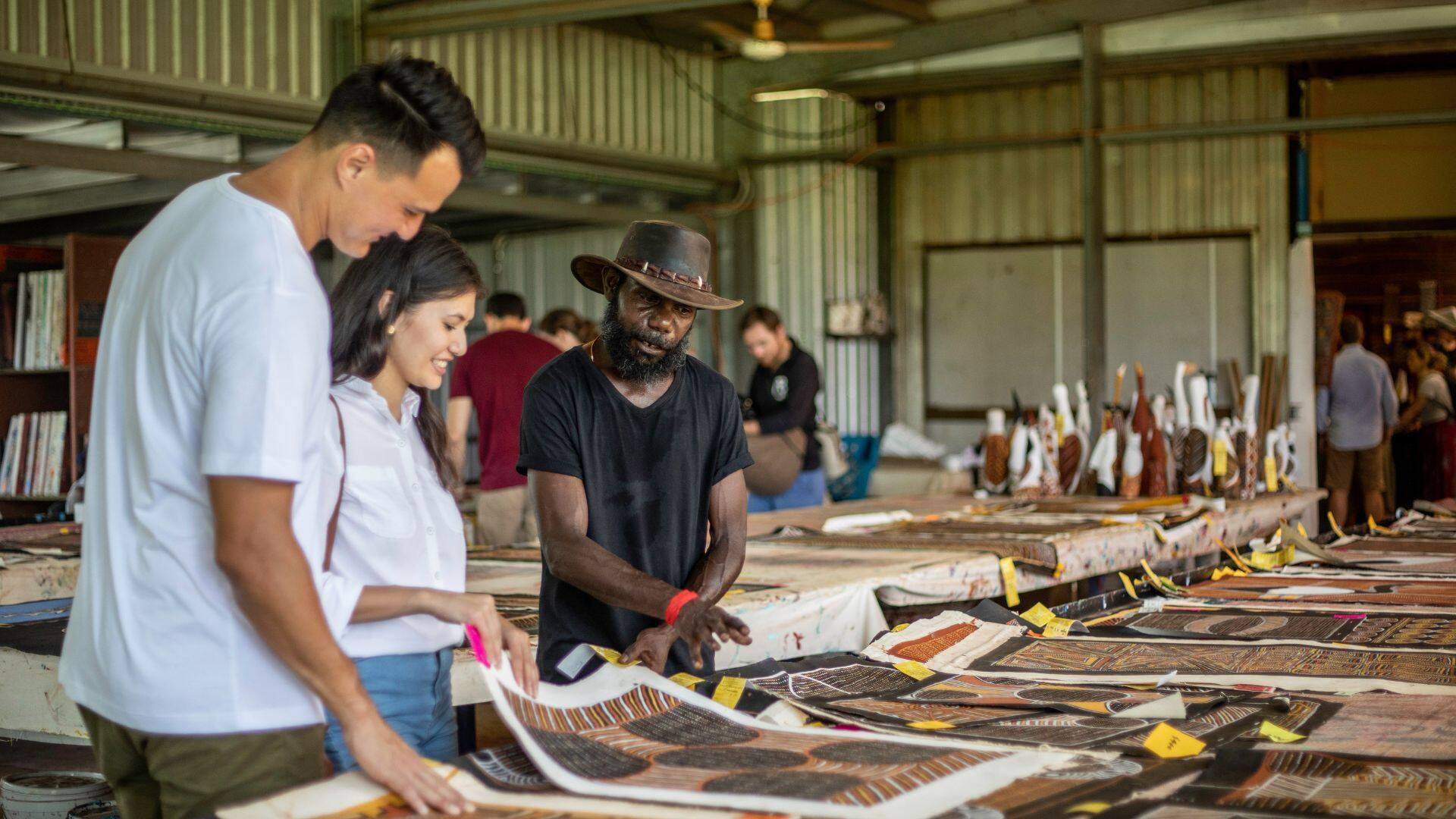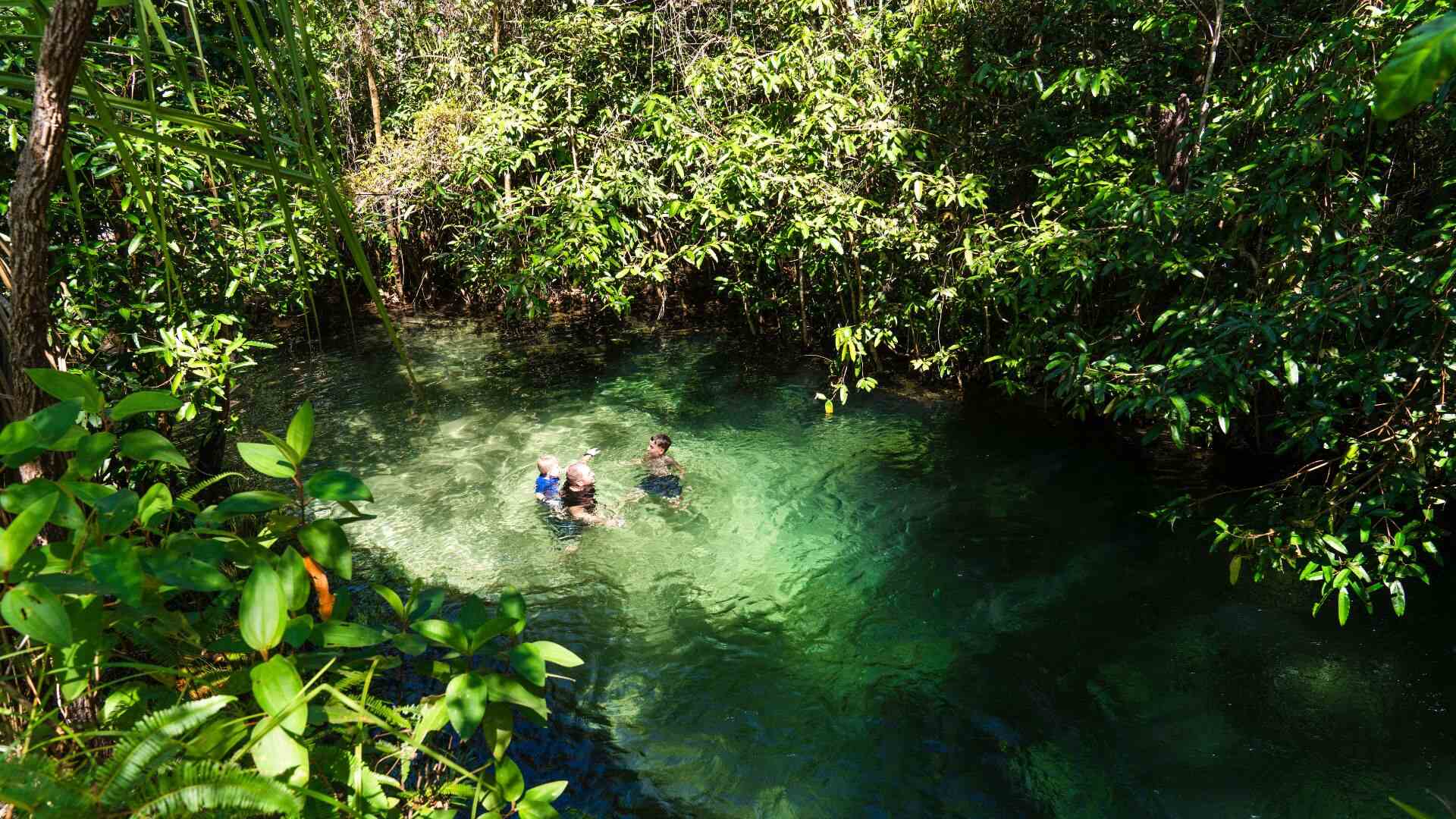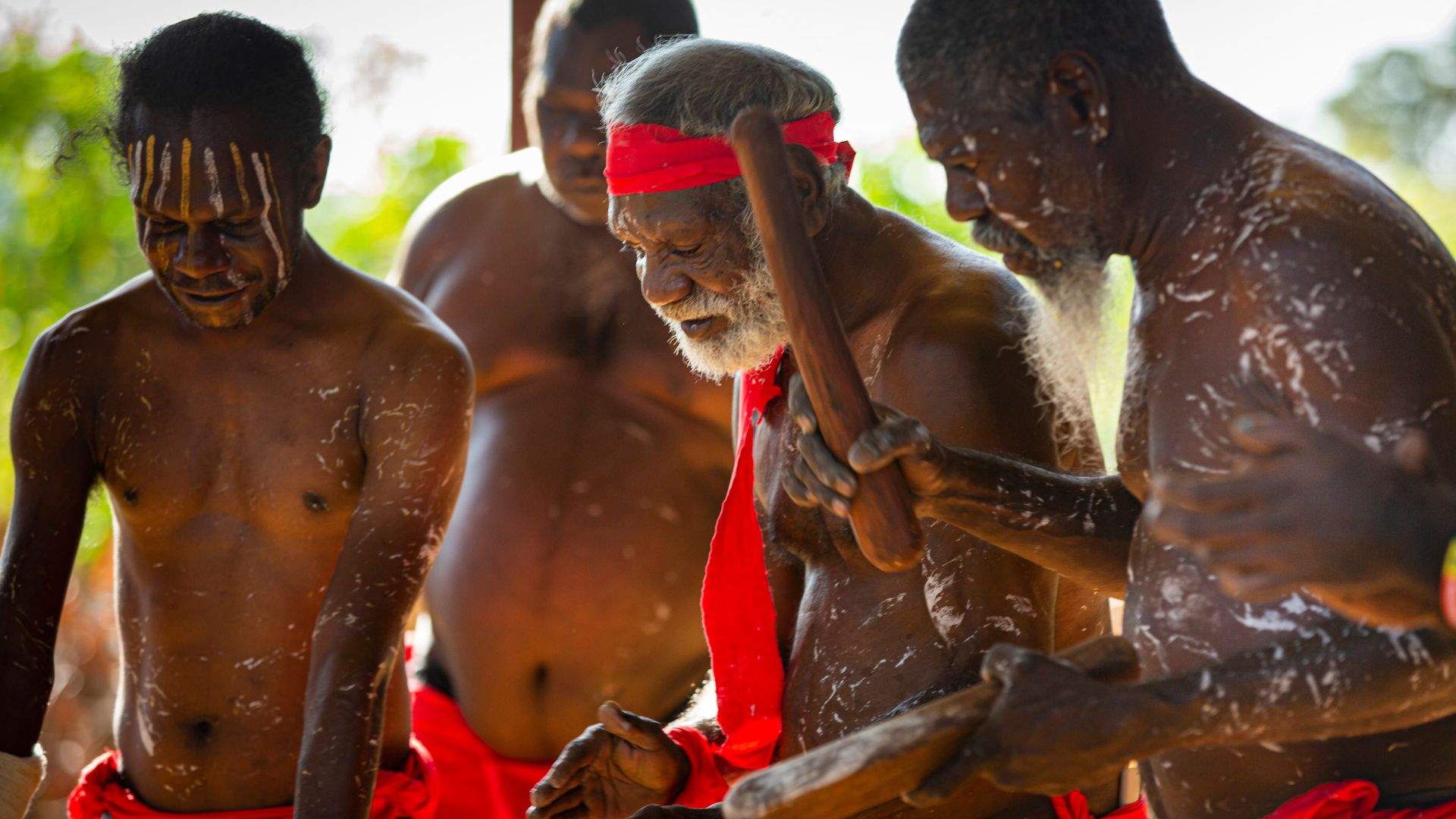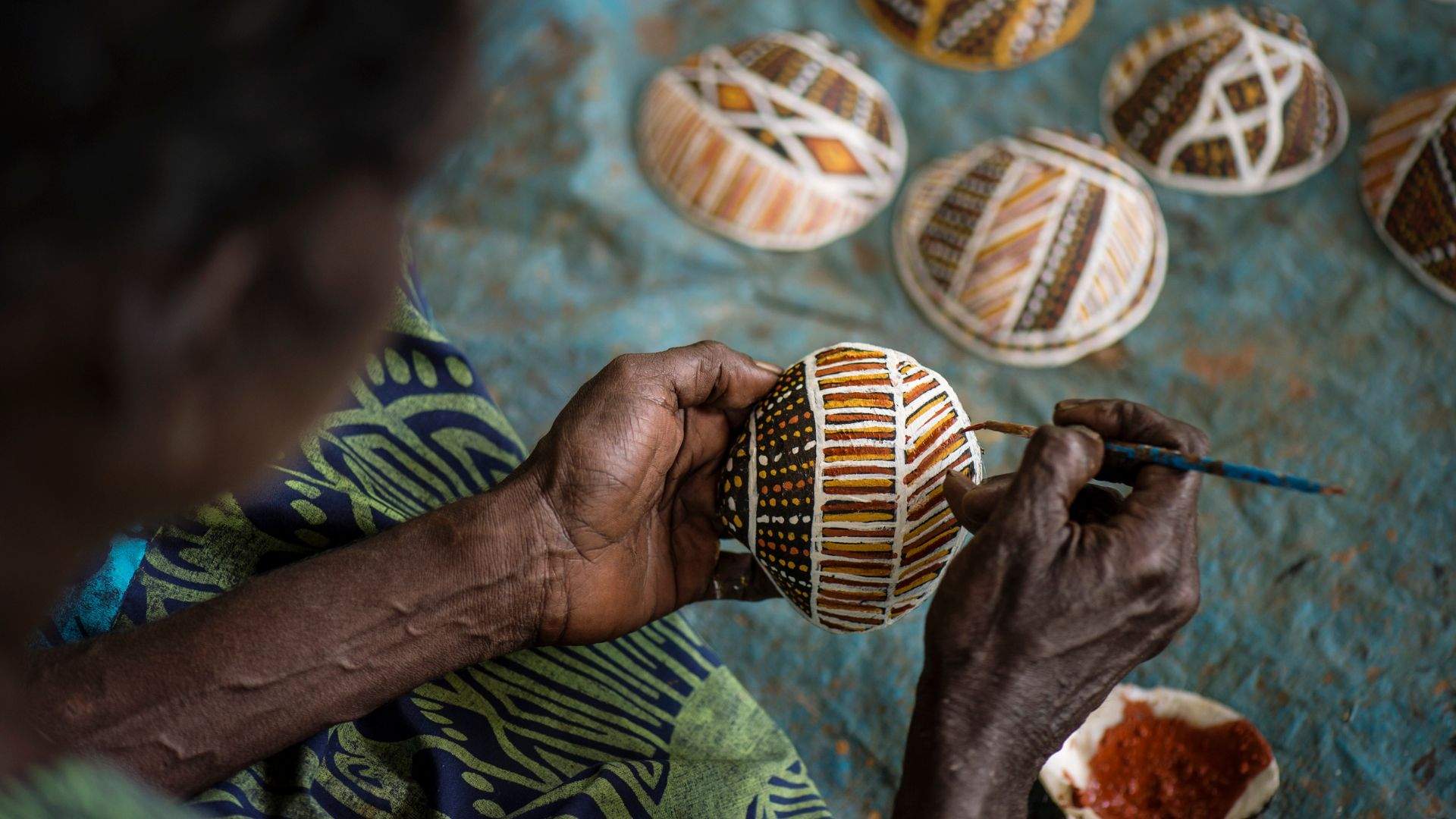 A popular inland day-trip destination is located about 47 kilometres south of Darwin at Berry Springs Nature Park. During World War II, this area was part of a rest and recreation camp for the armed forces. Some of the remains of their huts and weirs can still be found but today the park is a great spot for a swim in the natural pools or a bushwalk on its looped walking track.
Another inland destination about an hour's drive from the city centre is the lush monsoonal vine forests and misty waterfalls of Litchfield National Park. The most popular waterfall in the park is the easily accessible and gorgeous Wangi Falls. Located in the western part of the park, there are numerous walking tracks — a three-kilometre loop that will take you up and over the falls and another to a treetop viewing platform. At certain times of the year, you can take a dip in the pristine plunge pool created by the two cascading streams. And even during the wet season when the water is too powerful for swimming, it's still a sight to behold.
Stretch your legs and enjoy another beautiful cascade at Florence Falls. Follow the Gorge Rim Walk down the stairs to the valley floor. A world of contrasts, take note of the damp monsoon forest and the dry sandstone plateau above. It's the perfect spot for a picnic and a quick dip or continue on the three-kilometre walk through the cool rainforest to spy some local wildlife and cool off by wading through the refreshing series of smaller waterfalls and rock pools at Buley Rockhole.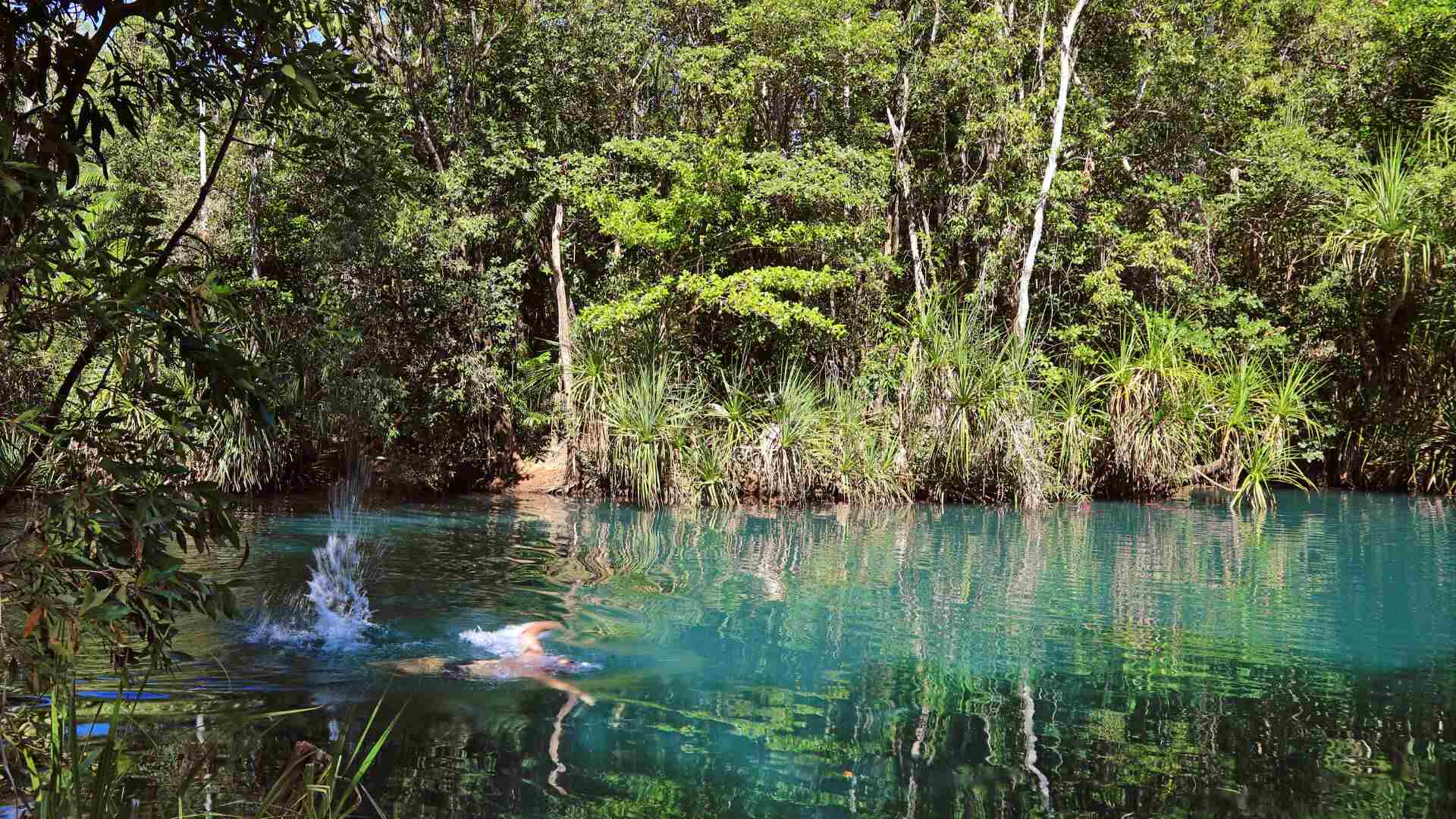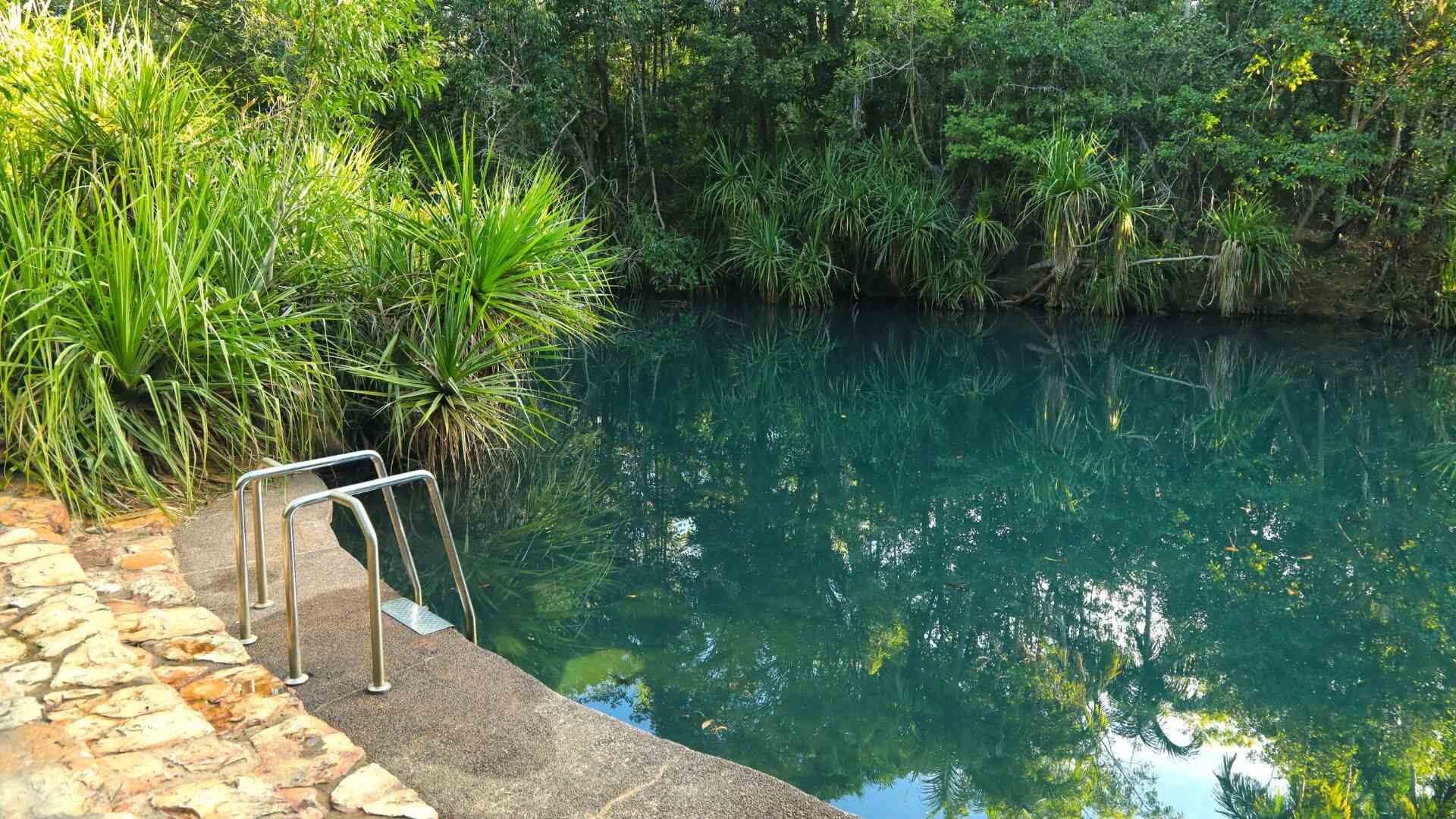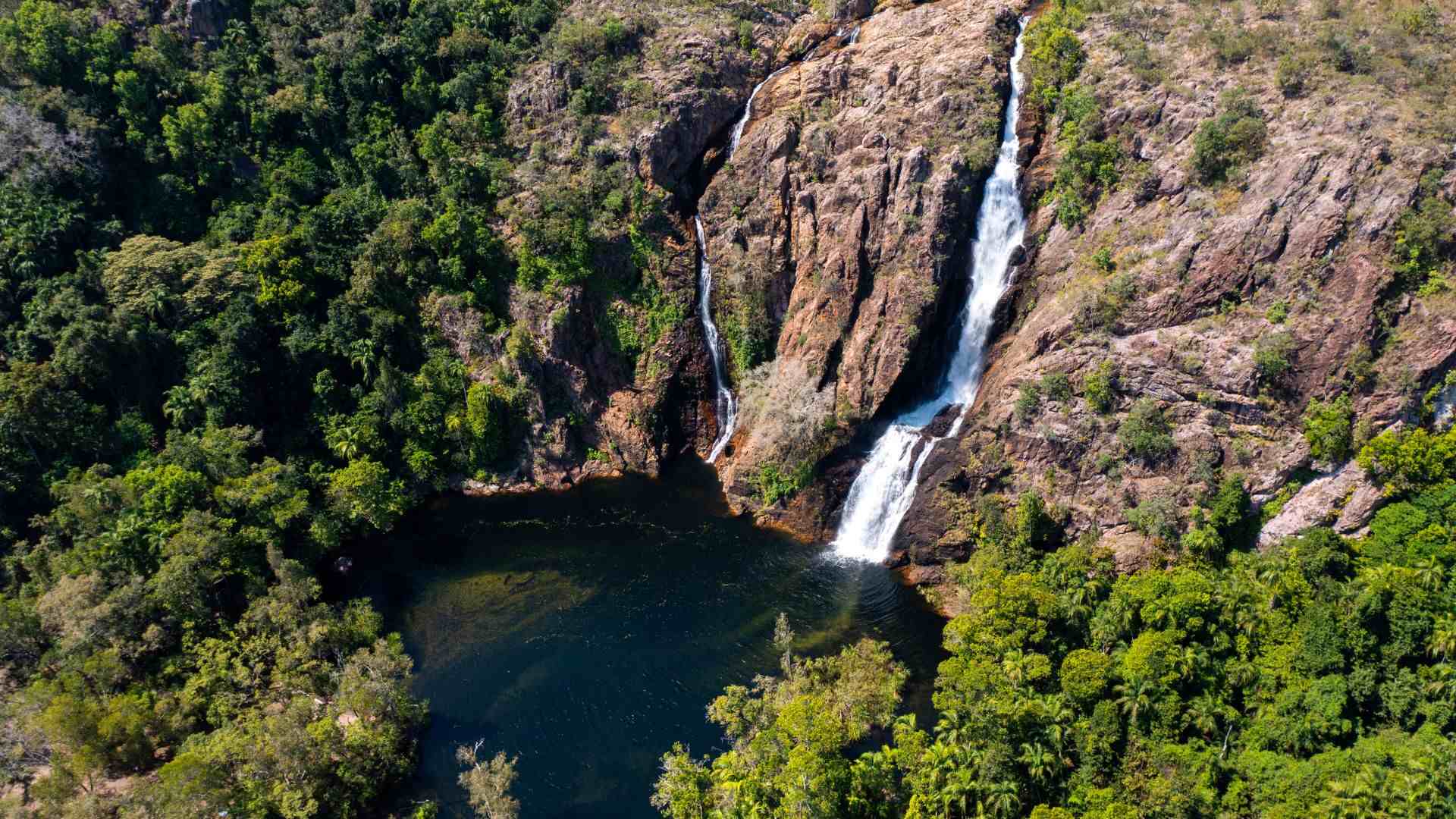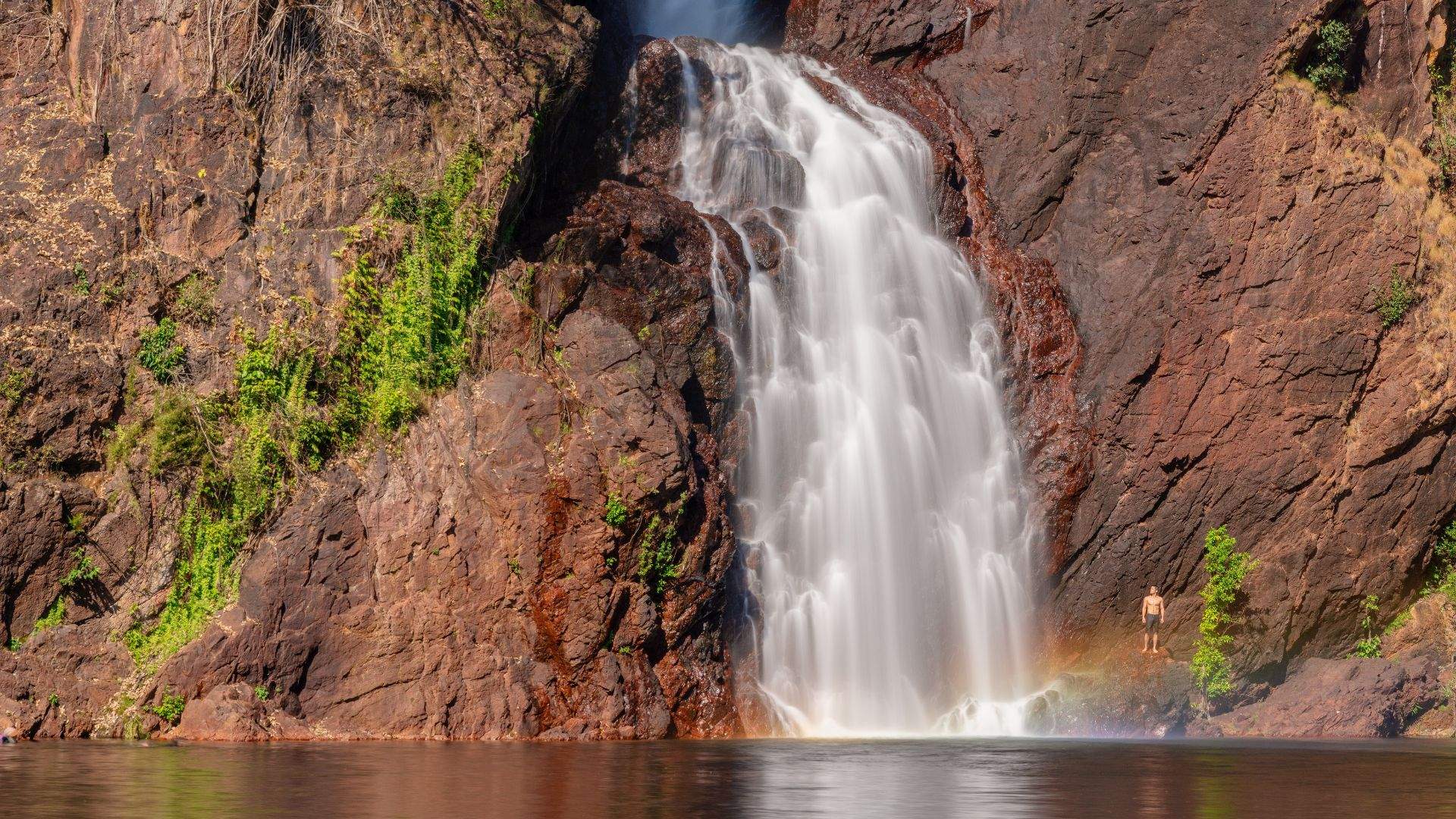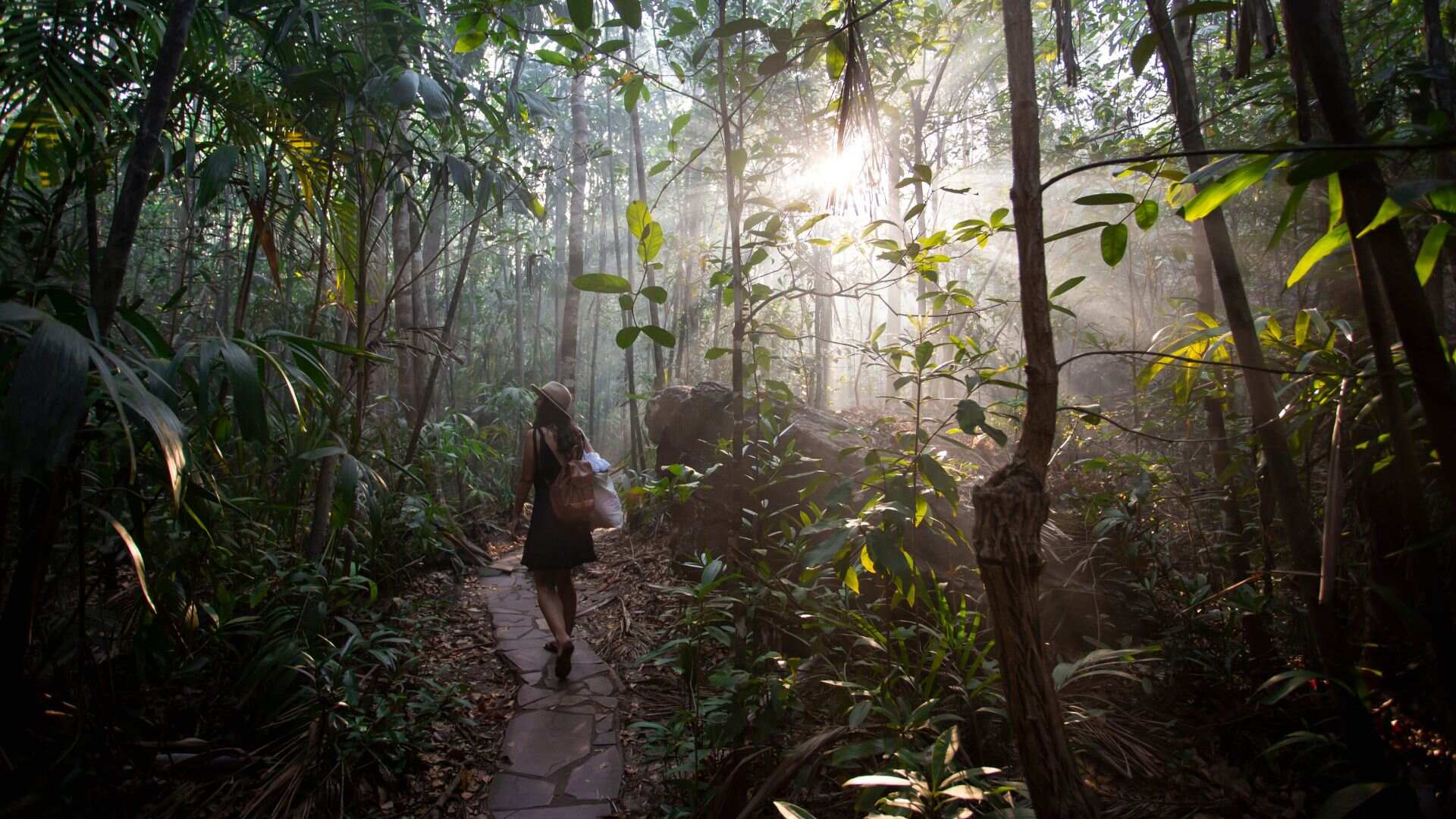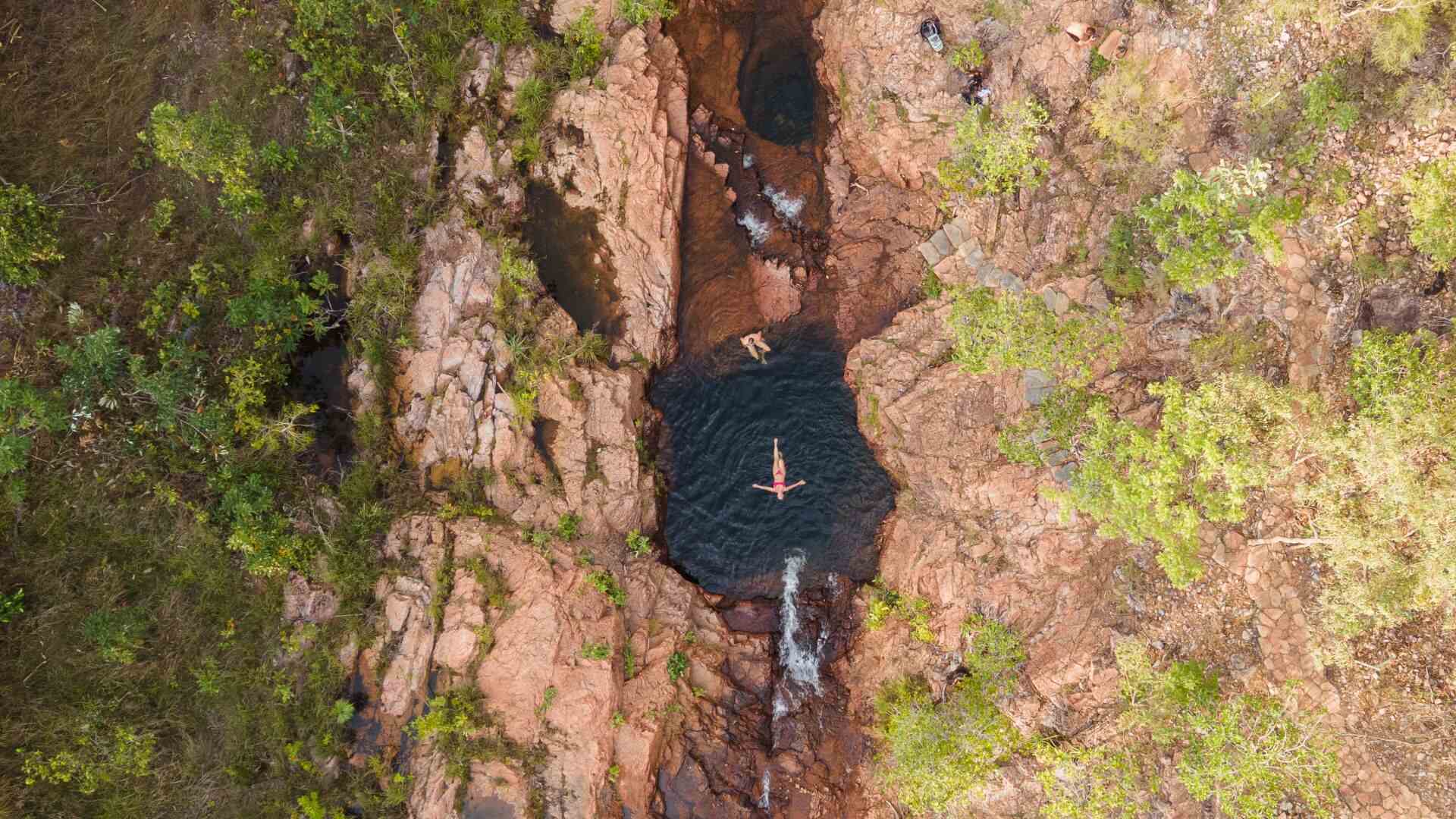 Whether it's your first stop or the next leg in your adventure, Darwin is a destination that promises to leave a lasting impression on visitors. Book flight deals to Darwin at jetstar.com.
Images (in order): Shanna McNaught (top image); Eat: Tourism NT, Tourism NT, Cait Miers, Christopher Nayna, Tourism NT, Nicholas Kavo, Shaana McNaught; Stay: Kyle Hunter and Hayley Anderson, Nick Pincott, Tourism NT/Tourism Australia, Jason Charles Hill, Nicholas Kavo, Nicholas Kavo, Elise Cook, Tiwi Island Retreat, Tourism NT/Tourism Australia, Tiwi Island Retreat; Play: Helen Orr, Darwin Harbour Cruises, jack.and_.megan., Shaana McNaught, Friederike Franze, Helen Orr, Tourism NT/Tourism Australia, James Fisher, Shane McNaught, Tourism NT, Tourism NT, Tourism NT/Tourism Australia Colby Brown, Nicholas Kavo, Backyard Bandits.
Concrete Playground Trips
Book unique getaways and adventures dreamed up by our editors