For the Cruise Curious: We Sent a Trepidatious First-Timer on Her Maiden Cruise Voyage
Have you been curious about what it's like to travel by cruise? We sent a writer to experience it first hand.
Honestly? I've never considered a cruise holiday before. So when an opportunity came up to see New Zealand by boat I jumped at the opportunity, but given that my only reference for travelling on water was a round trip on a Sydney ferry, I truly didn't know what to expect.
In the end, it turned out to be the voyage of a lifetime — being greeted by bottlenose dolphins as we coasted by Milford Sound's soaring cliffs at sunrise, sipping Aperol Spritz while gazing at ocean sunsets from the ocean, and eating our weight's worth of meals on the ship's many restaurants.
Here's an account of how the trip went down here.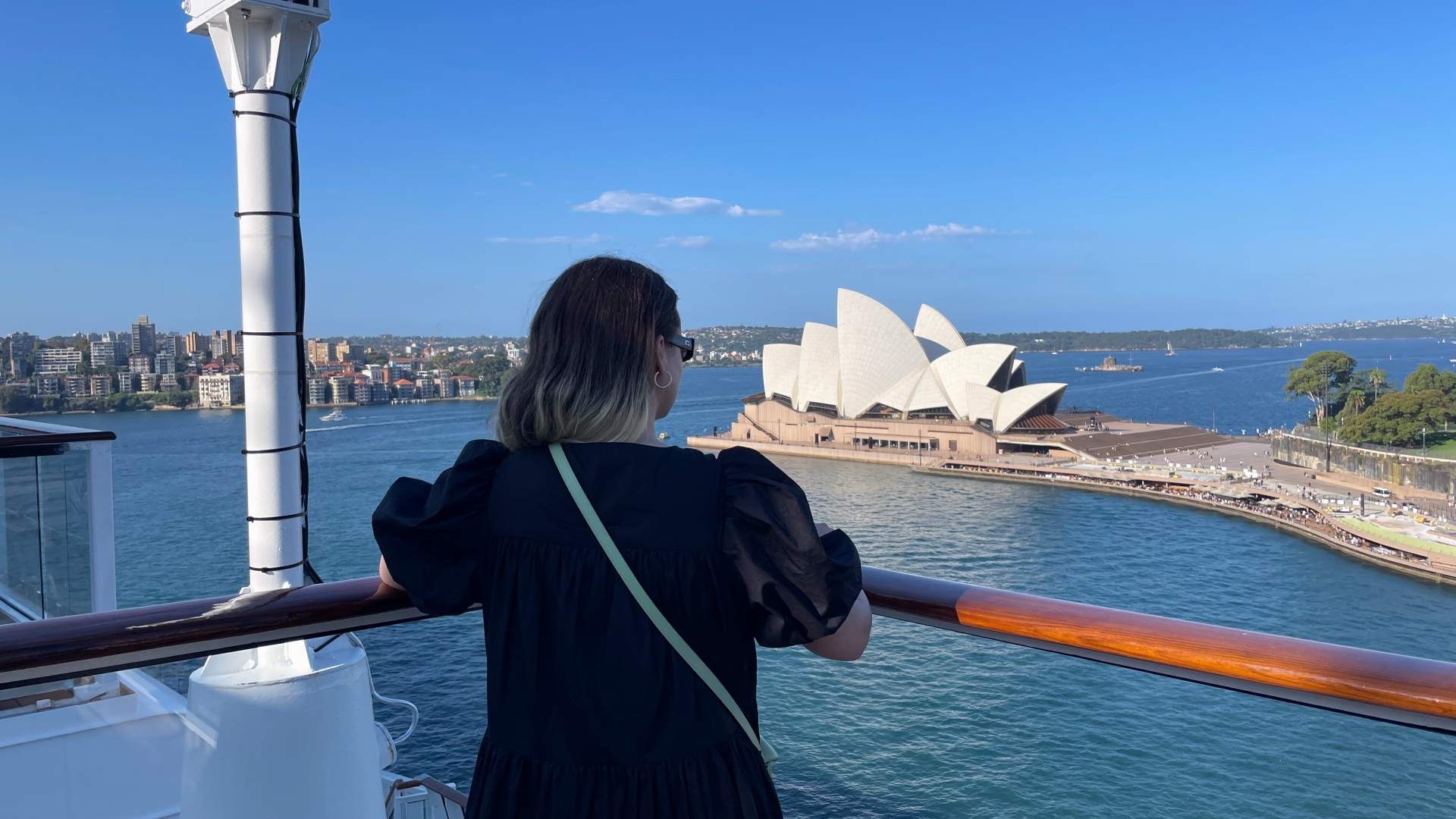 FIRST IMPRESSIONS
When me and my partner boarded the ship, we made a beeline straight to our new home-away-from-home: a surprisingly spacious room with a luxurious king size bed, cosy living space, fully stocked mini bar and private verandah which served as home base for many room service breakfasts and sunset drinks. 
After settling in, we were ready to explore the labyrinth of amenities. If you're anything like me (a complete cruise novice), you probably hazard a guess that a cruise ship is akin to a large resort with a pool, some snazzy restaurants and a few shops. What you might not realise — and what I quickly discovered on board the Celebrity Eclipse (the vessel I traveled on, one of many from the Celebrity Cruises fleet) — is that the inside of a cruise ship is more comparable to a mini floating city. It had everything from a giant broadway theatre, spacious grass lawn, basketball court, and more pools, spas, restaurants, bars and shops than you could count on your fingers and toes.
CRUISE CUISINE
When it came to its dining options, the Eclipse really blew my expectations out of the water (pardon the pun). From immersive 3D concept dining at the Le Petit Chef, to ocean-fresh sashimi and caramelised gingerbread with wasabi gelato at Sushi on 5, to the fully stacked and ever-changing buffet that you'd anticipate on a cruise.
The Le Petit Chef 3D projection dining experience was a strange highlight — watching a tiny 3D-animated chef prepare tomato tartine in front of you while you are 100km away from land was a surreal experience to say the least. Another culinary highlight was Murano, a restaurant where chefs masterfully prepared traditional recipes like lobster bisque in front of your very eyes. This is clearly a difficult thing to express in words and kind of just needs to be experienced.
The all-inclusive dining options were also well worth writing home about. Between the crowd-pleasing menu at the chic Moonlight Sonata with well-executed retro classics like prawn cocktail, creme brulee and New York cheesecake, to the clean eating options at Blu, which boasted biodynamic wines and dishes like Beyond burgers, black truffle gnocchi and tuna tataki with spicy mango scallions.
And when it came to drinks, you couldn't find a more picturesque place to sink back a beverage. From the breezy Sunset Bar with sweeping ocean views, to the cosmopolitan Martini Bar with top-notch bartenders, or the premium concoctions at Blu with names like Nightfall Elixir and Garden Breeze and tasting notes of fresh crushed strawberry, maple and Veuve Clicquot. (We had the classic drinks package which entitled us to unlimited drinks in the 'classic' category, which included everything from beers to bubblies).
ENTERTAINMENT AT SEA (AND LAND)
If you've ever wondered what one does on a 12 day cruise besides eating and drinking, I was surprised to discover it's a whole lot more than you might expect. Cruise guests are encouraged to download an app that surfaces a menu of entertainment and experiences for each day of the journey.
The seemingly endless list of activities included everything from Broadway shows with acrobatics to rival Cirque Du Soleil, to an endless supply of luxury treatments and massages at the spa and salon. If you want to get your daily steps in, the Eclipse features a substantial running track, a premium gym and fitness centre and plenty of workout options from barre to boxing.
Which brings me to my next point, which everything that happens onboard it's surprisingly easy to forget that you actually get to visit the incredible travel destination that is New Zealand. We had a whole host of New Zealand cities on our cruising agenda - from the staggeringly beautiful Milford Sound, to the cultural hub of Wellington - and each city we saw came with a curated list of Celebrity's shore excursions. Our most memorable excursion saw us hopping on board a WWI-era train through New Zealand's wine country, beginning in Picton and travelling through Marlborough's lush hills and valleys where 85% of New Zealand's wines are made.
We enjoyed complimentary wine tasting, lunch and views that could only be described as cinematic. This was definitely one for the proverbial picture books, or Instagram Story highlights.
WOULD I CONSIDER FUTURE CRUISES?
Overall, going on a cruise was one of the most unique and memorable holidays I can recall. While being away from land was something I'd never experienced, the whole encounter made being away from home feel very homely indeed from the ultra lush rooms to the endless entertainment, and some of the kindest hospitality and staff I've encountered on any type of holiday. If you want to be the main character on your next trip, satisfy your wanderlust without having to pack and unpack your bags, and eat and drink to your heart's content a cruise holiday is an option I would definitely consider again.
If you're curious about doing some cruise-based exploring of the Southern Hemisphere yourself, Celebrity Cruises has announced the arrival of one of its most luxurious ships yet: the Celebrity Edge which will debut Down Under in late 2023 or early 2024, allowing you to traverse the coastlines of Australia, New Zealand and the tropical South Pacific including Bali. Set to rival the world's most luxurious land-based resorts, the 2023/24 intake promises to reimagine cruise travel with some of the world's most indulgent on board amenities.
Concrete Playground travelled as a guest of Celebrity Cruises.
Main image: The view from Celebrity Eclipse near Dunedin on the South Island of New Zealand
Concrete Playground Trips
Book unique getaways and adventures dreamed up by our editors