Meet Nonna's Grocer, The Concept Store Selling Homewares (Almost) Good Enough to Eat
The incredibly true-to-life fruit and vegetable candles look good enough to eat (just don't eat them).
Slow living and handmade craft has metamorphosed from bewitching alternative trend to a totally plausible way of life. In what seems to be some kind of conscious resistance to the speed and churn of internet culture, mass production and memes, there's an uptake in the kind of hands-on activities all about a quality time investment and a quality result at the end. Think sourdough starter, knitting, home ceramics kits... hell, even elaborate cocktail-making all fall into this category. Nonna's Grocer, an online concept store that popped up this year is the brainchild of Wollongong-based designer, Madeleine Hoy, and it's all about embracing the 'perfectly imperfect' principles of hand made.
Right now, the hero produce on Nonna's Grocer's virtual shelves is a range of beautiful candles made the size, shape and appearance of the fruit and vegetables from your local fruit shop. Lemons, oranges and a family of heirloom tomatoes look so realistically juicy you'd be forgiven for being duped into taking a bite (Madeleine told us that no one's admitted doing that yet). For her next addition to the store, she's teamed up with Marrickville-based studio Defy Design on a fresh product line made from recycled plastic.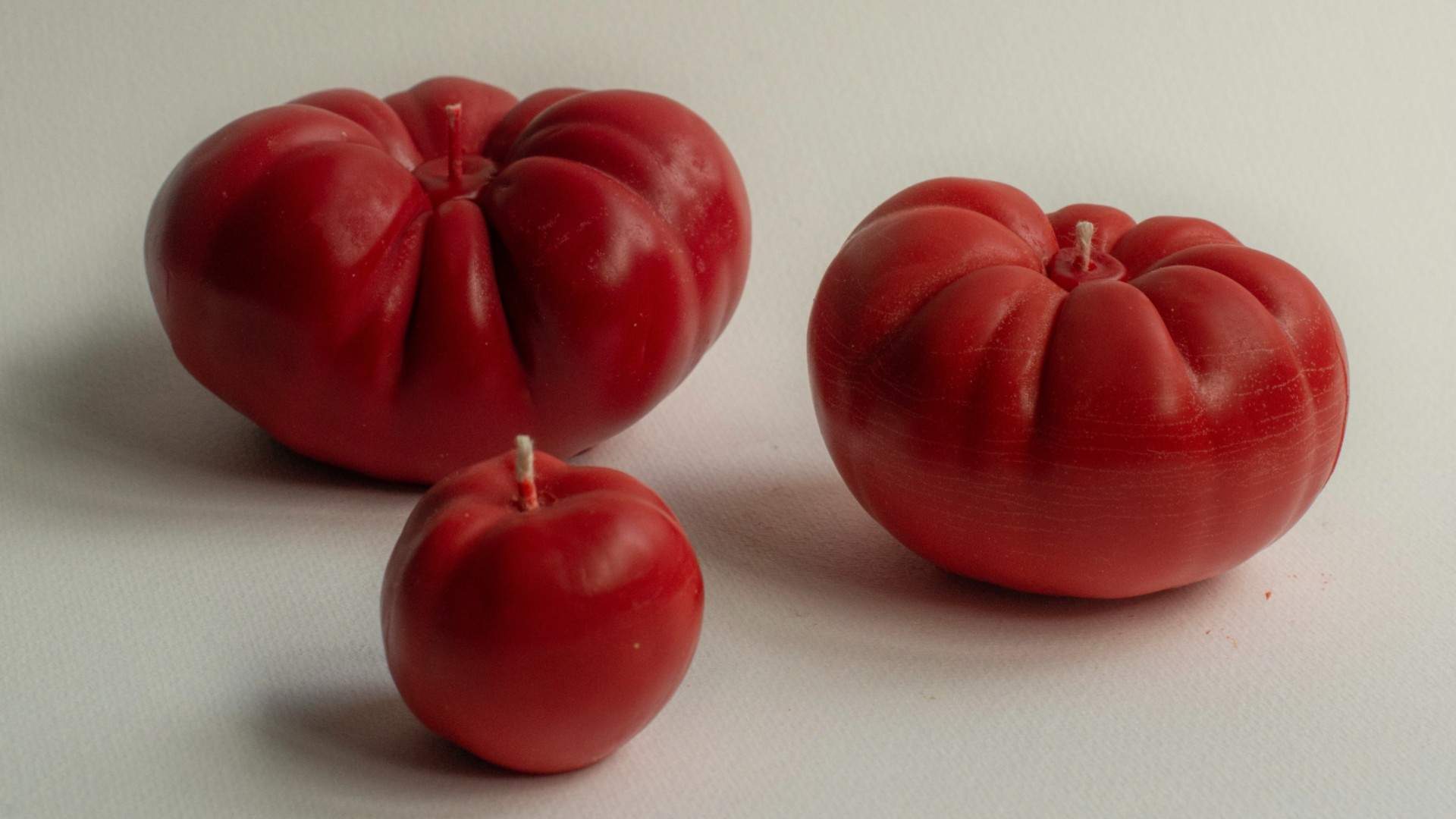 Tell us a bit about the inspiration behind Nonna's Grocer and the ethos behind the store.
Nonna's Grocer evolved about a year and a half ago, the day I learned that my Great Grandparents ran a grocery store in Daylesford Victoria. My dad was showing me these beautiful images of my Great grandfather Giuseppe in front of his shop and I was so inspired by this moment in time, and couldn't believe I hadn't known about it sooner.
I immediately began thinking about a way I could combine my design background (I was a set designer) with this beautiful business that was a part of my family history. Thus Nonna's Grocer was born, a conceptual studio where I develop designs that harness the era of a simpler time with a modern twist. A 'Perfectly imperfect' handmade aesthetic is my focus, as well as creating special pieces for humans to encourage them to slowww it down. Whether that's having a bath, a dinner date with your dog, or stretching a hammy, light a candle and enjoy the moment.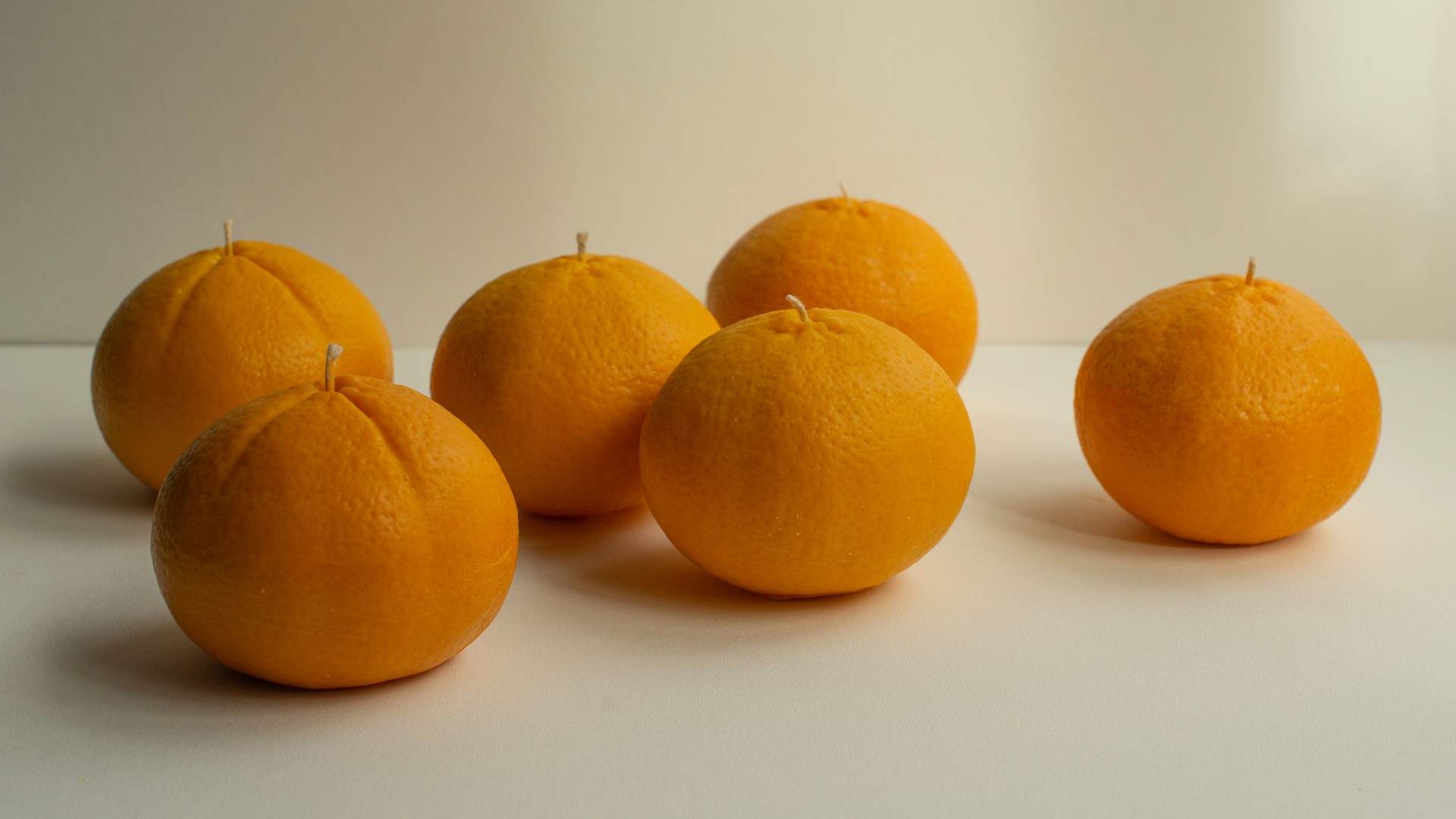 Your current range is a selection of incredibly true-to-life fruit shaped candles. How do you make them look so life-like?
I found a maker in Sydney who casts objects for sculptures and pitched the idea of getting them to cast fruit. We were a bit unsure at the time how well it would work as fruits decompose quickly when encased, so we had to be smart about which fruits could work well. (Turns out peeled fruits don't work well, just so you know). I then started hitting the supermarkets (back in the day when one could tread slowly) and would study 100 lemons at a time to find the perfect one, and my range grew from there.
I've got to ask: have you encountered any instances of people accidentally taking a bite?
Oh ha, look no one has informed me they have tried to eat one as of yet, but is that really something you would tell people if you accidentally ate a candle?
What kind of shopper do you want Nonna's Grocer to appeal to?
I like to think Nonna's Grocer appeals to anyone that is interested in quality produce and a slower paced lifestyle. Particularly people that appreciate craftsmanship, design, and looking for creative ways to make their day more playful.
What are the craftspeople, brands or concept retailers that you admire and take inspiration from?
Oh dear, I love homeware stores that scream 'good quality'. The Provider Store in Surry Hills is pretty special as it celebrates the history and craftsmanship of Japan. Delicious! The New Zealand store KauKau [based in Wellington] is also beautiful, highly recommend checking them out. I am a big fan of designers like Sabine Marcelis and Gustaf Westman who design various pieces in their own aesthetic, never following a trend.
I take inspiration from a million different places, but Stephanie Stamatis the art director began styling food in a way that really resonated, and the interior designers from Paris called Studio Classico have a lovely touch when it comes to materials. Oh, and the cheese shop Formaje in Madrid, their packaging and cheese selection is to die for... Honestly, I could go on and on.
 

View this post on Instagram

 
You've started with fruit but you've hinted at 'more to come'. What else can we expect to see hit the virtual shelves of your store?
I am so excited to share with you what is coming next, but they are all at the back end of development so I am not quite ready to spill the cannellini beans just yet. I can give you a sneaky hint though: one of my pieces will be manufactured at Defy Design in Marrickville, who collect local plastic waste, hand separate them by colour, and then melt them down into new objects. I'm very excited!
Discover more about Nonna's Grocer and have a browse at the website or follow on Instagram.
Concrete Playground Trips
Book unique getaways and adventures dreamed up by our editors