Kathmandu and Joost Bakker Have Filled Federation Square with 3000-Plus Kilograms of Fashion Waste
The textile waste has been turned into a walk-through installation to call attention to the huge amounts of clothing discarded by Aussies — and what can be done to combat that waste.
It isn't every day that wandering through Federation Square involves walking past — or through — a whopping 3000 kilograms of clothing waste. Thanks to an eye-catching, awareness-raising, three-day-only pop-up, however, Melburnians can currently do just that. Until Thursday, April 28, a hefty pile of discarded fashion is sitting in the middle of the Victorian capital, all to draw attention to how many threads are thrown away by Australians.
The sustainability focused installation is a collaboration between Kathmandu and zero-waste advocate Joost Bakker, and it'll instantly teach you something — because the 3000 kilograms of discarded clothing that's pivotal to the piece only represents the amount of textiles disposed of by Aussies in a mere five-minute window. That's how much that gets thrown away every five minutes, in fact, with Kathmandu and Bakker's team-up designed to make that stark truth hit home.
"The thing that shocked me the most — I just thought I'd use 500 kilos of clothing, but then I got 200 kilos of clothing in just one day," Bakker tells Concrete Playground.
"I just went 'oh my god'. There's just this huge volume. I just couldn't quite comprehend the volume, and the weight. And then when you see these piles of clothing, or you see factories full, or you see it in landfill — the energy, the water, the labour, everything that's gone into creating that, and it's just thrown into landfill, it's crazy."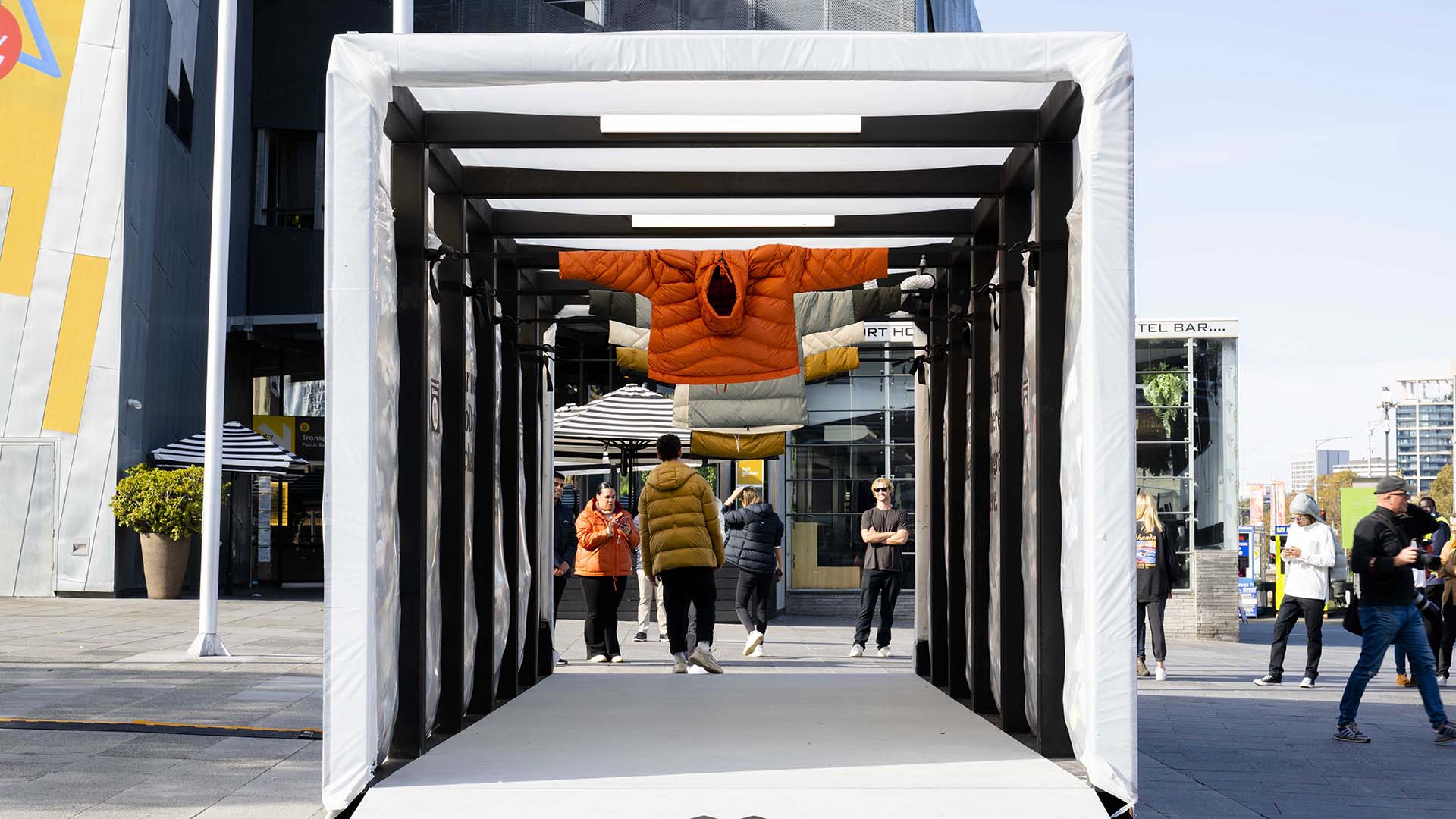 The 3000 kilograms of clothes that Bakker has amassed for this project — with the help of clothing recycling centre Upparel — is used in a tunnel structure that visitors to Fed Square can mosey through. Still, it's hard not to feel the  the scale of it. Again, that's completely by design. "My core belief is that people are aware, they'll do something about it," says Bakker.
"Even if it's just one person who walks through that structure and gets inspired and comes up with a solution — that's what's so exciting. Globally, so many people are putting their energy into finding solutions that, over the next ten years, it'll be a thing of the past. I have no doubt that clothing waste will not exist very quickly because we're all putting our energy into it and trying to find solutions. Humans are amazing at finding solutions when we put our energy and efforts into it, and that's what's happening now. That's really what this installation is all about," he continues.
The reason for the collab with Kathmandu: the company asked, and gave Bakker free rein to come up with his own way to highlight the fashion-waste problem. "I thought it was quite inspiring that a brand wanted to actually highlight this, and so I got quite excited," he notes.
"I wanted to really come up with a way that you could actually immerse yourself in a volume [of textiles]. If you have a pile of clothing, it's very difficult to get a sense of how much that is," Bakker tells CP.
"So I wanted to create a structure where you were really in it and immersed in it. And I'm based in Monbulk, I'm surrounded by flower farmers, and I was able to access plastics that are used for greenhouses — these are all offcuts, and we've put lots of layers of offcut plastic to create that structure that allows you to see the enormous waste that's generated."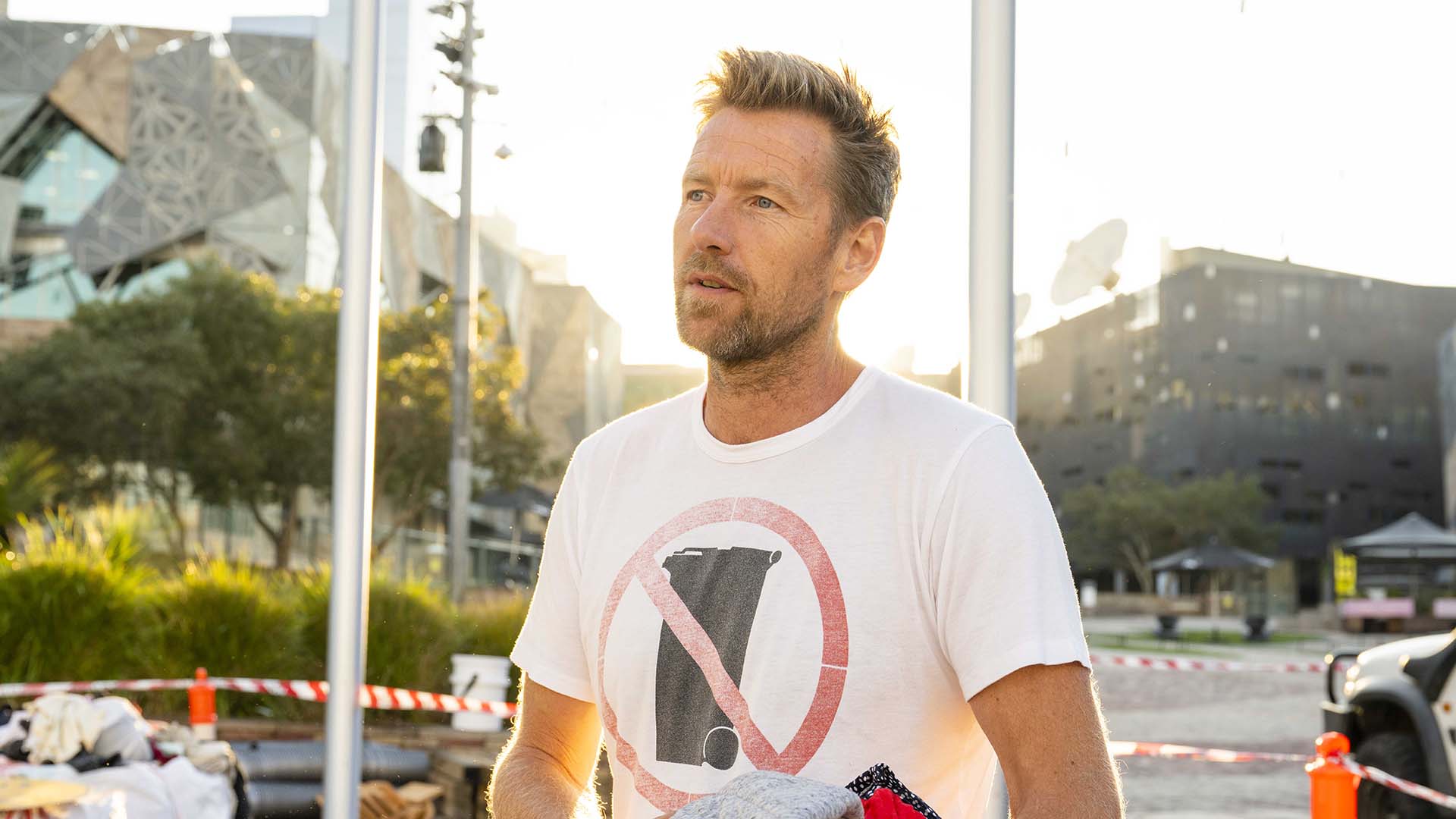 Kathmandu is also launching a new 100-percent biodegradable BioDown puffer jacket, which Melburnians will see hanging through the installation. It's made from materials — outer, inner, down, zips, threads, tags and all — that are treated with a special additive that helps accelerate biodegradation, but only in a landfill environment. The jackets will hit stores from Thursday, April 28.
Bakker notes that it's moves like these that'll help see textile waste eliminated — an issue that's only been around for half a century or so anyway — and unwanted fashion items reused and recycled instead. "My belief is that waste is just a human thing. Waste is something that pretty much is only a fifty-year thing, it's a very short space of time that we've generated a waste industry. Even if you go back 60, 70 years, everything was a resource, so we didn't have things like landfills and waste dumps," he explains.
"I view waste as something beautiful. It's amazing how many people have commented 'the structure is actually really beautiful, but it's filled with waste, it's filled with something that we discard, something that we don't put any value on'. All my work has been about turning that around," Bakker continues.
"In nature, there's no waste. You don't walk around a forest and go 'oh my god, I'm surrounded by all this rubbish'. It's only a human thing, because everything becomes something else again. I think the sooner that as a society we embrace that idea, we can completely design waste out of everything. It can happen really quickly, and I think it will happen really quickly, because we are all aware now."
Kathmandu's fashion-waste installation is on display at Federation Square, Flinders Street, Melbourne, from Tuesday, April 26–Thursday, April 28.
Concrete Playground Trips
Book unique getaways and adventures dreamed up by our editors