Here's What Happened When We Joined United Airline's World-First Pride Flight From San Francisco to Sydney
A plane full of San Francisco locals boarded the first ever Pride Flight to Sydney — and we went along for the journey.
When it comes to LGBTQIA+ history, San Francisco has a lot of firsts to its name — from California's first openly gay mayor Harvey Milk, to America's first gay bar to have clear windows at the Twin Peaks Tavern in the iconic Castro District. So it was no surprise that San Francisco celebrated another history-making first with United Airlines' first ever Pride Flight from San Francisco to Sydney in partnership with Virgin Australia. I was lucky enough to experience this journey flight travelling on United's Polaris Business Class service right in time for the official launch of Sydney WorldPride. Here's how the 14-hour journey went (up and) down...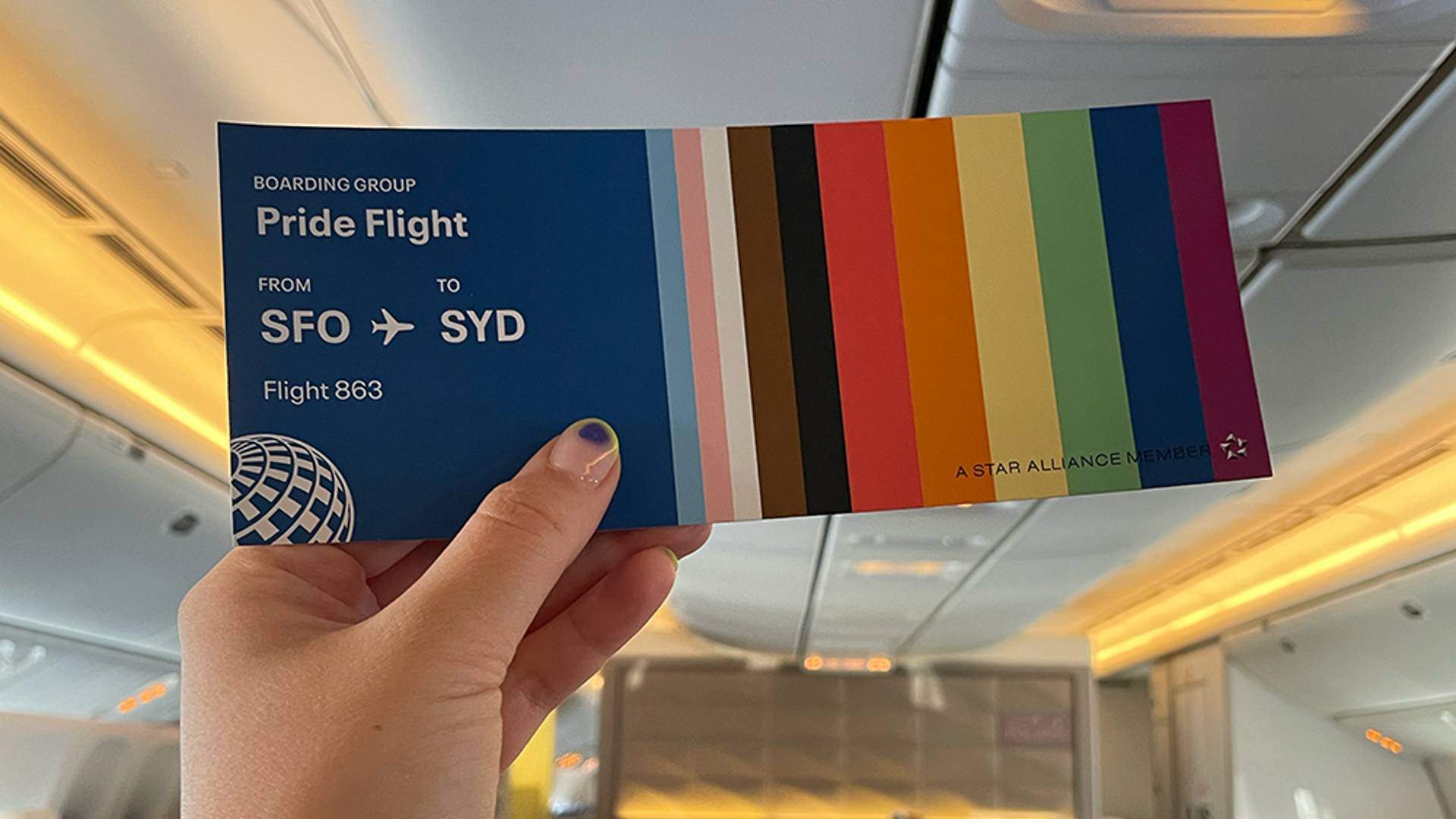 Beginning with some R&R in the Polaris lounge, I experienced the holy grail of business class travel: a luxurious shower ahead of the 15-hour Pride flight thanks to United's no expense spared partnership with Saks Fifth Avenue and Sunday Riley skincare. With skin glowing, I sauntered past the stacked buffet to try the complimentary al a carte restaurant where I chowed down on miso soup, prawn spring rolls, green tea crumble ice cream and washed it down with French champagne. And based on my direct neighbour's reaction, the cheeseburger was a must try too.
Full of food and feeling my best, I headed to the airport gate to the Pride flight party. Before I even had a chance to spot the DJ or the catering by San Francisco's Hot Cookie (with flavours like 'Harvey Milk Toffee'), I spotted a majestic golden retriever decked out in a glitter boa, rainbow sunglasses and biker hat giving everyone some fluffy self care. Then, came a jaw-dropping drag performance by United's crew, a glitter confetti cannon and a message from Lori Augustine, United's Vice President of Operations.
In the spirit of firsts, Lori shared that United was the first US airline to recognise domestic partnerships and the first to let customers select non-binary gender options. They also spoke about their 4,500 member LGBTQIA+ support group EQUAL, and their new guidelines which allow crew to express themselves authentically on board. If that's not putting your money where your mouth is then I don't know what is.
Boarding the flight was a magical experience in itself. The plane's exterior was adorned with towering koalas holding pride flags. The flight was entirely staffed by crew, pilots and flight attendants that were all part of, or allies of, the LGBTQIA+ community, and the excitement was palpable.
I was ushered in by a crew member with a fabulous ruffled gown and thigh high boots, and from the crew to the customers everyone felt genuinely thrilled to be there. When I arrived at my seat I was greeted with a koala plushie with a rainbow flag, Quay heart-shaped sunglasses, commemorative Pride pyjamas and Saks Fifth Avenue bedding on the fully reclinable Polaris chairs. Throughout the flight we were served sparkling rosé from rainbow-coloured cans, an array of dining options and the famous Polaris ice cream sundae cart (though admittedly I'd had my fair share of dessert in the lounge already).
Landing in Australia was on a whole other level. We were met with a live performance by former ARIA winner Samantha Jade who belted out bangers in a hot pink suit. Passengers were also given an acclimatisation to Australia by drag icons Etcetera Etcetera, Danni Issues and Minnie Cooper, while dancing Aussie surf lifesavers gave it their all in Aussiebum budgie smugglers. All extremely WorldPride appropriate and a quintessential introduction to Australian culture for the queer international visitors touching down for the first time.
Overall, the trip was one for the personal history books. The feeling of ease of customers and crew on the plane, and the camaraderie and joy was something to behold. And who wouldn't want to travel with a company who walks the walk, not just talks the talk when it comes to championing diversity and representation? And after the travel experience on United's Polaris service, I agreed with my colleagues who warned me: once you go business, you'll never want to go back.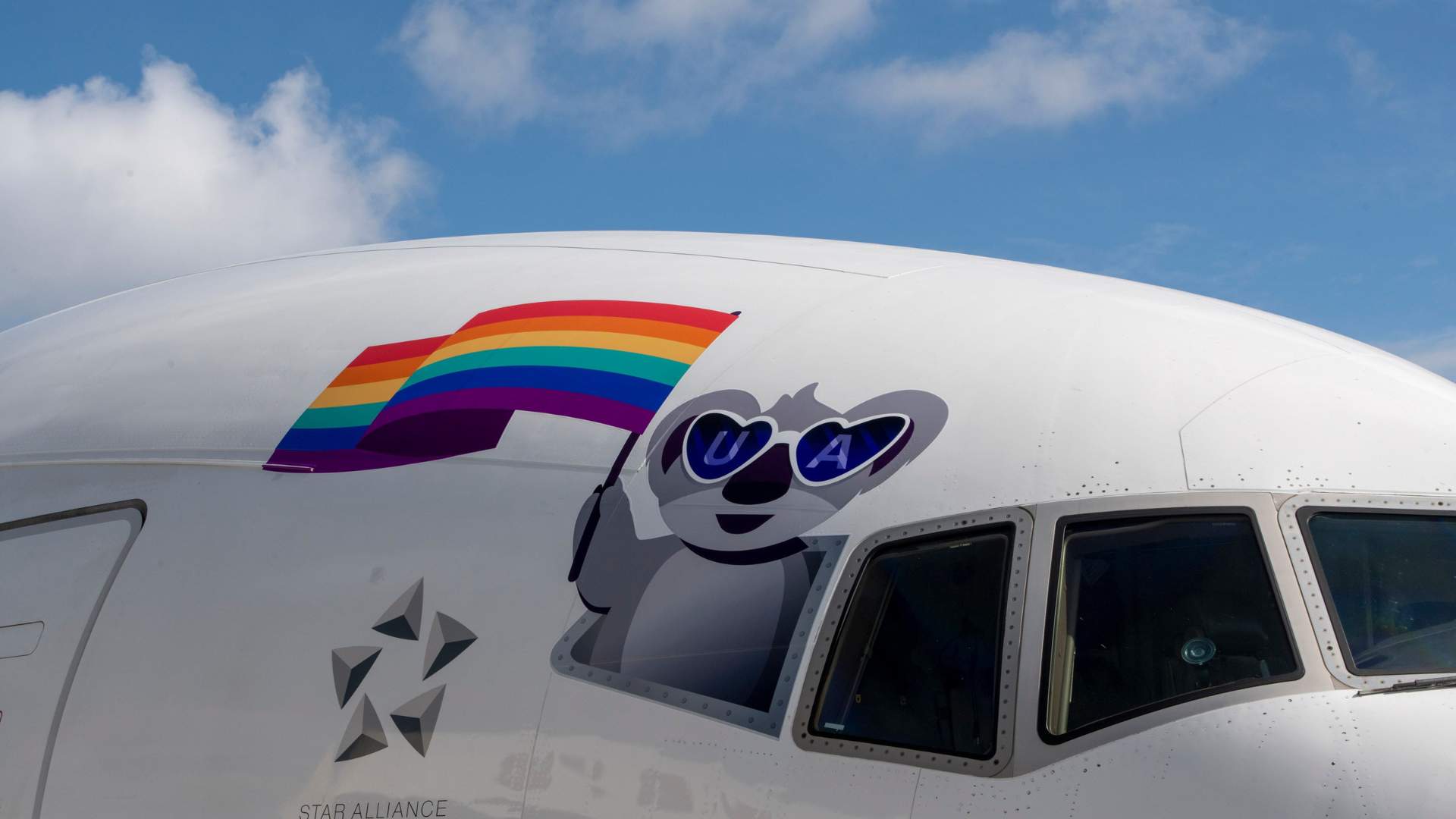 Concrete Playground traveled from San Francisco to Sydney on the inaugural Pride Flight as a guest of United Airlines.
Concrete Playground Trips
Book unique getaways and adventures dreamed up by our editors