Perth Is Another Step Closer to Boasting the Southern Hemisphere's Largest Surf Park
Sprawling across 5.8 hectares, Aventuur's $100-million Perth Surf Park will feature 25 different types of waves — and a beach club.
Get ready to unleash your inner Keanu Reeves or Kate Bosworth: the largest surf park in the southern hemisphere is on its way. Western Australia is already home to top-notch beaches, including the third-best beach in the world for 2023, Australia's best beach for 2022 and the best beach in the South Pacific for last year as well — plus all that coastline and plenty of beloved sandy spots, of course — but global surf park brand Aventuur has earmarked it for a massive site in Perth, too. And that site has just received official development approval.
Going as big as possible with its $100-million WA venture — which will feature 25 different types of waves, and is forecast to welcome in a million visitors a year — Aventuur's plans were first announced in 2022. Now, however, Perth Surf Park has one round of go-aheads, thanks to the Metro Outer Joint Development Assessment Panel (JDAP).
The project also received a decision by the Western Australian Environmental Protection Authority that it didn't need EPA assessment because it won't have a significant impact on the environment. More regulatory approvals are needed, but the venue is now another step closer to starting construction in late 2023, working towards a late-2025 opening.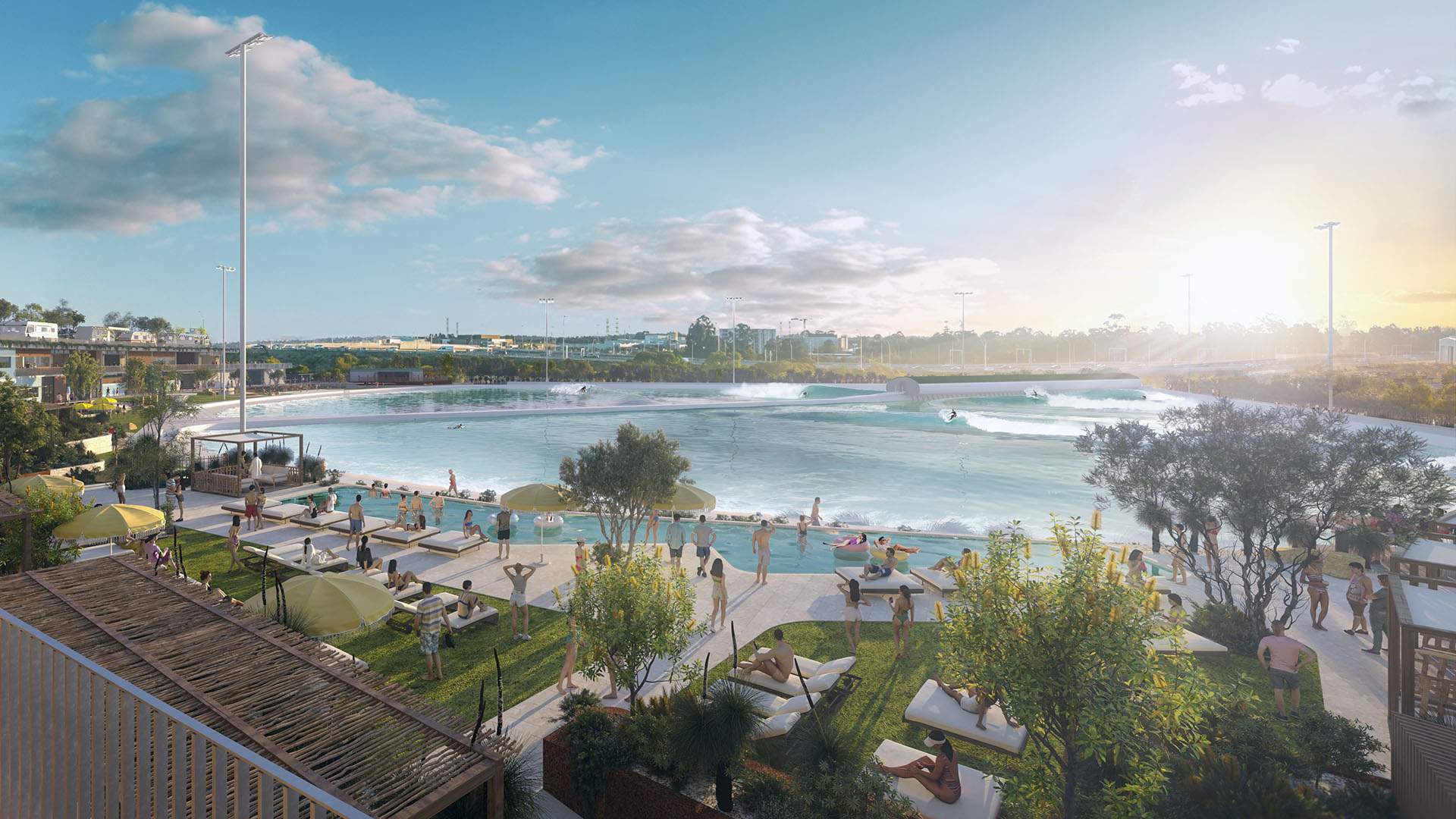 "This is an incredibly exciting day for Western Australians, and for the Aventuur team," said Aventuur Chairman and Chief Development Officer Andrew Ross, announcing the development approval.
"We've been working closely with the WA Government and the City of Cockburn to design an authentic, inclusive and sustainable surf park, and I couldn't be more stoked that we're one step closer to delivering a new community asset for Perth."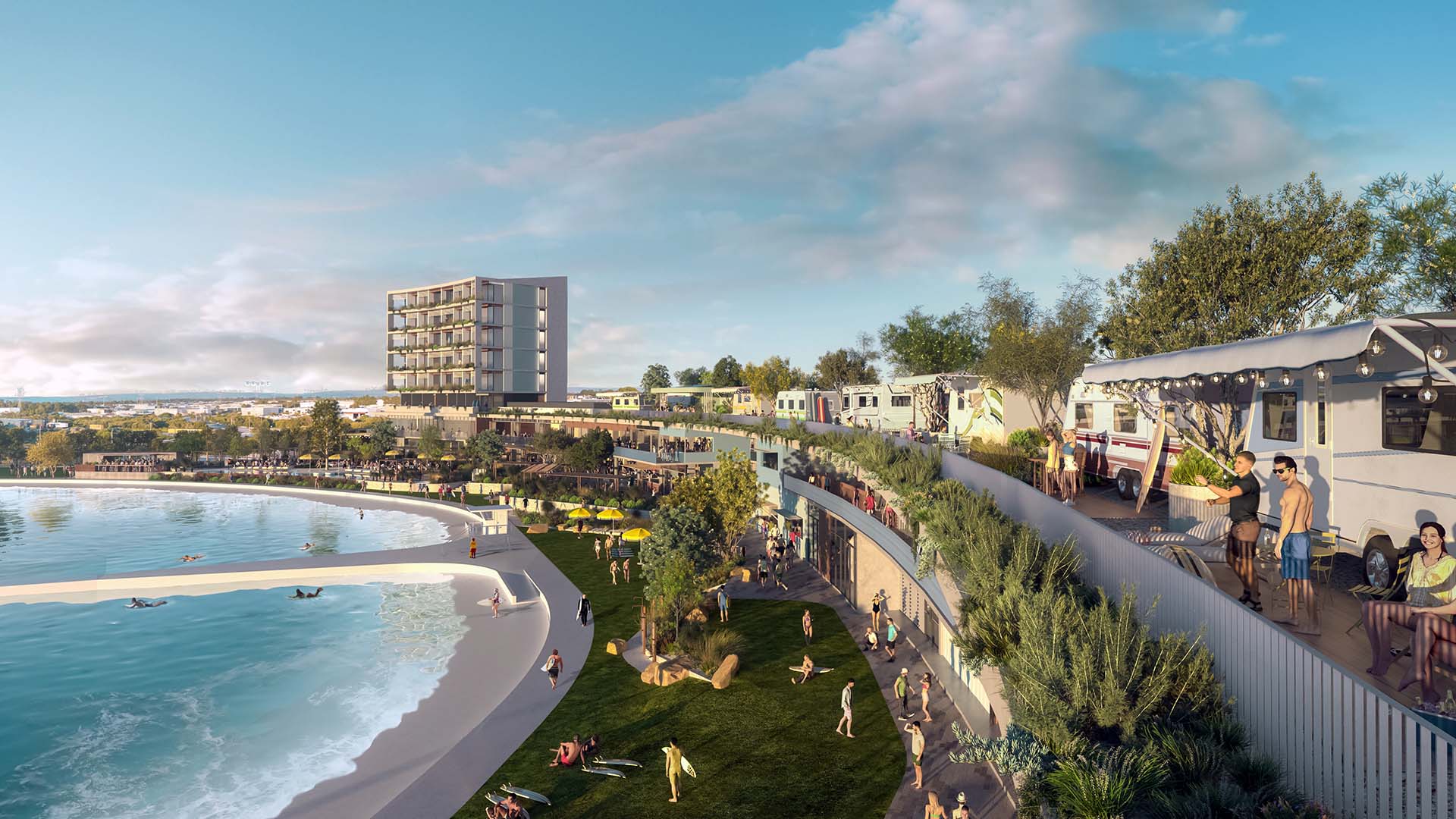 Clearly, providing breaks and barrels that everyone can surf — no matter your skill level — is one of big aims of Aventuur's Perth Surf Park, which'll take over a 5.8-hectare site on Prinsep Road in Jandakot, adjacent to the Kwinana Freeway and the Cockburn Central train station. That'll include what it's calling a Wavegarden Cove, aka the huge 56-module surfing lagoon that'll be the key drawcard — and will constantly whip up perfect waves.
Also set to feature: accommodation, which'll be handy for anyone making the trip west just for some manmade surf action; a beach club; and bars and restaurants. A wellness and recovery centre and a fitness studio will feature as well, and so will a co-working lounge and spaces for functions with waves as a backdrop. Plus, out-of-the-water facilities also include a skate park, pump track and gardens.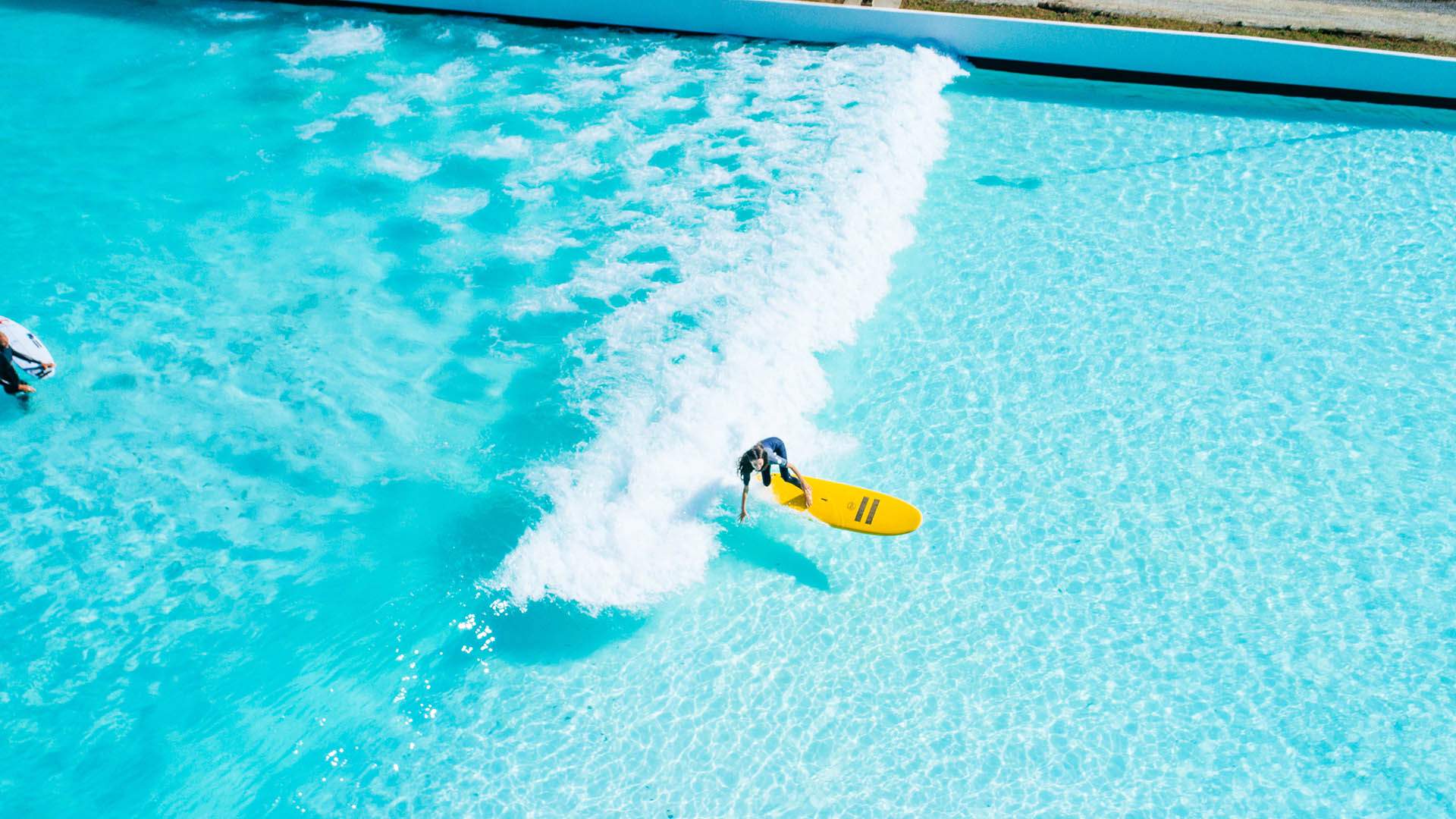 Start looking forward to for personalised coaching, fitness and surf skate programs as well, and regular events such as outdoor surf movie nights and photography exhibitions. Yoga and meditation retreats will also make the most of the site, as will live music and cultural festivals — and, naturally, professional surfing competitions.
Already an avid surfer? Know someone who might be the next Mick Fanning or Stephanie Gilmore? Then get excited about Perth Surf Park's high-performance surf academy.
Whether you're a future superstar or just learning, there'll also be a hire store doing board, wetsuit and equipment rentals — so you won't have to bring your own gear with you.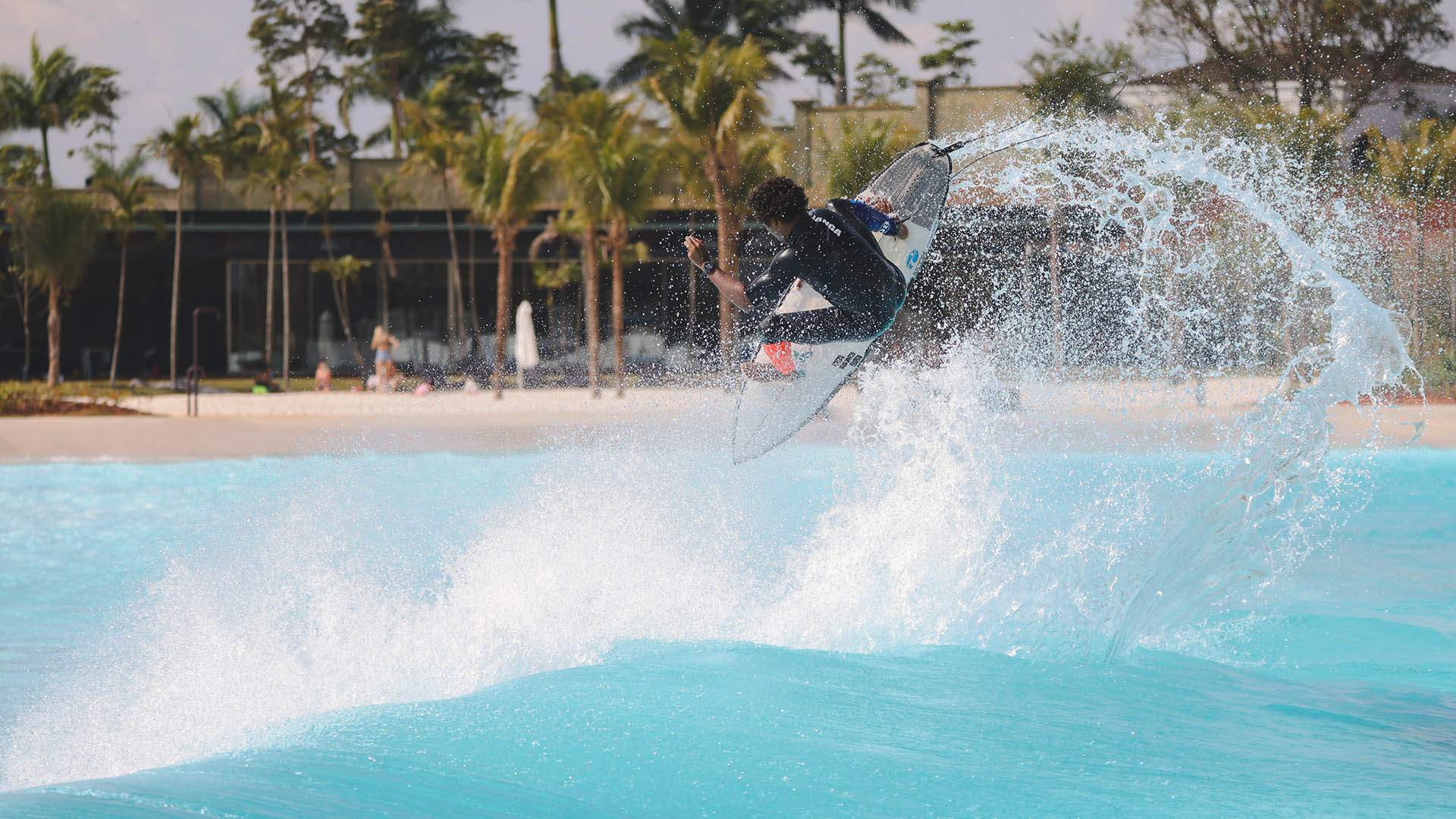 While surfers won't be able to live out their Point Break and Blue Crush dreams until the summer 2025, Aventuur signed a long-term ground lease with the Western Australian Planning Commission for its Perth Surf Park site in 2022. With approval now granted by the JDAP, it'll keep progressing towards starting work to transform the Cockburn Gateway precinct into a hub for tourism, sport and entertainment.
The venue will also feature five-star Green Star-rated buildings, which'll help it notch up another achievement: being the first surf park in the world with that classification.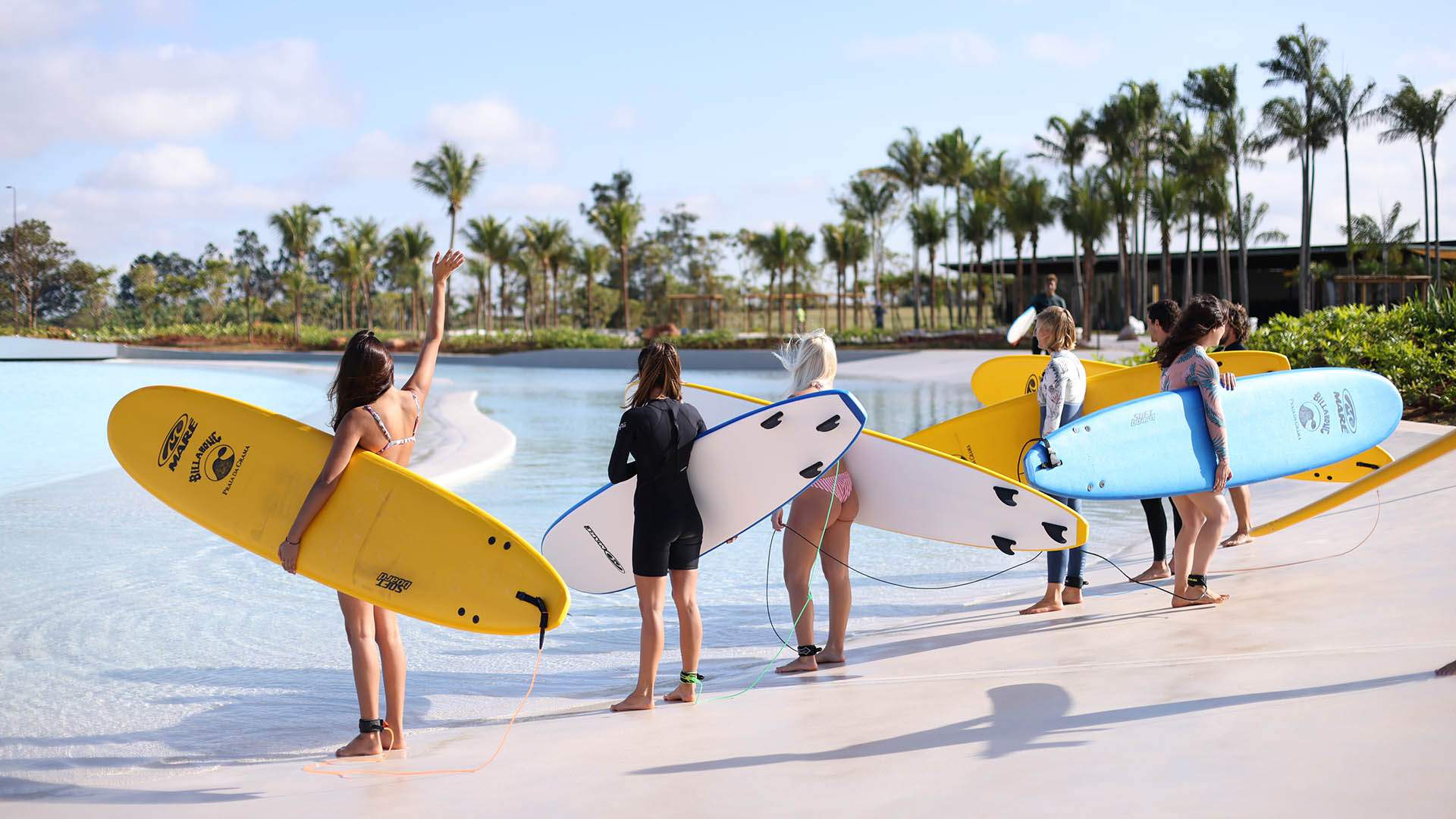 Manmade waves have been having their moment Down Under of late. Urbnsurf opened Australia's first inland surf park near the Melbourne Airport in 2020, then revealed plans for Brisbane, Sydney and Perth sites. New South Wales' Hawkesbury region is also getting a giant wave pool and luxury resort, the Sunshine Coast is due to welcome Kelly Slater's second surf ranch, and the Gold Coast has been earmarked for an Endless Surf wave pool.
And if you're wondering why surf parks keep popping up — especially in a country girt by sea, and therefore surrounded by so many glorious beaches — they're able to provide controlled and reliable conditions, including waves that aren't daunting for newcomers. Perth Surf Park will feature knee-high whitewater for beginners, for instance, as well as ideal waves for experienced surfers.
Aventuur's Perth Surf Park is due to open on Prinsep Road in Jandakot, Perth, Western Australia, in 2025. For more information, head to the venue's website.
Concrete Playground Trips
Book unique getaways and adventures dreamed up by our editors