You Might Soon Be Able to Splash Around in a Big Man-Made Wave Pool on the Gold Coast
The Club at Parkwood Village has announced plans to build an Endless Surf pool by 2023.
If hitting the waves without hopping in the ocean sounds like your idea of a great time, you'll soon have more than a few places to hang ten around southeast Queensland. The Sunshine Coast is due to welcome Kelly Slater's second surf ranch. The Urbnsurf team has its sights set on Brisbane, announcing plans to open a new man-made surf lagoon in the city. And, now the Gold Coast is joining in — with the coastal city getting an Endless Surf wave pool at The Club at Parkwood Village.
Parkwood Village has revealed plans for a $200-million new development, which includes a new 200-plus bed hotel, residential apartments, and hospitality, medical and commercial facilities. But giving Gold Coast residents and visitors a place to surf without diving into to the sea is the hefty drawcard. It's hoped that locals and tourists alike will be able to do just that by 2023.
Obviously, the Gold Coast is well-known for its beaches. So is Australia in general — but the country has been jumping on the man-made surf pool bandwagon in a big way. Urbnsurf opened Australia's first inland surf park near the Melbourne Airport in 2020, and revealed plans for Sydney and Perth sites, too. And New South Wales' Hawkesbury region is also getting a giant wave pool and luxury resort come 2022.
Whether you're a cautious swimmer, you're afraid of sharks or you're just not a beach person, Parkwood's Endless Surf-branded pool will hail from aquatic entertainment provider Whitewater, which has been in the surf pool business since 1989. As the name suggests, the waves are designed to just keep coming. The pool's rolling sets are created by pneumatic technology, and are accessible for surfers of all ages and skill levels, including first-timers.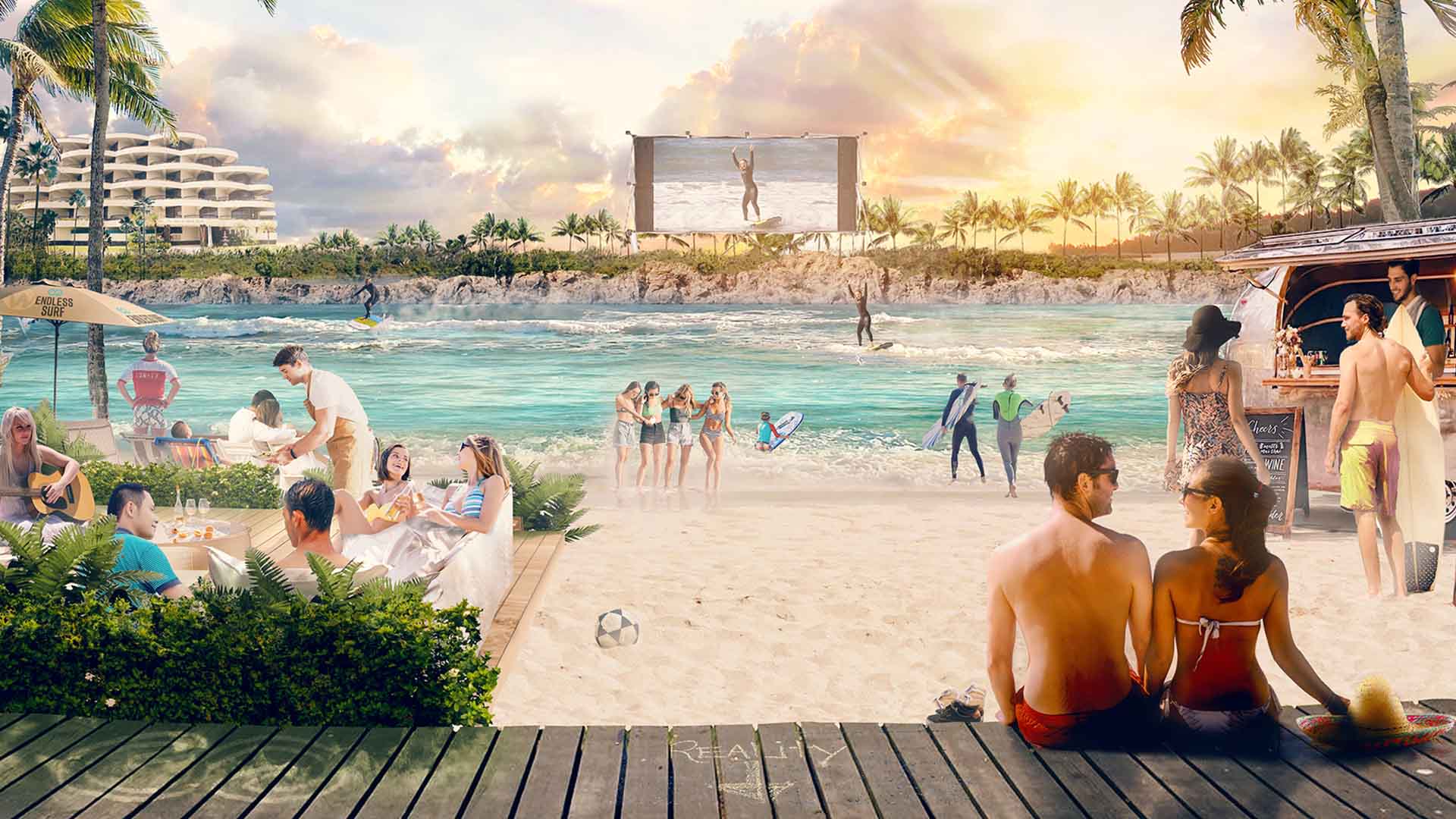 Renders of the proposed surf pool include a sandy man-made beach leading into the waves, plenty of umbrellas providing shady places to sit, big screens showing the surfing action, and places to grab food and drink.
Announcing the plan, Parkwood Village Managing Director Luke Altschwager said that "there is nothing more quintessentially Australian than surfing, and this new technology creating customised repeatable man-made waves is going to revolutionise the sport. I want to make sure Parkwood becomes the heart of the sport here on the Gold Coast. Not only is a world class surf pool a perfect fit for our active community, it anchors a whole new level of economic investment in the area".
The Endless Surf pool is set to open at The Club at Parkwood Village, 76–122 Napper Road, Parkwood, by 2023.
Images: renders of The Club at Parkwood Village's Endless Surf pool.