ARTS & ENTERTAINMENT
Auckland Arts Festival Has Unveiled a Diverse Lineup for 2020
The 12th edition of the arts and culture festival will take place from 11-29 March.
Auckland Arts Festival Has Unveiled a Diverse Lineup for 2020
The 12th edition of the arts and culture festival will take place from 11-29 March.
Following the announcement of Ballet Preljocaj's Snow White where high fashion meets the iconic fairy tale and Auckland Philharmonia Orchestra's Beethoven series, the full lineup has now been revealed for Auckland Arts Festival 2020 (Ahurei Toi o Tāmaki Makaurau). The 12th edition of the arts and culture celebration returns from 11–29 March with a program of over 40 theatre, dance, music and visuals arts events across Tāmaki Makaurau.
Free waiata event Tira will return to Aotea Square on 11 March. The event, as part of a program to normalise te reo Māori, will see Hollie Smith, Hātea Kapa Haka and choirs from around Auckland lead attendees through Smith's 'Bathe In The River', and Queen's 'Bohemian Rhapsody' in te reo Māori.
The Spiegeltent also returns to the inner city square with sexy circus cabaret Limbo Unhinged set to unleash pyrotechnics, sword swallowing and vampy aerial shenanigans. The festival will head back to Auckland Domain for the first time in three years, with large scale aerial spectacular Place des Anges by French company Gratte Ciel. The outdoor event features an evening under a sky filled with angels, acrobatics and dreamlike images.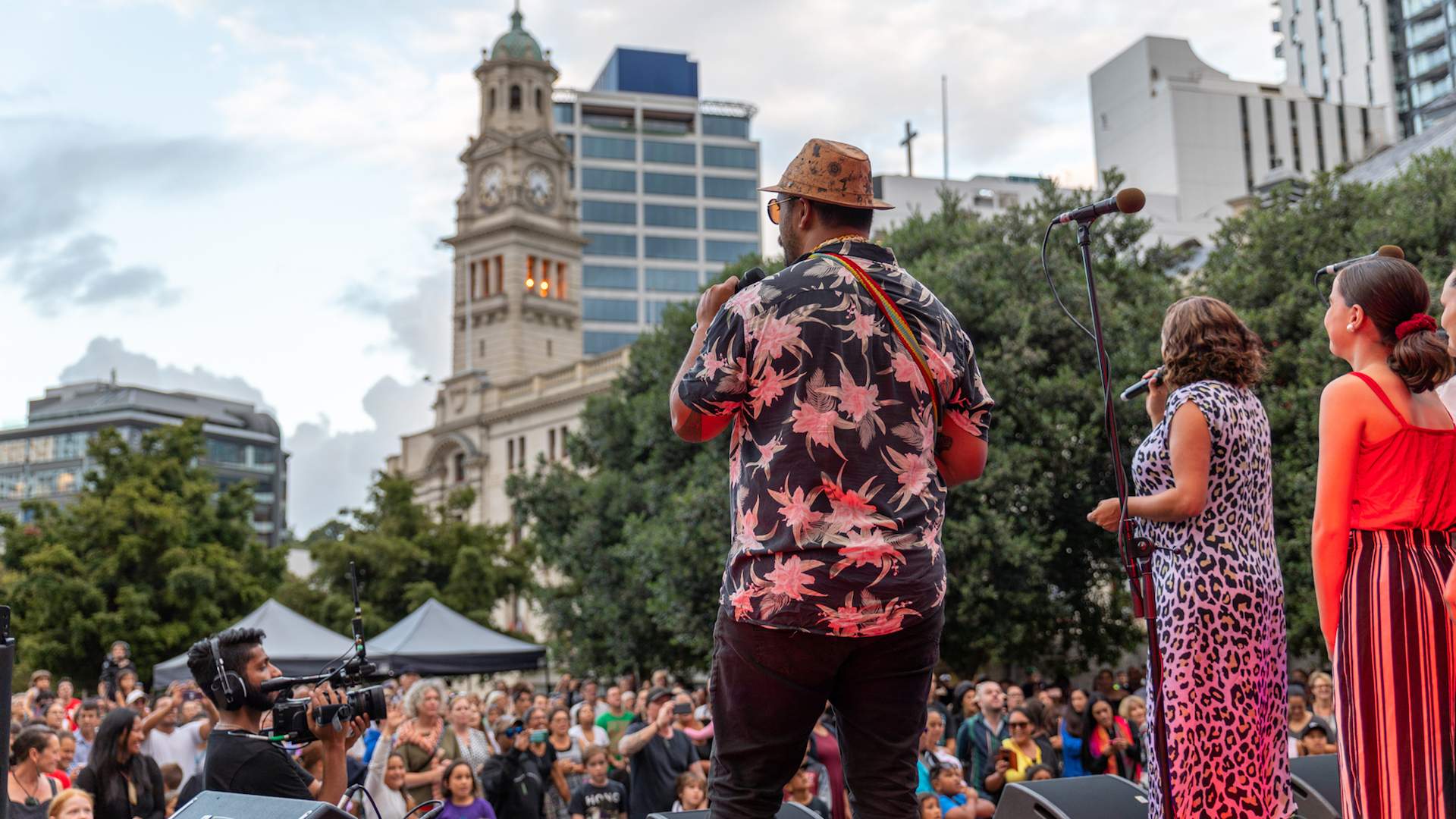 Cold Blood is a theatre event from Belgium that unfolds on the tips of performers' fingers; Biladurang is an immersive solo show with Wiradjuri dancer and performer Joel Bray in an Auckland hotel room; Acéléré is a high octane blend of dance, live music and acrobatics from Colombia. On the local front, award-winning dance company Black Grace is taking its show Verses to ten venues around the city.
In the music department, 2019 APRA Silver Scroll winner Aldous Harding joins Weyes Blood and Purple Pilgrims for a triple bill performance; 20-time Grammy Award-winning jazz guitarist Pat Metheny will take the stage at Auckland Town Hall; vocal ensemble Los Angeles Master Chorale will perform renaissance masterpiece Lagrime di San Pietro; plus Soweto Gospel Choir bring their Freedom concert celebrating the life of Nelson Mandela.
Auckland Arts Festival will run from March 11–29, 2020. Tickets are on sale now at aucklandfestival.co.nz. 
Image: Tom Arran, Place des Anges.
Published on November 06, 2019 by Stephen Heard