ARTS & ENTERTAINMENT
Eight Unforgettable Moments of Banksy's New York Residency
Having captured hearts and media attention all month, Banksy makes his exit from New York.
Alas, the Banksy 'residency' in New York City has come to its end. For the entire month of October, the elusive British street artist has been sprinkling graffiti and mobile art sculptures throughout the city — and making viral news while at it.
His stint has undoubtedly caused a sensation and received a wide range of reactions. Fans have been able to find his works throughout the city from clues posted on his Instagram feed and hear what they're about from an audio guide that could be accessed from a toll-free number.
In honour of Banksy's month-long reign, we've rounded up some of its top works and stunts.

One of the earliest of a series of 'mobile sculptures' was a delivery truck housing a replicated rainforest. Complete with a digitally remastered sunset that never set, a 100L-per-minute-pumping waterfall and plastic butterflies taped to a fan, this little, roaming garden was delivering 'calm' to city dwellers. Starting in the East Village, the truck made its rounds at dusk for a couple of weeks.

Oct 11: Sirens of the Lambs
Another delivery truck/sculpture made its way around the city the following week. This one, however, had less placid cargo. Labelled 'Farm Fresh Meats', a livestock delivery truck crammed with the heads of 60 bleating, unblinking stuffed animals began its two-week tour in none other than the Meat Packing District. The artist dubbed his creation Sirens of the Lambs. Clever, isn't he?
The audio guide begins with the line, "This is a piece of sculpture art. And I know what you're thinking; isn't it a bit, subtle?" All of Banksy's works come with a message, this one being an, "attempt on something vague and pretentious about the loss of childhood innocence". The artist also apparently worked in a butcher shop mincing meat so this could be a "comment on the casual cruelty of the food industry". Whatever he's getting at, viewers found this stunt to be horrifying, hilarious or both. Running children and a screaming baby add to the hysteria.

In one of his most publicised stunts, Banksy showed us what a prankster he really is. When a nondescript elderly man sold Banksy's artworks in Central Park, clueless passers-by picked up 100 percent legit canvas pieces worth hundreds of thousands of dollars for a mere 60 bucks. He announced this on his website the following day, having sold a only a total of eight sensationally undervalued canvases. Following all the media flurry, a couple of independently operating artists extended the hoax with their own stall, selling out their clearly labelled fakes in under an hour.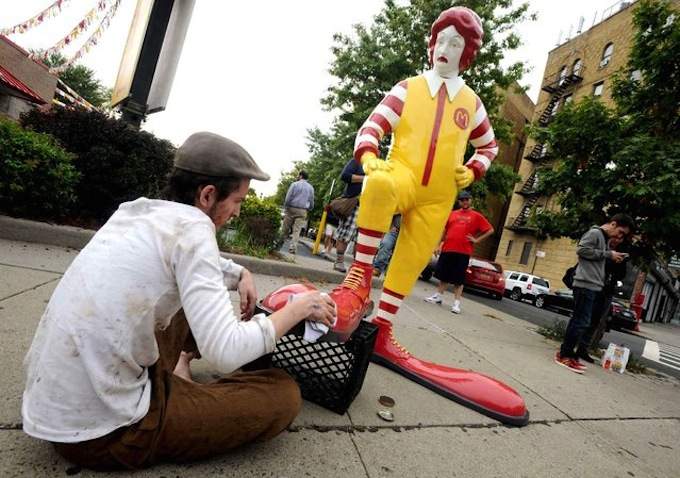 Could this stunt be enough to forever taint the image of Ronald McDonald? Banksy constructed a fibreglass replica of the corporate clown frowning down upon a "real live boy" who shined one of his obnoxiously elongated shoes atop a crate. The audio guide claims that Ronald is "arguably the most sculptured figure in history after Christ", so the clown's regal pose further affirms his commercial kingship.
The Maccas poster boy and his slave appeared outside of various McDonald's location everyday for a week during lunchtime. This couldn't have been a more obvious stab at greedy corporations and their use of heavy labour to maintain their 'polished' image. Banksy truly does have a gift of making these taboo issues unavoidably apparent in weird but amusing ways.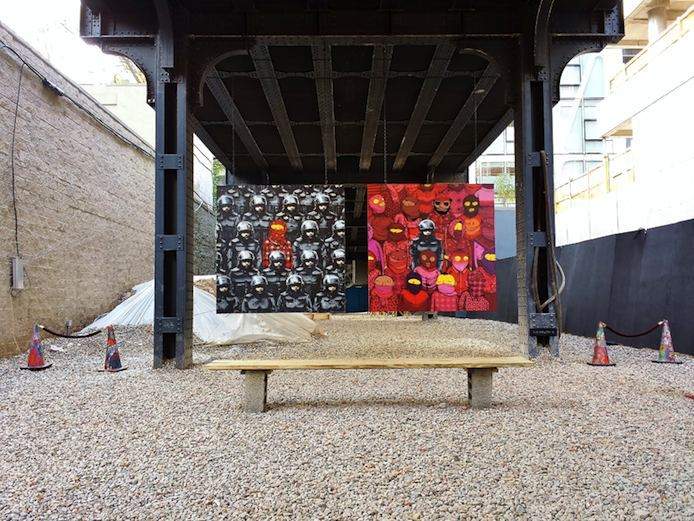 "Are you the sort of person who enjoys going to art galleries but wished they had more gravel in them?" asks the audio guide for this outdoor exhibition. Uh, no. But with a viewing bench, carpet and water cooler of cheap wine, it doesn't sound half-bad. Inspired by the 'Occupy Wall Street' movement of 2011, Banksy collaborated with the Brazilian artist-twin duo Os Gêmeos to create two paintings. What better place is there to contemplate the struggle of the 99% than beneath the High Line in Chelsea?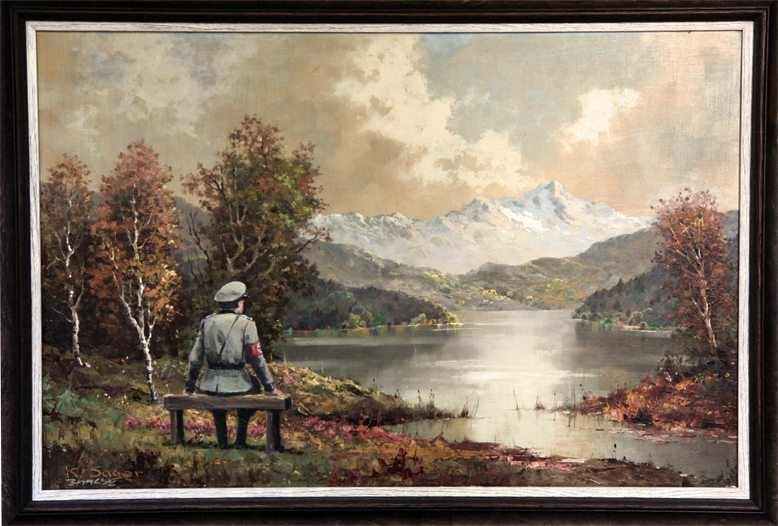 This repurposed thrift store painting just went up in value. Banksy found a regular oil painting of a scenic landscape and inserted a contemplative Nazi officer, renaming it The Banality of the Banality of Evil, a takeoff of the book by political theorist Hannah Arendt, Eichmann in Jerusalem: A Report on the Banality of Evil. Crowds had gathered in front of the painting, which was on display at the Housing Works Gramercy thrift shop in New York. The painting is up for auction and the proceeds will go towards homeless New Yorkers affected by HIV/AIDS. Sure to suit in any living room.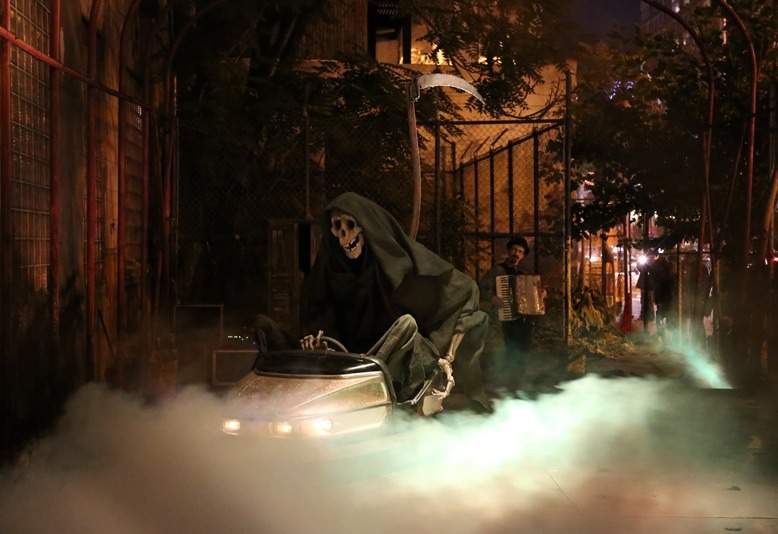 Bowery's Houston Street got a spooky surprise just in time for Halloween: a grim reaper zooming around on a bumper car to Blue Öyster Cult's 'Don't Fear the Reaper'. It seems totally capricious but as the audio guide explains, "This sculpture perfectly represents death in that it's a bit random." Uh, yeah. But the narrator further philosophises that "the role of art is to remind us of our mortality" and warned that one of the audience members would die that evening. Oh, sorry, he meant one of their mobile phones would die.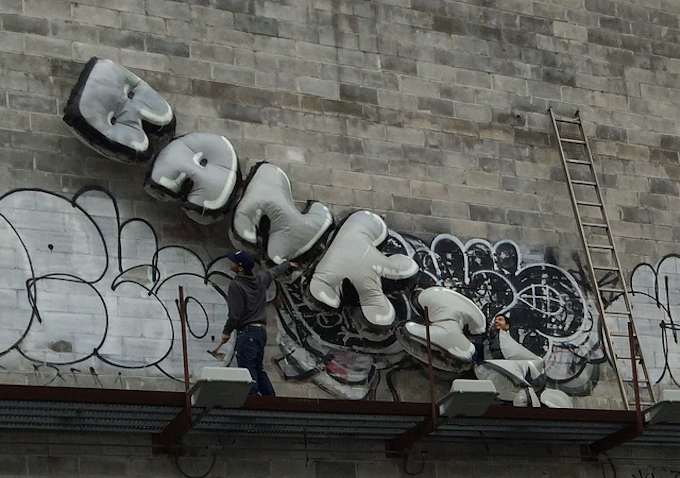 What seemed like an anti-climactic piece to conclude Banksy's residency turned out to cause the most pandemonium. Giant balloon letters spelling 'BANKSY' were strung along the top of a building in Queens. This was Banksy's homage to the ubiquitous graffiti bubble-letter style that began in New York. However, two men attempted to steal the balloon sculpture, and a crowd quickly gathered to stop them. Police arrived just in time to break up the scene and arrest the two thieves.

It's been a crazy month for New York, as the whole city has stood by waiting to see what Banksy will come up with everyday. In the final auditory guide, the cohesive message of his experiment is revealed. The artist is clearly a champion of outdoor art — as he so crudely named his residency, it's 'Better Out Than In'. He feels that "Art's right place is on the cave wall of our communities … to provoke debate and voice concerns," asking the question, "Don't we want to live in a world made of art, not just decorated by it?"
Others aren't on the same page, including Mayor Michael Bloomberg and others who consider graffiti to be vandalism and urban degeneration. Good or bad, Banksy doesn't care. His final message: "And that's it. Thanks for your patience. It's been fun. Save 5pointz. Bye."
Bye-Bye, Banksy. We wonder where you'll strike next.
Shoe Shine image by Dennis Van Tine/Newscom/SIPA Press. Inflatable image by Hrag Vartanian for Hyperallergenic. All other images from www.banksy.co.uk.
Published on November 02, 2013 by Madeline Milani