Legendary Giant Rubber Duck Is Missing After Flood in China
Our giant buoyant hero is missing.
That beloved, giant yellow legend of a floating rubber duck is missing. The 59-foot, one-tonne inflatable sculpture by Dutch artist Florentijn Hofman was apparently swept away by furious floodwaters in China's south-west Guizhou Province on Wednesday.
The duck's exhibition team saw our giant inflatable hero unleashed from its ten-tonne metal platform on Guiyang's Nanming River, The Wall Street Journal's China Real Time blog has reported. "The duck flopped over and was flushed away really quickly by the torrential flood," said exhibition co-ordinator Yan Jianxin. "It disappeared right in front of me."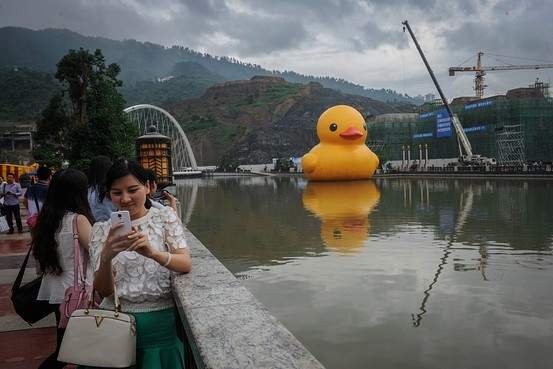 Touring hasn't been kind to the giant inflatable hero. Popping up everywhere from Sydney to Sao Paulo since 2007, the team of giant ducks have quite the rambunctious tour diary. Just months earlier, one duck exploded in the middle of a port in Taiwan. Collapsing only 11 days after installation at Keelung, the mystery behind the duck's demise was never solved.
"Organisers are unsure as to the cause of its demise, but one theory is that it was attacked by eagles," reported the BBC. Another duck then went on to casually deflate in Hong Kong.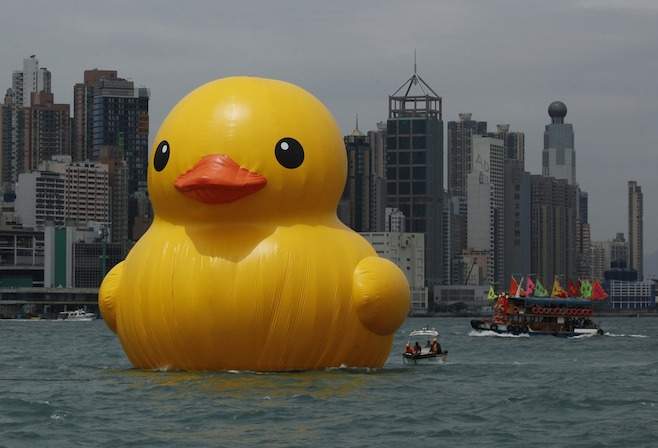 But now our noble, buoyant adventurer is nowhere to be found. Local radio stations are rallying local citizens to the hunt — "If you live along the river and see an 18-metre tall big yellow duck, please call 5961027."
Like looking for a giant yellow duck in a watery haystack, the search could be a tough one. If only the duck was brightly coloured, able to float and unbelievably oversized. Wait.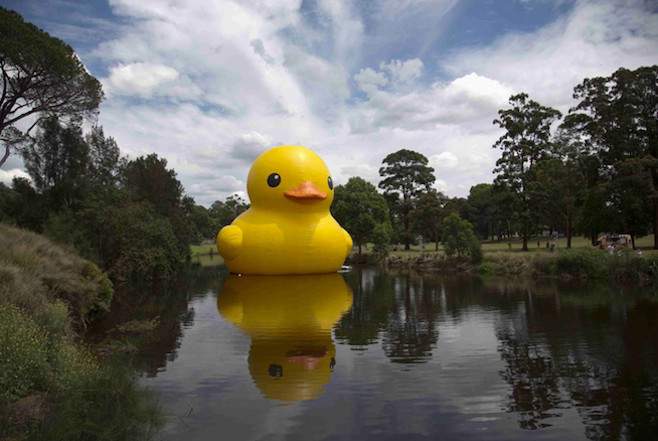 Via BBC, Gawker and WSJ. Images by Trey Ratcliff, Zuma Press, AP Photo, Kin Cheung, Reuters.
Published on July 21, 2014 by Shannon Connellan