ARTS & ENTERTAINMENT
JK Rowling Is Releasing an Eighth Harry Potter Book Because All Is Well
We're damn well stupefied.
When JK Rowling dropped those last terrible three words on us at the close of Harry Potter and the Deathly Hallows, all was not well. It would never be well without Harry, Ron, Hermione and co. in our lives. But great things are bubbling in the wizarding world, with Supreme Mugwump Rowling announcing the release of an eighth Harry Potter book. If we look Petrified, it's because HOLY SHIT.
According to Pottermore, Rowling's own kickass content website, 2016 will see a special rehearsal edition of the script book of Harry Potter and the Cursed Child Parts I & II — Rowling's first play on London's West End that picks up 19 years after Harry Potter and the Deathly Hallows and that abominably cheery epilogue on Platform 9 3/4. Print and digital editions of the book will publish right after the play's world premiere in winter 2016. You'll be able to read the version of the script from the Cursed Child's preview performances (a Definitive Collector's Edition will come later).
JUST. LOOK. AT. IT.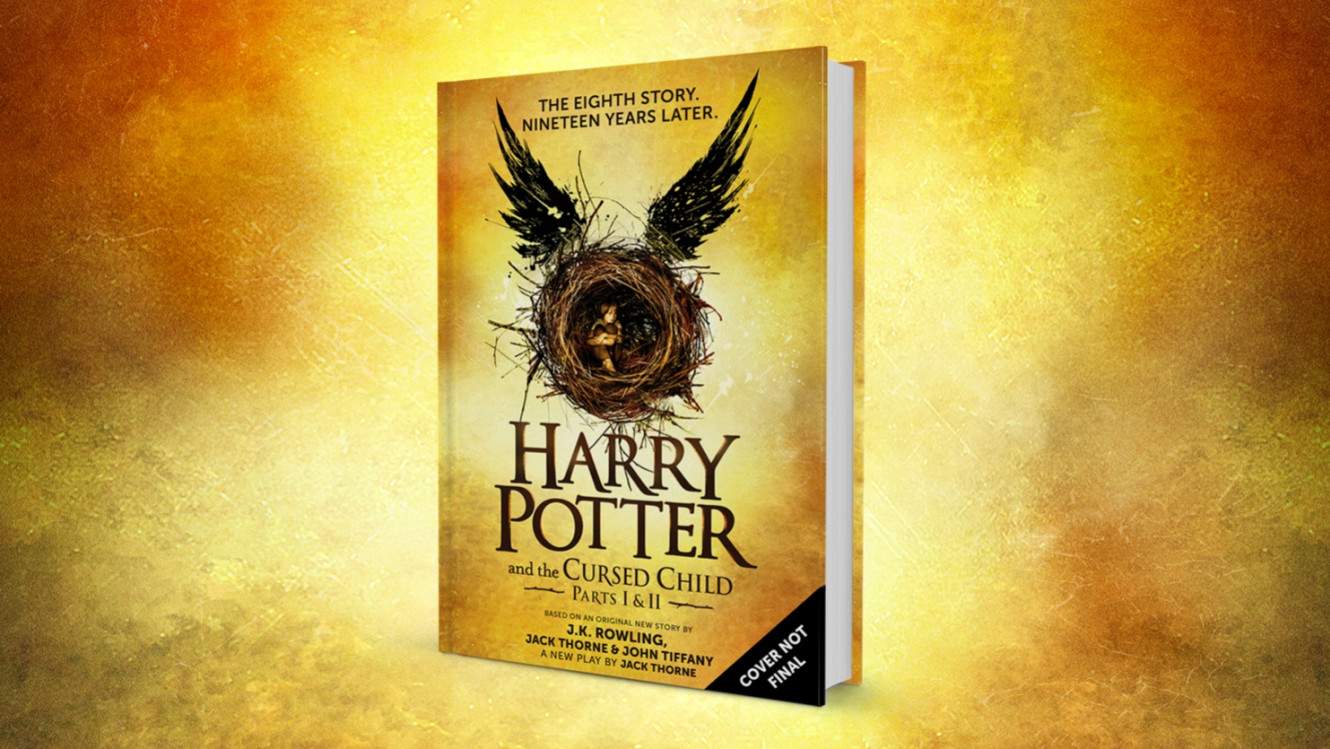 What's in store for Harry and the gang? The Cursed Child is set 19 years after the end of Harry Potter and the Deathly Hallows. Harry is now a Ministry of Magic employee, and the play focuses on his youngest son Albus Severus Potter — the heart pangs.
The official synopsis of the play (and now official eighth book) was released by co-writers J.K. Rowling, Jack Thorne and John Tiffany on October 23, 2015:
"It was always difficult being Harry Potter and it isn't much easier now that he is an overworked employee of the Ministry of Magic, a husband and father of three school-age children. While Harry grapples with a past that refuses to stay where it belongs, his youngest son Albus must struggle with the weight of a family legacy he never wanted. As past and present fuse ominously, both father and son learn the uncomfortable truth: sometimes, darkness comes from unexpected places."
It's been 20 years since the UK publication of Harry Potter and the Philosopher's Stone. Twenty. Re-read it, go see Fantastic Beasts and Where to Find Them when the film comes out and sit on your sorting hats until the EIGHTH HARRY POTTER BOOK arrives. Oh god, I need a butterbeer.
Via Pottermore.
Published on February 11, 2016 by Shannon Connellan